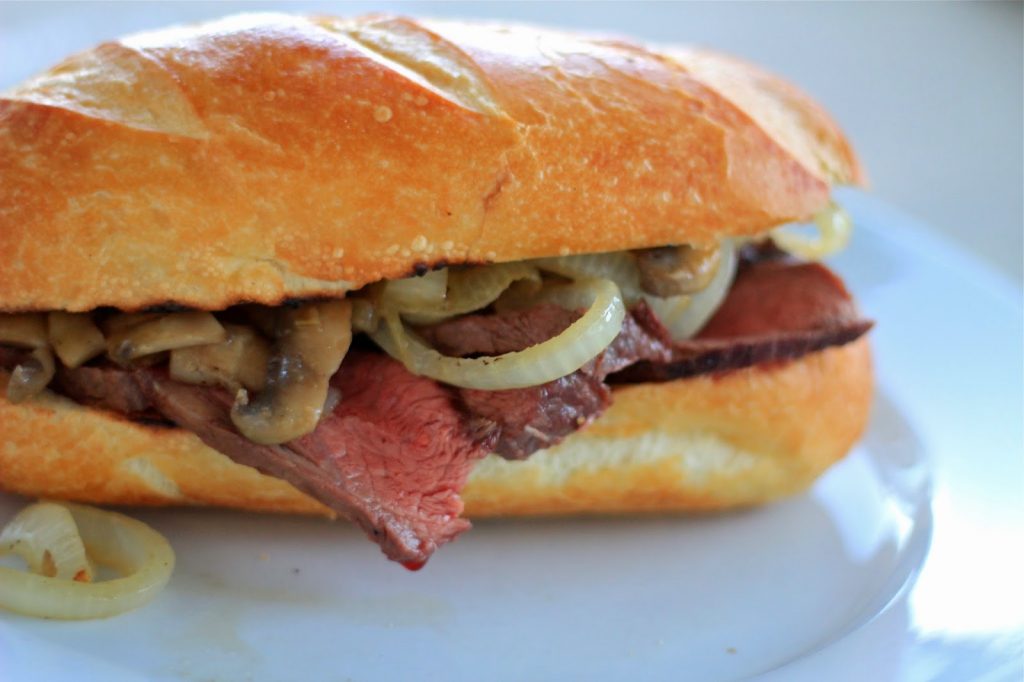 It's baseball season again. Time for planning ahead, or eating hot dogs from the snack shack a few times a week, which is probably not such a great idea (especially after my friend Shelly informed me about the 31 grams of FAT in each dog).
I'm always looking for ways to serve a quick meal this time of year. Grilled Flank Steak Sandwich is the perfect quick-fix dinner. I usually pair it with some fresh fruit and a green salad. I love the recipe for marinade in Asian Grilled Flank Steak Salad. I posted today's sandwich recipe with a simple pantry-friendly marinade to help make this meal quick and easy. I also like flank steak seasoned, without marinade.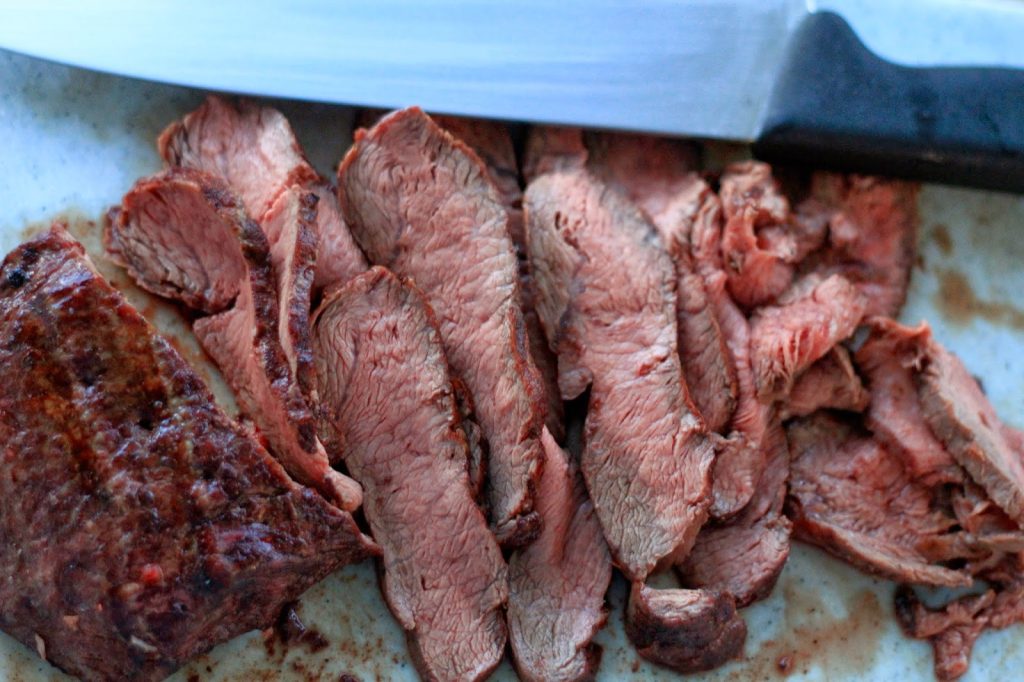 If you're using a marinade, make your own, then you'll know exactly what's on your pate. It takes about a minute to make your own marinade and you'll have the peace of mind knowing you can pronounce all of the ingredients in your dinner 🙂
If you have any leftover meat (or you make extra, like I suggest below), throw it into a tortilla or on a pita the next day, topped with a little cheese, lettuce and salsa and you'll have another meal, ready to eat.
Happy Spring, sports fans.
Grilled Flank Steak Sandwich
Ingredients
sandwich:
1- 11/2-2

lb

flank steak

1

lb

mushrooms

washed and sliced, stems on

1

large onion

sliced

1

clove

garlic

minced

olive oil and butter for sauteing

salt and pepper

4-6

large hoagie buns or other bread for making sandwich
marinade:
2

cloves

garlic minced

1/2

onion

chopped (about 1/2 cup)

1

teaspoon

sugar

1/3

cup

soy sauce

1

tablespoon

lemon juice

1/3

cup

olive oil

1/2

teaspoon

salt

1/2

teaspoon

pepper
Instructions
Early in the day, if possible, or at least two hours before cooking, place all of the marinade ingredients into a Gallon size Ziplock bag. Add the steak to the bag, seal and place in refrigerator.
About 20-30minutesbefore serving:
Prepare grill. If using gas, the temperature should be at medium high.

On the stove, over medium high heat, and add olive oil and butter to a fry pan ( I use about 1 tablespoon of each). When the pan is hot, add mushrooms and onions and cook for about 5 minutes, adding salt and pepper as cooking also tossing as cooking takes place. Add garlic andsauté for about 1 minute, or until fragrant, be careful to not burn garlic. Reduce heat if necessary. Turn off heat, cover to keep warm.

Place meat on grill and cook for about 5 minutes per side. Remove from heat, cover with foil and let rest for 10 minutes before cutting.

Slice the buns in half and place on grill to toast if desired.
Assemble sandwiches:
Cut the meat across the grain into thin slices. Place some of the meat on each bun along with the mushroom and onion mixture. If you like cheese, top the meat and onion mixture with cheese and place under broiler for a few seconds before serving.
Recipe Notes
-I like to cook two steaks at once, so I can use the leftovers for another meal.-The cook time for the meat will depend on how you well or rare you like your meat. I believe this meat is best served medium rare. Don't overcook the Flank steak or it will be tough.