There's no trick to creating this Halloween Sugar Cookie Skull! It's made with a simple sugar cookie dough, topped with cream cheese frosting and finished with fresh fruit for a cute and spooky dessert.
The Best Halloween Sugar Cookies!
This sugar cookie recipe is one we have been using for years. I reduced the amount of the recipe by half and used the recipe for cream cheese frosting on our 4th of July flag cookie. For a sheet pan style sugar cookie, try ABK's Pan Cream Cheese Sugar Cookie. If you are looking for a gluten free option, ABK's Gluten Free Sugar Cookie is to die for!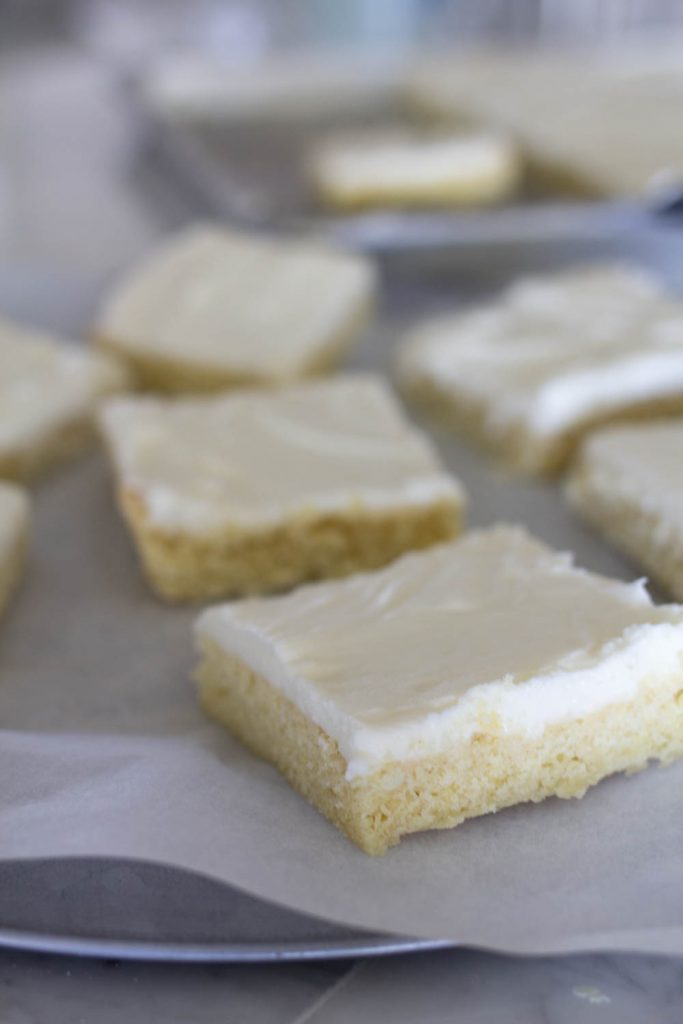 Our Sugar Cookie Skull is easy to put together and doesn't need to be refrigerated before shaping, although I suggest refrigerating the dough for 30 minutes after shaping (before baking) to help the skull hold its shape! We love this sugar cookie recipe. It's sweet, without being overly sweet, and soft and bakes into a dessert similar to the fruit pizza's we loved in the 80's!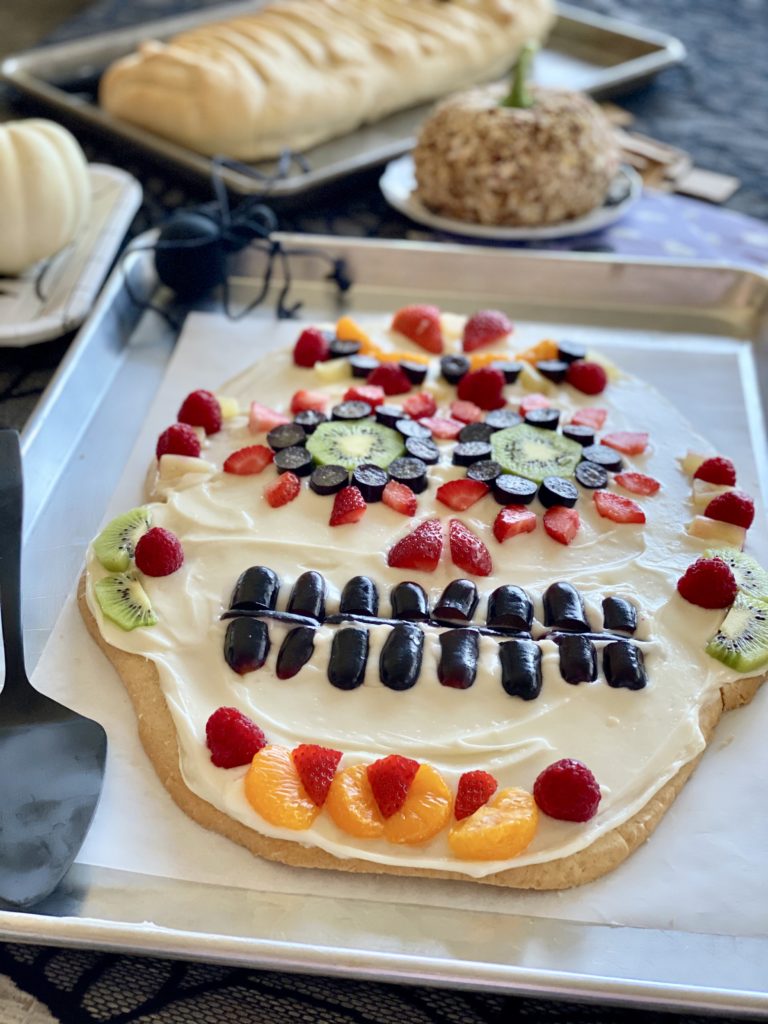 Easy Halloween Dessert
I love this Halloween Sugar Cookie Skull because it's festive without being scary and is so simple to mix, bake and assemble. Think of it as one giant sugar cookie, instead of having to cut out, frost and decorate a couple dozen cookies to serve at party! This dessert is so simple to frost and decorate and something your kids will love to assemble as well! I highly recommend making the dough the day before or early in the day of serving.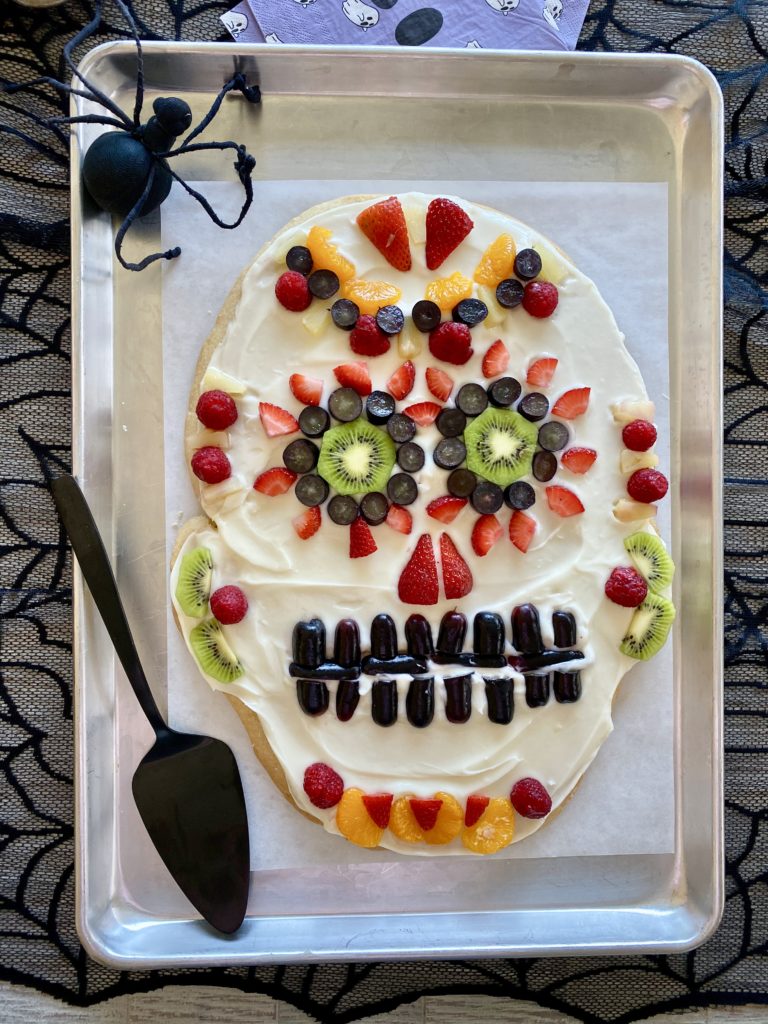 You can make this up to two days ahead and cover tightly after baking. On the day of serving, frost and decorate. The skull in the photos were made by Kathleen, a team member at ABK and my amazing assistant. Kathleen and her daughters made this dessert last year at Halloween and we decided back then it had to be shared with ABK readers this year! Thanks Kathleen <3
Halloween Sugar Cookie Skull – personalized
The fruit we suggest in the recipe is easily adaptable to fruits you love. We are fans of almost any type of fruit, and love to use fresh fruits in season. The long dark grapes are called "Moon Drops" or "Black Finger" grapes. I love the dark color of the grapes and think they look perfect on the cream cheese frosting.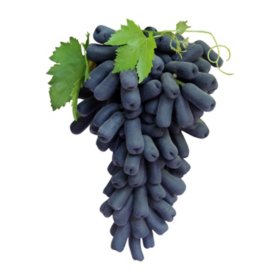 You may use almost any fresh, dried or canned fruits. I highly recommend draining fruit well (in colander and then on paper towel) to avoid bleeding of colors or juice on the dessert!
Cut it out!
When ready to serve our Halloween Sugar Cookie Skull, simply cut into squares and serve on a dessert plate or napkin. It may be served with or without a fork and simply eaten as a cookie. Whenever I serve a fruit desert like this, I like to cut a row at a time, so guests can enjoy the dessert as part of the table/party decor! Any leftovers should be refrigerated because of the fresh fruit and the cream cheese frosting. Hope you love this sweet, simple and festive Halloween dessert!
Halloween Sugar Cookie Skull
This sweet and spooky dessrt is perfect for your Halloween party! Made from a soft sugar cookie dough, served with a cream cheese frosting and topped with fresh fruit.
cool and decorate time
40
minutes
Total Time
1
hour
5
minutes
Ingredients
Cookie:
1/2

cup

unsalted butter

1/2

cup

solid shortening ( or ou may use butter)*

please read recipe notes!

1

cup

+ 2 tablespoons granulated sugar

1

teaspoon

vanilla

2

eggs

3

cups

flour

2

teaspoons

baking powder

1/2

teaspoon

salt

1/3

cup

milk
Frosting:
4

oz

cream cheese, room temperature

1

tablespoon

room temperature butter

2

cups

powdered sugar

1/2

teaspoon

vanilla

dash of salt

1-2

tablespoons milk, cream or half and half
Fruit:
1

bunch

Moon or Finger grapes, washed, drained and sliced

1/2

cup

sliced strawberries, stems removed, washed and drained well

1

kiwi, sliced

1

small can mandarin oranges, drained well

1

small can pineapple tidbits or chopped fresh pineapple, drained well

a few fresh raspberries, blueberries (optional)
Instructions
Cookie:
Cream the butter, shortening and sugar together. Mix in vanilla and eggs. Beat on medium speed until blended well and no butter or shortening is showing in clumps. Scrape down sides of bowl and mix again. Do not beat on high!

In a separate bowl, mix together flour, baking powder, and salt. Add flour mixture alternately with milk to the butter/sugar mixture.

Mix at low speed just until all flour and milk are mixed into the butter mixture. Scrape down sides of bowl and mix again on low. Do not over mix. You may refrigerate at this point, overnight or up to three days before baking.*

Roll dough out into an oval shape either on parchment paper or greased foil on top of cookie sheet to about 1/4 inch thick.

Press the sides in a bit with fingers to form a head (see photos). Refrigerate or freeze dough for 15-30 minutes. Preheat oven while dough is in refrigerator.

Bake at 350 degrees on center rack of oven for about 12-14 minutes or until lightly golden on edges and top. Do not over bake!

Remove from oven when done and let cool completely before frosting and decorating. The cookie may be made up to 2 days before serving. Cover tightly with plastic wrap and store on countertop.

Frosting:
Beat butter and cream cheese until soft on medium speed.

Add 1 cup of powdered sugar. Continue mixing on low.

Add salt and vanilla. Add 1 more cup of powdered sugar. Mix until smooth on medium speed.

Add the milk, a tablespoon at a time. You may only need one tablespoon! Scrape down sides of bowl, and mix until all ingredients are incorporated and smooth. 
Fruit:
Wash and drain fruit in collander and then on paper towels if juicy!

Arrange the fruit on the cooled, frosted cookie as desired. Store in fridge until ready to serve.
Recipe Notes
This recipe calls for a mixture of butter and shortening. Using solid shortening will produce a softer cookie that will hold its shape better while baking. That said, you may use all butter in this recipe! No matter the combination, or if using all butter and no shortening, you will need 1 CUP TOTAL of butter,  or butter and shortening combination in the dough. 
If using all butter in dough make sure to refrigerate the dough after shaping into a skull (or any other shape). This will help the dough retain its shape during baking.
This cookie is easily rolled out and shaped directly on the baking sheet. If you want to transfer to a flat platter, try to bake the skull on a flat cookie sheet and not a jelly roll pan. The transfer of the cookie will be easier if it can just slide off. 
If the cookie cracks while transferring to another platter or baking sheet, don't worry! The frosting will cover all cracks or breaks in cookie.