Looking for a spooky, fun and tasty way to celebrate Halloween? Our Easy Mummy Stromboli is your ticket to a winning meal! I share both the super simple pre-made version, and also a homemade dough and sauce version.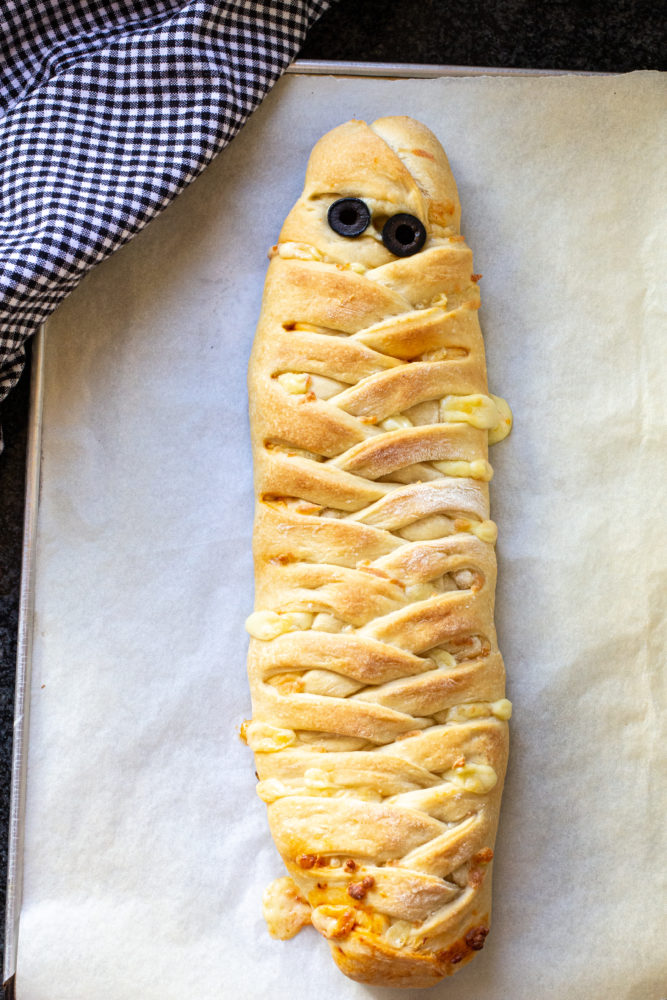 Halloween night is always one of the toughest when it comes to getting the kids to eat "real" food before heading out for SUGAR. This Easy Mummy Stromboli recipe is perfect just for that reason. It's something the kids will LOVE, and will definitely eat before they start trick or treating.
Halloween night made easy!
This recipe can also be made with either store bought or semi homemade ingredients. Halloween night made easy! I'm not sure who first made Mummy Stromboli, but we used the Pillsbury website for inspiration. They of course use Pillsbury dough, but homemade is not difficult and takes this mummy meal to a whole new level! Kathleen, my amazing assistant made the Stromboli in this post that is wider and filled it with ham and pepperoni! If you want your Stromboli to be wider, use all of the ingredients to make one large Stromboli and bake about 8-10 minutes longer.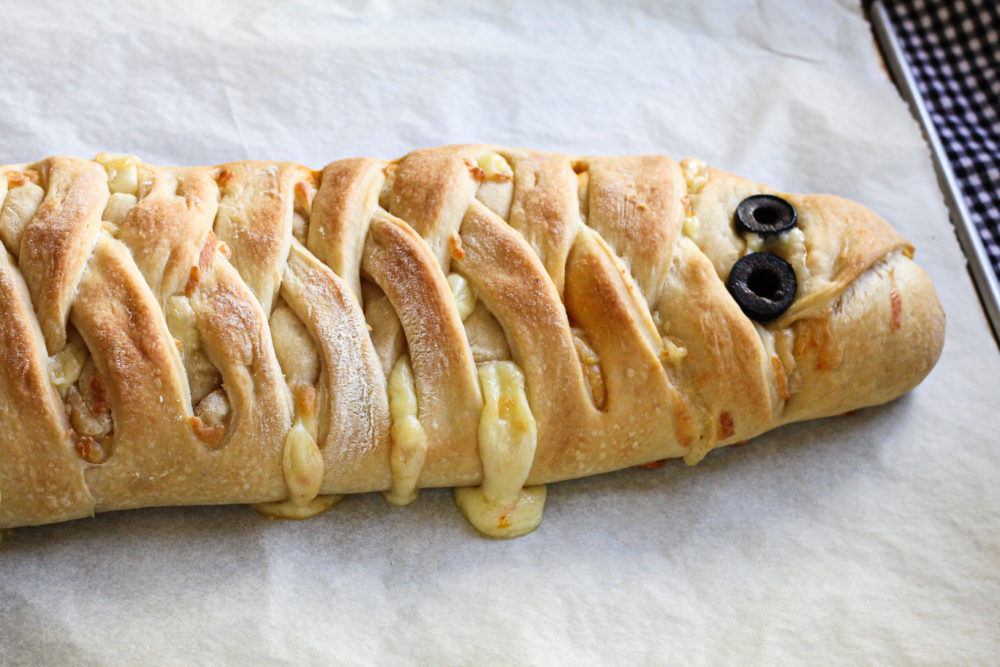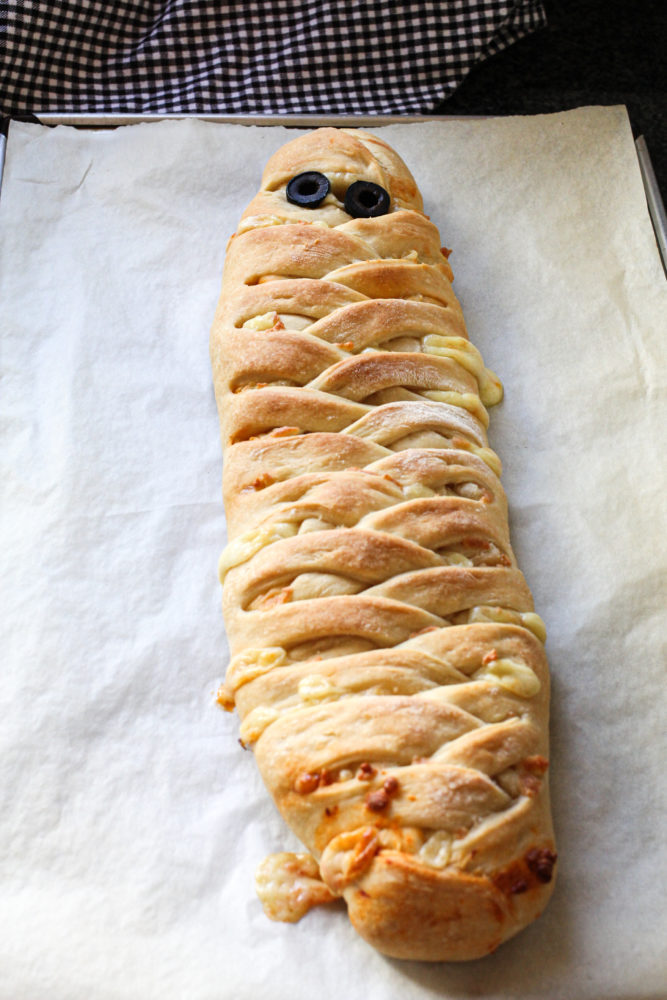 Easy Mummy Stromboli can be made ahead and reheated, perfect for any busy night! Make it the day before, and the only thing you have to worry about is turning on the oven the next day. It's so festive, and who doesn't love Stromboli, filled with savory meats and cheeses and wrapped in a warm, soft crust? Oh my. It's as good as it sounds, and looks! And the idea of eating a mummy will make any kid happy!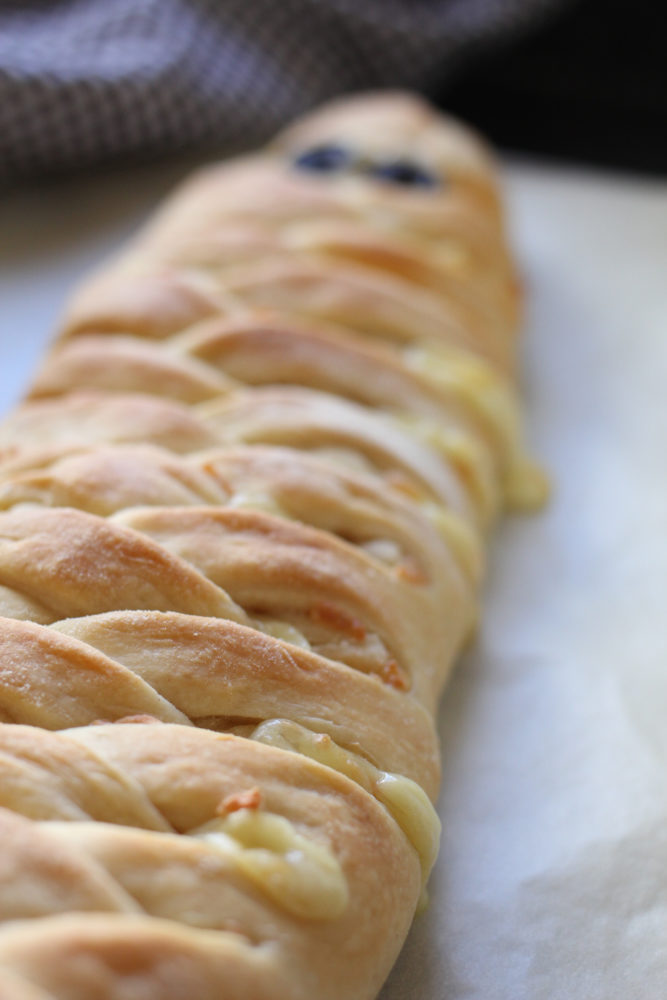 Here's what you'll need for your easy mummy Stromboli: If going the quick and easy route, buy the ingredients listed below and follow the instructions on the recipe for assembly and baking. For the easy "semi-homemade" version, you'll need:
Two frozen loaves of Rhodes bread or two pizza crusts refrigerated.
One 12 – 15 oz can or jar of pizza sauce
One 12 oz browned sausage drained and/or 12-16 oz pepperoni and/or ham sliced
About 4 cups grated mozzarella cheese (or a blend of mozzarella, cheddar and provolone)
Black olives for the eyes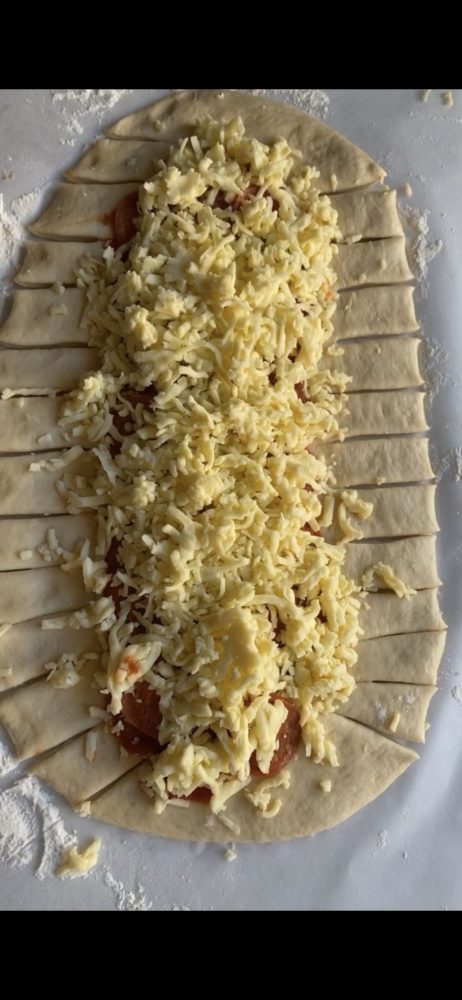 weaving or braiding the mummy dough
The mummy is really easy to put together. Simply roll out the dough into a rectangle and the spread the sauce down the middle, top with meats, cheese and then cut both sides into 1/2 inch strips. Then it's just a matter of alternating the dough back and forth, folding toward the middle to make the mummy pattern. I suggest doing this on the cookie sheet you are using to bake so you don't have to transfer the mummy after it is filled and formed.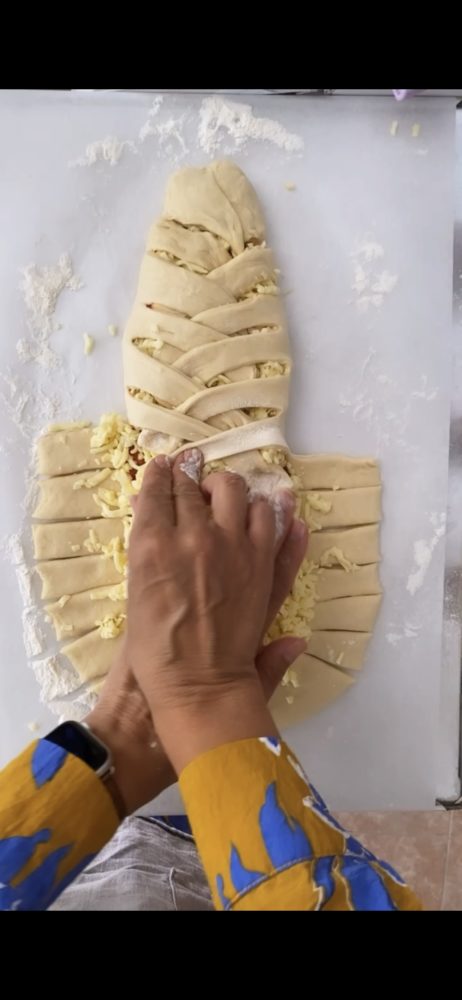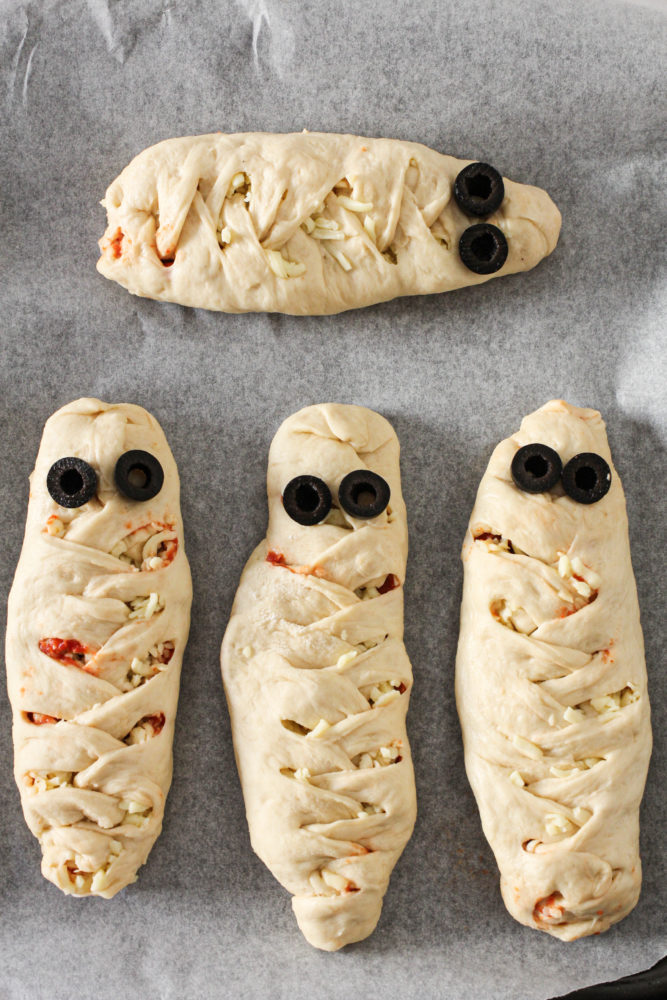 homemade dough and make ahead!
If you want to make homemade dough, you'll need a few ingredients you probably already have in your pantry. The homemade version is so good and takes just a few minutes to make the dough. If you want to make the dough ahead, you can make it the day before and place in a gallon size Ziplock bag and seal. Place in fridge for no more than 24 hours. See recipe notes for tips!
If you want your mummy to be more wide than skinny, use all of the dough to make one mummy as seen below!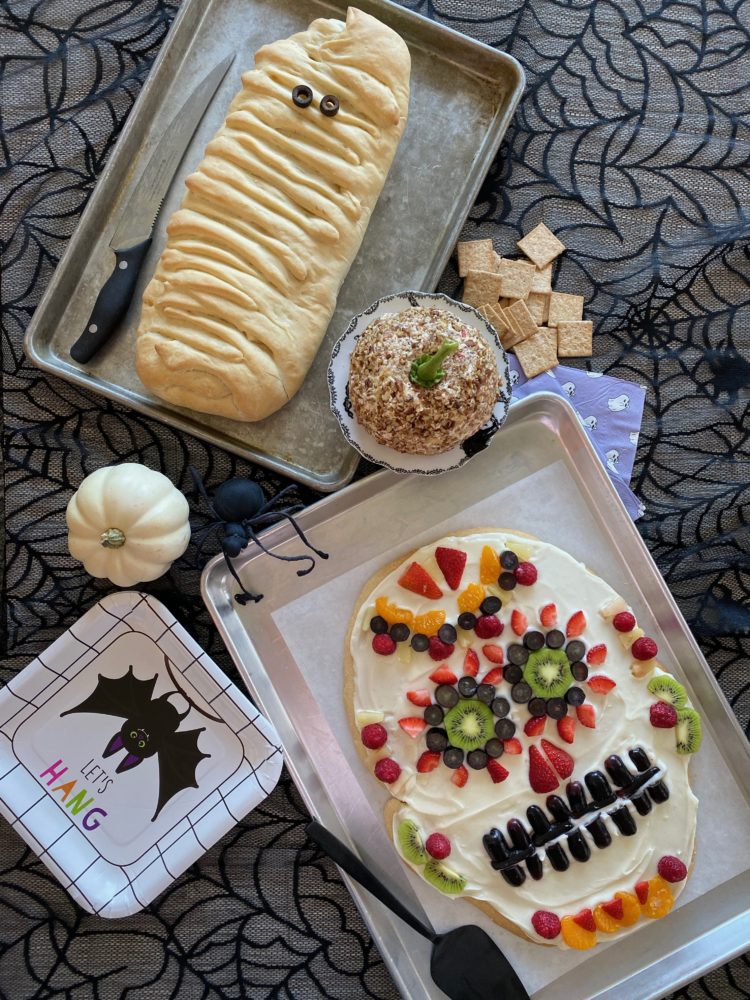 halloween dinner ideas
East your Easy Mummy Stromboli on a napkin (for easy clean up) or a plate. You can also serve this with this festive Sugar Cookie Skull, also perfect for Dia de los Muertos or Day of the Dead celebrations, Pumpkin Cheese Ball (photo above) and Pumpkin Sheet Cake.
This Halloween Dinner is another great festive and fun option for your Halloween party! And if you're more in the mood for pizza, this Margherita Pizza and BBQ Chicken Pizza are always fan favorites.
This Easy Mummy Stromboli is the perfect crowd pleaser for kids and adults of all ages. Happy Halloween!
Easy Mummy Stromboli
Easy Mummy Stromboli is a fun way to go all-out for your Halloween parties or dinner without taking all day to create festive food! This recipe can be made using prepared ingredients or homemade dough and sauce. If using pre made dough, this recipe takes a little over an hour from start to finish baking!
rising time, cool time
1
hour
30
minutes
Total Time
2
hours
5
minutes
Ingredients
Dough
1

tablespoon

yeast

1/4

cup

warm water

1

teaspoon

sugar

4

cups

flour

I use 2 cups all purpose plus 2 cup bread flour

1/2

cup

canola or vegetable oilor olive oil

1/2

cup

milk warmed

1/2

cup

warm water

1

tablespoon

sugar

2

teaspoons

sea salt

1

egg beaten

if halving the recipe, use one egg
Filling
1

16 oz

pepperoni, sliced

1

12-15 oz

jar pizza sauce

Or homemade sauce below

4-6

cups

mozzarella cheese, grated
Home made sauce option
1

14-15 oz

jar or can tomato sauce

3

tablespoons

tomato paste

1

tablespoon

olive oil

2

tablespoons

dry Italian seasoning

1

clove

minced garlic

pinch of sugar

salt and pepper to taste
Instructions
Dough:
In a large mixing bowl, mix yeast and 1/4 cup warm water. Sprinkle with 1 teaspoon sugar.

Set aside until yeast begins to bubble.

Add 4 cups flour, oil, warm milk, water, sugar, salt and egg to the bowl.

Mix until all ingredients are incorporated. I use the paddle attachment on my Kitchen Aid for this step.

When all ingredients are mixed and the flour is no longer visible, switch to the dough hook and turn on low for 2 minutes.

Scrape down sides of bowl and spray sides of bowl lightly with cooking oil.

Cover the bowl and place in a warm place for about 1 hour, or the dough may be placed in the refrigerator for several hours or overnight in a Ziplock bag (see recipe notes).

While dough is rising, make sauce (below) if using homemade.

Flour a clean surface and remove the dough from the bowl onto the floured surface.

Split the dough in half. Roll out each piece into approximately a 14×8 inch rectangle.

Spread about 1/2 to 3/4 cup of the pizza sauce down the middle of the rolled out dough. See recipe notes for tips.

Lay the half of the meat on top of the pizza sauce.

Sprinkle half of the cheese on top of the meat.

Using a pizza cutter or knife, starting at the top of the dough and cut 1/2 inch strips along each side. See photos on post. Starting at top again, fold the strips over alternately, ending at bottom. PInch the ends together at top and bottom, tuck under to avoid the dough opening during baking.

Let sit for 30 minutes. Preheat oven 15 minutes before baking. Set rack on bottom third of oven. Preheat to 375 degrees. If shiny dough is desired, Brush the dough with a beaten egg.

Just before baking, place a cut olive on mummy for eyes.

Bake for about 15-20 minutes or until golden. The mummy shoudl be golden on bottom and top. Remove from oven, let sit for 10 minutes before cutting.
Sauce:
Mix all ingredients together in a saucepan and simmer for 10-15 minutes on medium heat. Can be made up to a week before using. Freeze any leftovers.
Recipe Notes
This recipe makes TWO Mummy Stromboli's that feed about 6-8 adults if serving with a side such as salad. Each mummy yields approximately eight  1- 1 1/2 inch pieces. This recipe is easily halved. The recipe can also be made into 8 mini-mummies! 
I have used both all purpose and all bread flour (4 cups) in this recipe with great success. Depending on the climate (dry or humid) the amount of water and flour will vary. In Utah, where it is very dry and high altitude, I use 2 cups bread and 2 cups all-purpose flour and the amount of liquid stated in the recipe. In Spain, I use 4 cups of bread flour and about 3/4 cup liquid, and 1/2 cup of sunflower oil. If when mixing the dough it seems too wet, add flour, a tablespoon at a time until the dough is smooth and elastic looking. The dough should not look wet or be dry and floury. If the dough is too dry, add a tablespoon of water at a time. 
If you are making the dough ahead, it can be placed in a gallon size Ziplock bag and refrigerated overnight. Occasionally when I have refrigerated this dough recipe overnight, it will raise and break the seal of the bag. If you are concerned about this, split the dough into two pieces and refrigerate in tow gallon bags. Remove the dough from fridge and let sit on counter for an hour before rolling out.
When spreading the sauce on the dough, try to keep the sauce in the middle of the mummy. This will avoid issues with the sauce seeping out of the mummy. Also, it is best to not overstuff the dough. It makes weaving the mummy pattern a little more difficult if the dough is stuffed too full.