Nothing says comfort like a plate of Instant Pot Beef Stroganoff! Chunks of beef cooked until tender in rich gravy loaded with mushrooms. Just like Mom used to make! Instant Pot Beef Stroganoff is the quick and easy version of this classic dinner favorite.
Beef Stroganoff has always been one of my favorite comfort food meals. When we were first married (and for years after), I dreamed of making stroganoff. We couldn't afford steak, so I made a ground beef version which I served over rice. I remember thinking someday I would be able to afford making "real" beef stroganoff. Back in those days, I used a recipe I found in an old cookbook which called for canned soups. It wasn't especially appealing and when the dish was finished, it was kind of a grayish-brown color, and the ground beef was all crumbly… like I said, not really pleasing to the eye. Finally, 7 years (and a lot of tuna fish) later, Grant graduated from school and we had a little more money in our grocery budget! One of the first dinners I made was beef stroganoff. It cooked for hours in the oven, made or little house smell like heaven, and I felt like I had arrived.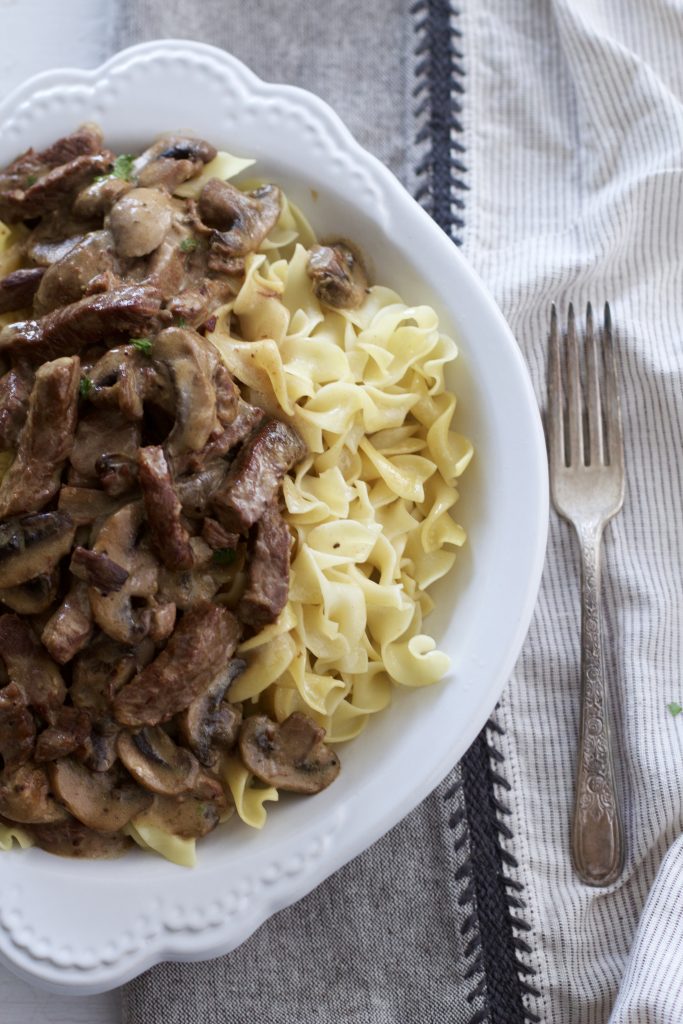 Instant Pot Beef Stroganoff vs other cooking methods
I've made Beef Stroganoff several different ways over the years. On the stove top, slow cooked in the oven, in a crockpot, and now in the Instant Pot. Instant Pot Beef Stroganoff is the winner in my opinion for many reasons. The stove top version never seems to get the meat super tender. It's possible to cook meat until it is tender on the stovetop, but it never happens for me. I like the slow cooked oven version (275 degrees), and used it for years, but it literally takes hours, usually around 8 to get the meat to the desired consistency. Same with the slow cooker. TIME. The slow cooker usually takes about 8+ hours to achieve a fork tender piece of meat. Compared with this recipe for Instant Pot Beef Stroganoff, it's hard to beat an hour and 15 minutes versus 8 hours. Comparing time is not the only factor. After eating beef stroganoff cooked using all of the above methods, I believe Instant Pot Beef Stroganoff is far superior to the others mentioned. The meat is tender, moist and full of flavor. Instant Pot Beef Stroganoff is the clear winner in my opinion!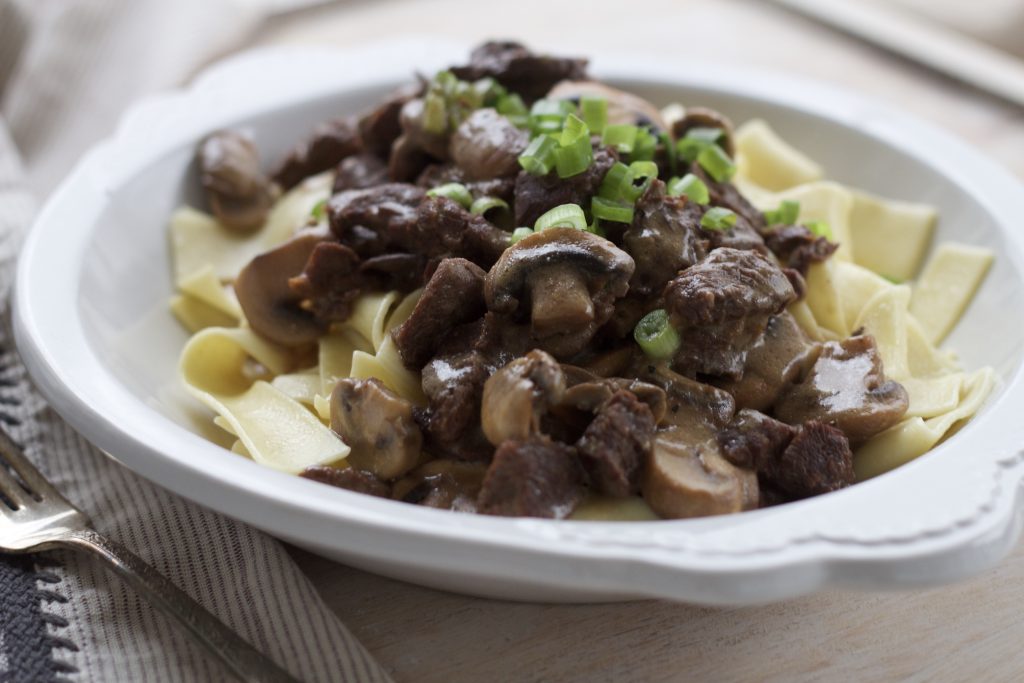 Sautéing and using one pot or two…
Some dishes work by simply dumping ingredients in the pot, plugging in and in a few minutes, dinner is ready. Other meals require a little more prep. I've found that using the SAUTÈ mode helps the finished dish considerably when thickening the sauce or the appearance of the meat. You may also do this in another pan and then transfer to the Instant Pot. I only use another pan if I want to speed the browning process up. The surface of the Instant Pot is not very big, and browning of meat can't happen very easily if the pan is crowded with too much meat or too many vegetables. With this recipe, I found that browning the meat in two batches worked best. I tried browning the mushrooms in the pot and also in a separate pan. I found that browning the mushrooms in a separate pan worked well for me because the mushrooms are removed from the Instant Pot and set aside while the meat cooked, so there wasn't much difference to me if the mushrooms rested on a plate or in a pan where they were browned.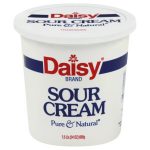 Sour Cream vs Greek yogurt
The final step before serving this dish is to add a bit of sour cream or Greek yogurt. I've used both over the years and can say I like both. Greek yogurt has about 1/3 of the calories of full fat sour cream and WAY less fat. Low fat sour cream may also be used, but I'm not a fan of the low fat sour cream in this dish. I think it's a bit watery. Greek yogurt has a bit more of a tangy and less creamy finish than regular full fat sour cream, but I don't think the final result is noticeable unless you are eating a finished version side by side. If you're not worried about calories, or if you are serving this to dinner guests, use sour cream. If you're making this for your family and want to be a little more health conscious, Greek yogurt is a perfect choice! Make sure to only use Plain Greek Yogurt.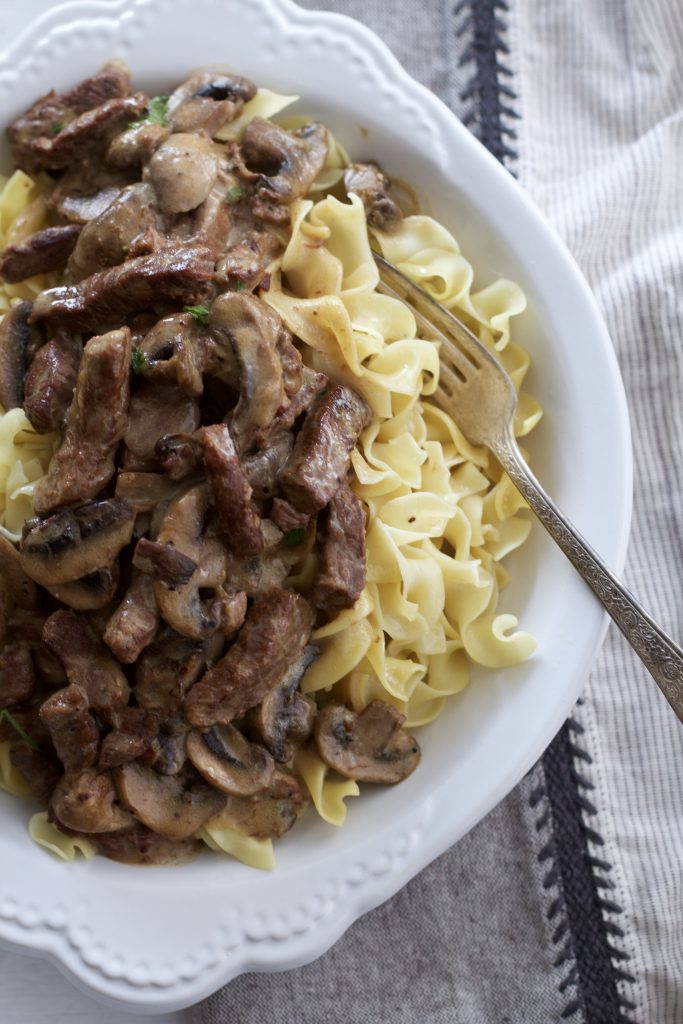 Time for dinner!
The beauty of the Instant Pot is dinners that traditionally took hours to make are now easy to prepare and then place in the pot while you're helping the kids with homework or running them to soccer practice or ironing napkins for dinner (hahaha). I use the Instant Pot all of the time, even when it's just Grant and me at home. The Instant Pot has transformed our middle of the week dinner experiences. I'm making dishes that I traditionally reserved for Sunday dinner in the middle of the week because the cooking process is not an 8 hour affair! And really, what's better on a cold rainy day than comfort food that tastes like it took hours to make? Enjoy!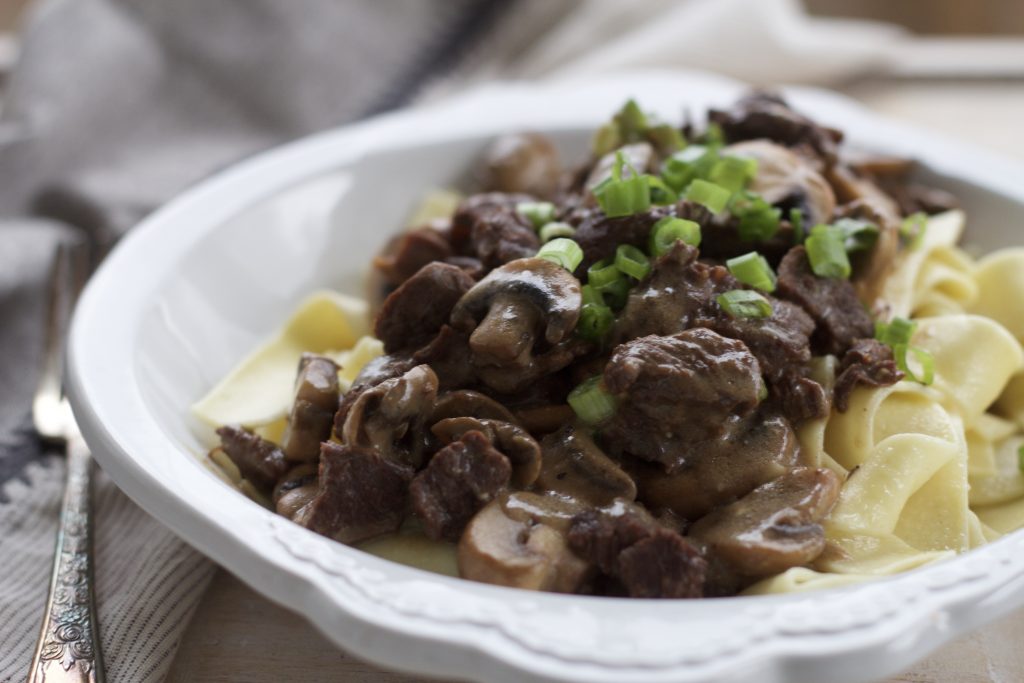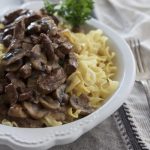 Instant Pot Beef Stroganoff
Total Time
1
hour
10
minutes
Ingredients
1

lb

mushrooms

cleaned and sliced thick

1.5

lbs

round steak

sliced into 3 inch strips, about 1/2 inch thick

olive oil

salt and pepper

about 1 1/2 teaspoon of each (add more to taste)

6

tablespoons

butter

divided

2

tablespoons

flour

1

clove

garlic

minced

3

tablespoons

Worcestershire Sauce

2

Tablespoons

apple or grape juice

unsweetened (optional)

2

cups

beef broth

1

cup

fresh parsley

chopped, some reserved for garnish or about 2 tablespoons dry parsley or green onion for garnish (both optional)

1/2 to 3/4

cup

sour cream or plain Greek yogurt

pasta or rice for serving
Instructions
Turn the Instant Pot to the "saute" mode and heat for a few minutes, Add about 1 tablespoons olive oil and 2 tablespoon butter. Place sliced mushrooms in the pot, season with few dashes of salt and pepper and cook until browned. Remove from pot and place in dish. Set aside.

Leaving the pot on the sauté mode, add the remaining 4 tablespoon butter to pan. Add chopped meat and brown. Season generously with salt and pepper while browning.

After the meat has browned sprinkle with flour and stir a bit until the flour is cooked, about one minute.

Add the chopped garlic, Worcestershire sauce, juice and broth.

Place the lid on the pot, with the sealing ring in place, and the pressure valve turned to the "sealing" position. Lock the lid into place and set the timer to the "meat" setting (35 minutes).

Meanwhile, cook the pasta or rice and set aside. You'll need about 2-3 cups of uncooked rice or about 1lb of pasta. Cook as directed on package, toss (pasta) with a little oil or butter and set aside.

When the timer on the Instant Pot goes off and the cooking cycle is complete, let sit for another 20-30 minutes and allow the pressure to release naturally for best results.

Carefully release any remaining pressure by using the pressure release valve and remove lid.

Stir in cooked mushrooms, chopped parsley and sour cream or Greek yogurt.

Turn pot to "saute" mode and let mixture heat up again, then turn to "off" position or "keep warm".

Taste before serving, add salt and pepper if needed.
Recipe Notes
-The amount of salt and pepper will vary according to your taste. I like food on the saltier side, so I use regular (not low sodium) broth and add salt to the recipe as well. -You may use other cuts of meat, but stay away from cuts that are too high in fat. I think Round Steak is perfect for this dish It is relatively inexpensive and cooks up nicely in the Instant Pot. -If the meat needs more gravy, you may add more broth after cooking. If you want to thicken the sauce, add a teaspoon of cornstarch to some water or broth (about 1/2 cup) and whisk together, then add to the pot while the meat and sauce are still hot. Stir until thickened. Remember, the sour cream or yogurt will also thicken the sauce a little bit.