Laurie's Amazing Carrot Cake is legendary in Bountiful. This carrot cake is super moist, filled with carrots and the perfect blend of spices for amazing flavor and the most incredible texture!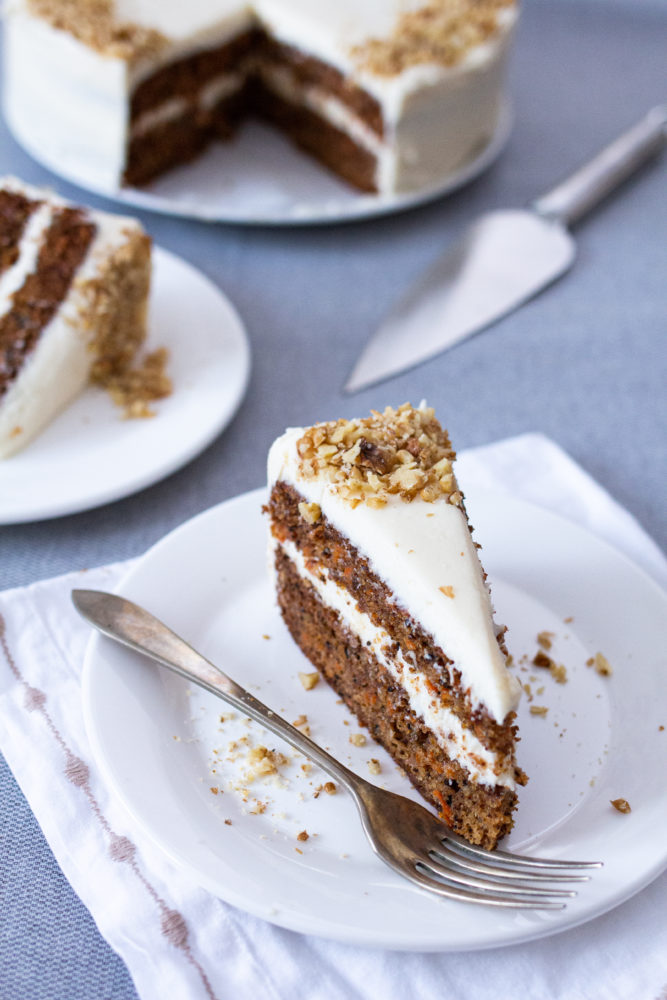 My friend Laurie created this carrot cake recipe for a family wedding reception years ago. She made the cakes for the wedding, and I catered the dinner. I don't cater any more, but I will always remember the first time I ate Laurie's carrot cake…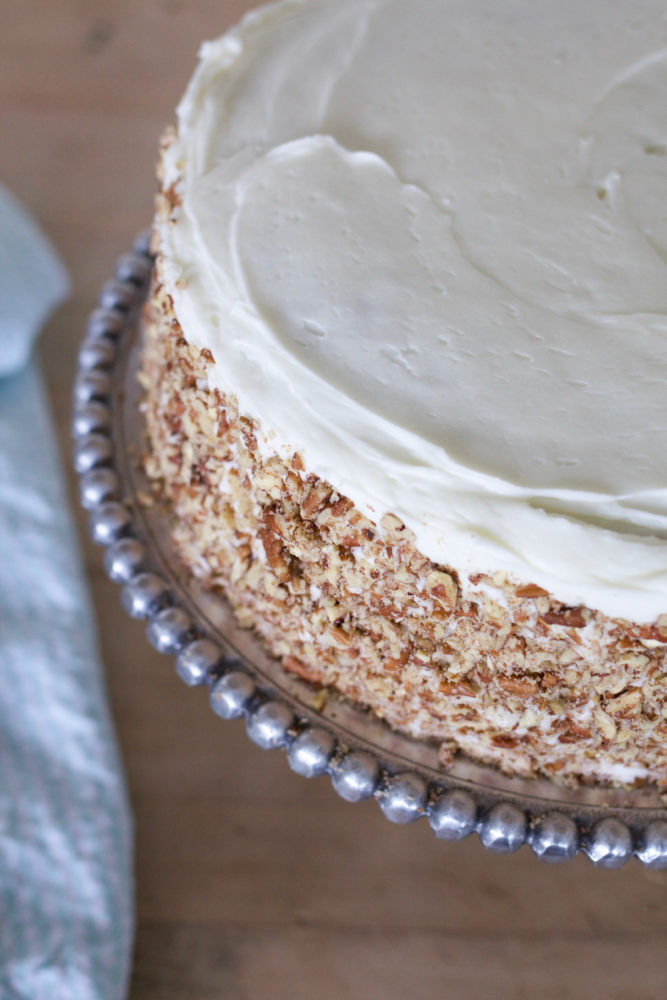 The reception was the only wedding reception in the history of man (or woman) where all of the cake was eaten. Seriously, not a slice left! I was busy in the kitchen arranging plates of food, and when the reception was over, I went looking for a piece of cake. But it was all gone. Every crumb. Where is my crying emoji??
Laurie knows how much I love cake, so for my birthday a couple of weeks later, she made me MY VERY OWN CARROT CAKE! This cake is so dense and delicious, I kept eating it little by little, a slice each day. I am serious when I say the cake even more delicious at the end of the week!
So, what makes THIS recipe the most amazing carrot cake? Some of the ingredients and tips will make sense to you, and others may not. I promise if you trust me, you will be glad you did, and your search for the best carrot cake recipe will be over!
Reasons why Laurie's Amazing Carrot cake is the best carrot cake ITW:
Laurie's Amazing Carrot Cake is filled with fresh grated carrots, buttermilk and oil (instead of butter) for extra-moist texture. These three ingredients combined take the moisture factor to the next level in this cake!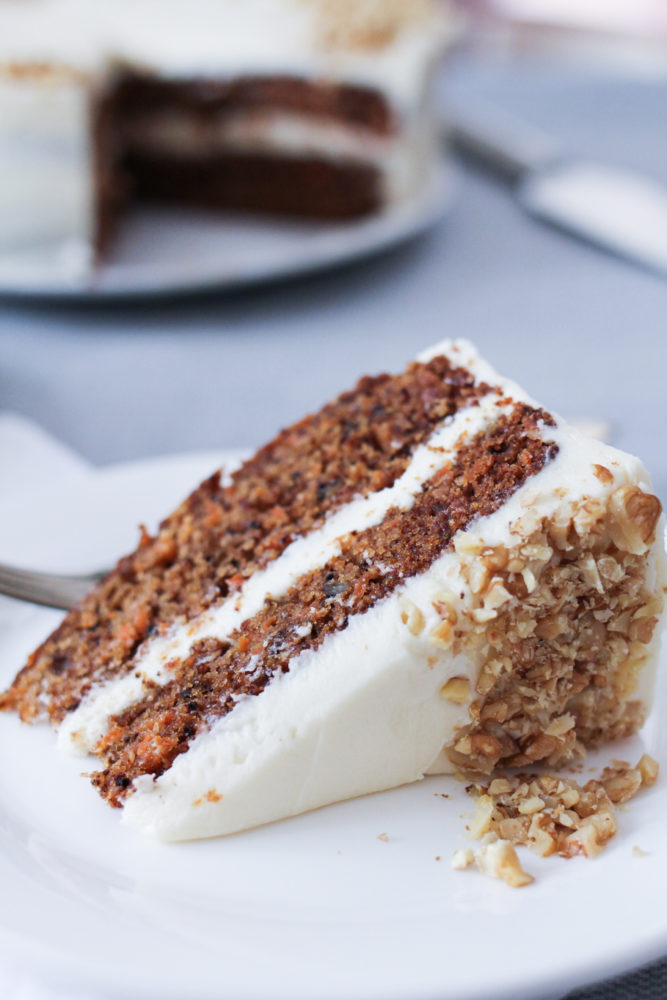 Grate your carrots!
Make sure to grate (shred) your own carrots when making carrot cake! It is tempting to use pre-grated carrots, but grating your own will make a huge difference in the texture of this cake!
I prefer to grate or shred carrots instead of grinding because I want to see the the bits of carrots and not have the carrot turn to a puree before making the cake. I use a standard size box grater or the grate attachment on my food processor. If you like your carrots extra small, use a smaller grater.
Don't buy pregrated!
Buying pre-grated veggies, cheese, etc. are convenient, but they are put through a process that removes out extra moisture to prevent caking and molding, so in this case, pre-grated carrots are not recommended! The 2 minutes it takes to grate your carrots is worth it, and key to moist carrot cake!
Unique process of Grinding raisins and nuts
Before you say " I don't like nuts" or "I hate raisins!" I promise if you give this a try, you'll realize the nuts and raisins are hardly noticable in this recipe. The special process of grinding the nuts and raisins together in a food processor before adding to the batter adds texture and sweetness but no big chunks.
The grinding of the raisins and nuts are what I call the secret ingredients or process in this recipe which sets it apart from so many other carrot cake recipes!
Oil or butter?
Most cake recipes I love include butter, but this cake is definitely better made with oil. This article in Epicurious supports the oil vs butter choice in cakes! Laurie's Amazing Carrot Cake can be made with Canola, Vegetable or Coconut oil.
Carrot Cake for a crowd
This recipe makes a HUGE amount of cake! Laurie developed this recipe for a wedding with lots of guests in mind. No worries, it is easily halved.
Although it is a big recipe, I still usually make a whole recipe because the extra layers freeze well for months. The frosting recipe is for two layers, or a half recipe. If making a full recipe, use the frosting amount in the recipe notes!
Half the recipe!
I've had many requests for half the recipe and the amounts shared on this post. For 1/2 recipe the batter yields 2-nine inch layers, OR 3-8 inch layers. The frosting amount is correct on the recipe, because it is written for two layers, assuming you will freeze the other cakes for later.
If you half the cake batter, the layers will not be quite as thick as when you make a whole recipe. For instance. When I make a whole recipe and bake 3- 8 inch layers, I also have enough for several muffins as well or another single layer.
When I mix up a 1/2 recipe it is enough for three 8 inch layers, but they are not as full as when making a full recipe. Follow recipe directions for mixing and baking.
1 3/4 cup granulated sugar
1/2 cup oil
3/4 cup buttermilk
4 large eggs
1 1/2 teaspoon salt
2 teaspoons baking soda
2 teaspoons cinnamon
1 teaspoon cloves
3 cups grated carrots
1 cup chopped pecans or walnuts
2 1/4 cups all purpose flour
1 cup raisins dark or golden
Laurie's Amazing Carrot Cake freezes well frosted or unfrosted. Just make sure if you freeze the cake frosted, to take it out of the freezer at least 2 hours before serving to allow the cake to thaw completely.
Also, if you love this cake, you will also love Laurie's Amazing Chocolate Cake. It is the best chocolate cake, if you are looking for deep dark chocolate cake with incredible chocolate frosting!
Laurie's Amazing Carrot Cake was originally posted in August 2009. Post has been updated in 2021 with new photos and recipe updates.
Laurie's Amazing Carrot Cake
Laurie's Amazing Carrot Cake is the last carrot cake recipe you will ever need. This super moist cake is full of carrots, buttermilk and the secret ingredients: raisins and nuts ground together for sweetness and texture!
cool time, frost time
2
hours
Total Time
3
hours
20
minutes
Ingredients
Please read all recipe notes before making this cake! For half portion, see recipe notes
3 1/2

cups

granulated sugar

1

cup

canola or vegetable oil

1 1/2

cups

buttermilk*, room temperature

see recipe notes for substitution

8

large eggs, room temperature

1

tablespoon

sea salt

4

teaspoons

soda

4

teaspoons

cinnamon

1 1/2

teaspoons

ground cloves

6

cups

grated carrots

2

cups

chopped pecans or walnuts

4 1/2

cups

all purpose flour

2

cups

raisins (dark or golden)
Prepare pans:
Two-10 inch spring form pans OR two-9 inch round cake pans plus two 8 inch round cake pans plus one muffin tin (12 count) this recipe can also be made in 8-9 inch loaf pans, filled 3/4 full and frosted on top
Cream Cheese Frosting for 2 layers (see recipe notes for frosting 4 layers) * If creating decorative top with frosting, increase frosting by another 1/2 for piping
1/2

cup

unsalted butter, room temperature (8 tablespoons or 4 oz)

8

oz

cream cheese (not low fat or no fat) room temperature

If using spreadable cream cheese in tub, you will not need to add any milk

1

teaspoon

vanilla OR 2 teaspoons fresh lemon juice

1

pinch

sea salt

6

cups

powdered sugar

cream or milk to thin the frosting (1-3 tablespoons) if needed
Instructions
Set rack in middle of oven. Preheat oven to 325 degrees for at least 15 minutes before baking.

Prepare cake pans by lining the bottom with parchment paper, and spraying the bottom and sides of pans lightly with cooking spray.

Grind the pecans and raisins in a food processor with a metal blade. Pulse until chopped into very small pieces, set aside.

Beat the eggs, oil and buttermilk together in a large bowl or bowl of a stand mixer until blended well.

Add all of the dry ingredients, including the nuts and raisins to the wet ingredients. Mix until all ingredients are incorporated. Stop mixer once and scrap sides and bottom to mix thoroughly. Do not over mix.

Pour into prepared pans, lined with parchment paper. Fill pans 3/4 full. 

Bake at 325 degrees for about 1 hour if using 9-10 inch Spring form pans. Bake for about 45 minutes for round cake pans. Test with toothpick to see if done before removing from oven. 

After removing from oven, wrap each layer individually with saran wrap and place in freezer while still warm. 

Remove the cake from freezer after cake is cooled and frozen or at least cold. Place one layer on a platter and apply one layer of frosting to top of first layer. Place second layer on top of first. Frost the top of the second layer, and frost the sides of the cake with a thin layer of frosting. Return to freezer.

Let cake freeze again until the frosting is firm. Remove and frost outer sides and top of cake again. At this point you can either place back in freezer until ready to use, or let sit out to thaw. 

If making the cake in advance of serving day, cover the cake when frosting is set with plastic wrap and store in freezer.

On day of serving, remove cake from freezer 2-3 hours before serving.
For Cream Cheese Frosting:
Beat the butter and cream cheese in a mixer until smooth.

Add vanilla OR lemon, salt and about 3 cups of powdered sugar. Beat until smooth.

Add rest of powdered sugar a cup at a time with the mixer on medium speed. Add milk or cream to desired consistency, beat for about 2-3 minutes on high, scraping down sides of bowl a few times.

Frost the cake as directed. See recipe notes for amount of frosting to make if making 4 layers and frosting at one time. Refrigerate any leftovers!
Recipe Notes
To make buttermilk at home, pour 1 tablespoon of lemon juice or white vinegar into a one cup measure. Fill the measuring cup with milk. Let sit for 5-10 minutes before using. For cake, it is best to heat the milk for a few seconds. Then proceed to make substitute. I have also used 1/2 cup plain (unsweetened) Greek yogurt, or 1/2 cup of sour cream  mixed with 1/2 cup milk to make 1 cup of buttermilk substitute.

If making 4 layers, use the following measurements for frosting

 so you will have enough frosting for all four cakes. If making either 2 -10 inch spring form cakes, or 2- 9 inch cakes, and keeping the smaller 8 inch cakes in the freezer for later use, one batch of frosting is enough. FROSTING FOR 4 LAYERS:  3/4  cup or 12 tablespoons butter, 12 oz cream cheese, 1 1/2 teaspoons vanilla, 2 pinch salt, 9 cups powdered sugar, milk or cream to thin frosting
If you are decorating the cake with frosting make another 1/2 recipe of the frosting in the recipe. To make the cake with frosting swirled on top, use a 2A or 2D tip. 
Turn the cake so the flat side is up when frosting  to avoid a dome on top.
To half the recipe,  use two 9 inch pans, or three 8 inch pans. Fill the pans 3/4 way full. You may also use one 9- 9.5 inch spring form pan and cut in half after baking. 
This cake stays moist and fresh for at least a week in the refrigerator when covered tightly.