New in 2019 – ABK's Free Thanksgiving Ebook, with printable timeline checklist, grocery list, more recipe links for ABK Thanksgiving favorites and additional Thanksgiving tips to help you keep everything running smoothly! 
This Lemon Cream Pie is just the right blend of light, creamy, tart, sweet and absolutely luscious. It's perfect for any time of the year from Thanksgiving to summer!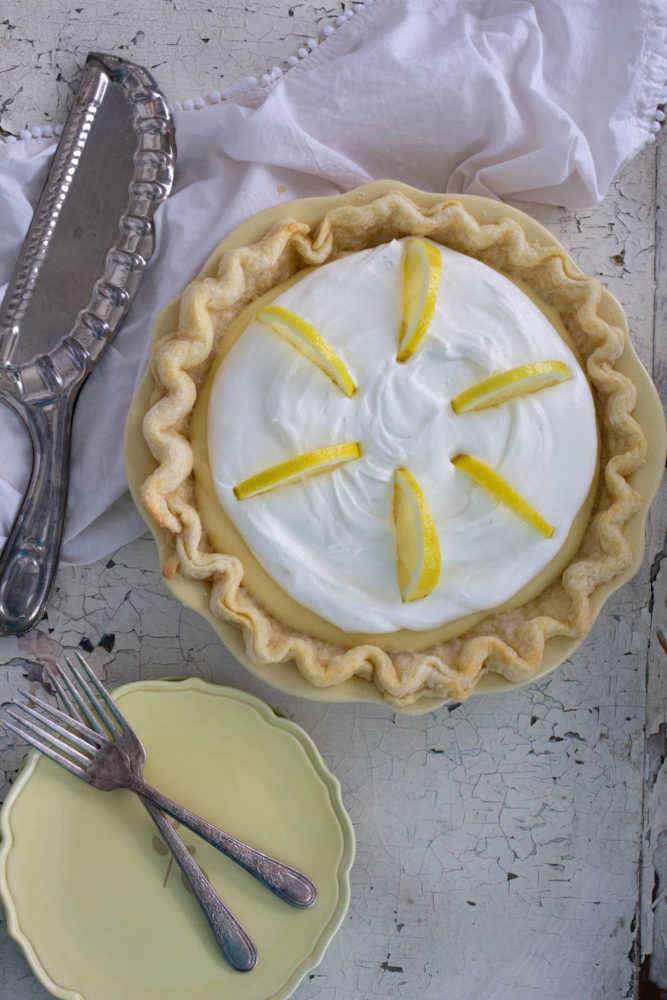 Oh how I love pie season, and lemon. So this Lemon Cream Pie really takes the cake. The recipe is from the original Salt Lake Jr. League Heritage Cook Book. It's easy to make, and so refreshing after a heavy meal. Perfect for Thanksgiving, right? That light lemon flavor perfectly compliments the creamy sweetness of the pie.
Need another reason to put Lemon Cream Pie at the top of your pie repertoire? It's an any time of year, any season, any holiday pie. It's a timeless treat for summer BBQs, spring celebrations and of course, the holiday season! I promise, there will be constant ooooohs and aaaaahs from the family.
I make Lemon Cream Pie with my Best Flaky Pie Crust recipe, but you can also make it with this Graham Cracker Crust recipe. Once you have baked the pie crust and it's cooling, simply combine sugar, cornstarch, butter, freshly grated lemon rind, lemon juice and egg yolks in a saucepan over medium heat, and stir in milk until it thickens. Let it cool and fold in sour cream, then pour it into a baked pie shell and let it chill. The most difficult part about this recipe is letting the pie chill. I promise it's worth the wait!
If you're a true fan of graham cracker crust, give this Lemon Tart Recipe a try. It's just as luscious and topped with a delicious fresh lemon curd! And if you're a lime lover, this recipe for Key Lime Pie is for you, another refreshing option for your holiday dessert table.
This Lemon Cream Pie is about as dreamy as it gets. I love how easy it is to make this from-scratch filling! It keeps in the fridge for a day or two if you want to make the filling ahead of serving time. Just wait to fill the pie crust until the day of serving. The combination of tart with a little sweet make this the ideal dessert after a hearty holiday meal. Happy pie making season!
Lemon Cream Pie
This Lemon Cream Pie is light, refreshing, tangy and sweet! Perfect for any time of the year!
cool time and set up in pie shell
3
hours
Total Time
3
hours
20
minutes
Ingredients
1

9 inch

baked pie shell or graham cracker shell

1

cup

granulated sugar

3

tablespoons

cornstarch

1/4

cup

unsalted butter

1-2

tablespoons

lemon grind, grated

1/4

cup

fresh squeezed lemon juice

3

egg yolks, unbeaten

1

cup

milk

1

cup

sour cream
topping
1/2

cup

heavy cream, whipped

2

tablespoons

powdered sugar

1

fresh lemon for garnish
Instructions
In a saucepan, combine sugar, cornstarch, butter, lemon rind, lemon juice and egg yolks. Whisk together.

Add milk. Whisk again. Turn heat to medium and cook until thickened, stirring constantly to prevent burning.

Remove pan from heat when mixture thickens. Let cool and fold in sour cream.

Pour into baked pie shell. Let chill for 3 hours in fridge.

Whip cream and powdered sugar together until thick.

Serve with whipped cream and garnish with lemon slices just before serving.
Recipe Notes
To speed up the cooling process, I place the cooked mixture in a clean cool bowl after cooking. When cooled, fold in sour cream. 
Do not garnish with lemon until just before serving to prevent juice on top of pie. 
The filling can be made a day or two ahead and refrigerated.