The long-awaited Levain Bakery Dark Chocolate Chocolate Chip Cookie copycat recipe is pure chocolate heaven! It's the ultimate make at-home version of the popular cookie sold in NYC. It lives up to the hype and is everything a serious chocolate lover craves in one gigantic gooey cookie.
A Chocoholics cookie
If you know me, you know I LOVE a good cookie. This recipe for Levain Bakery Dark Chocolate Chocolate Chip Cookies is definitely for chocoholics. If you're a person who can never get enough chocolate, you have to make this cookie right away! The Levain Bakery Dark Chocolate Chocolate Chip Cookie is filled with loads (3.5 cups) of dark chocolate chips and cocoa that make for a rich and delicious homemade treat. I have to say, I prefer the original Levain Bakery Chocolate Chip Cookie to this recipe, but I know there are readers who can never get enough chocolate…this recipe is for you!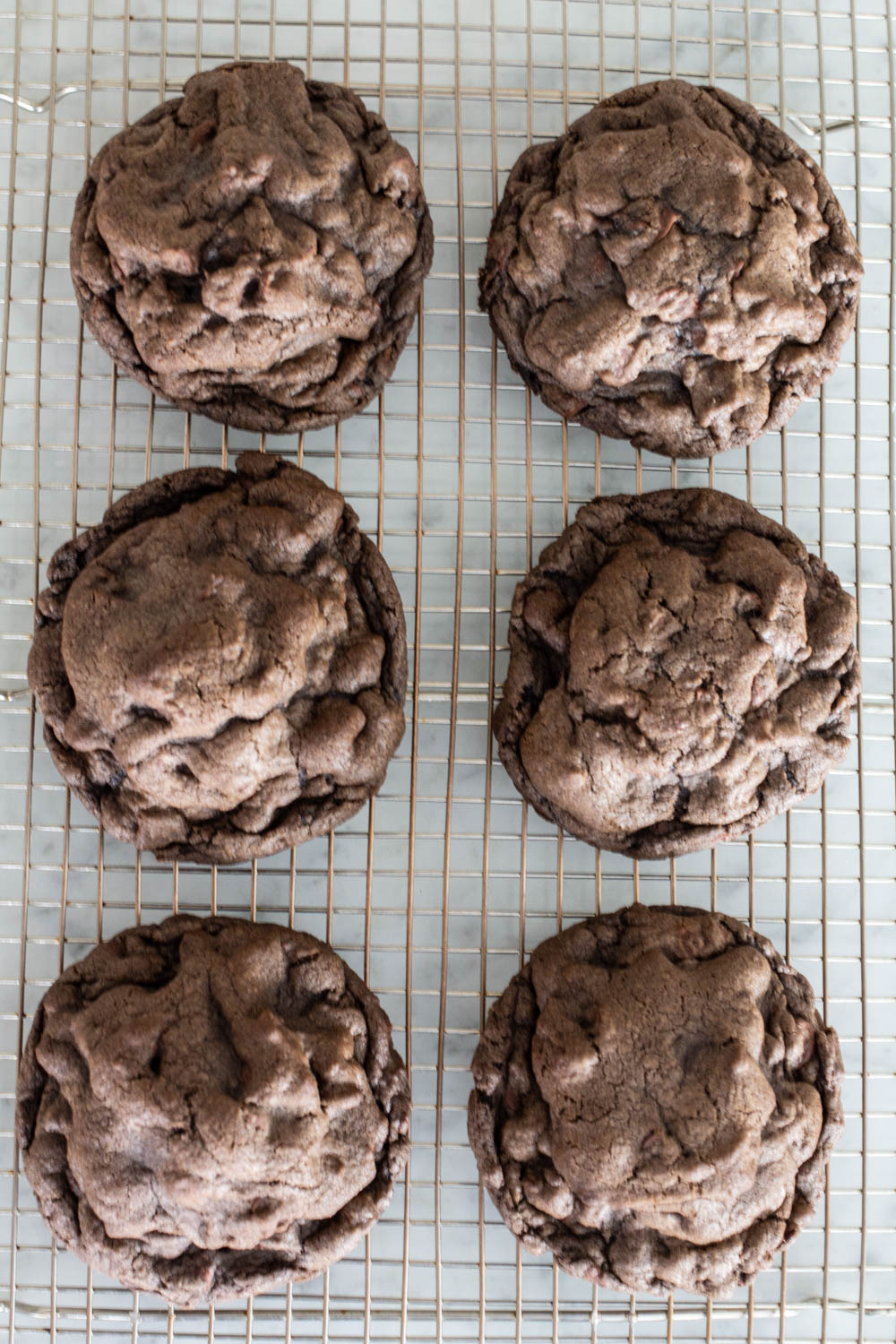 Technique, Technique, Technique
Levain Bakery takes baking seriously. They take cookie making to a whole new level. The normal size of their cookies are 6 ounces, nearly half a pound in every cookie! Big enough to be an entire meal, right? Because they are SO HUGE, I often make the Levain copycat cookies in the mini size, 3-3.5 ounce. Even the "minis" are generous for a standard cookie. Levain Bakery Dark Chocolate Chocolate Chip Cookies are the perfect way to make gourmet, homemade cookie at home. You may be asking yourself what makes this cookie so special? A scroll to the bottom of this post to see the ingredients will find the standard chocolate chip cookie players. Butter, sugar, flours, soda, powder, salt. It is the technique that sets this cookie apart from the rest. The trick to getting the cookie to be big and thick, soft on the inside and a little crunchy on the outside lies in two basic techniques…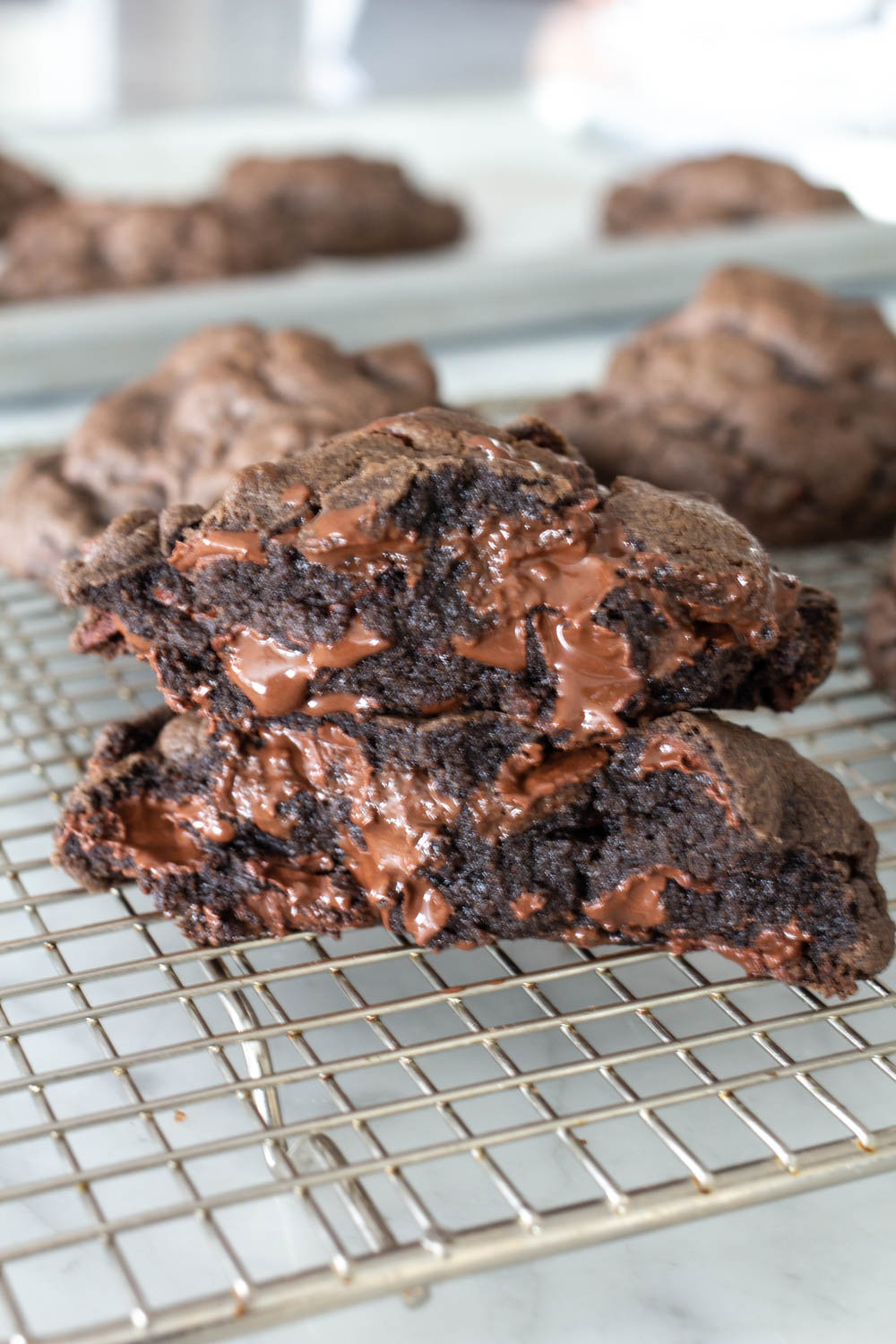 First- temperature. The oven temperature has to be high. Standard cookie baking usually takes place at about 350 degrees. This cookie is baked at 375-400 degrees,  depending on if you are or are not using convection. If you have a convection oven, use it!  I cannot stress this enough. The convection setting will produce a crispier crust without overcooking the dough inside.
That said, if you don't have a convection oven, just turn the oven up to 425 regular bake and let it heat up for at least 20 minutes before baking. This will insure your cookies are baked at high temperature and still produce a crispy outside and gooey melted inside. One of the most often made mistakes when baking is not preheating the one properly. When the oven door is opened, the temperature will decrease by at least 25 degrees. If the oven walls are piping hot, the oven will come back up to temperature more quickly and stay hot. ALWAYS preheat the oven for at least 20 minutes before baking!
The second technique (which is equally important) is to stack the cookie high on the baking sheet. I'm talking about a minimum of 3 inches tall. I promise your cookie will flatten out as it bakes. Take a look at this post to see how I shape the cookies for baking. Think tall pile of dough, verses a round ball. If you stack it tall, it will end up being a big thick cookie, which is what we want with this recipe! I've added a couple of other tips to insure success and help you achieve the big Levain Bakery cookie signature look when making this recipe. Make sure to read the recipe notes for tips!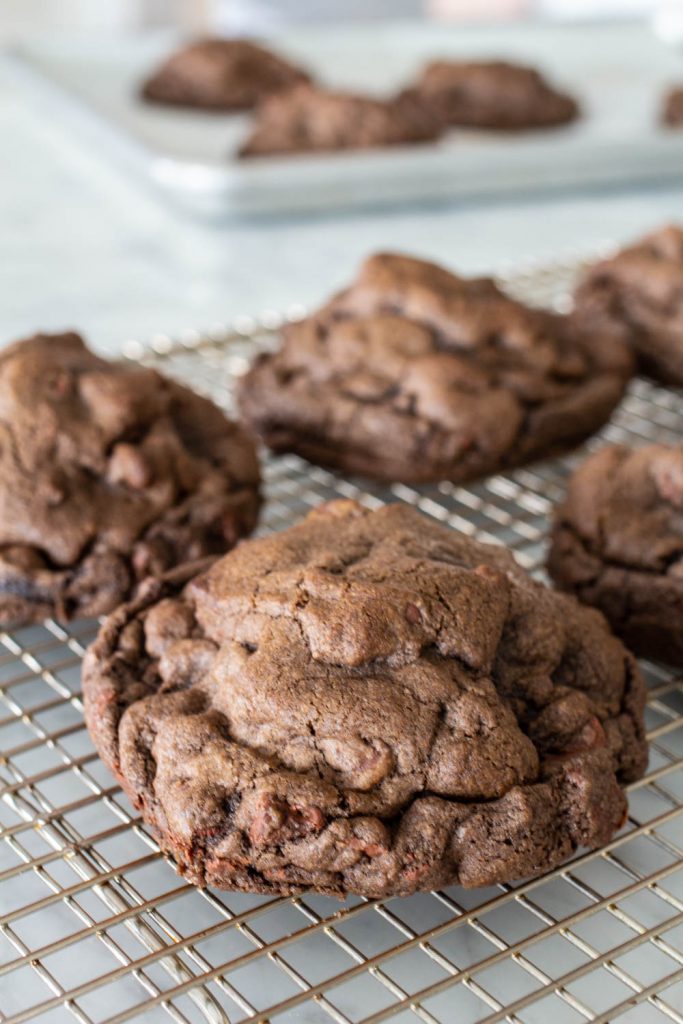 Not our first rodeo
If you don't live near NYC, no worries, you can bake a copycat that will leave you wondering which cookie is better? All of the copycat versions of the Levain Bakery cookies are here on ABK. I've made multiple copycat versions of Levain cookies: the original Levain Chocolate Chip Cookie, the Oatmeal Raisin Cookie, and the Dark Chocolate Peanut Butter Chip Cookie. They were all tested, tested again, and retested until I felt the recipe was as close as possible to the real deal. Take a look at the Levain Bakery Chocolate Chip Cookie recipe for the most in-depth explanation of all the who, what, why and how on everything in my Levain Bakery copycat cookie journey. A little over the top, but seriously some of the most fun I've had in the recipe development game.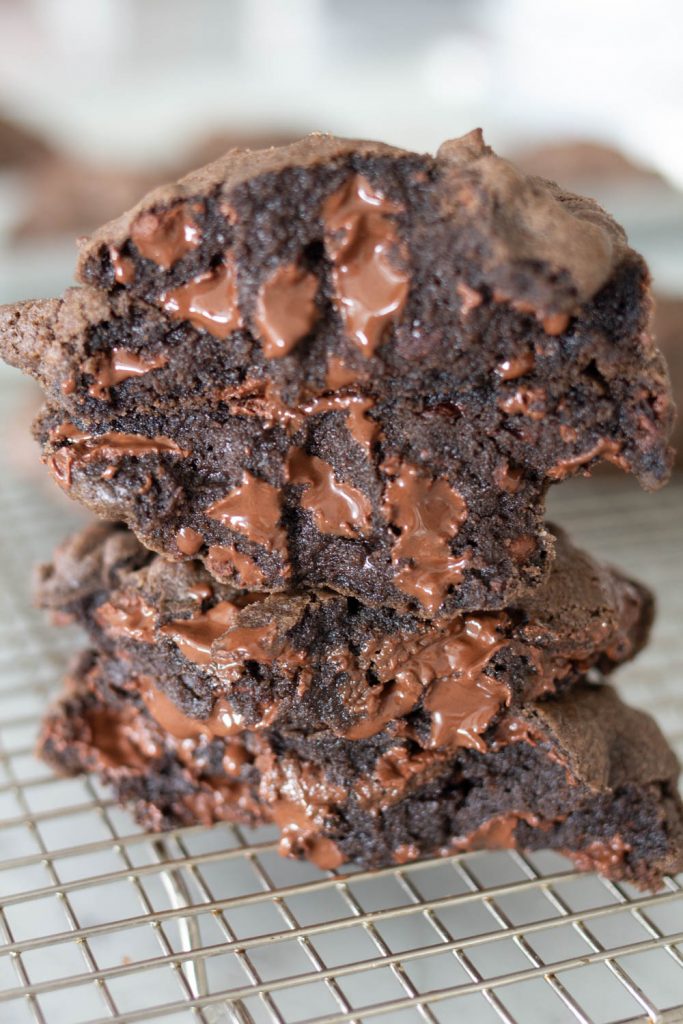 One for you, two for me
I love to gift these cookies because they are so huge and friends and family love the novelty of a big, gooey cookie! All of the Levain Bakery copycat cookies freeze well and stay fresh for a couple of days on the counter since they are underbaked. I just wrap up the cookies in large or small ziplock bags after they are completely cooled and take them out as needed when gifting or when I need a Levain cookie fix! They are also pretty close to perfection when microwaved on top of a paper towel or napkin for about 10 seconds before eating. I hope you enjoy this recipe for Levain Bakery Dark Chocolate Chocolate Chip Cookies and would love to hear your feedback in the comment section!
Serve With
Levain Bakery Chocolate Chip Cookie Recipe
Serve With
Levain Bakery Oatmeal Raisin Cookie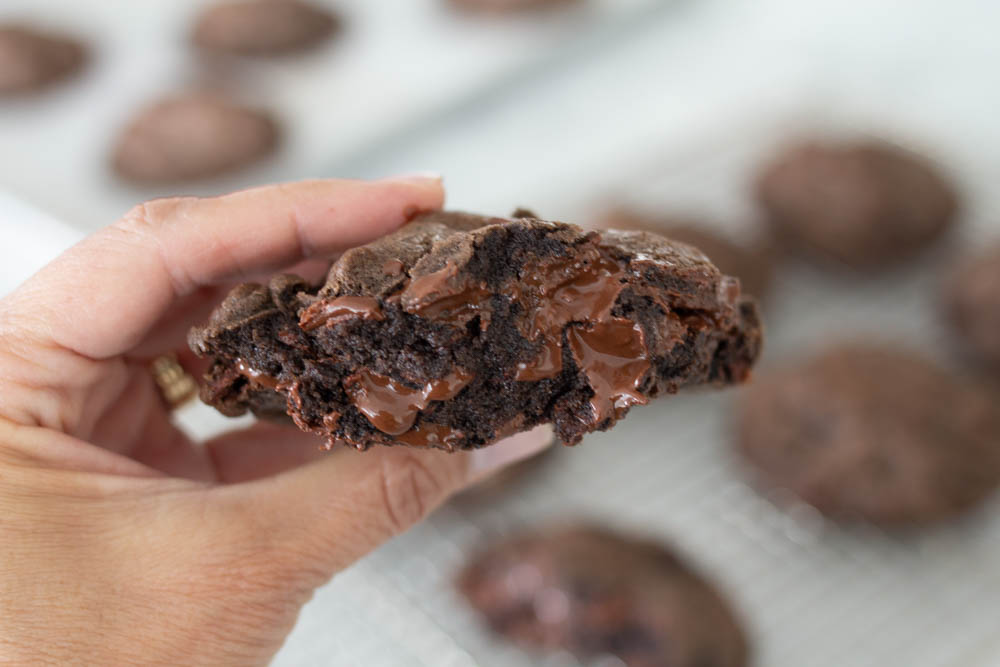 Levain Bakery Dark Chocolate Chocolate Chip Cookies
Looking for the ultimate dark chocolate cookie lover's dream? Levain Bakery Dark Chocolate Chocolate Chip Cookies are filled with dark cocoa, semi sweet chocolate chips, a slightly crispy outside and a gooey chocolately inside. This simple copycat recipe is the best make at home version of the popular NYC bakery cookie!
Ingredients
1 1/4

cups

unsalted butter microwave for 10 seconds or set on counter for 30 minutes

1

cup

granulated white sugar

1

cup

dark brown sugar

2

large

eggs, cold

1/3

cup

Hershey's Special Dark Unsweetened Cocoa powder

2

cups

all purpose flour

1/2

cup

plus 2 tablespoons cake flour

1

teaspoon

baking powder

1

teaspoon

baking soda

1/2

teaspoons

salt

3.5

cups

or two 12 oz bags dark or semi sweet chocolate chips
Instructions
Place rack in center of oven with no other rack on the shelf directly above the center rack. Preheat oven to 400 convection bake or 425 regular bake. Let oven heat up for at least 20 minutes before baking.

Cut the butter into tablespoons size pieces. Place the butter in the bowl of a stand mixer or a large mixing bowl. Turn the mixer to medium speed and beat butter, and sugars for about 1 minute until butter is broken up and starts to blend with the sugar.

Add eggs, one at a time until mixed well. Keep the mixer speed on medium. Turn mixer off and add unsweetened cocoa, mix until cocoa is blended well. Scrape down sides of the bowl a couple of times during mixing.

Turn mixer off. Add all purpose flour, cake flour, baking powder, baking soda and salt to bowl all at once. Pulse the mixer until the wet and dry ingredients are combined using low speed. Scrape down sides of bowl again.

Fold in chocolate chips. Mix on low, or fold in with large spoon until chips are incorporated in dough.

Scoop the cookies with hands onto a kitchen scale*, the cookies should weigh 6 oz each. There will be approximately 8-9 pieces of dough. If you are making minis, measure out to 3 – 3.5 ox size and refrigerate before baking to avoid excess spreading of dough.

The large 6 oz cookies do not require refrigeration before baking. Bake the cookie sheets one at a time, 4-5 cookies per sheet at least 3 inches apart.

Bake for 5-7 minutes on convection or regular bake. The cookies are done when a top crust is formed and the cookies no longer look wet. Do not over bake!

If the cookie edges spread too much, use a small spatula and push the edges in while still hot to form circular shape. Let the cookies cool for 30 minutes before eating.
Recipe Notes
I use Hershey's Special Dark Cocoa for this recipe. It is usually the darkest cocoa readily available at most grocery stores. It comes in a smaller container than most cocoa, but will last for quite a while since only small amounts are used in most recipes. 
When making this recipe, I prefer to use food handler's gloves to form the dough. I don't ever use a scoop when making any of the Levain copycat recipe. Explanation regarding forming of dough on this post. 
It is important to note that when making this cookie, it is best to start making dough about 10 minutes after the oven has begun preheating. The dough should not sit out on counter at room temperature. If the dough sits at room temperature, the butter will begin to melt and the cookie will not hold its shape as well when baking. Also, using cold eggs and butter that is only slightly softened contribute to the cookie holding its shape. 
If you feel the dough has been sitting at room temperature longer than you anticipated, form the cookies and place the pan inside of the fridge to allow the cookie dough to chill for a while. Then place immediately in the preheated oven to cook. 
Cook time will vary depending on if using convection or not and the oven. Remember, this cookie only needs to be baked until the cookie has formed a slightly crust on top and the dough is no longer shiny (see photos). 
Always use unsalted butter and large eggs. 
When storing these cookies, I try to not cover them up, this will cause the cookie to lose its crisp outer layer!