Levain Bakery in New York City makes a serious oatmeal cookie. Thick and chewy, filled with raisins and big enough to be a meal replacement, ABK's Levain Bakery Oatmeal Raisin Cookie is a cookie your granny will love!
Oatmeal Raisin has been a favorite cookie in our home for many years. Grant's favorite cookie is oatmeal raisin and it's a close second to the Tried and True Chocolate Chip Cookie for me! I remember my mom making cookies for my dad when I was a young girl, his favorite was oatmeal raisin too.
I often hear oatmeal raisin cookies are an older person "thing". That may be true, but listen up young people, you are missing out if you don't try a Levain Bakery Oatmeal Raisin Cookie! Pull up a chair, I'm going to tell you why you need to make this cookie…
Last year, when I visited New York City and tasted my first Levain Cookie, I knew I had to make a copycat cookie so we could enjoy the Levain goodness anytime a craving struck! It began with the Levain Bakery Chocolate Chip Walnut Cookie, then the Levain Bakery Dark Chocolate Peanut Butter Chip Cookie, and now, my latest Levain copycat recipe, the oatmeal raisin dream.
If you read my original post, you know about the cookie heist story involving my friend Maria and her husband Dave and one highly suspect man carrying her Levain bag off of the plane!
Each time I've worked on a copycat, I've had a cookie carrier bring me cookies so I can taste, test and try to duplicate with authenticity. Of course, there are no ulterior motives… I don't WANT to eat all of these cookies, but for the sake of science, I feel it's my duty.
For the Levain Dark Chocolate Peanut Butter Cookie, my friend Kristin brought back a sample. For the Levain Bakery Oatmeal Raisin Cookie, my girlfriend Melinda carried the cookie back so I could taste test again. It had practically been a year since my last tasting of the oatmeal cookie and I wanted to get it right!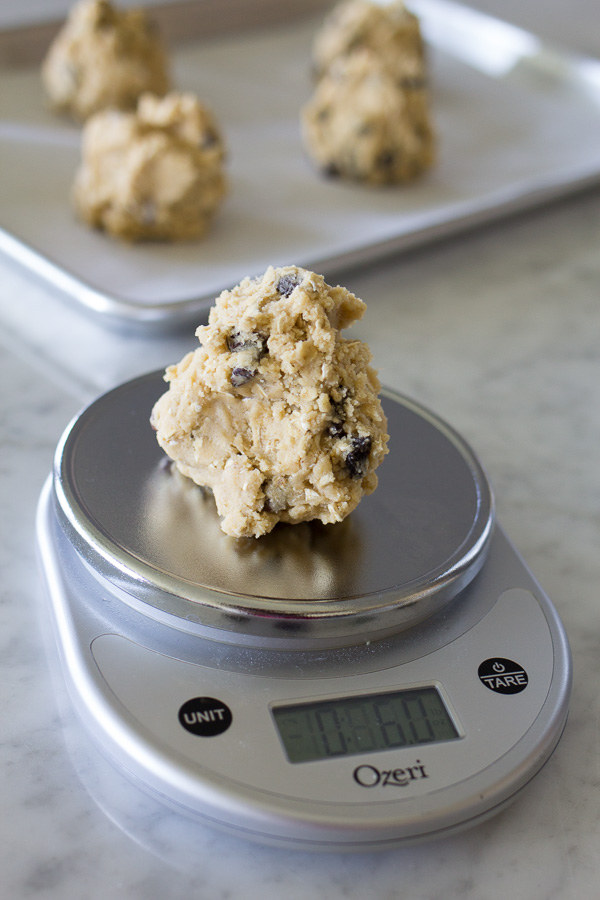 Today, I'm going to tell you why you need this cookie in your life and how to make the most authentic copycat right in your own kitchen! Here are the factors I used to come up with this at home version of the Levain Bakery Oatmeal Raisin Cookie…
It has to look like the original, right?
This copycat version looks a lot like the store bought. It's big- 6 oz worth of cookie. You get about 9 cookies per recipe which (at the bakery) will cost you about $36 plus tax. If you live in NYC or are visiting that's a great option. The cookies are huge. They'll fill you up in a heartbeat. Or is that a heart attack? Either way. They are filling! This at home version looks just like the store bought original.
A few adjustments for flavor sake
I like a cookie that has a good balance between salty and sweet. In my opinion, the Levain cookie is a little lacking in the balance category. It's really sweet and needs a little more salt. That said, this is a copycat of the Levain Bakery Oatmeal Raisin Cookie, and I wanted to create something that looks and tastes like the version you get in the store.
The recipe I developed calls for 1/2 teaspoon of salt, but I usually throw in a full teaspoon because I like a little more salt in my cookie. I always use unsalted butter as well, so I can control the amount of salt going into my baked goods!
The Levain owners have stated they like to keep things simple in their recipes, so I followed their lead in the Levain Bakery Chocolate Chip Walnut Cookie – no vanilla. They state on record that "vanilla doesn't add much flavor", so they left it out of the recipe. Also, I love walnuts with oatmeal raisin cookies, but the Levain Oatmeal Raisin Cookie does not include walnuts, so I left them out of my recipe.
The straight from the store in NYC Levain Bakery Oatmeal Raisin Cookie (above)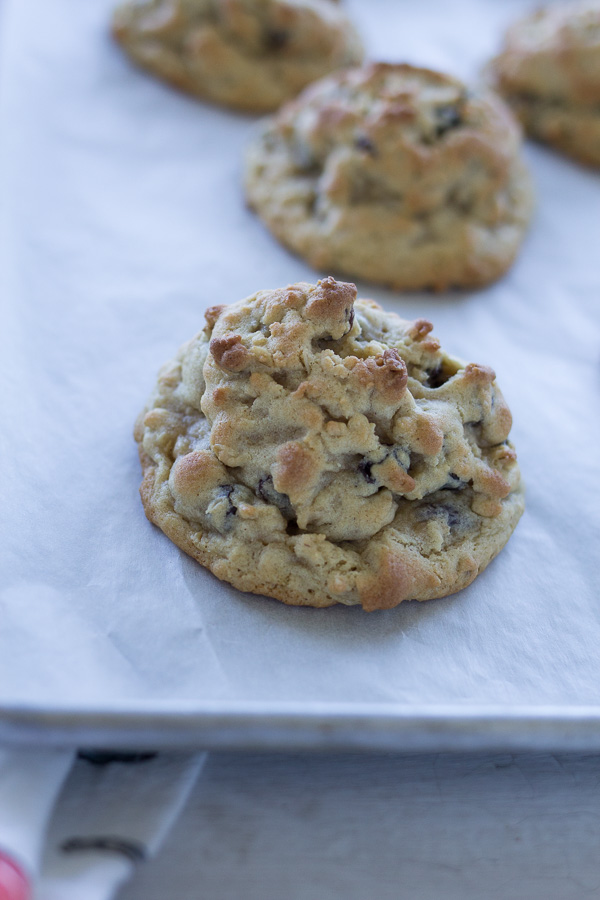 My version of the Levain Bakery Oatmeal Raisin Cookie
How to make the best Oatmeal Raisin Levain Cookie copycat!
For over 30 years, I have been using this recipes for oatmeal cookies. Best in the World Oatmeal Cookies, are made with 1/4 cup of cornstarch. I decided to use my favorite recipe as a base for making the Levain Oatmeal Raisin Cookie copycat. After a few adjustments, I felt it was really close to the real deal! Here are a few of the tips I have for making sure to get a perfect result every time you make a Levain copycat recipe:
Turn up the heat-The high heat is what cooks the outside of the cookie to a nice golden brown color, and barely cooks the inside of the cookie. If you have convection USE IT. If not, the cookies bake up perfectly without convection. The batch in all of the photos on this post were made using the regular bake feature on my oven.
Don't overmix- #1 tip always for making yummy cookies or brownies! Over mixing the dough will cause your cookies to become tough. Less is more in the mixing department! Keep the mixer on low or medium low at all times. I like to use the pulse action to get the ingredients incorporated without over mixing.
Weigh it out and stack it high- If you want your cookies to turn out like the cookies pictured, weigh the dough, 6 0z each cookie, and stack the dough high. Don't flatten the dough at all, just pile it on the cookie sheet. It will spread a little. If the dough spreads too much, use a little spatula to push the edges in right after it comes out of the oven. You may also make mini versions of the Levain cookies, for each mini, weigh dough to 3 oz each and bake for about 4-5 minutes.
Let it cool- On the previous posts, I once in a while receive comments saying the cookie "fell apart" after baking. This is the result of not letting the cookie cool properly. This cookie is thick and weighs almost 1/2 lb. It is barely baked, so it needs to be allowed proper cooling time before the cookie is moved off of the baking sheet. I like to let the cookies sit for at least 30 minutes or more.
The Levain Bakery Oatmeal Raisin Cookie is perfect for make ahead, as well as enjoying on the day of baking. Wrapped, the cookie can stay fresh for several days. They also freeze well stored in a Ziplock bag. Hope you love this recipe as much as we do. Happy baking my friends!
NOT OUR FIRST RODEO
If you don't live near NYC, no worries, you can bake a copycat that will leave you wondering which cookie is better? All of the copycat versions of the Levain Bakery cookies are here on ABK. I've made multiple copycat versions of Levain cookies: the original Levain Chocolate Chip Cookie, the Dark Chocolate Chocolate Chip, and the Dark Chocolate Peanut Butter Chip Cookie. They were all tested, tested again, and retested until I felt the recipe was as close as possible to the real deal. Take a look at the Levain Bakery Chocolate Chip Cookie recipe for the most in-depth explanation of all the who, what, why and how on everything in my Levain Bakery copycat cookie journey. A little over the top, but seriously some of the most fun I've had in the recipe development game.