Eat in, instead of out tonight! This recipe for Margherita Pizza will convince you that the best pizza is homemade. It comes together in a few minutes using a mixer, if you don't want to deal with dough, buy a loaf of French bread and top the bread with sauce, cheese and fresh basil…literally dinner in minutes!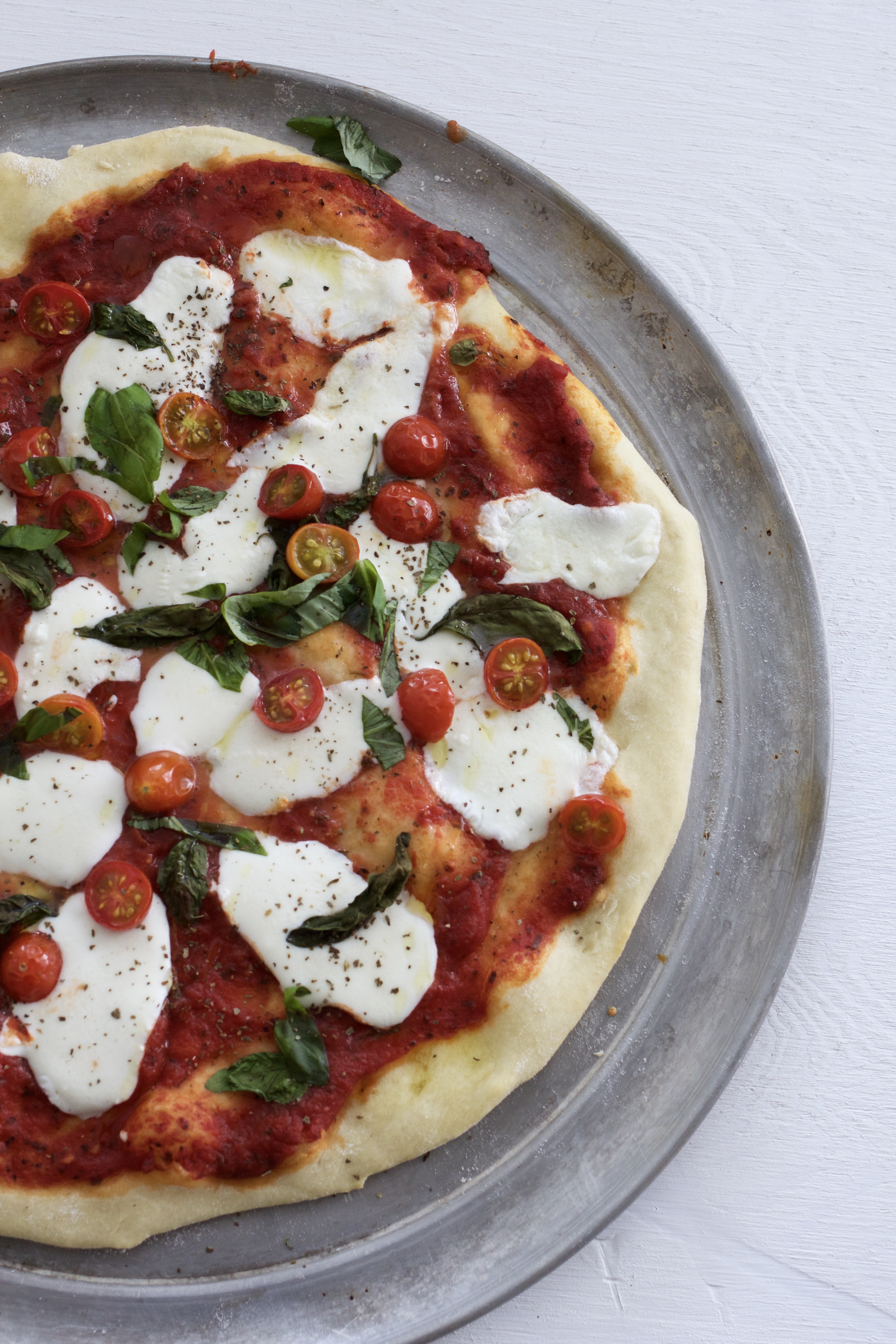 Homemade pizza is always a huge hit in our home and Margherita Pizza is always my favorite pizza combination. When the whole family is over, we like to use this recipe as a base for make your own pizza pie night! Once you learn how easy it is to make pizza in your own kitchen you'll want to make it your new family tradition.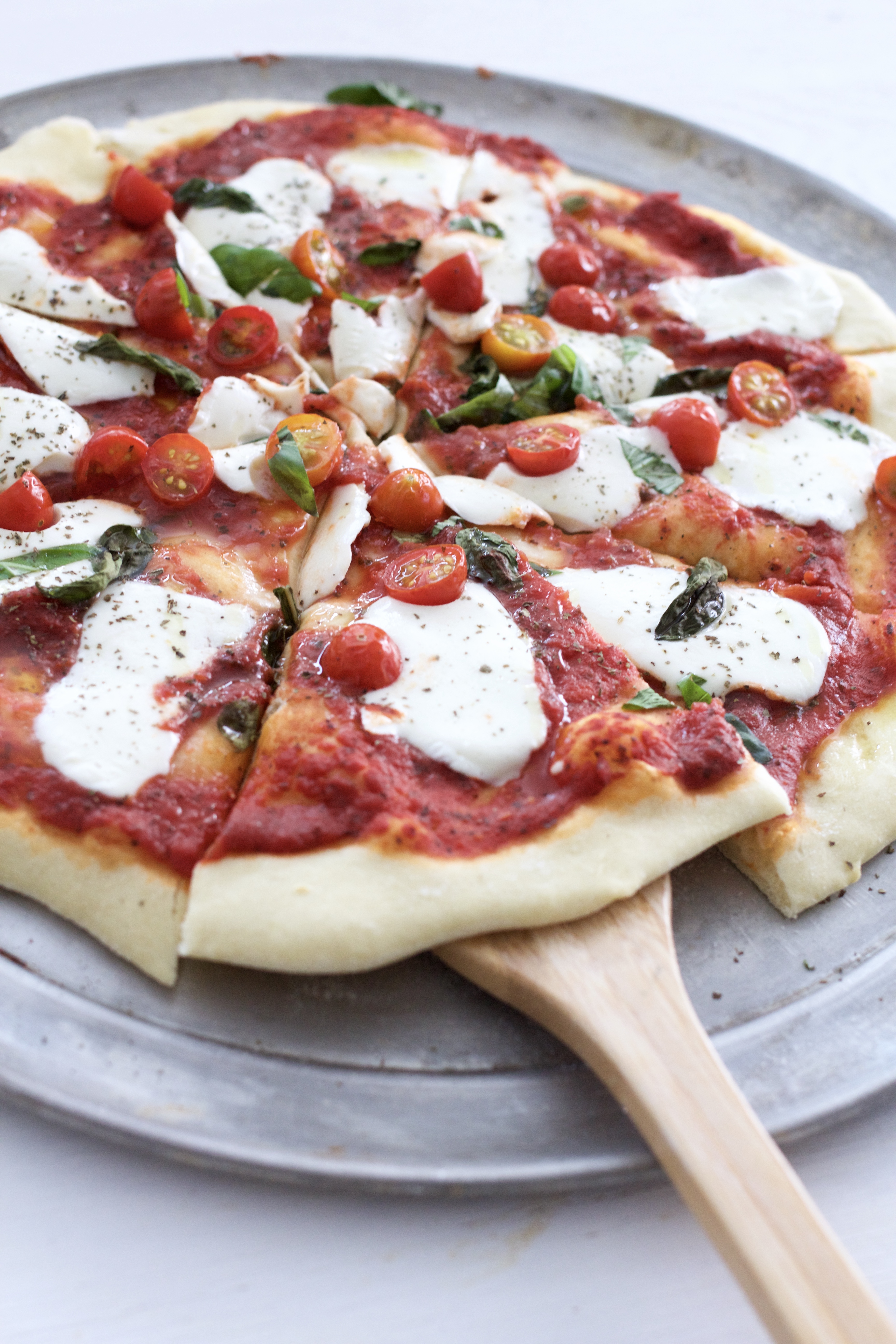 Takeout vs homemade Margherita Pizza
With the exception of one restaurant in SLC, I would rather eat homemade Margherita Pizza than take out every day of the week!  With a little preparation, you can make delicious pizza at home in about the same time it takes to order, wait for delivery or drive to your local pizzeria (especially on a busy game night).  Another advantage to making pizza at home is cost. If you're serving a crowd, homemade is way less expensive than take out, unless  maybe when you're ordering $5 pizza.  I try to avoid $5 pizza whenever humanly possible! Reason #3 for making homemade pizza- you can pronounce all of the ingredients that go into your pizza. No pre-packaged cheese, mystery meats and vegetables that have been frozen for months. Have I convinced you yet?
 Dough for beginners
No need to be afraid of making pizza dough. It's a simple process. Proof the yeast in warm water, which basically means place warm water in a bowl or cup, sprinkle the yeast on top and add a little sugar. Wait for the yeast to bubble up and it's ready to go. This recipe calls for mixing the flour, sugar and salt in a large bowl, adding the yeast mixture, a little olive oil and turn the mixer on. After the dough comes together, add a little flour until the dough is no longer sticky, knead a bit (I always use the dough hook on the mixer for kneading) and then let it rise. That's it! Really simple. I love doubling the dough recipe and forming the extra dough into balls and freezing. The next time you want to have a pizza party the dough is ready to go after being thawed!
Simple sauce
Making pizza sauce for Margherita Pizza is as simple as opening a can, adding a few ingredients and then turning on the stove to simmer. I don't buy pre made pizza sauce, because I always have the ingredients on hand at home. You can easily make your own sauce without a recipe. I start with tomato sauce or crushed tomatoes, a bit of tomato paste (if you don't have time to simmer) , a few herbs (oregano, basil, thyme) a bit of garlic, a pinch of sugar. Or you can follow the recipe on this post! I usually double the sauce recipe and freeze any leftovers for future use. Again, thinking ahead for future dinners saves time!
 Sometimes more is not better, it's just more…
Remember, when making thin crust Margherita Pizza, be careful to not overload the crust with toppings. Sometimes, we have a tendency to overload pizzas with toppings because in true American fashion, we think more is better. Think more on the light side when making ABK's Margherita Pizza. The pizza will cook more evenly and you'll be able to appreciate each topping. Remember less is more!
Margherita Pizza
Servings
2
- 12 inch pizzas
Ingredients
pizza toppings

enough for 3 pizzas or one recipe of dough

olive oil

about 2 tablespoons per pizza

1/2

lb

fresh mozzarella

sliced

2

Roma or other tomatoes

sliced

fresh basil leaves about 1/2 cup leaves

fresh grated Parmesan

optional

additional dried basil

oregano, sea salt and olive oil for topping after baking

dough

makes 2-3 10 inch thin crust

3/4

cup

warm water

105°F to 115°F

1

envelope active dry yeast

1/4

teaspoon

sugar

2

cups

or more all purpose flour

1

teaspoon

sugar

3/4

teaspoon

salt

3

tablespoons

olive oil

sauce

enough for 9 pizzas or a triple recipe of dough

28-

ounce

can crushed tomatoes in puree

about 3 1/2 cups

3

tablespoons

olive oil

1

tablespoon

dried or fresh 1/4 cup each: chopped basil

parsley and oregano

1

clove

minced garlic

pinch

of sugar

salt and pepper to taste
Instructions
Prep work:
About 1 hour before serving or one day ahead

Make the dough and set aside to rise. If making several hours or a day ahead, store in fridge.

Make the sauce and let simmer.

/2 hour before cooking, preheat oven to 475 degrees.

--------------------
Make dough:
Pour 3/4 cup warm water into small bowl; stir in yeast. Let stand until yeast dissolves, about 5 minutes. Sprinkle with about 1/4 teaspoon sugar, to help yeast grow.

Mix 1 1/2 cups flour, sugar, and salt in lightly greased bowl of food processor or the bowl of stand mixer.If using a stand mixer, use the paddle attachment until ready to knead.

Add yeast mixture and 3 tablespoons oil; process or mix until dough forms a sticky ball.

Slowly add remaining flour and knead in work bowl with dough hook.

Knead dough until smooth, adding more flour by tablespoon if dough is very sticky, about 1 minute. Do not add too much flour.

Turn dough in bowl to coat with oil. Cover bowl with plastic wrap and let dough rise in warm draft-free area until doubled in volume, about 1 hour. After dough has risen, punch down. Divide dough into 3 even balls of dough.

Roll out dough according to recipe instructions. Start in center of dough, working outward toward edges. See notes on recipe for make ahead and storing instructions.
for sauce:
Pour sauce ingredients into medium saucepan: crushed tomatoes, 3 tablespoons olive oil, herbs, garlic, pinch of sugar, salt and pepper. Bring to a simmer, stirring occasionally, for about 20 minutes or until sauce is reduced to about 2 1/2 cups.

Set aside until ready to use. Sauce keeps covered and chilled, 5 days.
To assemble:
Grease pan with cooking spray or sprinkle with cornmeal.

After the dough has risen, split into 3 dough balls and roll each one out to a 10 inch circle and place on a cookie sheet or pizza pan.

Drizzle dough with olive oil and spread with spoon.

Spread prepared sauce onto crust, then top with mozzarella slices and tomato slices and fresh basil*.

Sprinkle with grated Parmesan.

Place into hot oven and bake for about 10-12 minutes on bottom half of oven, or until cheese is melted and bottom of crust is golden brown. Remove from oven and top with fresh basil leaves, drizzle with additional olive oil, sprinkle with dried basil or oregano and lightly sprinkle with sea salt.

Serve while hot.
Recipe Notes
-I like to cook some of the fresh basil on the pizza and then sprinkle additional fresh basil on the pizza after cooking. -The dough freezes well. I like to decide the dough into 2-3 balls of dough each recipe, pop into a Ziplock bag and freeze. If you are making the dough early in the day or the day or two before serving, no need to make balls of dough before refrigerating. Wrap dough in a gallon size Ziplock bag and squeeze the extra air out. Store in refrigerator up to two days. When ready to use, remove from refrigerator and let sit in bag on counter for an hour before serving, or roll out immediately and let sit for about 30 minutes before topping.-Farmers Markets are a great place to buy fresh basil and tomatoes for less than half the price at most grocery stores in the summer months. -Using a pizza stone will produce a crispier bottom crust. Highly recommended!