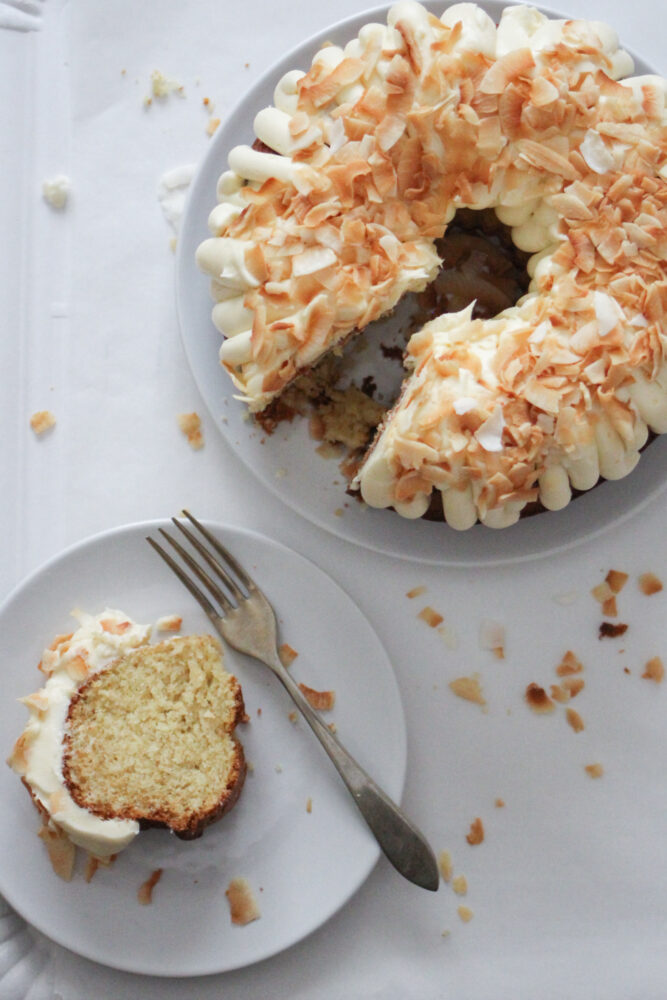 Moist and Easy Coconut Cake with Cream Cheese Frosting is for the coconut fanatic! Not too sweet and topped with delicious toasted coconut, this cake is so easy to make and bake!
With SO many coconut cake recipes available online, some that use cake mix as a main ingredient, and others that are made from scratch, it is difficult to know which coconut cake is the best? I'm giving this recipe two thumbs up after months of testing!
I'm not entirely against using cake mix (we love this recipe for Nan's Coconut Cake), but I wanted to create a completely homemade, easy to make version of one of my favorite cakes.
This recipe has been tasted and tested and tested again. Trust me when I say after so many experiments, this is the best Coconut Cake recipe ever! If you have ever eaten at Plates and Palates in Bountiful, Utah; they serve a delicious house-made coconut cake which is very similar to this cake.
The quest for the best coconut cake started when missionaries asked me for a coconut cake recipe that works in Spain, in our mostly humid and sea level environment. I also had my trusted and experienced assistants at home, Kathleen and Megan, make this several times to make sure it works in a dry, high altitude location!
There are a few key elements I look for in a coconut cake. First, it has to be moist. Flavor is also key. Using toasted coconut as a topping and coconut extract (or vanilla if you don't have coconut extract) make such a difference in this recipe! Coconut Cake should be nice and fluffy, so when you take a bite it's melt-in-your-mouth worthy.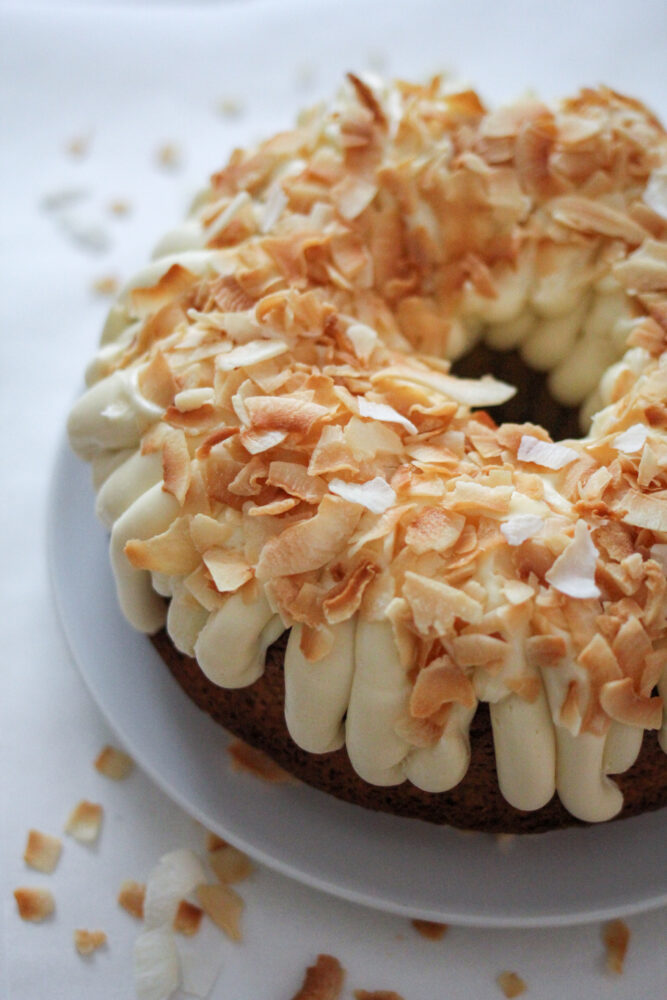 Let's talk frosting. So many people buy frosting in a can. Homemade frosting is so easy and makes all the difference! I use cream cheese frosting for this recipe and it is the perfect pairing. I think the frosting amount is just enough to cover the cake with a generous layer that is not out of proportion to the cake layer!
The coconut cake itself is not too sweet and a layer of cream cheese frosting compliments the texture and coconut flavor in the cake. If you're not a fan of cream cheese frosting (or you don't want to refrigerate leftovers), you can use this Buttercream Frosting recipe.
Finally, the toasted coconut on top takes this cake to the next level. Don't skip this step! It takes this cake from amazing to AMAZING in one easy show stopping topper.
This easy moist coconut cake can be made and served the same day, but I think it is almost better the second day! Which means it is the perfect make-ahead dessert. This cake tastes better the second day because the flavors are allowed to develop. I promise it gets better with time! That said, I have no problem eating up every crumb the same day it is baked.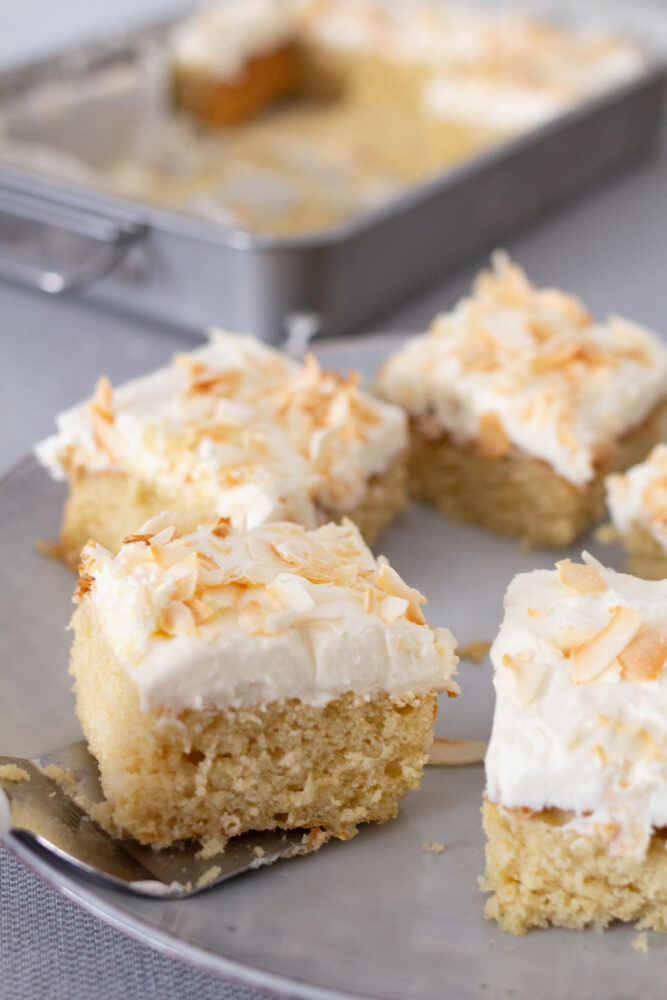 I love the simplicity of a 9×13 cake because it is perfect for a family dinner or you can bake it in two 9 inch round pans for a special occasion. We also love this cake baked as a bundt! This bundt coconut cake is decorated similar to cakes purchased a popular bundt cake store, but we know homemade is always best. To decorate the bundt, follow the directions in the recipe notes. You will need a pastry bag and a large round tip.
All baking instructions are included in the recipe no matter if you choose to bake our Coconut Cake in a 9×13, 2-9 inch rounds, or a bundt pan!
How to Make Coconut Cake with Cream Cheese Frosting
Mix dry ingredients together.
Beat butter and sugar in a mixing bowl.
Mix in eggs.
Add yogurt.
Add all dry ingredients.
Pour into greased pan and bake.
Make frosting by mixing all ingredients together.
Frost cake when cool, top with additional coconut.
Easy Coconut Cake with Cream Cheese Frosting
The best coconut cake ever, made in a 9×13, 2 round cake pans or a bundt pan! This versatile cake is perfect for birthdays, anniversaries, baby showers or Sunday dinner.
Total Time
1
hour
50
minutes
Ingredients
2 ¼

cups

all purpose flour* (270 grams)

see recipe notes for humid conditions

1 ½

teaspoons

baking powder(6 grams)

1

teaspoon

baking soda (6 grams)*

*baking soda weighs a bit more than baking powder

1/2

teaspoon

salt (2.7 grams)

1

cup

unsalted butter (226 grams)

room temperature

1 ½

cups

granulated sugar (300 grams)

3

eggs plus one white

room temperature* see notes for humid conditions

1

teaspoon

coconut or vanilla extract (4.66 grams)

1

cup

unsweetened plain Greek yogurt (227 grams)

1

cup

sweetened coconut for cake batter (85 grams)

I use Baker's sweetened coconut *see recipe notes

1 1/2

cups

coconut for sprinkling on top of frosted cake if desired. I preferred: 1 ½ cups large natural coconut shavings, toasted (127.5 grams)
frosting:
4

oz

cream cheese full fat (113 grams) not reduced calorie or light

room temperature

1/2

cup

unsalted butter (113 grams)

room temperrature

1

teaspoon

vanilla (4.66 grams)

pinch

sea salt

3 1/2

cups

powdered sugar (397.25 grams)
Instructions
Preheat oven to 350 degrees F (175 degrees C) and place rack in center of oven.

Grease and flour a 9×13 pan, a bundt pan, or two-9 inch round cake pans or line with parchment paper.

Mix flour, baking powder, baking soda and salt together and set aside.

Crack 3 eggs plus one white into a bowl, discard extra egg yolk. Set aside.

Beat butter and sugar with a mixer in a large bowl until light and fluffy for 2-3 minutes.

Add the room-temperature eggs, and additional egg white one at a time, allowing each egg yolk to blend into the butter mixture before adding the next. Mix in extract.

Spoon in the unsweetened Greek yogurt, mixing until just incorporated.

Add all dry ingredients to bowl including 1 cup of sweetened coconut, mixing just enough to evenly combine.

Pour batter into the prepared pan(s).

Bake at 350 degrees F (175 degrees C)

35 minutes for a 9×13 pan, about 40-45 for a bundt pan, and approx 18-22 mintues for 9-inch round cake pans. Bake until a toothpick inserted into the cake comes out with a few moist crumbs attached or the top springs back when touched lightly. Let cool completely before frosting.
Toasting coconut:
Place the coconut on a baking sheet lined with parchment paper and bake at 350 degrees until golden. Let cool and place on top of cake immediatley after frosting.
Cream Cheese Frosting:
Mix cream cheese, butter and vanilla together until smooth. Add salt and powdered sugar a cup at a time until smooth. Beat for about 1 minute until frosting is smooth and fluffy. Use a spoon to mix frosting after beaten to remove any air bubbles before frosting cake. Folding a few times should remove air bubbles!
Recipe Notes
In humid environments (above 50% humidity) add 2 tablespoons flour and omit the extra egg white.
In Spain, I follow the high humidity instructions. I use 1 cup "Reposteria" flour in this recipe, and 1 1/4 cups Harina De Trigo (self rising flour) in Spain. You may use all Harina de Trigo as well. 
In the US, use 1 cup of traditional sweetened coconut (such as Baker's or a store brand). In Spain, they do not sell this type of coconut, so I use a dry coconut that is called "Coco Relado" which has the consistency of crumbs. 
For the coconut on top of the cake, I like to use a natural larger flake coconut.  This is found most often in the natural food section of the grocery store, or sometimes in the bulk food section. Trader Joe's also carries large flake unsweetened coconut. If you don't want to purchase an additional coconut for topping the cake use the same type used in the batter, toasted or right out of the bag. I do not recommend the larger natural flake coconut for the cake batter. It is too dry for the cake. 
Unsweetened coconut is not recommended for the cake batter. It tends to dry out when baked.
To frost the bundt as photographed, place the frosting in a pastry bag with a large round tip. Start in the center of the cake and pipe strips of frosting toward the outside of the bundt. Top with coconut immediately after frosting cake. 
This frosting contains cream cheese and should be refrigerated if storing overnight. 

When toasting the coconut, watch carefully, the coconut will toast in a few minutes and goes from golden to dark brown quickly!