Pacific Rim Glazed Flank Steak is a simple but elegant main dish! Perfect for any holiday from Valentine's Day to Mother's Day, it will become your new favorite way to prepare flank steak.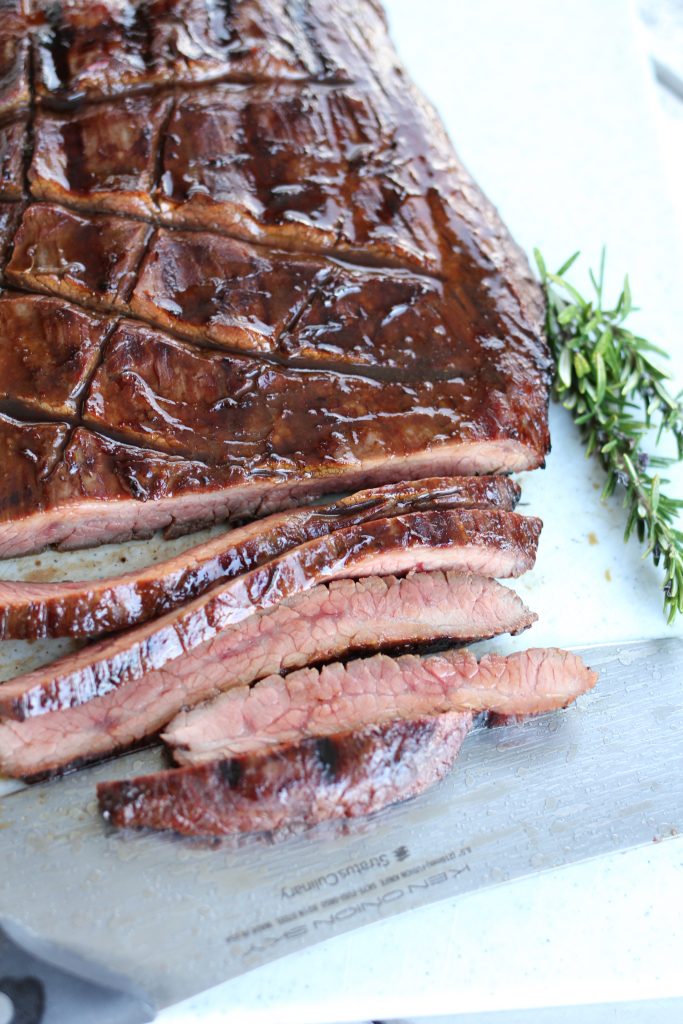 May 2009
Hello out there…Note to all Fathers.
Did you remember that Mother's Day is THIS SUNDAY. Oh, how I love Mother's Day.
No, really I do.
My Favorite Mothers Day story:
Grant took Corrine about 7, and Brookie 1 yr old shopping to get a Mother's Day gift. When they came home, Corrine was dying to tell me what they bought, but determined to keep a secret.
Me: "How was the shopping trip?"
Corrine: "Fine. But, I can't tell you what we bought"
Me: (in a nonchalant way) "That's ok, I already know what it is"
Corrine: "YOU KNOW ABOUT THE DRESS???"
Me: silence
ANYWAY.
Here is an easyeasyeasy, but delish menu for all of you who want to make Mother's Day a lovely day for Mother!
Note-Unacceptable excuses for not making your wife dinner on MD:
#1 This one's a classic – "She's not my Mother". Hello. Pay attention- She's the mother of your children.
#2 favorite lame excuse -"I don't cook". My husband, who is officially the most challenged cook in marriage history, makes me breakfast every year. So, snap out of it.
Did I already say I love Mother's Day??
OK, sooo I picked this steak, because it's a little out of the ordinary – Mother dearest will love it, and it's grilled, so Dad can do what he does best. Hey, in our house, it's either the microwave or the BBQ grill for Grant.
Here is how it's done: Take a copy of these recipes or pull up this page on your phone and get yourself into the car no later than Saturday morning.
Do not wait until Saturday night, when you will find malls and grocery stores packed with men and children who have that crazed look in their eyes similar to a cat that was just given it's first bath. You know the look – if you are ever out on the night before Mothers Day, or on Feb 13th, about 8PM, same look. That – "I don't care what is costs, I need to find a gift, NOW". Save yourself the stress, and go out Saturday morning with the grocery/gift list in hand. You can do this. What better way to show your wife appreciation for all she does for you and your children?
Remember, Food=love.
Pacific Rim Glazed Flank Steak
Recipe from a magazine clipping…
Ingredients
1

beef flank steak

about 2 lbs

1

cup

prepared Teriyaki sauce

I use 1 cup soy and 1/3 cup sugar

1/2

cup

chopped onion

1/3

cup

honey

1/3

cup

orange juice

2

tablespoons

chopped FRESH rosemary

1

tablespoons

sesame oil

1

large clove garlic

crushed or 1-2 tablespoons garlic flavored olive oil

1

teaspoon

grated ginger
Instructions
In medium bowl, combine marinade ingredients, whisk until blended. Remove 3/4 cup for basting. With a sharp knife, lightly score both sides of meat in a criss cross pattern. Place steak in remaining marinade in dish or gallon size Ziploc turning to coat. Cover and marinade in refrigerator for at least 30 minutes.

Remove steak and discard marinade in dish. Place steak on barbecue grill over medium heat, Grill uncovered, for about 7 minutes each side minutes for medium rare to medium, basting occasionally with reserved 3/4 cup marinade and turning steak once.

Place remaining basting marinade in small saucepan. Bring to boil on stove, or microwave for about 2 minutes.

Meanwhile, carve steak diagonally across the grain into thin slices; arranging on a platter. Spoon hot marinade over steak, garnish with rosemary sprigs and citrus slices if desired. 6 servings.
Recipe Notes
note:
-If the fresh ginger and garlic are too complicated, you may substitute bottled ginger and garlic in the produce section. Rosemary (fresh herb section) is available in the produce section too. If you don't want to buy fresh, use dried Rosemary. That will work. It won't be AS good, but it will work.
-If you are a Costco person, they sell very good Flank Steaks in a two pack. You can freeze the second one for Fathers Day 😉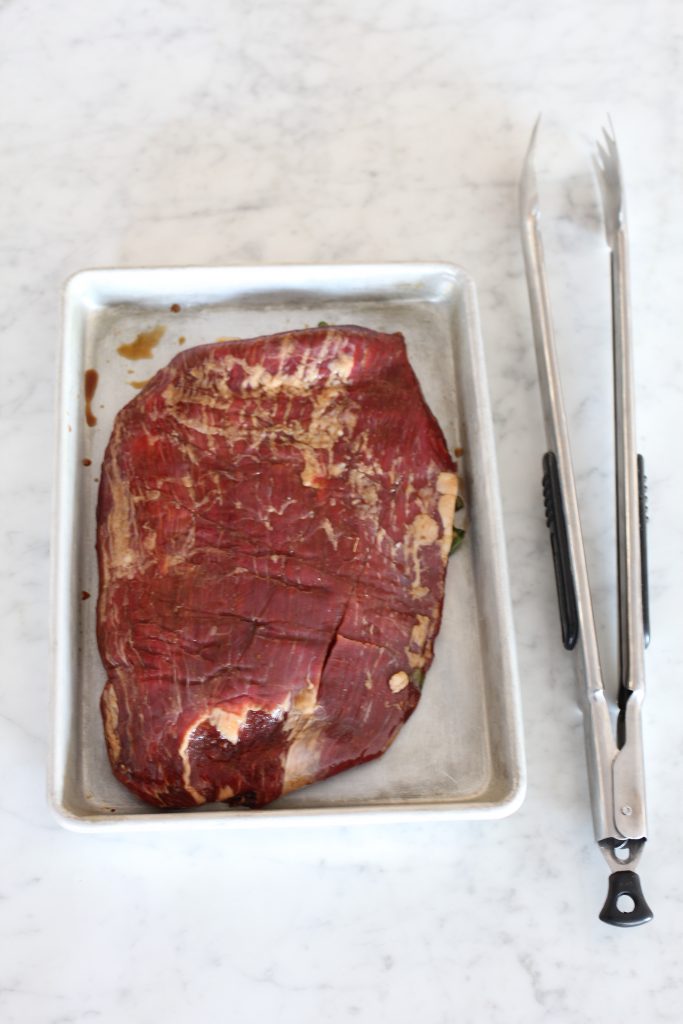 Mothers Day Menu 2009
Pacific Rim Glazed Flank Steak
Grilled vegetables
Rice
Spinach Salad with strawberries
Good quality ice cream (for Mum)
with home made hot fudge sauce
Grilled Vegetables
Assorted vegetables Mom likes:
Asparagus, beans, carrots, peppers yellow and red,
onions, mushrooms
Olive oil
Salt and Pepper
This is easy: Cut some veggies like asparagus, carrots (not the minis), and some onions, mushrooms up. You washed them right? Season with salt and pepper, and drizzle a little olive oil over the top. Grill the vegetables, turn and remove from BBQ. If you have a fresh lemon, squeeze it over the top of the vegs when they are almost done. Don't over cook, they should still be a little firm to the tooth. It takes about 10 minutes, tops with the heat on medium to low heat. Grill the vegetables before the meat if your grill is on the small side. It's OK if they are done before the meat. They don't have to be hot. After you grill the vegetables, take out a nice platter and arrange them on the platter. Cover with foil until everything is ready to serve. Vegetable shrink up a bit after cooking, so make a little more than you think you will need, you know Mom will eat the leftovers!
Rice
2 cups rice
water
butter or oil
salt
If you have a rice cooker use it. If not, a plain pot will do. Just place about 2 cups of rice in a pot, and about 4 cups of liquid. Water will work, or if you like put some chicken stock in. I like plain rice with this dish. Salt and a little butter, maybe a tablespoon. Bring to a boil, cover, and reduce the heat to medium-low. Cook for about 20 minutes, stir, add a little more liquid if you need, and continue to cook until all liquid is absorbed, and rice is done. You can also do this ahead of time, early in the day, and just serve it at room temp. You can use short or long grain rice, or brown rice.
Spinach Salad
1 bag pre washed spinach ( I like baby spinach)
2 oranges or 2 cans mandarin orange segments
1/2 cup Craisins
3/4 cup pecans or almonds, chopped
1/3 cup sugar
grated cheese, Swiss, or Parmesan, crumbled blue cheese
bottled salad dressing – raspberry vinaigrette dressing or poppy seed
Pour the spinach into a bowl. If using fresh oranges, peel the orange, and cut the orange into slices. Remove any seeds. Or if using mandarins, drain, and place in bowl. Add Craisins. Grate 1/2 cup cheese, and toss together. Store in refrig until serving.
In a small Teflon pan, heat the nuts over medium heat and sprinkle with sugar. Stir just until sugar melts and coats the nuts. Remove from heat, and pour onto a piece of foil until cooled. Break apart nuts. I like to toss the salad with dressing and nuts just before serving. Use about 1/2 to 3/4 cup dressing.
Ice cream and Homemade Hot Fudge
Ice Cream
1 14 oz can sweetened condensed milk (not evaporated)
2 1 oz squares unsweetened or semi sweet chocolate
1 tablespoon vanilla
2 tablespoons butter
Combine milk and chocolate cook over low heat until chocolate melts and mixture thickens. About 5 -10 minutes. Add vanilla and butter, cook just until butter melts. Serve hot, or make ahead and store in refrigerator. Heat before serving. Make about 2 cups.
Buy some good quality ice cream – Haagen Daz or Ben and Jerry's. Western Family is for the kids. Or if you live near Nielsens, buy some frozen Custard.