Oh My-Chicken Pot Pie is the mother of comfort food. It's easier to make than you think and worth the extra effort to create this delicious recipe from scratch!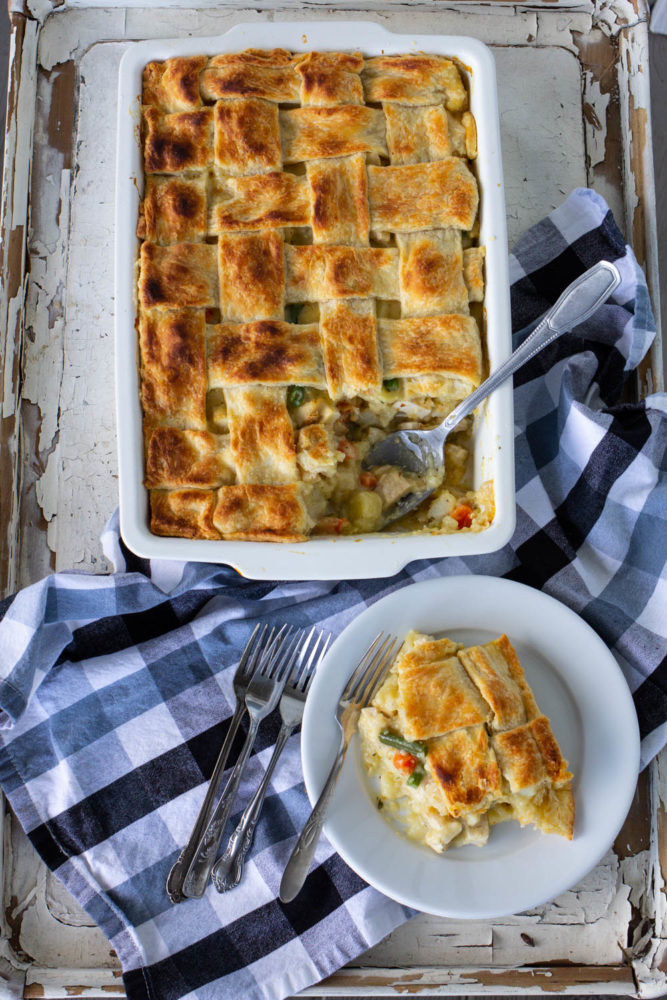 Homemade chicken pot pie is one of the best dishes you can have in your cooking repertoire. It's always a good idea to know how to make basic comfort food! This recipe was one of the first posted on A Bountiful Kitchen way back in 2008. It has stood the test of time and I hope you and your family will love this recipe as much as we do!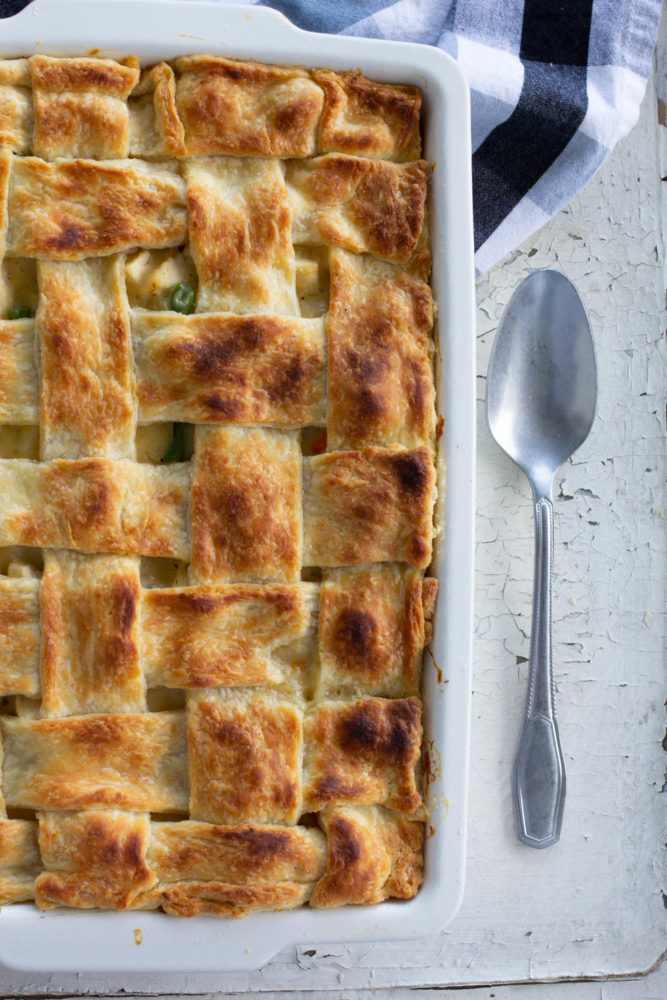 Broken down into steps, it's a simple dish. Chicken pot pie involves cooking chicken, cooking vegetables, making gravy, and then topping with pie crust. It's a one-dish delight almost any time of the year!
Oh My-Chicken Pot Pie one of our family favorites. Chopped vegetables, chunks of chicken, gravy and flaky pie crust. Yes, homemade crust! Making pie crust is EASY. Pie crust is your friend. Tell yourself you can do it. YOU are the Pie Crust Master! Your family is worth it. Your self esteem depends on making this crust! Not really. Sorry. I just can't help myself when it comes to pie crust. I have a crust obsession.
This is one of those recipes I make without a recipe, so I tried to measure and make note of amounts…it's a little different every time. You want a pan full of vegetables (use veggies you like), a little chicken (not really big on a lot of meat) and enough gravy to cover all of the filling. The gravy shouldn't be too thick because it thickens as it cools.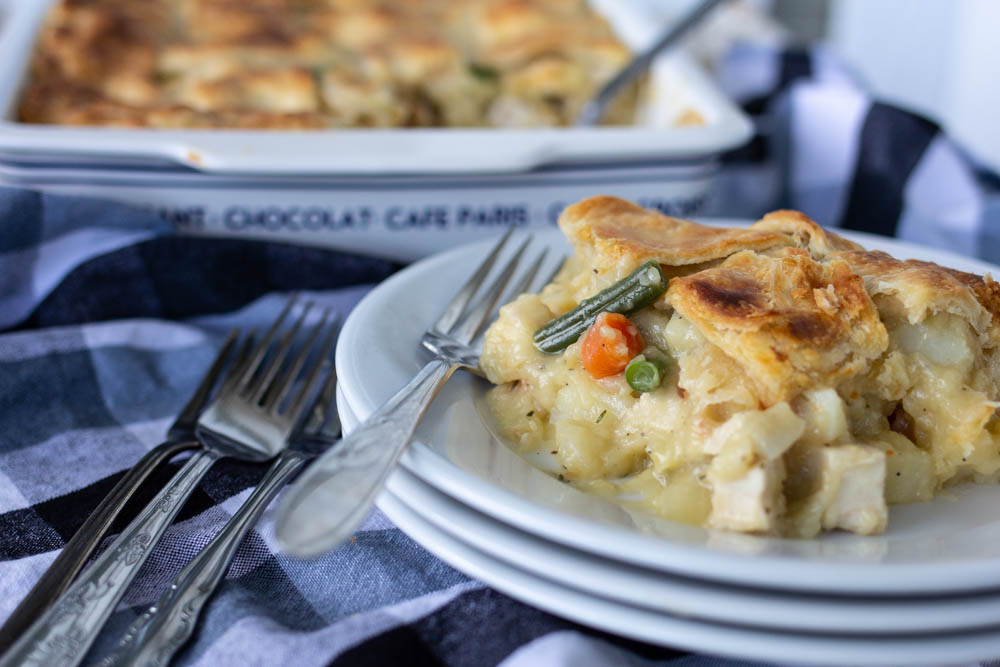 Most pot pie recipes call for peas. I really don't care for peas. So I don't put them in my pot pie. I love green beans. I buy fresh when I can, but frozen beans ( I like the thin variety, not string beans) also work well. Throw the beans in right out of the freezer, just before topping the pot pie filling with the crust.
You can use almost any veggie and chicken combination you like in your homemade chicken pot pie! If you love carrots, baby onions and peas, use them! I like to use white meat but some people like dark or a combination of both. If you are short on time, you can buy a rotisserie chicken, pull it apart and use frozen veggies. Make the gravy and the crust from scratch and you'll have a meal that doesn't take a lot of time and still has amazing homemade flavor!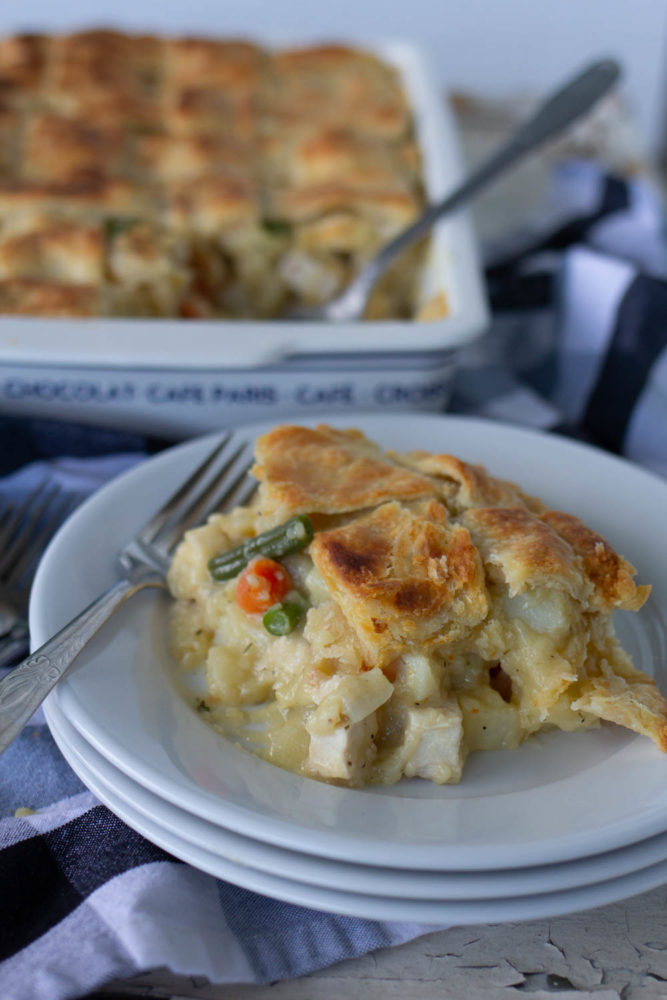 Nothing hits the spot like a homemade pan of Oh My-Chicken Pot Pie! This is one of our family's most requested meals and one we have been serving for over 25 years. If you are looking for another favorite savory pie recipe, try this recipe for Best Thanksgiving Leftover Pie. So good, you will want to make extra on Thanksgiving!
This recipe originally posted in September, 2008. New photos and recipe post updated 2020.
Oh My-Chicken Pot Pie
Total Time
1
hour
10
minutes
Ingredients
filling:
2 -3

chicken breast halves

about 1 ½ lbs, halves, cooked and shredded or chopped

4

cups

chunked red (or white) potatoes

washed and skin on

1

cup

carrots

sliced

1

cup

onion

chopped

1

quart

chicken broth or stock

1-2

handfuls fresh or frozen petite green beans or peas

6

tablespoons

butter

1/2

cup

sifted flour

2

teaspoons

chicken stock concentrate*

1-2

cups

water

2

teaspoons

tarragon

salt and pepper
crust:
2

cups

all-purpose flour

1

teaspoon

sea salt

1

cup

shortening, I use half regular and half butter flavor Crisco

1/2

cup

cold water

more may be needed in dry environment
Instructions
Place potatoes, carrots, and chopped onion in a large pan.

Cover with chicken broth. Heat to boil, cover and cook just until vegetables are tender, about 5-7 minutes.

Using another pan, cook butter over medium heat.

Add flour, whisk until smooth.

When vegetables are cooked, remove vegetables from pan using slotted spoon and place cooked vegetables, fresh green beans or peas and chopped chicken in a greased 9×13 pan.

Slowly add the chicken broth to the pan with butter and flour.

Cook until sauce is thickened, and smooth.

Whisk in chicken stock concentrate. Add one to two additional cups of water, a little at a time, until gravy is still slightly thickened, about the consistency of a cream soup.

Add 2 teaspoons dried tarragon, salt and pepper to taste.

Pour gravy over vegetables and chicken in greased 9×13 pan.

Cover with pie crust (below).
Crust:
Preheat oven to 400 degrees.

Mix flour and salt in bowl.

Cut in shortening with pastry cutter, until pieces of shortening are small and pebble like.

Stir water in with a fork until all of the water is absorbed and dough gathers together.

Flour surface and rolling pin.

Flatten dough with hand to make a round or rectangle to begin.

Roll out from center to about 1/8 " thick.

Roll out into shape of pan. At this point, you may cut into strips to make a lattice crust as shown, or you can just roll into a rectablge and fit into the pan to top filling. Make sure to cut slits for steam to escape if you are not making a lattice crust!

Fold crust in half, transfer to pan or pie plate.

Unfold dough over the filling.

Brush crust with beaten egg (optional), cut slits for steam to escape.

Bake pot pie for 40 minutes.
Recipe Notes
*Stock concentrate is sold in many forms. It enhances the flavor of the gravy. Knorr and Swanson both sell stock concentrate. Knorr is sold in a little "cup" about 4 cups to a package the little cups are equalt to about 1 tablespoon of flavoring. Swanson sells their product "Flavor Boost" in a box with 8 liquid packets included. You can also buy stock concentrate in jars at Costco or other food specialty stores. These are usually sold in 2 cup (actual 2 cup measurement) jars that need to be refrigerated after opening. I always look for products that are MSG free. A crumbled bullion cube will also work.
Brush top of crust with beaten egg for a glossy crust.
I usually set the pan on top of a cookie sheet to catch any gravy that may bubble over the pan.
This recipe yields 2- 9″ pie plates or one 9×13 pan. If you like LOTS of sauce, double the gravy, and serve the extra sauce/gravy on the side with the pie.
One regular sized rotisserie chicken, cooked and cut up may be used in place of the chicken breasts.