Original Toll House Pie is a recipe for a beginner to advanced pie maker! Everything you love in a chocolate chip cookie, baked into a flaky homemade pie crust. This easy to make dessert is the ultimate chocolate chip cookie lover's dream.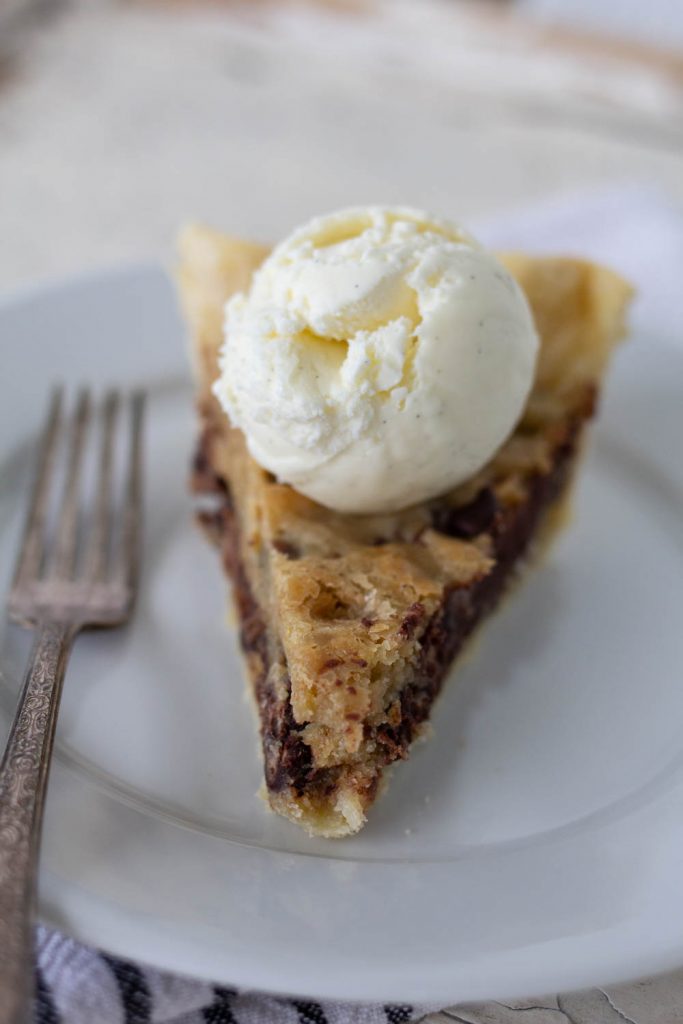 Original Toll House Pie and a little history
What's better than combining chocolate chip cookie dough and pie crust in one dessert? Nothing! This recipe for Original Toll House Pie is next level in my book. Think about it. An under-baked cookie surrounded by flaky pie crust. Topped with a scoop of vanilla ice cream. Ahhhhhhh. A true American classic.
The original Toll House cookie was developed by Ruth Graves and Sue Brides in Massachusetts in 1938. The story goes they wanted to serve a new dessert at the Toll House Inn. They used a broken up chocolate bar and placed into cookie dough and it was an instant hit. The rest is history!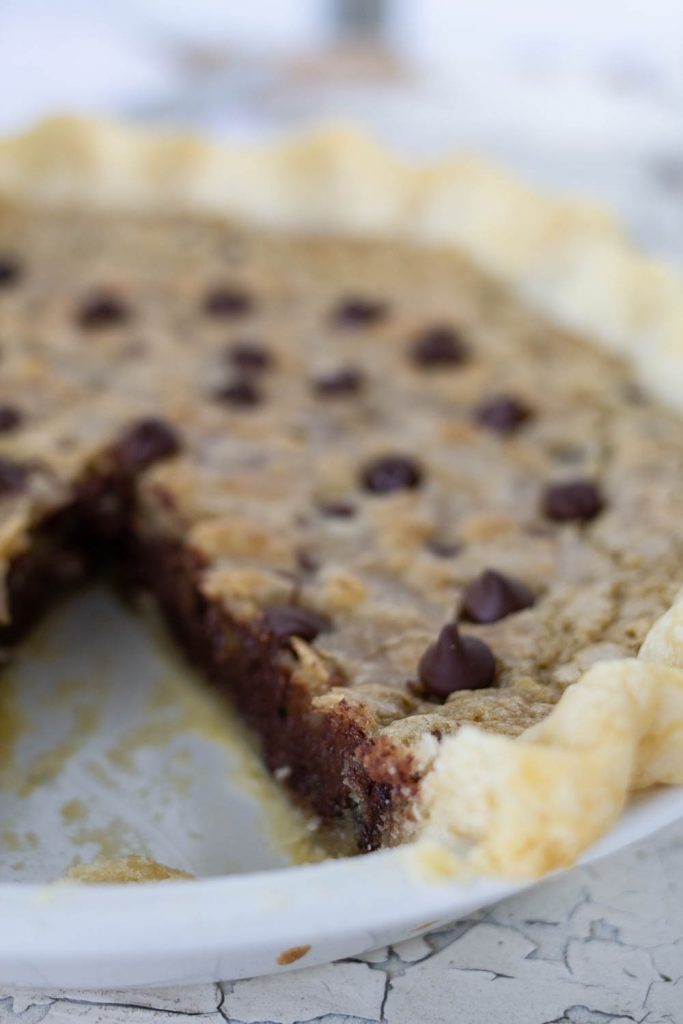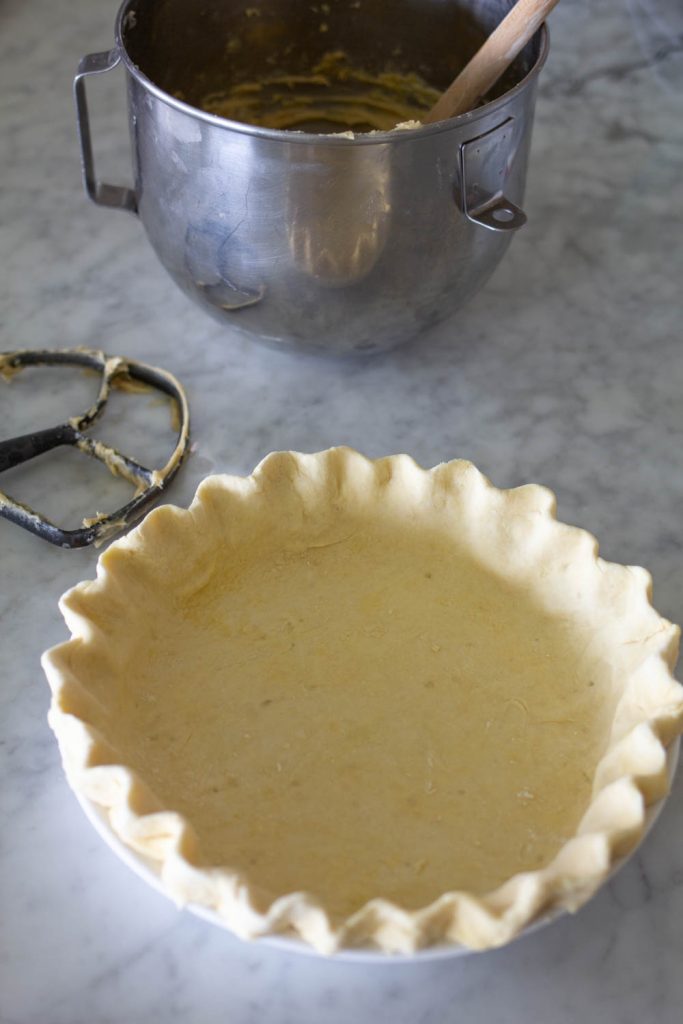 Best pie crust Ever!
Nestle Toll House Chocolate Chip Pie combines the best of the cookie and pie world all mixed into one irresistible treat. I love to make homemade crust, because nothing is as good as homemade. This pie crust is one I have been using since 1982 and it's a family classic. A few simple ingredients are needed: flour, salt, shortening, water. That's it.
So simple and so easy to make. I reduce the amount of shortening in a single crust pie to avoid shrinkage of the crust. Refrigeration or freezing of the crust also helps with shrinkage issues while baking. Follow tips in the recipe notes for best results!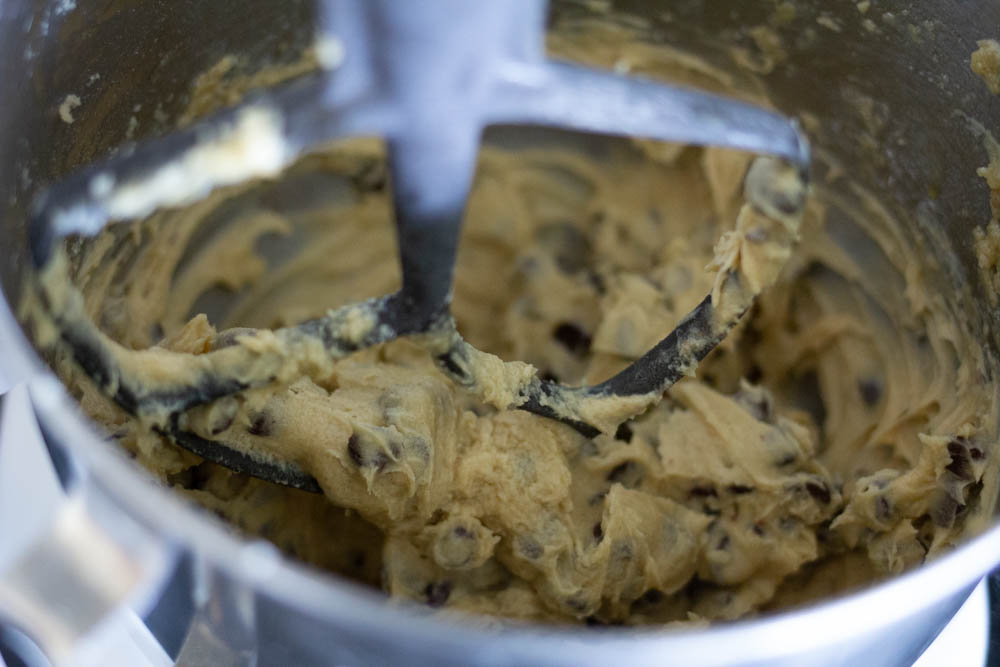 Easy Chocolate Chip Pie
Original Toll House Pie is seriously the easiest dessert to make. If you are looking for a pie recipe to boost your confidence, this. is. it. The pie crust is so simple and easy to work with. If you are tentative about the crust, you can purchase a store bought frozen crust.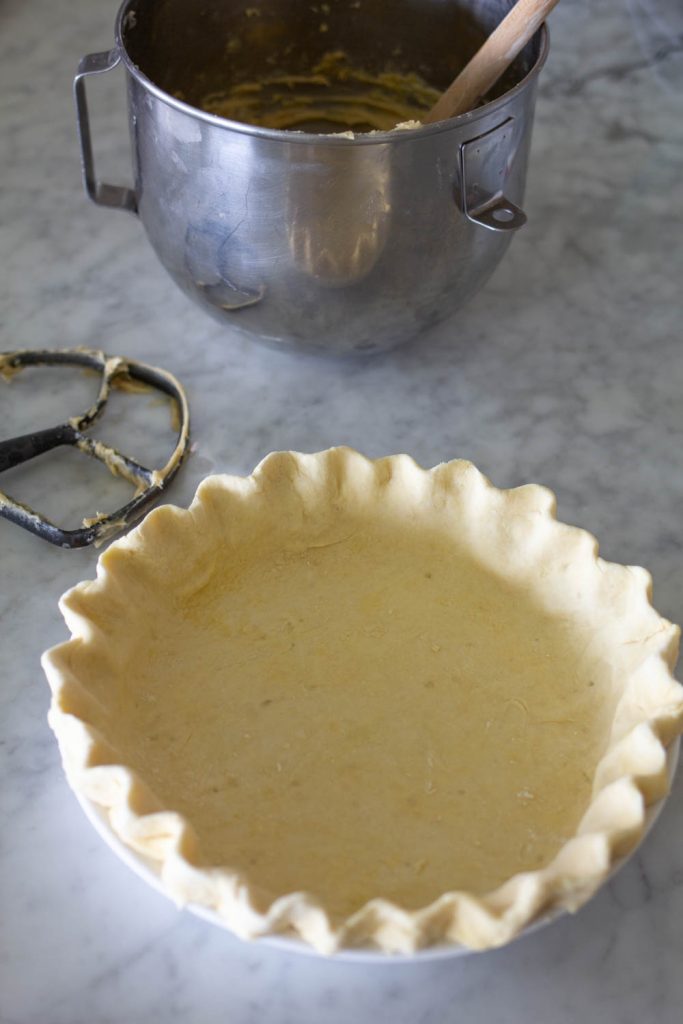 I promise if you take the extra 10 minutes to make your own crust you won't be sorry! After making the crust, and placing in fridge, mix up the filling, spoon into the prepared crust, bake and enjoy. I'm serious when I say this is one of the easiest and most delicious pie recipes you will ever make!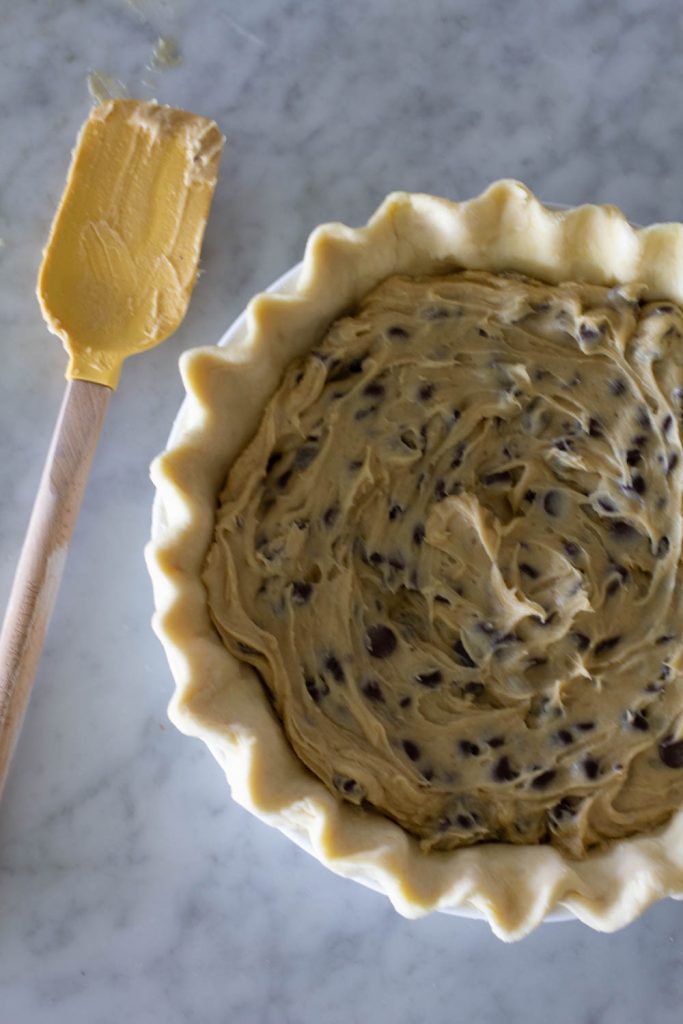 Cool it
Remember when making this filling, it is a bit more wet than a regular chocolate chip cookie dough. Less flour is used to create a gooey center. If you love to eat Toll House chocolate chip cookie pie cold (my favorite), refrigerate before serving.
I often stick the cooked pie into the fridge to cool off quicker. I just place the cooked pie onto a cookie sheet and slide into the fridge for about 30 minutes until set. Of course, many people love this pie warm, served with a scoop of vanilla ice cream. Either way it is heavenly!
This post has been updated with new photos and a couple of edits to the recipe in 2019. Originally posted in May, 2012.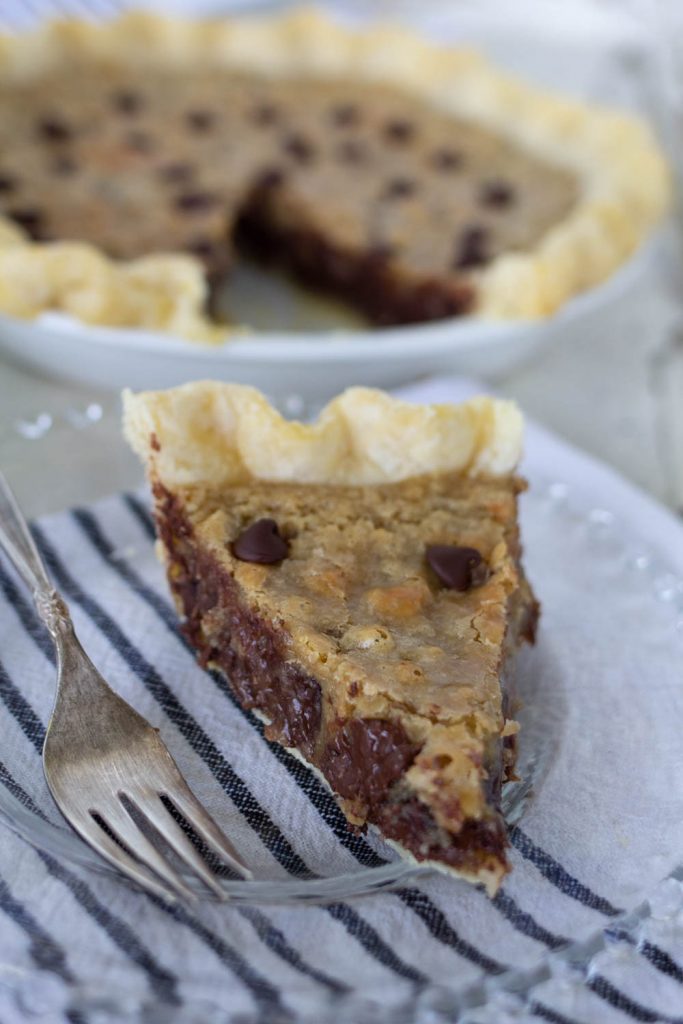 Original Toll House Pie
Original Toll House Pie is a classic chocolate chip cookie dough baked in a flaky homemade pie crust. Great recipe for beginner bakers!
Total Time
1
hour
40
minutes
Ingredients
Pie Crust:
1

cup

flour

1/4

teaspoon

salt

7

tablespoons

solid shortening

I like butter flavor and regular crisco

1/4

cup + 2 tablespoons

cold water
Filling:
3/4

cup

unsalted butter at room temperature

do not melt!

1/2

cup

sugar

1/2

cup

brown sugar

2

large eggs

1

teaspoon

vanilla

1/2

cup

all purpose flour

3/4 cup flour if omitting nuts

1/2

teaspoon

salt

1 1/2

cups

semi sweet chocolate chips

1

cup

coarsely chopped walnuts or pecans
Instructions
Preheat oven to 325 degrees. Place rack on center of oven.
Pie Crust
Cut shortening into flour and salt in medium size bowl, until the mixture resembles small pieces the size of peas.

Add cold water all at once. Mix with a fork until dough starts to form into a ball, do not over mix.

Sprinkle flour out onto a flat surface. Roll the dough out and place in a 9x 1 or 1.5 inch pie plate.

Lightly press into the corners of the plate. Crimp the edges.

Place prepared crust into freezer while making filling. Fill and bake as directed above.
Pie Filling
Cream butter and sugars together until light and fluffy, scraping down sides a couple of times. Mix until blended well and no pieces of butter are visible.

Add eggs, one at a time and vanilla to butter and sugar mixture. Beat on medium for about 1 minute, scraping down sides once. Turn off mixer.

Add flour, salt, and chocolate chips mixing all at once, just until wet and dry ingredients are incorporated. Add nuts and mix just until incorporated. If not using nuts, remember to add the additional 1/4 cup of flour to batter.

Spoon filling into unbaked pie shell.

Bake on center rack of oven for about 50 minutes or until knife inserted about half way from center of pie to crust (outer edge of pie) comes out clean.

Let cool for at least 30 minutes before serving.

Save a few chocolate chips to gently press into the top of the pie after baking while pie is still warm.
Recipe Notes
Make the pie crust first so it can sit in the freezer while preparing the filling. I don't cover the pie crust if it sits in the freezer for under an hour. 
The pie crust can be made ahead and covered with saran wrap and refrigerated for 1-2 days before baking. If freezing, the crust will stay frozen for up to two weeks before baking. 
The filling is slightly sticky, but not runny. Do not melt butter. Scrape the filling into the pie crust. 
The pie may be prepared and stored in fridge until ready to bake up to a day before if the crust is filled with cookie dough. Make sure to cover tightly. 
Preheat oven for at least 30 minutes before baking a refrigerated or frozen crust. 
The pie plate should be one to one and a half inch deep. If the pie plate is deep, the filling will not fill up the pie plate!