What is better than Brioche on a weekend morning?! I love Brioche! It's buttery and rich and the perfect bread for making our absolutely decadent Overnight Brioche French Toast.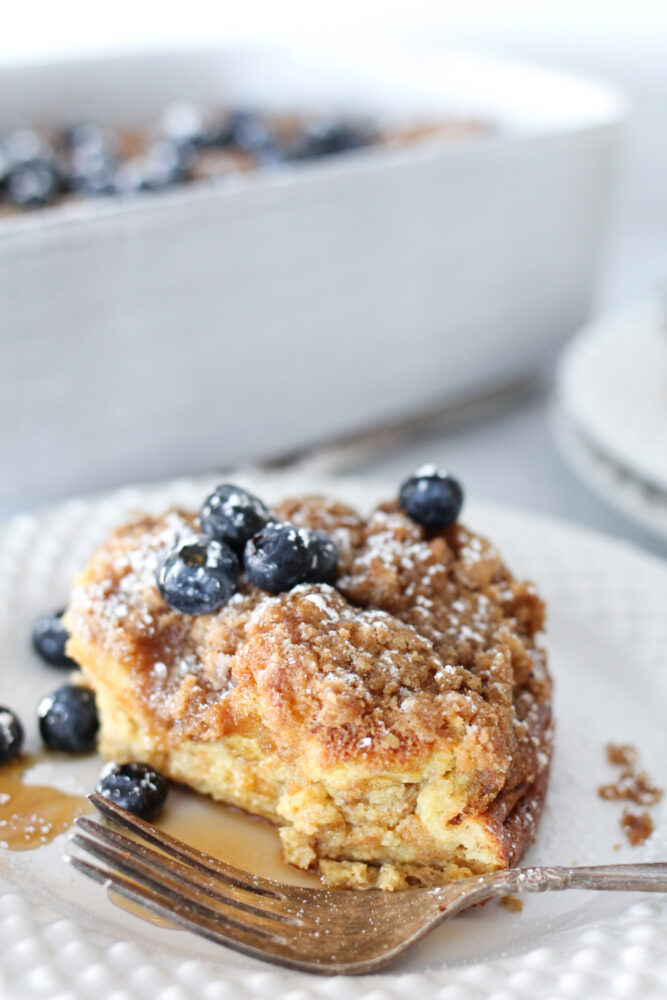 Baked French toast is the perfect solution for serving French toast to a group. Instead of dipping and cooking each piece on the griddle, this recipe is assembled in a pan and baked! Imagine a delicious loaf of Brioche, cut up and soaked in sweetened eggs and cream, topped with cinnamon and a simple streusel topping. Keep that picture in your mind… Now, add a little bacon and fresh fruit and you have a proper brunch menu with hardly any work!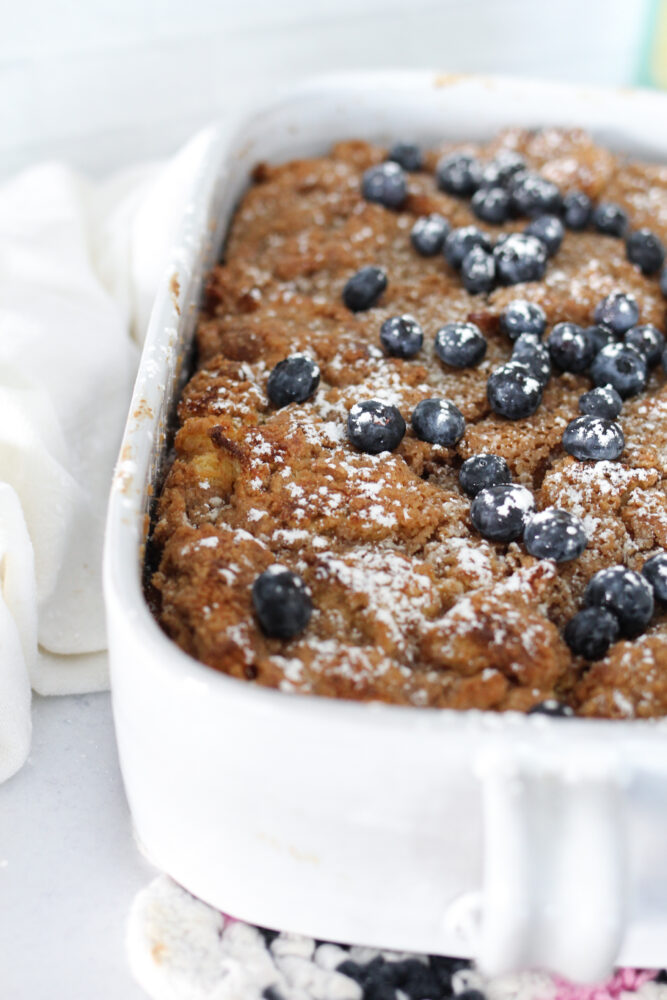 Feeding a crowd is made easy with this overnight French toast bake! Assembling this dish takes no more than 10 minutes. Our recipe is beginner level, but tastes like it was made by an experienced baker. In my opinion, toppings are EVERYTHING and the topping on this baked French toast is exceptional! If you haven't tried streusel on top of baked French toast, prepare for a big treat. While this dish is sweet on its own, a little drizzle of syrup is a perfect addition. Buttermilk Syrup or Cinnamon Syrup are excellent choices for this recipe!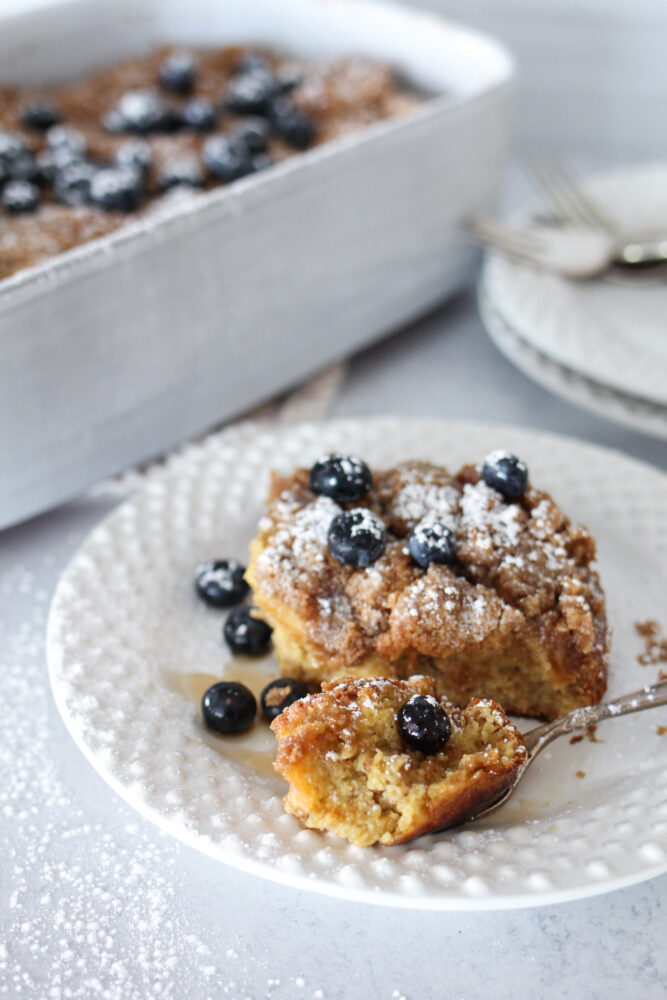 Brioche is a French bread made with eggs, butter and milk. It's soft and sweet and has the most incredible texture! Since Brioche is extra soft and made with butter, the texture after being baked is similar to a bread pudding, which qualifies this as a dessert if you want serve this dish at dinner time!
I buy Brioche at Trader Joe's or Harmons grocery stores in Salt Lake. The Brioche at Trader Joe's is a 1 lb pre-sliced loaf. If you use the TJ's brand, make sure to peel off the paper liner attached to the bottom of each piece! Most grocery stores sell Brioche in the bread, bakery or frozen section.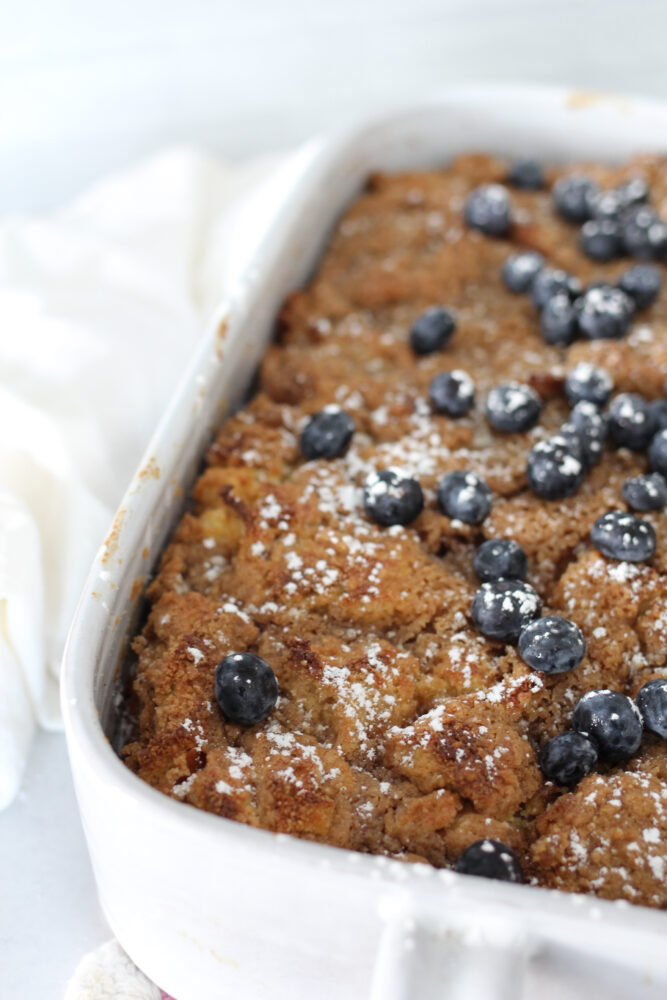 While Brioche is the bread of choice for this recipe, other options include Challah, French Bread, raisin bread or almost any other type of roll or leftover bread. This recipe can be adapted for many different tastes and availability of ingredients. If half and half isn't available, use creamer (sold in the refrigerated section). If you love fruit, add fresh or frozen raspberries, blueberries or blackberries. Semi-sweet chocolate chips are also a perfect addition!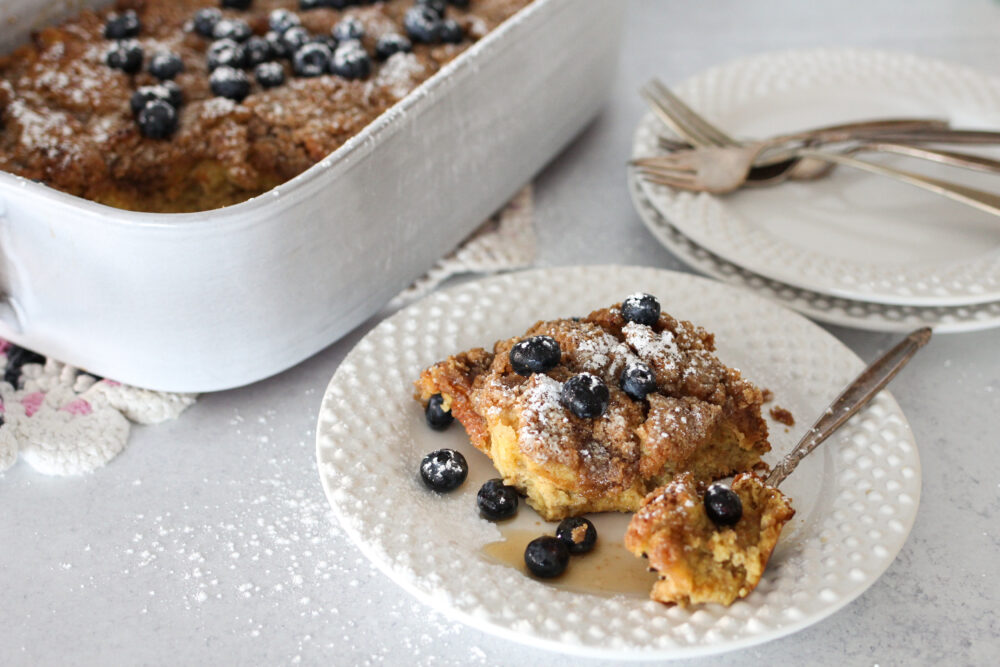 The beauty of Overnight Brioche French Toast is that all of the work is done the day before. All you have to do the next morning is heat up the oven, pop in the pan and wait 45 minutes for the most amazing breakfast ever! The smell of cinnamon baking will fill your home and get sleepy heads out of bed without much coaxing.
I love the way this baked Brioche French toast feeds a household, can be made in minutes and is enjoyed with hardly any effort. Here's to lazy weekend mornings and memory-making brunches my friends!
Overnight Brioche French Toast
Overnight Brioche French Toast with streusel topping may be served for brunch or dessert! Easy to make, and bakes up similar to bread pudding.
overnight refrigeration
8
hours
Total Time
8
hours
55
minutes
Ingredients
French Toast
1

lb

loaf of Brioche or Challah

8

large eggs

2

cups

half and half

1/2

cup

milk

any type

1/3

cup

granulated sugar

1/3

cup

brown sugar

1

teaspoon

cinnamon

1

tablespoon

vanilla extract

2

cups

fresh blueberries, washed, divided
Topping
1/2

cup

butter

1/2

cup

all-purpose flour

3/4

cup

firmly packed brown sugar

1

teaspoon

cinnamon

optional ½ cup chopped nuts

pecans, walnuts, almonds, chopped

dash coarse salt
Instructions
Please read recipe notes before starting recipe for best results and tips!
Spray or coat a 9"x13" or other comparable casserole dish with cooking oil or butter.

Tear or cut bread into large pieces, place into prepared pan. The pieces will be squished together; it is ok to layer the pieces a bit.

Using a whisk or blender, Mix eggs, half and half, milk, sugars, cinnamon and vanilla until combined.

Pour mixture over bread in casserole dish. Push the pieces down if they begin to float.

Cover with Saran Wrap or foil and place overnight in the refrigerator.

Mix the streusel topping, place in a bowl and refrigerate until ready to bake.

When ready to bake, remove foil and preheat the oven to 350 degrees with the rack in center of the oven. Sprinkle one cup of blueberries on top of bread. Top with streusel, and bake uncovered for 45-55 minutes. The egg should be cooked, and not runny or wet looking.

Sprinkle generously with powdered sugar and top with additional cup of blueberries (or other fresh fruit), syrup, or serve plain.
Recipe Notes
This recipe works well with stale bread but also works with fresh!

Remove the casserole from refrigerator 30-60 minutes before baking for best results. Let sit on counter, uncovered while preheating oven. Remember to top with streusel before baking.

Although this is an "overnight" recipe, it can be made and baked immediately. Follow the recipe directions and top with streusel. Turn the oven on when the  assembly is complete and let the casserole sit for 30 minutes on the countertop. Occasionally push down the bread using a spatula to ensure the bread is soaking up all of the egg mixture. I have found if I don't use the overnight method, the casserole tends to take a little longer to bake. 
We like our baked French Toast with fresh fruit, powdered sugar and a tiny bit of pure maple syrup or homemade syrup listed in post.