Every Friday night for years, my parents played cards with the next door neighbors, the Snow's. During those years(late 1960's), we established a ritual where the parents played cards at one house, and the kids would hang out at the other house, eat treats and watch "Nightmare Theater"- a local Seattle weekend show hosted by a vampire "The Count" (who looked nothing like Edward Cullen). Nightmare Theater double featured scary movies like "The Thing" and "The Screaming Skull". Every Friday night. Doesn't that sound like fun? No wonder I won't watch anything scary as an adult.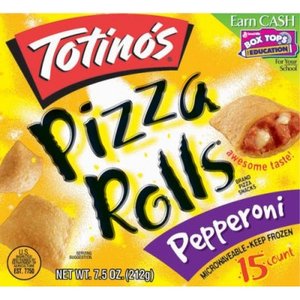 The food: Totino's Pizza Rolls and boxed brownies. Serious. I LOVED this stuff. I have no logical explanation for this behavior. Totino's Pizza Rolls? I know. What can I say? I haven't had one of those for years, but I did have a serious love for those little greasy hot pockets of melted cheese, sauce and itty-bitty pepperoni pellets. Yes, the pepperoni looks like pellets (see photo left).
Enough about my food indiscretions. The SRC blog I was assigned this month is Lean Green Bean. Lindsay, the blog author lives in Ohio and studying to become a Registered Dietitian. She loves to cook and bake, is married and has a page on her blog devoted to her "furry family" (two dogs and two cats ).
When I saw her recipe for Pepperoni Pizza Puffs, I had a flood of Friday night childhood memories and knew I had to give them a try.
Jake loved these, and inhaled almost the whole tray himself. I subbed home made pizza sauce for canned, since it takes about a minute to whip up. Perfect appetizer for a casual party (football games) or kid gathering.
Pepperoni Pizza Puffs
Lean Green Bean
Ingredients
3/4

cup

flour

3/4

teaspoon

baking powder

3/4

cup

skim milk

1

egg

lightly beaten

1

cup

reduced-fat (or regular mozzarella cheese)

shredded

1

cup

turkey (or regular pepperoni)

cut into small cubes

1/2

cup

pizza sauce

see recipe below for home made

2

tablespoons

finely chopped fresh basil

optional
Pizza Sauce:
1

cup

tomato sauce

2

tablespoons

tomato paste

1

teaspoon

sugar

2

tablespoons

Italian seasoning

dash hot pepper sauce

salt and pepper

to taste
Instructions
Preheat oven to 375 degrees. Grease a 24-cup mini muffin pan.

In a large bowl, whisk together the flour and baking powder; whisk in the milk and egg.

Stir in the mozzarella and pepperoni; let stand for 10 minutes.

Stir the batter and divide among the mini-muffin cups. Bake until puffed and golden, 20 minutes.

Microwave the pizza sauce until warmed through, then stir in 1 tablespoon basil. Sprinkle the puffs with the remaining tablespoon of basil. Serve the puffs with the pizza sauce for dipping.
For the sauce:
Combine all ingredients in bowl.

Serve with pizza puffs.
Recipe Notes
-Unless you are having 2 people over, I suggest doubling the pizza puff recipe.