It's officially Christmas and peppermint dessert season! Perfect for small or large gatherings, this peppermint bark brownie is sure to put you on Santa's nice list! Our Pink Peppermint Christmas Brownies with White Chocolate Frosting can be made ahead and serves up to 32 guests.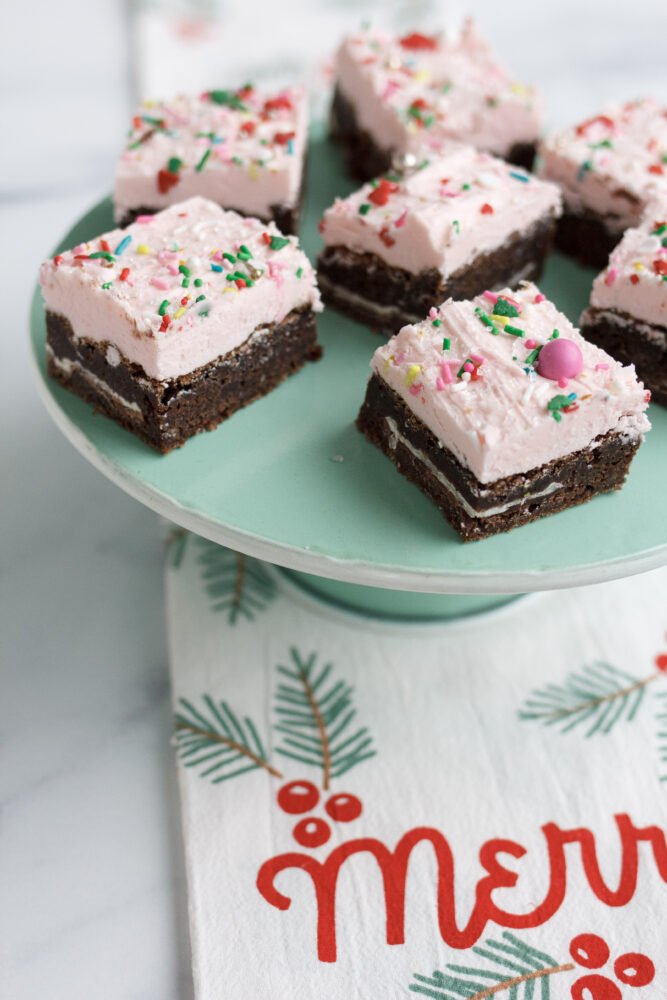 This rich brownie is layered in a 9×13 pan with Ghirardelli Peppermint Bark Squares then topped with more brownie batter, baked, cooled and frosted with a creamy white chocolate mint buttercream. How heavenly does that sound?? I like to tint the frosting pale pink and sprinkle the frosting with festive decorations for an extra special touch!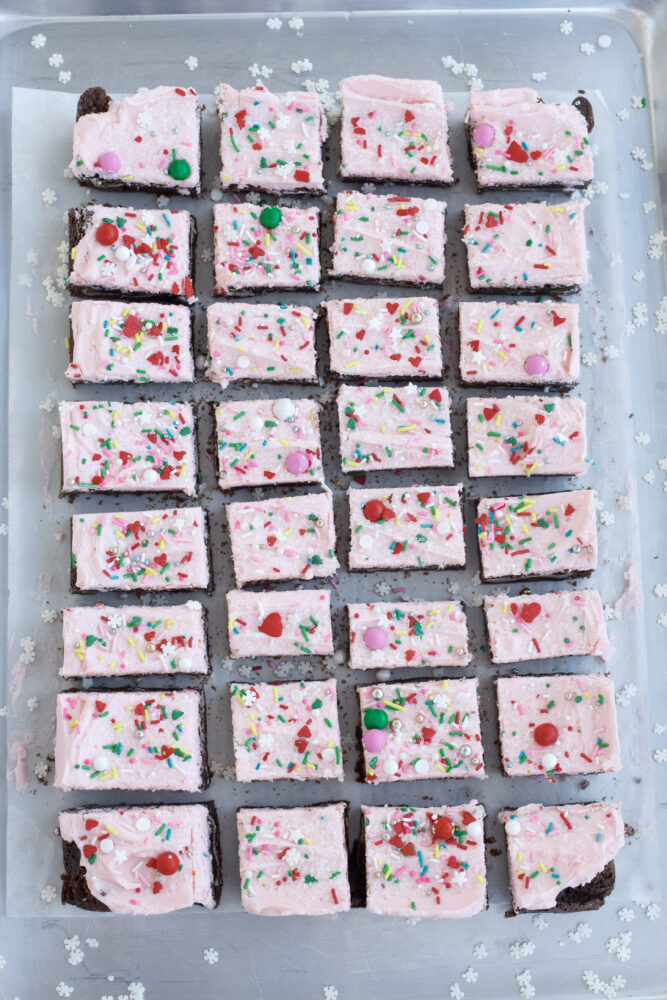 Typically, I think this dessert is best served cut into 24-32 small squares. I use 16-24 pieces of peppermint bark squares when layering the brownie batter and candy (see below). If you have less than the suggested amount (because maybe someone sampled a few too many squares), roughly chop the squares and sprinkle over the first layer of batter. This is definitely not a precise measurement type of dessert!
Where Can I purchase Peppermint Bark Squares?
I usually buy Ghirardelli Peppermint Squares at Costco or a local grocery. They are sold everywhere from hardware stores to Walmart and also online. If they are not available, try using another brand of peppermint bark. I do not recommend peppermint bark with candy cane pieces on top, the candy cane tends to get extra crunchy when baked. Make sure the bark is not too thick, or it will sink to the bottom of the brownie batter! It is best to chop the pieces and sprinkle over batter if they are over 1/4 of an inch thick.
Can I Make Peppermint Brownies Ahead?
Yes, our Pink Peppermint Christmas Brownies are perfect for make ahead! I recommend making the brownie and baking as directed. If serving in two days, frost and decorate the brownies. The brownies will keep well if covered with foil or a lid. If making more than two days ahead, freeze pan of brownies after cooled. When ready to serve, remove from fridge early in the day or the day before. Frost and decorate as directed.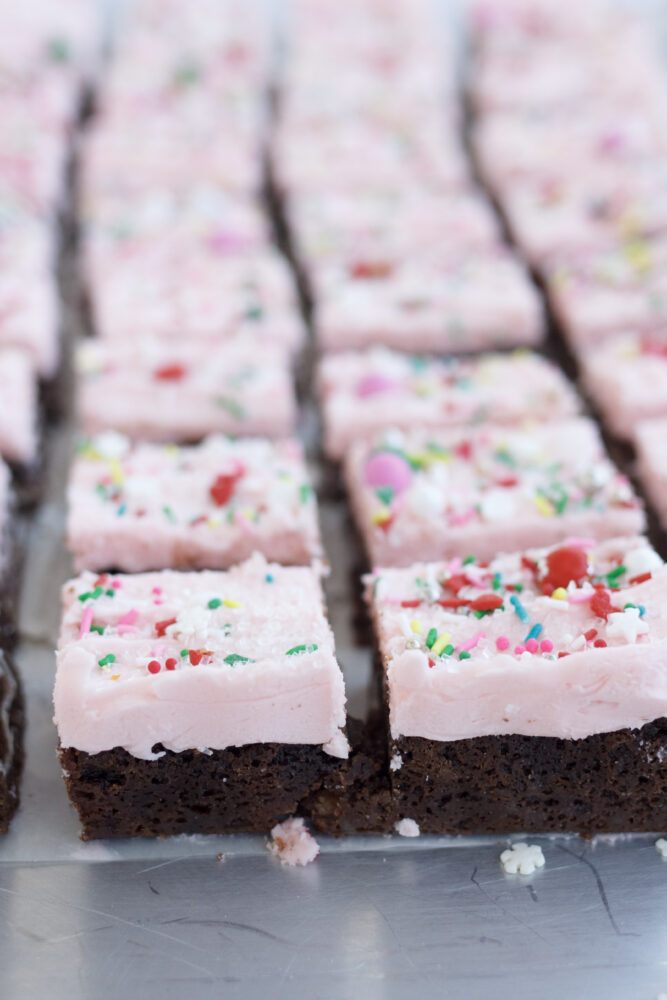 What Type of White Chocolate is Best for Making Frosting?
I use bars of white chocolate (Ghirardelli or Baker's) sold in baking aisle, or white couverture chocolate pieces sold at Orson Gygi in SLC or online. White chocolate is not absolutely necessary! I like the flavor and stability it gives to the frosting, but the frosting can also be made without white chocolate. Simply follow directions and omit the melted white chocolate.
I do think the subtle white chocolate flavor in this frosting contributes to making this dessert over-the-top! Do not be alarmed if once the melted white chocolate is added to the frosting it creates tiny pieces of white chocolate in the frosting. It will not be noticeable once the brownies are decorated!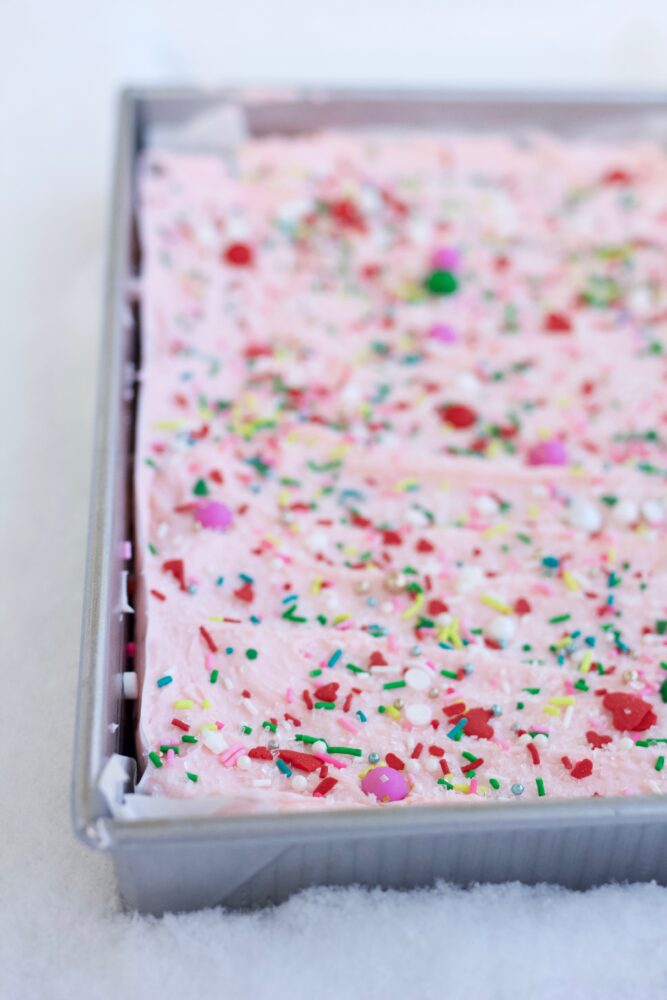 Best Brownie Tips!
I have a few rules I live by when making brownies. Follow these tips to bake the best brownies ever! First, do not use a mixer. I make brownies in a bowl, and only use a hand whisk and then a spatula to fold ingredients. If you use a mixer, it is very likely the brownies will get over-mixed. A mixer creates more air in the batter. Trust me. Do not use an electric mixer when making brownies.
There is a small amount of baking soda in this recipe to prevent too much of a rise in the batter and also keep the texture more dense, rather than light and fluffy. Last, and maybe most important, do not over bake. Look for a crust on top of the brownies and a toothpick inserted in the center of brownies that yields a few moist crumbs attached.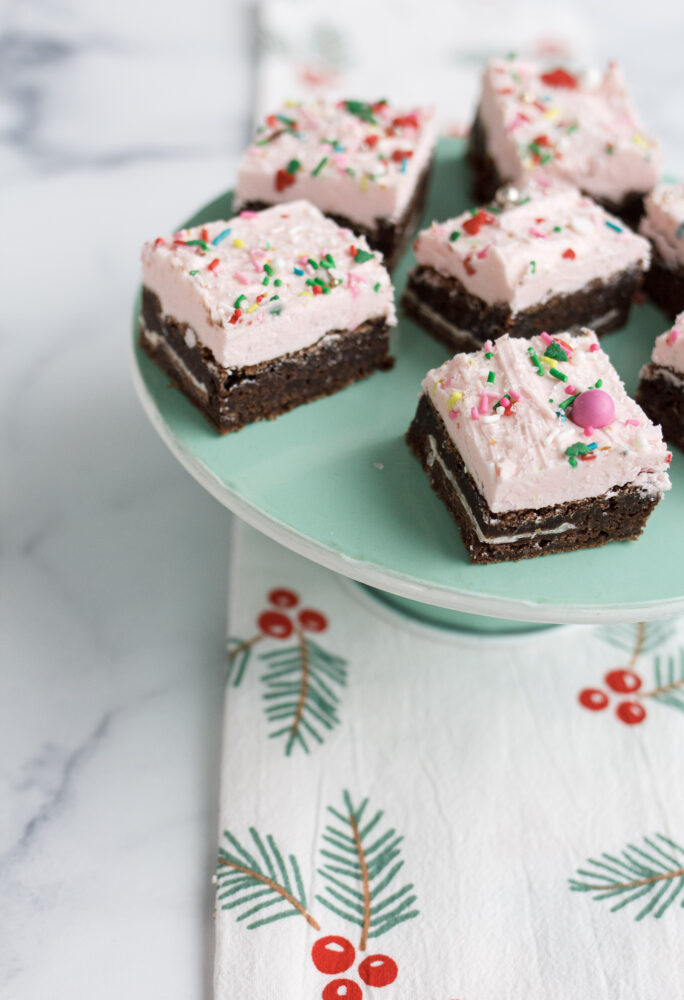 Other favorite peppermint Christmas treats on ABK: Christmas Swig Cookies (a must-try!), Chocolate Peppermint Cookies, and Chocolate Sandwich Candy Cane Cookies.
If you have tried our Pink Peppermint Bark Brownies, let us know in the comments below! Please star rate the recipe and share if you made any modifications or alterations. We are always interested as well if you have made this recipe gluten free! Thanks for sharing, your comments help all to have better baking and cooking experiences!
Pink Peppermint Christmas Brownies with White Chocolate Frosting
This brownie is Christmas in every bite! Homemade brownie, layered with peppermint bark, more brownie, then baked and topped with a white chocolate pink peppermint frosting!
Total Time
1
hour
40
minutes
Ingredients
24

pieces

Ghirardelli Peppermint Bark Squares (about 10 oz)

dark or white or a combination

3/4

cup

(12 tablespoons) unsalted butter

4

oz

unsweetened chocolate

4

eggs

2

cups

sugar

2

teaspoons

vanilla

1 1/4

cups

all purpose flour

1/2

teaspoon

baking soda

1/2

teaspoon

salt
frosting:
3/4

cup

(12 tablespoons) unsalted butter, softened

4

cups

powdered sugar

dash of salt

4

oz

white chocolate, melted and cooled

1-2

drops

peppermint oil or extract or to taste

2 drops

red or pink food coloring

2-4

tablespoons

milk or half and half, or as needed to thin

sprinkles for decorating
Instructions
for brownies:
Preheat oven to 350 degrees and place rack in center of oven. Line a 9×13 pan with a piece of parchment paper or foil. Spray parchment or foil with cooking spray. Set aside. Unwrap peppermint bark pieces and set aside.

Using a double boiler, or very low heat on stovetop, or a microwave, melt 12 tablespoons unsalted butter and unsweetened chocolate together. Whisk until smooth. Remove from heat and let cool.

Beat the eggs in a medium bowl. Add sugar and vanilla and mix until all ingredients are combined. Pour the cooled chocolate mixture into the egg mixture. Mix again until all ingredients are combined.

Pour the flour, baking soda and salt into the bowl with the other ingredients and fold together, just until wet and dry ingredients are combined.

Spread 3/4 of the brownie batter into the prepared pan. Place the peppermint bark pieces over the brownie layer. Top with remaining 1/4 brownie batter and smooth over peppermint pieces. Bake for 30-35 minutes. Cook just until brownies are done, and a toothpick inserted in center of pan comes out with a few moist crumbs attached.

Remove from oven. Use a spatula and gently press the edges of the brownies down while still warm if the edges rise. Do not press the center of brownies down. Let cool completely. While brownies are cooling, prepare frosting.
to make frosting:
Melt the white chocolate in a bowl in microwave or on stovetop over low heat. Stir until smooth. Remove from heat, set aside while making frosting.

Beat the softened butter for one minute in a stand mixer or a large bowl. Add the powdered sugar, a cup at a time, and salt, and beat again for 2-4 minutes, scraping down sides of bowl 2-3 times. Add the extract, coloring and 2 tablespoons milk or cream to thin the frosting. Beat for another minute.

With the mixer in motion, add the melted white chocolate in a slow steady stream to the frosting. Add another tablespoon of milk to thin if needed.

Spread frosting on cooled brownies and immediately top with sprinkles. Place in refrigerator until the frosting is set. Remove brownies from the pan by lifting the parchment paper onto a surface for cutting. Cut into squares and serve immediately or cover tightly and store in refrigerator.
Recipe Notes
If using a microwave to melt chocolate and butter, microwave for 1 minute, then stir, then 30 seconds at a time (stirring after each 30 seconds)  to ensure the chocolate does not burn.
I use 1-2 drops of red food coloring or 2-3  drops of Americolor Soft Pink (#132) Soft Gel Food Color Paste. For the flavoring, I recommend either Schilling peppermint flavoring or LorAnn Oils Peppermint Oil. Peppermint oil is labeled super strength, and should be used sparingly! Both Americolor food coloring and LorAnn Oils are available at Orson Gygi in store and online. 
Do not over bake the brownies. Look for a crust on top. The brownie should be slightly underdone. Best baked in a light metal pan. If using a dark pan, reduce the temperature to 325 degrees.  
When melting the white chocolate, let cool before adding to the frosting. The chocolate should not set up but still be pourable. 
I use Sweetapolita sprinkles, and also sparkling sugar crystals and snowflake sprinkles found at Orson Gygi.
Brownies may be stored on countertop or refrigerator. I think this dessert is best served chilled. I slide the parchment paper of cut brownies into a gallon size ziplock and seal before refrigerating.