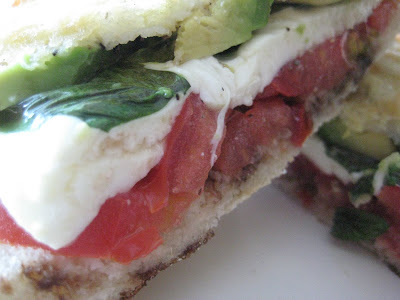 Yesterday, my sis in law brought me a sandwich from Tulie Bakery in SLC. I thought I had died and gone to heaven. Oh so yummy. We shared two sandwiches. One turkey sandwich and one Pressed Mozzarella, Tomato and Fresh Basil Sandwich. The turkey was good, but you know how it is when you eat something, then think about it for DAYS? (okay, so it's only been one day) Goodness.
Last night I lay in bed thinking about what I should cook for Sunday dinner, but all I could think about was that sandwich. Started to make a mental checklist – I coincidentally had all of the ingredients! If you know me, you know I don't believe in coincidence. In my world, THERE ARE NO MISTAKES. It was a sign. Kind of like the planets colliding. I wanted that sandwich, and I had all of the ingredients! POW. Sunday dinner.
I know you are thinking – sure – you just happened to have fresh basil, and fresh mozzarella, Italian bread, and fresh tomatoes? Well, yes, all of those things made their way into my grocery cart on Friday or were already in my fridge – before I ate the sandwich, AND I have fresh basil growing out in my very tiny and pathetic garden, which consists of a large pot on my large deck. Remember, we sacrificed our garden space for a batting cage years ago. Only 6 more years of baseball. Then, I can have a real garden again.
This is the perfect summer dinner. At least in my mind. So, not only was the Tulie Bakery sandwich out of this world, but the desserts.
Oh.
My.
Three desserts.
We'll just have to save obsessing about those for another post.
Pressed Mozzarella, Tomato and Fresh Basil Sandwich
Ingredients
Crusty Italian Bread or Ciabatta buns

fresh mozzarella

sliced

fresh tomatoes

sliced

fresh basil leaves

avocado

sliced (optional)

balsamic vinegar

olive oil

kosher salt

fresh ground pepper
Instructions
Heat up Panini grill. Brush the outer sides of the bread with olive oil.

Layer the cheese, tomato, basil leaves and avocado. Douse with a good amount of balsamic. Sprinkle with kosher salt and ground pepper.

Grill for about 5 minutes, or just until cheese begins to melt. Serve immediately.