Ramen Salad with Asian Dressing is one of our favorite spring and summer salads! It's loaded with fresh veggies, cooked ramen, and just enough cabbage to make this salad seem a bit like slaw!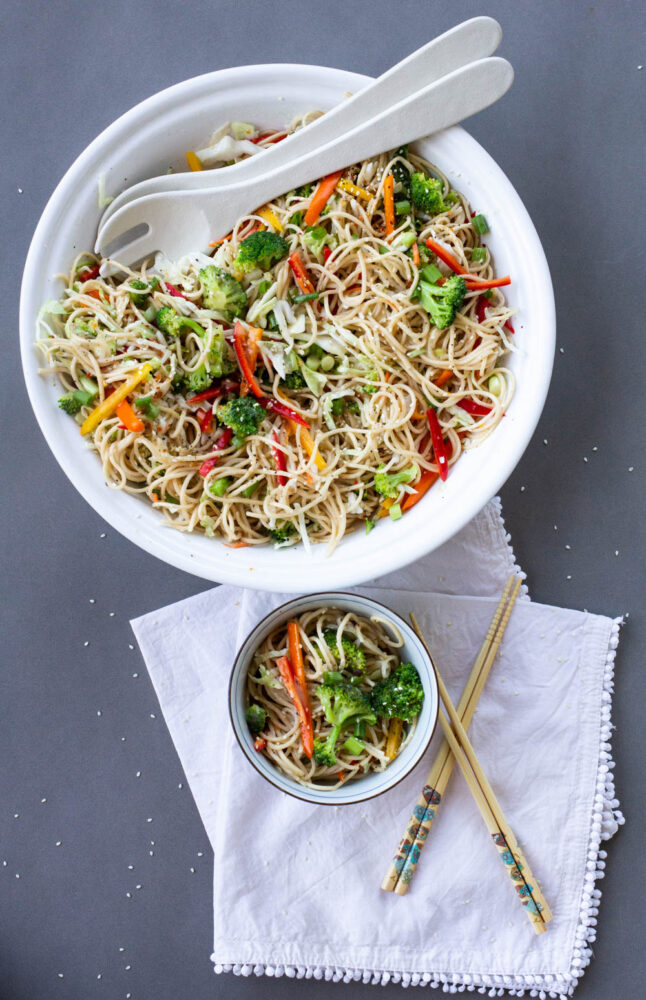 If you love ramen, you are going to love this tasty and flavor packed Asian salad. While most ramen salads are made with crunchy ramen noodles, this one features soft (cooked) ramen with bright, fresh veggies making it perfect for any summer barbecue!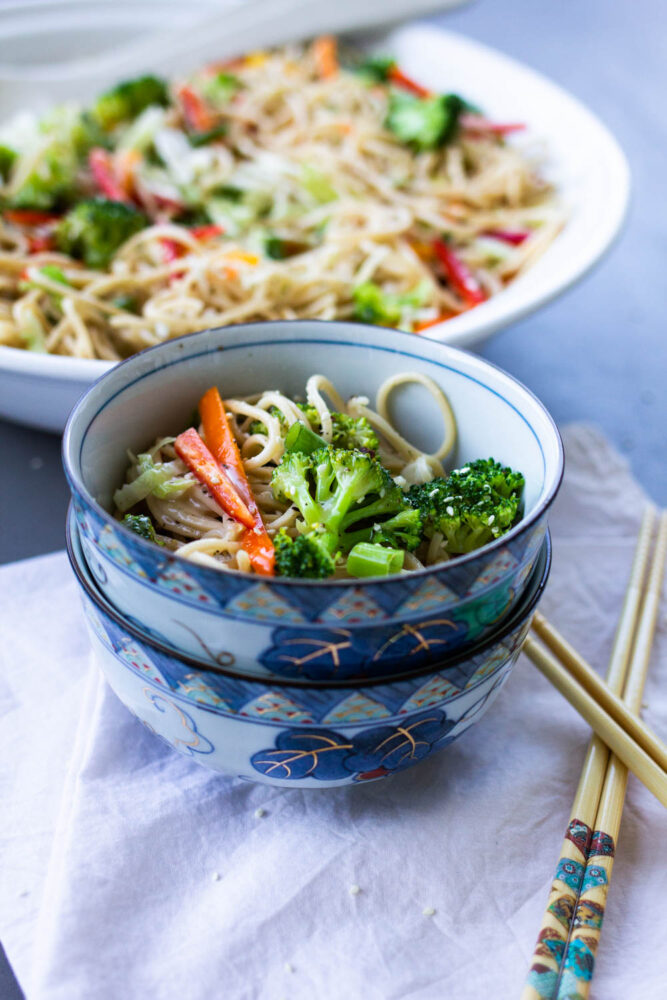 Summer is my favorite time to pull out all the stops when it comes to salads! I love hosting gatherings that include a meal made of salads. This Asian ramen salad has been a part of our salad rotation for years. I originally found this recipe in the Pinch of Salt Lake Cookbook and modified it over the years. There are countless reasons for loving this salad, here are just a few…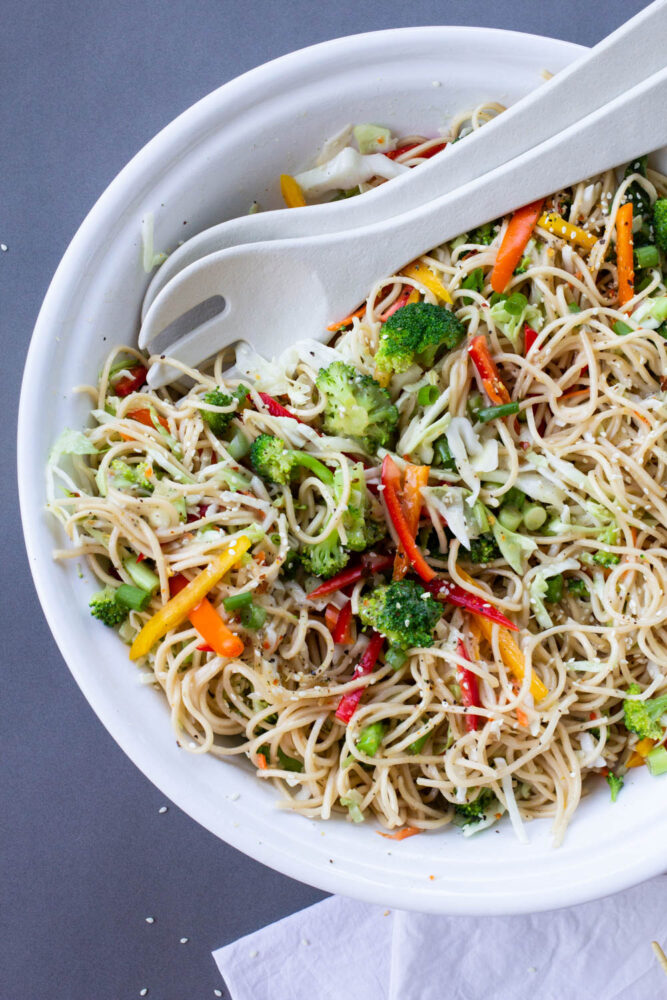 5 reasons why we love Ramen Salad with Asian Dressing!
It is the perfect salad for a buffet table, because it doesn't get soggy, wilt or spoil easily.
It's different than the usual (ho-hum) pasta salad available at most summer parties!
It is the perfect side dish for any meat or seafood or a stand alone salad bar meal.
Can be made ahead!
The Asian dressing is light, packed with flavor and easy to make.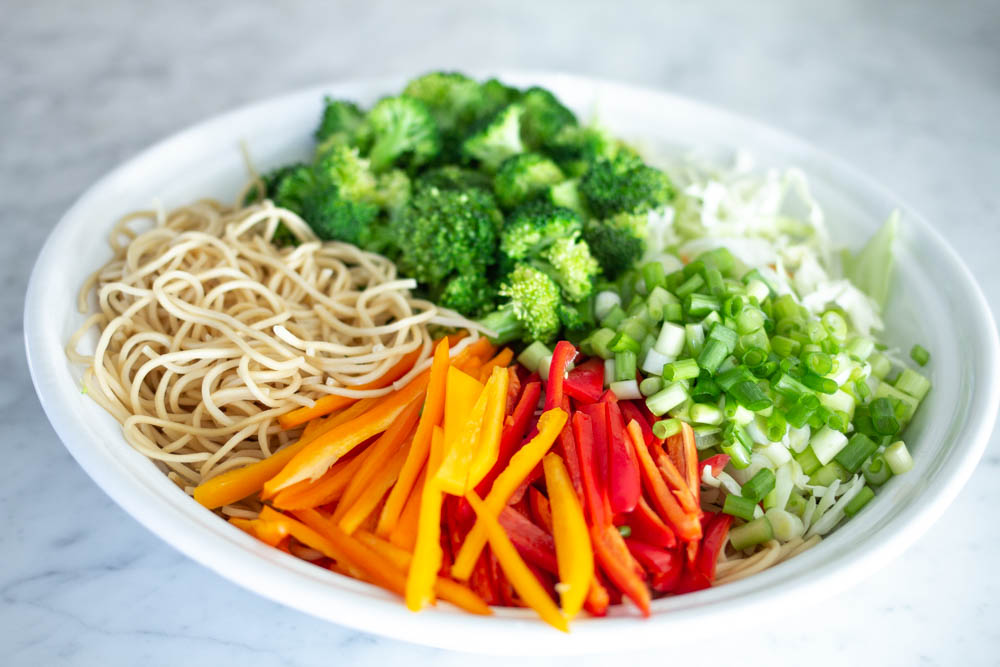 Can I use a substitute for ramen noodles?
Lots of people have sworn off ramen noodles, because most are deep fried. I get it! The good news, this Ramen Salad with Asian Dressing and most ramen noodle recipes can be made with a variety of noodles: ramen as called for in the recipe (traditional package of ramen), pasta such as spaghetti or angel hair pasta, and even chow mein noodles can be used.
I like the brand of ramen I use in our Easy Homemade Ramen recipe – "Hakubaku" brand ramen for this salad. Although not technically ramen, Somen noodles also work well. Somen noodles are sold in the Asian section of grocery stores. You need about 10 oz of noodles total, no matter what type you choose to use!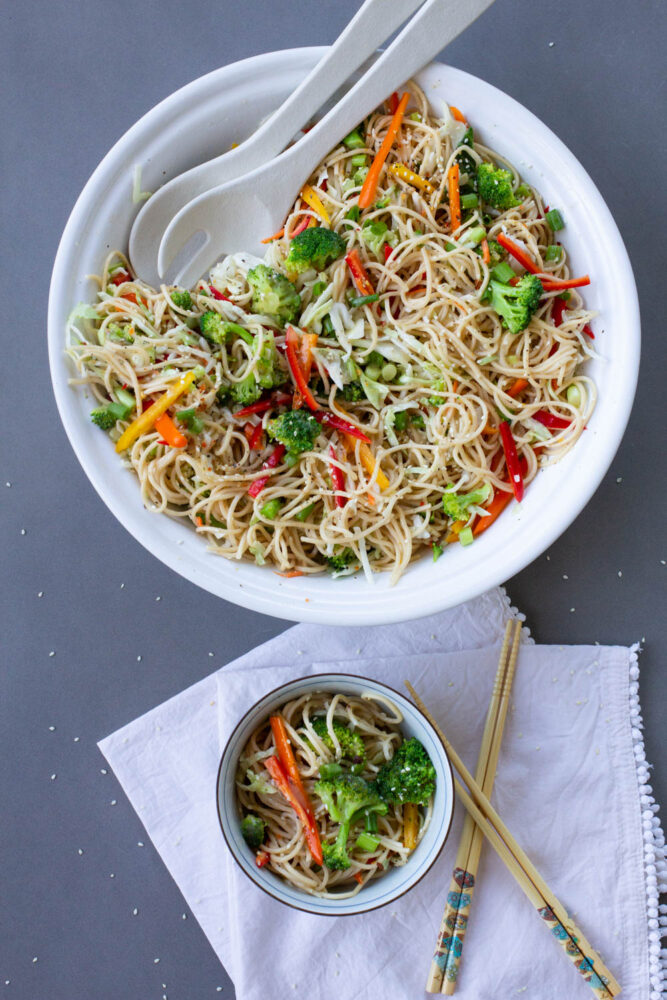 Ramen Salad with Asian Dressing
Ramen Salad with Asian Dressing is the perfect salad for a buffet or summer picnic! It keeps well on warm days and doesn't wilt easily. Packed with color and flavor, it is a great side for chicken, pork, fish or beef!
Ingredients
Salad
1

9-10 oz

ramen

I use organic wheat noodle ramen Hakubaku brand

1/2

16 oz

package shredded cabbage and carrots (coleslaw mix) or about 1/4 of a head of cabbage, chopped small

1

red pepper thinly sliced

1

orange or yellow pepper thinly sliced

4-5

cups

broccoli blanched and cut into small pieces

1

bunch green onions chopped

Mrs Dash and toasted sesame seeds

optional, but recommended
Asian Dressing
1/2

cup

extra virgin olive oil

2

tablespoons

sesame oil

1/2

cup

rice vinegar

1

tablespoon

cider vinegar

1/2

teaspoon

celery seed

1/2

teaspoon

garlic powder

1/4

teaspoon

onion powder

2

teaspoons

Mrs. Dash Seasoning

2

tablespoons

sugar

salt and fresh ground pepper to taste
Instructions
Salad:
Cook ramen according to package directions. Do not over cook. Rinse with cold water, drain again. Place cooked ramen in large bowl or container.

Combine the chopped vegetables (including cabbage or bagged slaw mixture) with the noodles in a large bowl, toss together and set aside.
Salad dressing:
Combine dressing ingredients, whisk or place in blender until mixed well. Taste the dressing, it should have a little bit of a sweet/tart taste. If it's not tart enough, add a little more vinegar, if too tart, add more sugar.

Pour the dressing a little at a time over the salad ingredients, tossing as you add the dressing. There should be about ¼ to ½ cup of the dressing leftover.

Sprinkle the finished salad generously (1-2 tablespoons) with Mrs. Dash seasoning and sesame seeds. Toss again. Add additional salt and ground pepper if needed.

Place the salad in a serving dish, sprinkle with a few more sesame seeds and Mrs. Dash. Refrigerate until serving.
Recipe Notes
Add a couple of sliced chicken breasts to make this a main dish salad.
Mrs. Dash is a combination of several spices, pepper, celery seed, onion, marjoram, thyme, coriander, cumin, orange peel, lemon juice powder to name a few. It gives this salad excellent flavor.
Buy sesame seeds in the Asian section of grocery. They are less expensive than in the spice section.
Don't over cook the ramen, it's easy to do, because the noodles are so thin. They really only take about a minute or two.
If you use traditional ramen in packages with a spice or flavor packet, you can discard the packet when making this salad.