How many times have you searched for "ramen near me"?? I know the feeling! You're at home. Craving ramen. But you don't want to eat instant Top Ramen! I've got the solution for your late night ramen craving. This recipe for Quick and Easy Shoyu Ramen is going to become your new favorite go-to meal!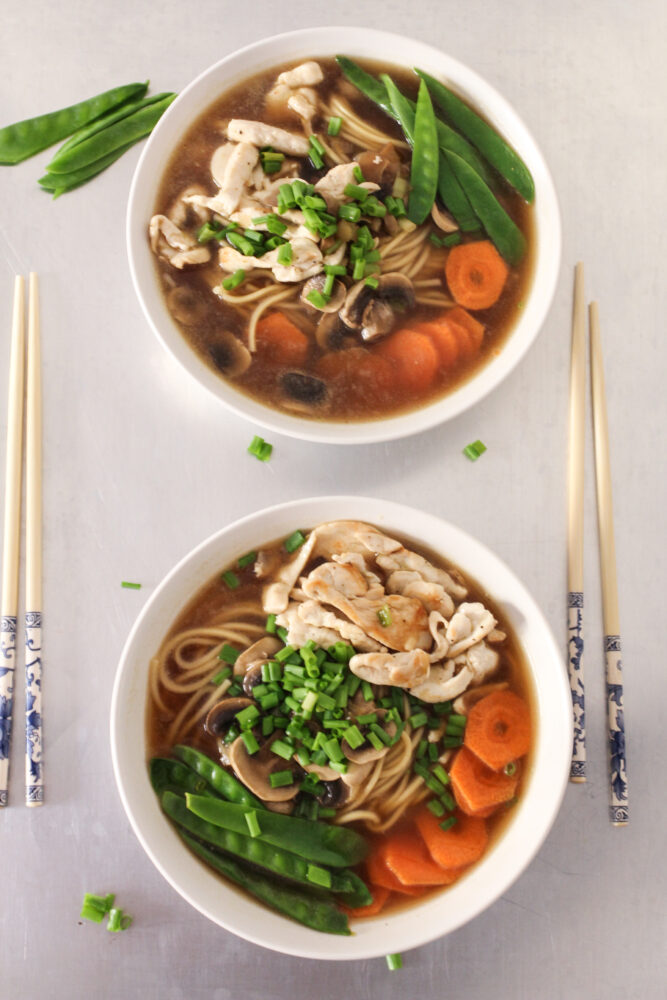 I grew up eating ramen. My mom is Japanese, so she was particular about the type of ramen we ate. She only bought Sapporo Ichiban, and always added chopped cabbage and green onions on top. I've never seen my mom eat ramen without adding fresh toppings!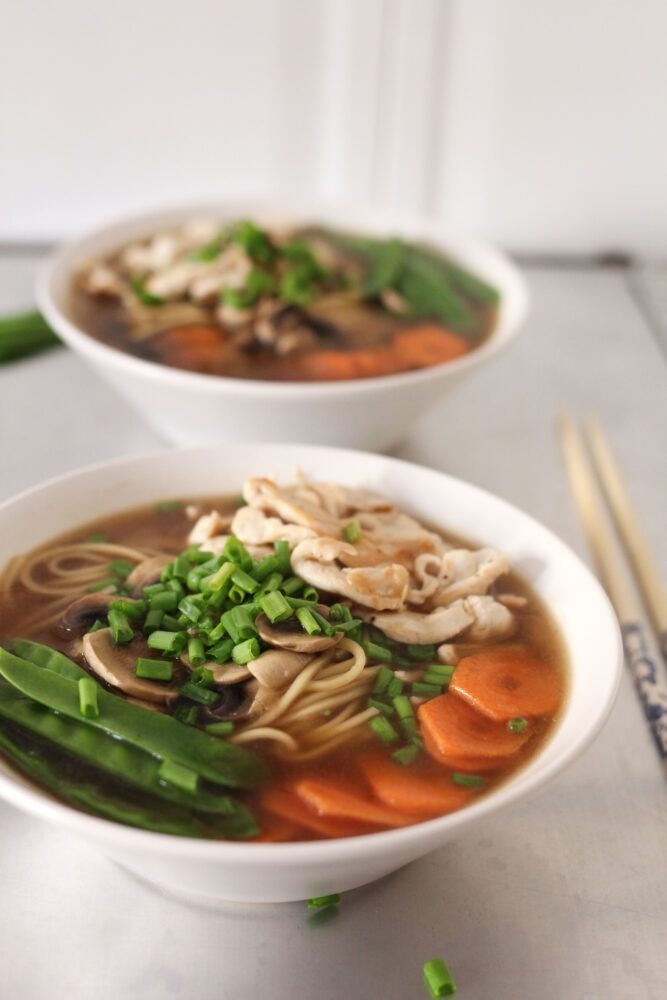 Better than take-out ramen
When we lived in Spain, I craved Japanese ramen. After ordering take-out at a ramen restaurant, I was underwhelmed with the offering. It cost me about $15 for one order. I knew I could do better at home! After making shoyu (soy-sauce flavored) ramen that rivals restaurant quality ramen, I'm confident about sharing this quick and easy shoyu ramen recipe that you can make at home!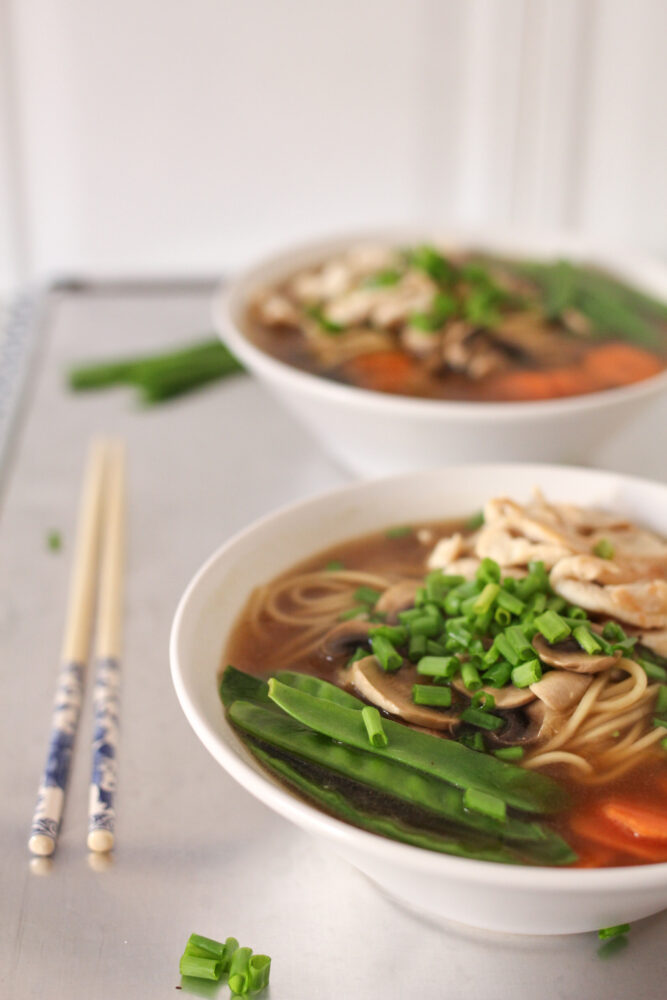 Quick and Easy Shoyu Ramen for any Palate or Budget!
This recipe is easy to adapt to any palate or budget. If you love veggies in your ramen noodles, load up on veggies. Anything goes from corn, to spinach, to fresh green beans. If you love snow peas, add some! Bean sprouts, thinly sliced cabbage, carrot or sliced mushrooms are all perfect for ramen. I love a little meat and a lot of veggies in my bowl of ramen.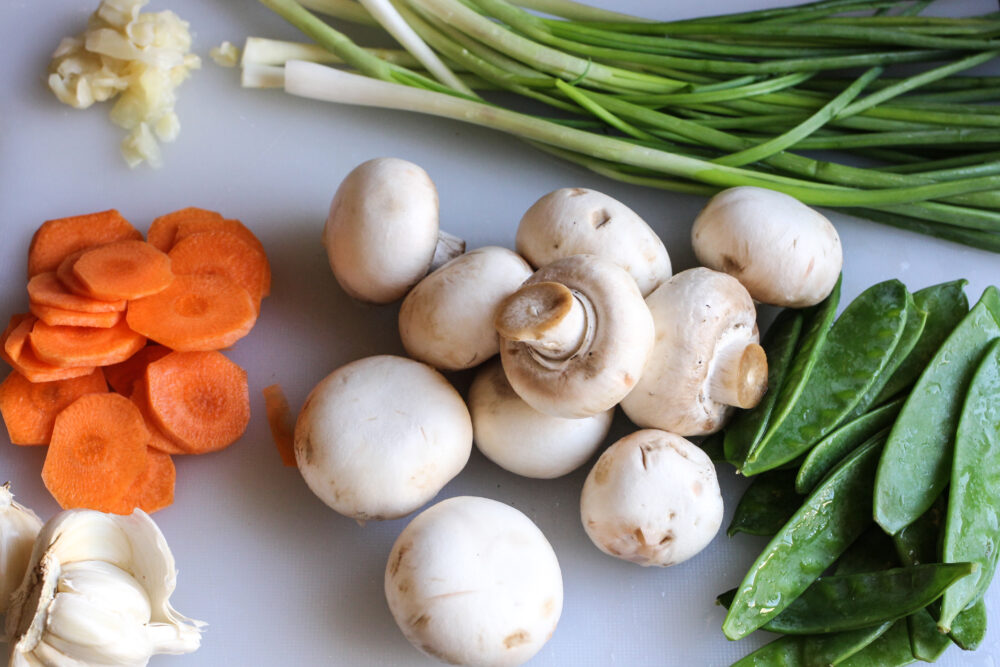 How to make flavorful ramen soup
Of course, you can make ramen with vegetable broth and only veggies if you want to go meatless! I think the broth is the key to flavor in a bowl of ramen soup. This broth base can be made with any type of broth or stock. The flavor for the soup is generated with the ingredients added before the broth is poured into the pan.
One day, while experimenting with the base for the soup, I ran out of fresh ginger and used sushi (pickled) ginger. I loved the result! This recipe is written to use either fresh or pickled ginger.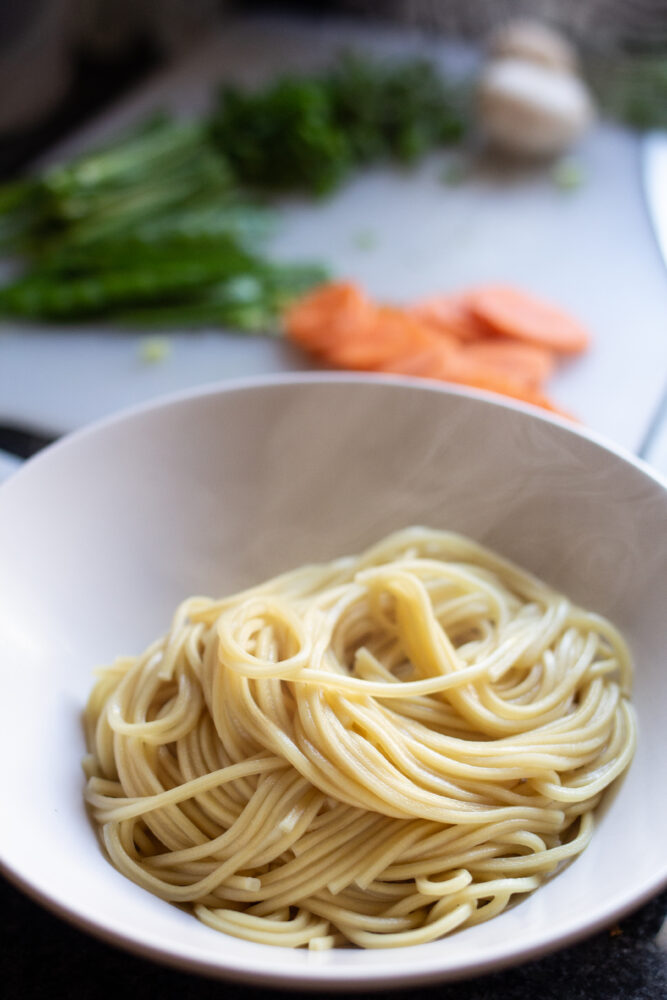 What noodles are best for homemade ramen?
Ramen (of course!) is another important ingredient in this recipe. My favorite ramen is Hakubaku Organic Ramen. It is made of wheat flour and salt. I like the clean taste of this product. Locally, I have found this ramen at World Market. On Amazon, it is sold in an 8 pack, but may be purchased in individual packages at grocery stores or Asian markets.
Somen noodles, which are usually sold in the Asian section of grocery stores also work well in this recipe. Udon noodles are larger than somen or ramen noodles, but if you like larger noodles, you may like Udon. If all else fails, you can use angel hair pasta or regular spaghetti noodles in your ramen as well!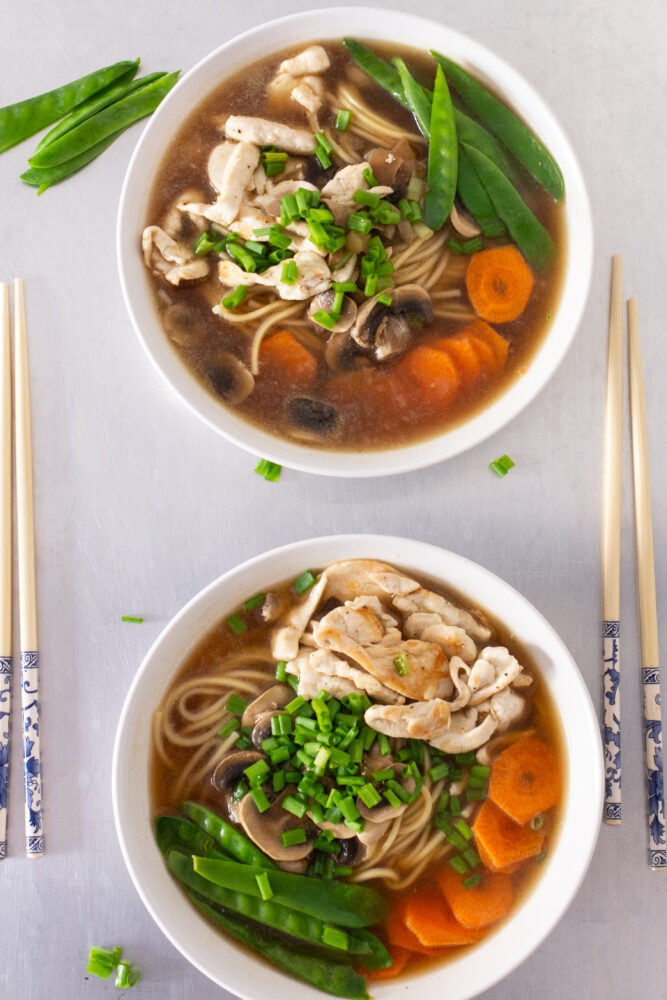 I hope you love this easy to make meal for yourself and your family! if you want to make a side to go with your ramen, try my mom's Okinawa tofu recipe. Leave a comment and let me know about your favorite ramen toppings!
Quick and Easy Shoyu Ramen
Ingredients
3 cups

assorted vegetables

green onions, carrots, snow peas, mushrooms, etc. sliced thin

1/2

boneless chicken breast or thigh meat (about 1 lb) sliced thin

or pork or beef

6 oz

ramen

or about 2/3 of a 9.5 oz package

1

teaspoon

olive oil

1

tablespoon

sesame oil

1

heaping tablespoon

fresh or pickled ginger, chopped

1

clove

garlic, minced, about 1 1/2 teaspoons

3-4

tablespoons

soy sauce I prefer dark (regular soy for best flavor and color)

1

tablespoon

rice vinegar or cider vinegar

1

teaspoon

sugar (leave out if using cider vinegar)

1/2

teaspoon

onion powder

4

cups

chicken, beef or vegetable broth or stock

salt and pepper to taste

garnish optional: seasame seeds, nori (dried seaweed), medium boiled egg (peeled and halved)
Instructions
Prepare vegetables and other toppings:
Prepare all vegetables used in ramen. Wash, chop and set aside. If using boiled egg, boil, remove from water, place in ice water bath. Peel and set aside. Place Nori (seaweed) strips near vegetables.

In saucepan heat olive and sesame oil over medium heat. Add ginger and garlic and cook for one minute. Do not burn. Add thin cut strips of chicken and cook just until barely done on each side. Season chicken with salt and pepper while cooking. Remove chicken from pan to a dish and set aside.

In the same pan, add soy sauce, rice vinegar, sugar and onion powder. Cook for about 1 minute on medium heat. Add 4 cups broth to the pan. Bring to a boil, then turn down heat and let simmer on medium for 5 minutes.

While the soup is simmering, bring water to boil in a medium size pan. Add ramen when boiling. Cook ramen according to package directions in water, do not over cook!

When ramen is done cooking, drain. Divide the hot soup into bowls (if using tofu place in bowls) and add cooked ramen. Top with fresh vegetables, chicken, and garnish with nori, sesame seeds and boiled egg if desired. Serve hot.
Recipe Notes
To make ahead: Make the soup up to 3 days before serving. Store in refrigerator in covered container. To prepare ramen ahead, cook as directed, drain and toss with a tiny bit of olive oil. Place the ramen noodles in a container separate from the broth and refrigerate. When ready to eat, heat the broth until boiling, place noodles in broth for a few seconds before placing in bowl and assembling for serving. 
I like to undercook the ramen a bit, it will sit in the hot broth in the bowl and continue to cook after removed from boiling water. 
Do not cook the ramen in the broth, the starch from the noodles will change the flavor of the soup. Always cook the ramen in boiling water. 
If preferred, strain the broth before pouring into bowls. 
If you like your vegetables cooked, throw them in the broth just before turning off the heat. Let simmer in the hot broth for about a minute before placing in bowls. 
When adding tofu, I like to place in the bottom of each bowl of ramen before adding the ramen noodles. The tofu does not need to be cooked before adding to the broth. You may also add the diced tofu to the oil in the pan with or without the chicken.
Ramen is traditionally assembled in a bowl in the following order: soup, ramen noodles, vegetables, meat and other toppings.