Where did summer go? For us it was one long baseball trip (FL, CA 3 times, AZ, WA) , a pioneer trek to Wyoming and a week in Oregon to top it all off. Along the way we ate the good, the bad and the undeniably ugly. Here are a few photos of meals from our summer travels.

Dinner with daughters. OR Coast trip. More on this in another post…
Pok Pok in Portland. One of the best meals of the summer. Waited 1hr 45 mins for dinner.
Took a nap on the front lawn of the house next door to the restaurant while waiting…
Tip- go there in the middle of the day. No wait.
Blue Star Donuts. Portland, OR So. Darn. Good.
The aftermath.
Consensus- after trying half a dozen different flavors, the
Vahlrona Chocolate Crunch donut won the best overall award.
One of those "should we, or shouldn't we" try places.
Glad we stopped. Had the pastrami sandwich with fries and gravy. Guy food paradise.
The Hat
in Glendora, CA.
Calamari, Jake is not a fan.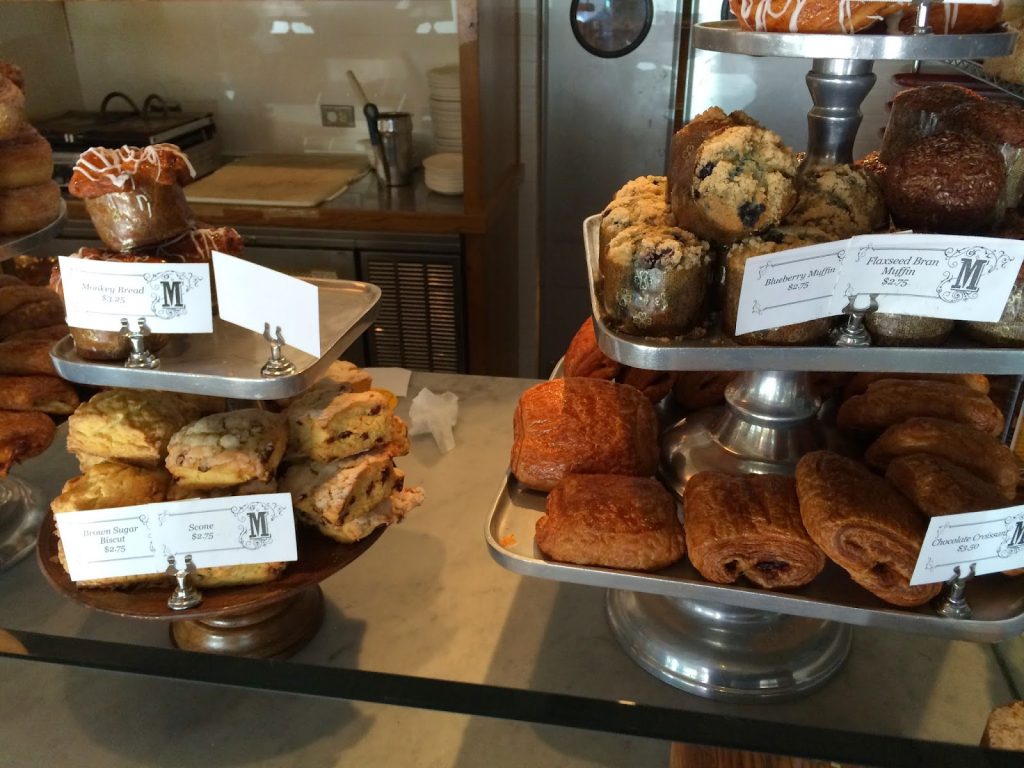 Mayfield Bakery and Cafe
. Tried many of their cookies and pastries, quiche and breads. All excellent.
The breakfast served in their restaurant next door was one of my favorite meals of the summer.
Lunch from the
Asian Box
restaurant near Stanford. Highly recommend this place.
Loved the caramel egg!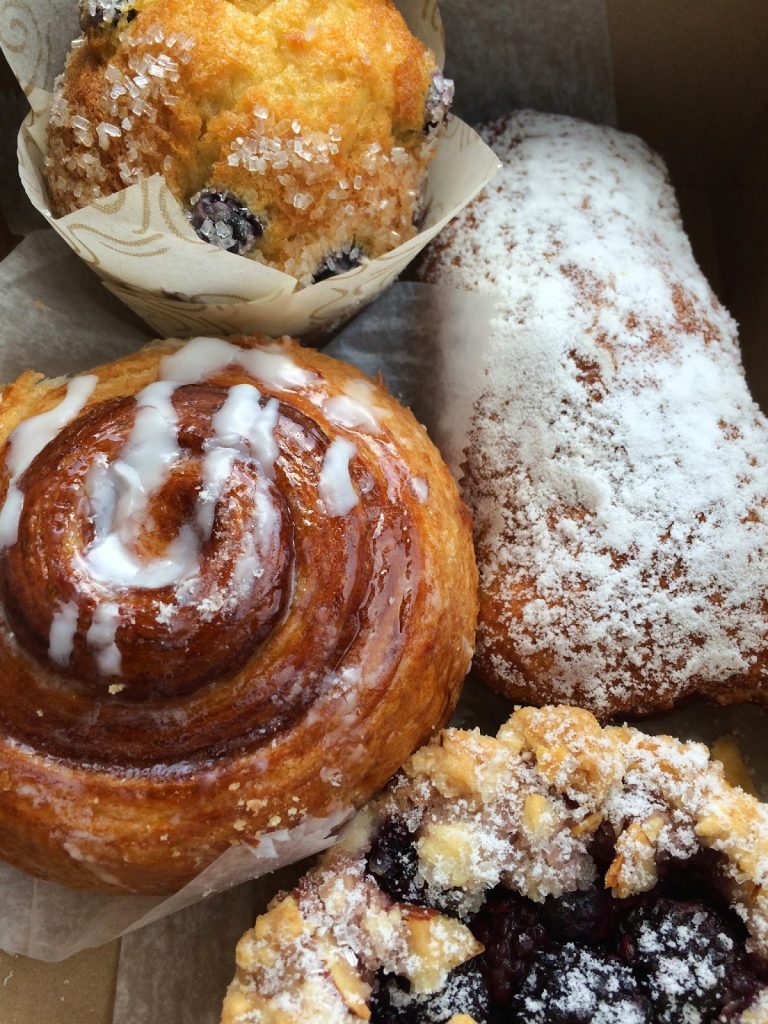 Salt and Straw
.
Strawberry Honey Balsamic Vinegar Ice Cream.
Portland, OR. Worth the wait.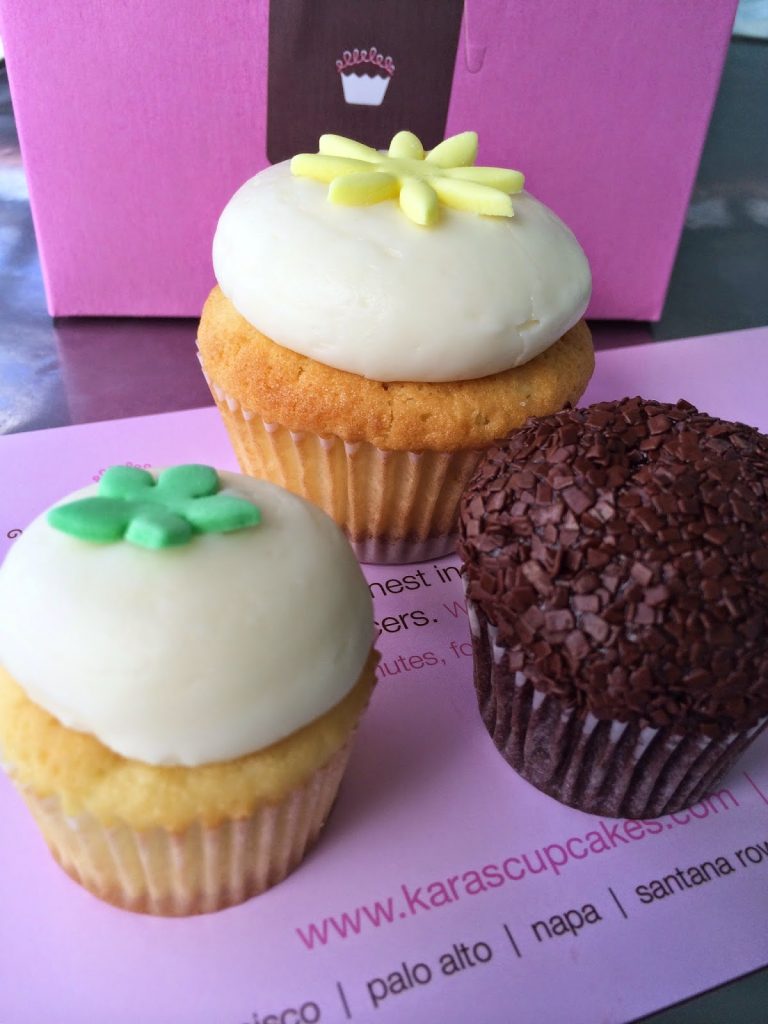 Kara's Cupcakes
in Palo Alto.
Loved the Chocolate Velvet and the Key Lime cupcake. Still experimenting with
a recipe for the key lime cake. Watch for it on ABK soon…
Obviously, I'm a sucker for cupcakes!
Cupcake Royale
in Seattle.
Got a little carried away with their ice cream "sampler"
Dahlia Bakery
in Seattle. One of Tom Douglas' restaurants. This little
cake made with apricot filling and marscapone frosting was melt-in-your-mouth delicious.
If you are a coconut lover, the coconut cream pie is heaven.
We also tried his Asian restaurant
Tanakasan
. If you go, order the Osaka Pancake.
Pecos Pit BBQ
1st Ave in Seattle. One of our favorite places waaaay back in the early 90's .
Still there. Still amazing.
What's a visit to Seattle without a stop at
Ivars
on the pier?
Jake, feeding baby Anabelle, who is following in her Grandmother's footsteps.

My boys in Naples, Florida-
Cracklin' Jack's
. Awesome BBQ.
Loved everything we ate. Frog legs and hushpuppies, anyone?
And last, but not least. The two dishes that inspired me to come up with a recipe
for my new all time favorite dinner… slow-cooked beef and chili enchiladas with red sauce.
The Slow Cooked Chili Beef dish from Sabroso! Mexican Grill above, and the dish below, from Cha-Cha-Cha in Portland were my inspiration for today's recipe. Both of the dishes were made from slow cooked beef in chili powder and spices.
The dish below from Cha Cha Cha was made with beef and little red potatoes cut up and then rolled into tortillas. I ordered my enchiladas with green sauce, but it would have been much better with red. I knew when I arrived back home, I had to come up with my own version of the red chili and slow cooked beef filling.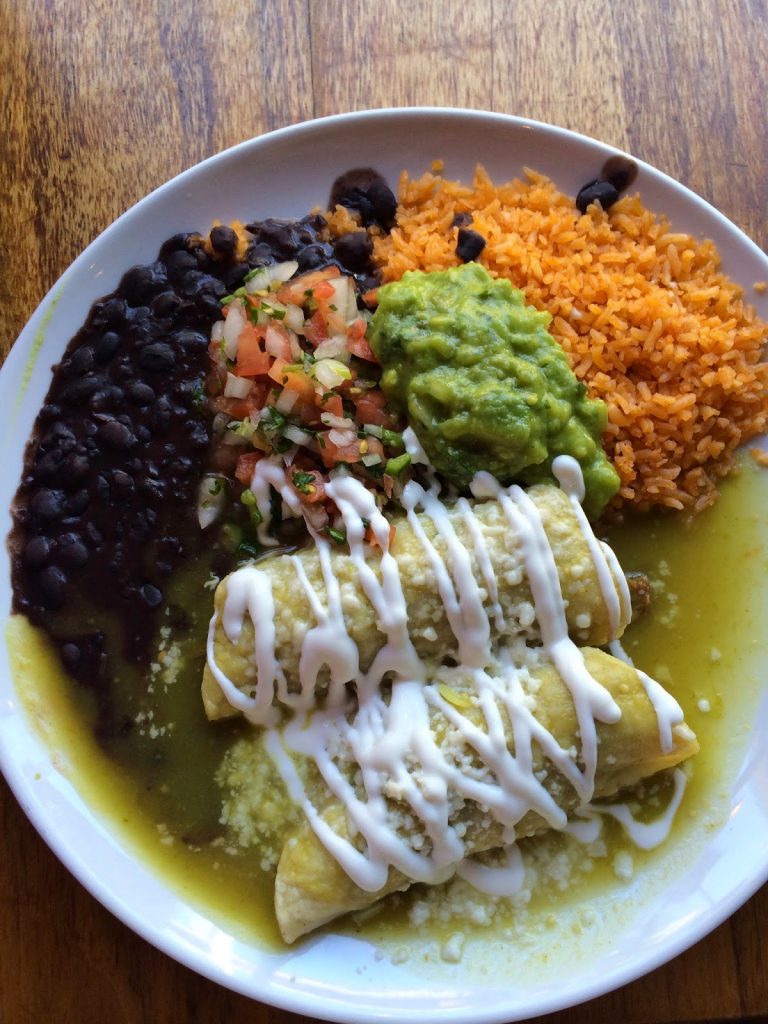 Have you ever tried small red potatoes in a Mexican dish? you're going to love this.
Kind of a "South of the Border" pot roast. In a tortilla.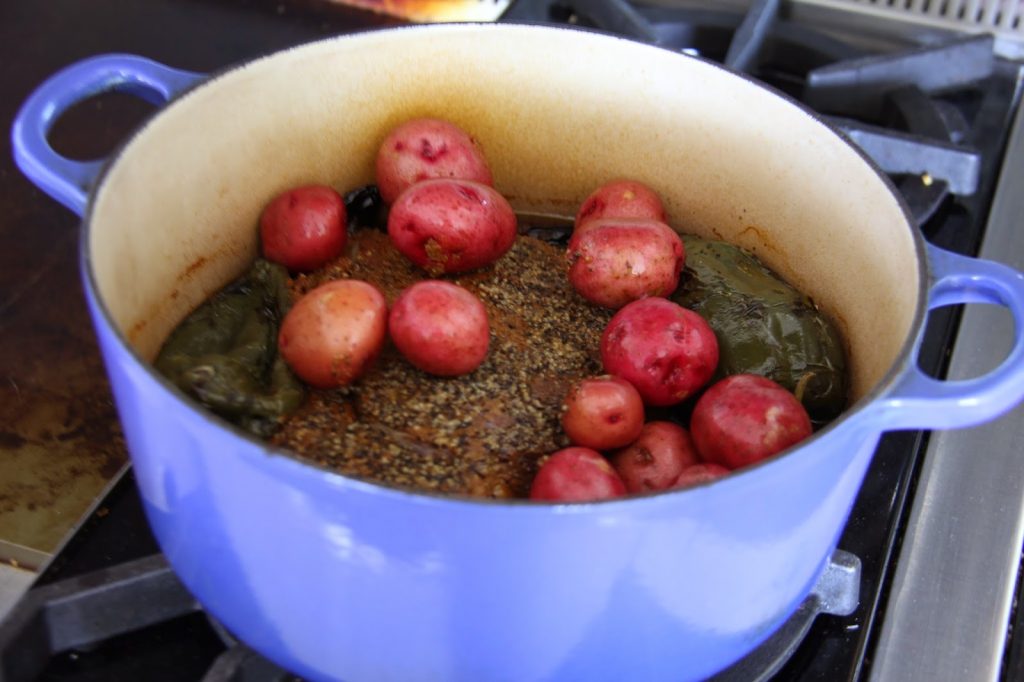 After slow cooking the beef with chilies,
I removed it from the pan and browned the onions and garlic.
Threw in a little fresh cilantro.
Made the sauce.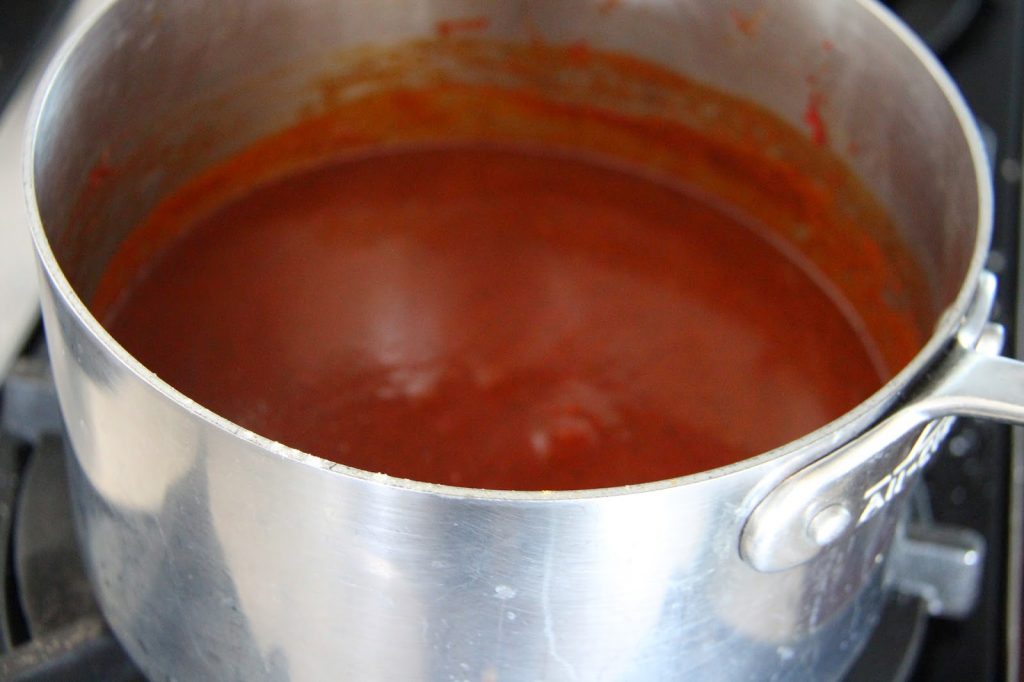 Here's the meat mixture, ready to go in the tortillas.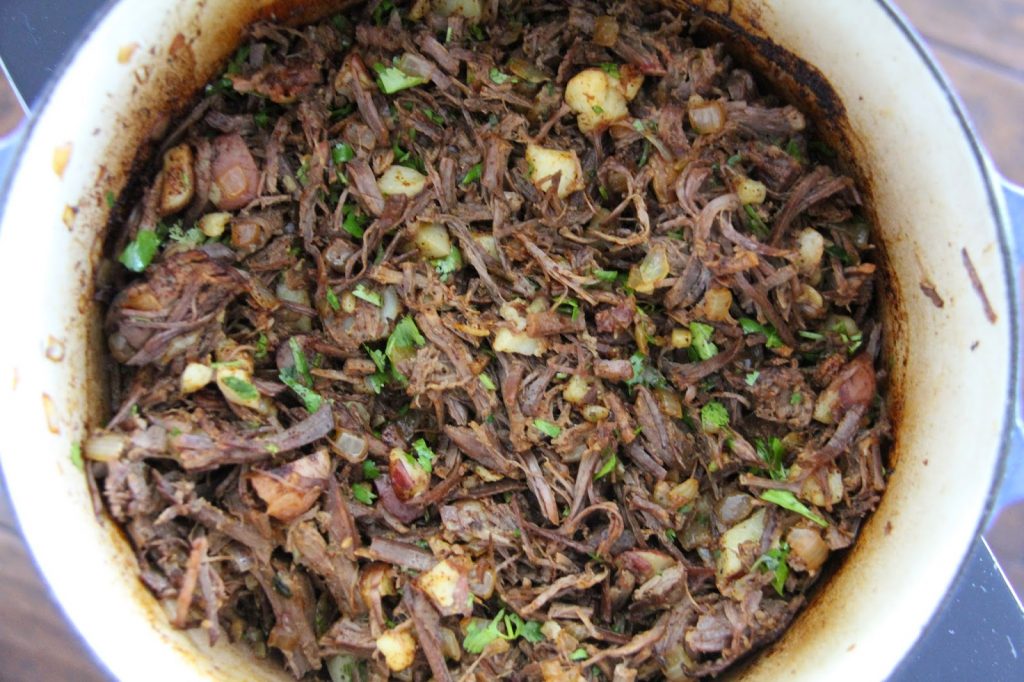 Throw some sauce on the meat.
Words cannot express how much I love this dish.
This recipe looks long and complicated, but it may be broken into three simple steps:
1. Prepare the meat and let sit in refrigerator overnight. (optional, but highly recommended)
2. Slow cook the meat. Add the chopped vegetables and prepare meat for enchilada filling.
3. Make the sauce, assemble the enchiladas, bake.
Slow-Cooked Beef Enchiladas with Red Chili Sauce
A Bountiful Kitchen
Ingredients
6

large fresh Pasilla chilies* or

1

package dried Pasilla chilies

1 1/2 oz package* or a mixture of dried and fresh

1- 3

lb

beef cross rib roast or chuck roast*

2

cups

water

1/4

cup

chili powder

1

tablespoon

salt

1

tablespoon

pepper

3/4

lbs

tiny red potatoes

scrubbed

2

cups

white onion

chopped

2-3

cloves

garlic

crushed or minced

1

bunch cilantro chopped coarse

divided in half (reserve some for garnish)

2

tablespoon

chili powder

Monterey Jack or Colby cheese for filling and topping enchiladas

tortillas for enchiladas

about 16 regular size corn or flour

Sauce for enchiladas

recipe below
Red Enchilada Sauce:
3

tablespoons

vegetable oil

2

tablespoons

flour

4

cups

chicken broth

1/4

cup

plus 1 tablespoon chili powder

10

oz

tomato paste

1

teaspoon

oregano

2

teaspoons

salt or to taste
Instructions
Using tongs over flame on bbq grill or indoor gas burner on stove, roast the fresh chilies until blackened and blistered. Set aside. After cooled, peel off the blackened skin and discard. Split chilies down the middle and remove any seeds inside. Set aside the peeled, seeded, roasted chilies.

Spray the bottom and sides of a large roasting pan or dutch oven with a bit of cooking oil.

Rub the meat with 1/4 cup chili powder salt and pepper. Turn the meat so both sides are coated. Place the prepared meat in the pan. Lay the roasted chili pieces on top of the meat. Place the packaged dried chilies around the edges of the meat and pour in 2 cups of cold water around the sides of meat in pan. Set aside in refrigerator over night (or up to two nights ahead), not necessary, but recommended.

When ready to cook, remove pan from oven, let sit on counter for one hour and then follow baking directions.

Bake, covered tightly for about 3 hours at 275 degrees. After 3 hours, remove lid and toss in the 3/4 lbs small red potatoes. Replace the lid and roast for another hour, until the potatoes are tender.

After the meat is cooked, remove to a cutting board and shred or chop meat.Discard fat from meat.Dice the cooked potatoes, leaving skins on. Place meat and potatoes in a pan. Pour any extra juice left in pan on top of meat. Set aside. Remove the dried chilies (if using) and discard. Chop the fresh chilies and toss in with the beef mixture.

Using the same pan, sauté the onions over medium heat until softened and browned a bit. Add the garlic and cook for about 2 more minutes, or until fragrant. Toss in the chopped cilantro and chopped meat and potato mixture.

Sprinkle with an additional 2 tablespoons chili powder, if desired. Set aside until ready to fill enchiladas. This mixture can be refrigerated for 3-4 days before using.

Saute the oil in saucepan with flour over medium high heat, mix with whisk until smooth and a bit bubbly. Reduce heat to medium. Add chicken broth, 1/4 cup chili powder, tomato paste, dried oregano and salt to taste. Continue to cook for about 5-10 minutes until thickened a bit. Remove from heat and spoon about 1/2 cup of the sauce over the meat mixture. Gently fold into meat mixture.
When ready to assemble enchiladas:
Lightly grease two 9×13 pans with cooking spray. Spoon about 1/3 cup of sauce to cover bottom of each pan. Fill the enchiladas with the meat and chopped potato mixture. Sprinkle with a bit of grated cheese. Roll and place in pan seam side down.

Continue rolling until all of the tortillas are filled. You should have a little left over meat. Pour the remaining sauce over the enchiladas, sprinkle with more grated cheese and top with any leftover meat.

Bake covered at 350 for about 45 minutes or until the enchiladas are heated through and the cheese is melted and golden.

Let sit for about 10 minutes before serving.

Yield about 16 enchiladas, depending on size of tortillas used.Tips:
Recipe Notes
-Cross Rib Roast is my favorite for this dish because it shreds well and down not have a large amount of fat that needs to be discarded. -I like a mixture of dried and fresh chilies for this dish.
-In the U.S. the chili powder we are accustomed to purchasing is a mixture of spices and chili power. Read your labels. If the ingredients are cumin, oregano, garlic powder and salt, then use the amounts I specify in this recipe. If the ingredients read ground chilies, then use about 1/3 of the amount I suggest. or you will end up with very spicy enchiladas and sauce!
-This dish will keep well in the fridge for about 3 days before baking. It also freezes well.
-If you make a little extra sauce, and want and easy side dish, cook some white rice and mix with a few tablespoons of red enchilada sauce after cooking. Also add a can of black or red beans and some chopped green onion. Serve with some shredded lettuce and guacamole for a complete meal!
-If you happen to have extra sauce, freeze it and use on days when you have some leftover meat and tortillas. Heat up the tortilla, fill with chicken, pork or beef, top with cheese and pour sauce over the top for a 5 minute meal.