Slow cooker Beef and Broccoli with Rice is easy to throw together early on a busy day! When dinner time rolls around, turn on a pot of rice and dinner is ready. It's a quick and easy meal everyone will love. 
Whenever we place an order for Chinese takeout, some type of beef and broccoli dish is included in the order.
My criteria for good beef and broccoli include:
1. The broccoli needs to still be an appealing shade of green. Not gray-green from over cooking!
2. No MSG.
3. The sauce needs to be not too thick, mostly salty, and a little bit sweet.
4. I have a thing about eating food when it's hot, not lukewarm. Making beef and broccoli at home, as opposed to take out (in which case you're probably eating about 30 minutes after the food was placed in the box) insures your dinner will be hot 🙂
5. Not too many ingredients, I really want to enjoy the tender beef and crisp broccoli!
There are hundreds of variations of this recipe online. I tried a few and came up with this version that I think is simple and tasty and pretty enough to serve guests. I also make a slow cooker take-out home made sweet and sour chicken dish along with this for a fun color and flavor contrast. If you only have one slow cooker (like most normal people), and want to make two slow cooker dishes at once, you can improvise by cooking one of the dishes in the oven on 275 for about 5-6 hours.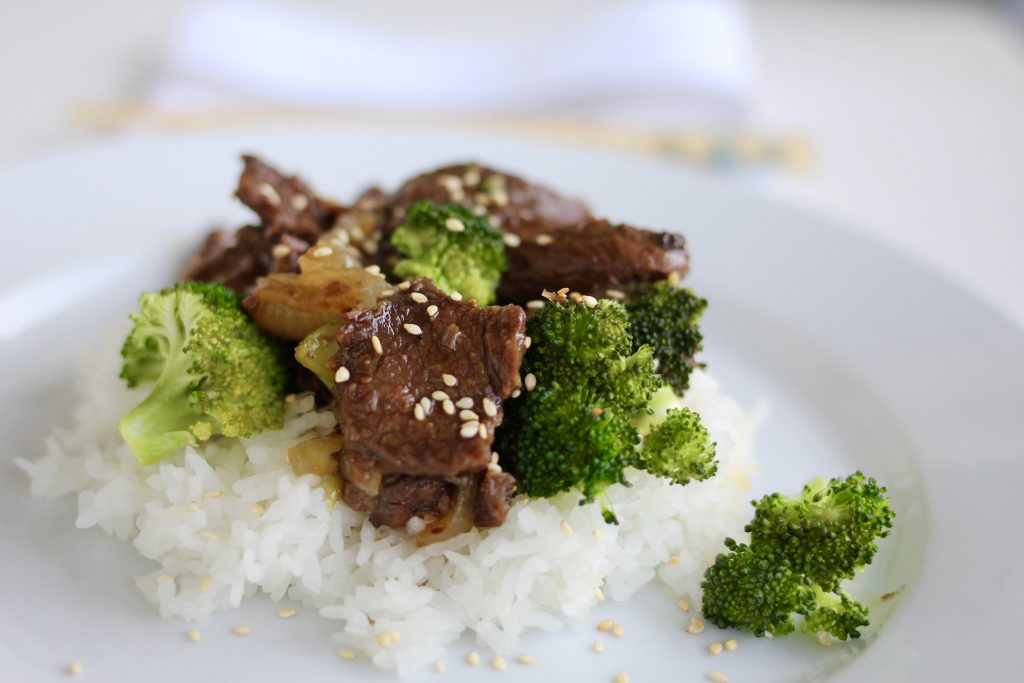 Looking for a way to make this recipe a complete meal?
Nothing goes better with Asian inspired dishes than rice. I love a good pot of sticky rice.  If you don't have a rice cooker, do yourself a favor and get one.  I like to have a "keep warm" feature that allows me to make the rice ahead and keep the rice warm until ready to serve. There are lots of options out there when shopping for a rice cooker, I'm a fairly simple person, the warming feature is enough for me when looking for added bells and whistles! I also recommend Kukoho Rose or less expensive, but still acceptable, Cal Rose. The best place to buy rice is in an Asian market.  Hope you enjoy this dish!
Slow Cooker Beef and Broccoli with Rice
Total Time
6
hours
10
minutes
Ingredients
2

lb

beef chuck roast. sliced thin

2

cans beef consume or beef broth

10.5 oz

1/4

cup

soy sauce

1/4

cup

Worcestershire Sauce

1/2

cup

brown sugar

2

tablespoons

sesame oil

2

cloves

garlic

minced

1

teaspoon

fresh minced ginger or powdered ginger

1

teaspoon

ground pepper

2

tablespoons

cornstarch

2

tablespoon

olive oil

1

medium onion

white, yellow or sweet onion such as Walla Walla ( about 2 cups chopped)

1 1/4

lbs

fresh broccoli

chopped

white or brown rice

sesame seeds for garnish

optional
Instructions
Spray the inside of a slow cooker insert with cooking oil.

Whisk together in the bowl of the slow cooker: beef broth or consume, soy sauce, Worcestershire sauce, brown sugar, sesame oil, garlic, ginger and pepper.

Turn the slow cooker to low and place the meat into the slow cooker and stir to make sure all of the meat is coated with ingredients in bowl. Cover with lid and cook on low for 5-6 hours or until meat is tender.

One hour before serving, cook rice and set aside.

About 45 minutes before serving, sauté chopped onion in olive oil for 4-5 minutes on medium high until onions are soft. Add broccoli and cook until broccoli is bright green about 2 minutes, set pan aside.

Remove about 1/2 to 1 cup of liquid from slow cooker and whisk in 3 tablespoons of cornstarch until smooth. Add the cornstarch mixture back to the slow cooker and let cook for about 20-30 minutes on low.

Just before serving, add the onion and broccoli mixture to the slow cooker.

Serve with cooked rice.
Recipe Notes
-If you want to skip the step of sautéing the onions and broccoli, you can throw the chopped onion in with the beef. I found better results when cooking the onion separately. If the onions are cooked with the meat, the onions tend to water down the sauce quite a bit. You may also sauté the onion a day or two ahead and store in a ziplock bag in the fridge until ready to use.