This cookie is for all serious S'more fans! Made with Golden Grahams, Hershey bars, big and little marshmallows and a delicious cookie dough base. Our S'mores Cookies mimic being in the great outdoors, in the comfort of your own kitchen!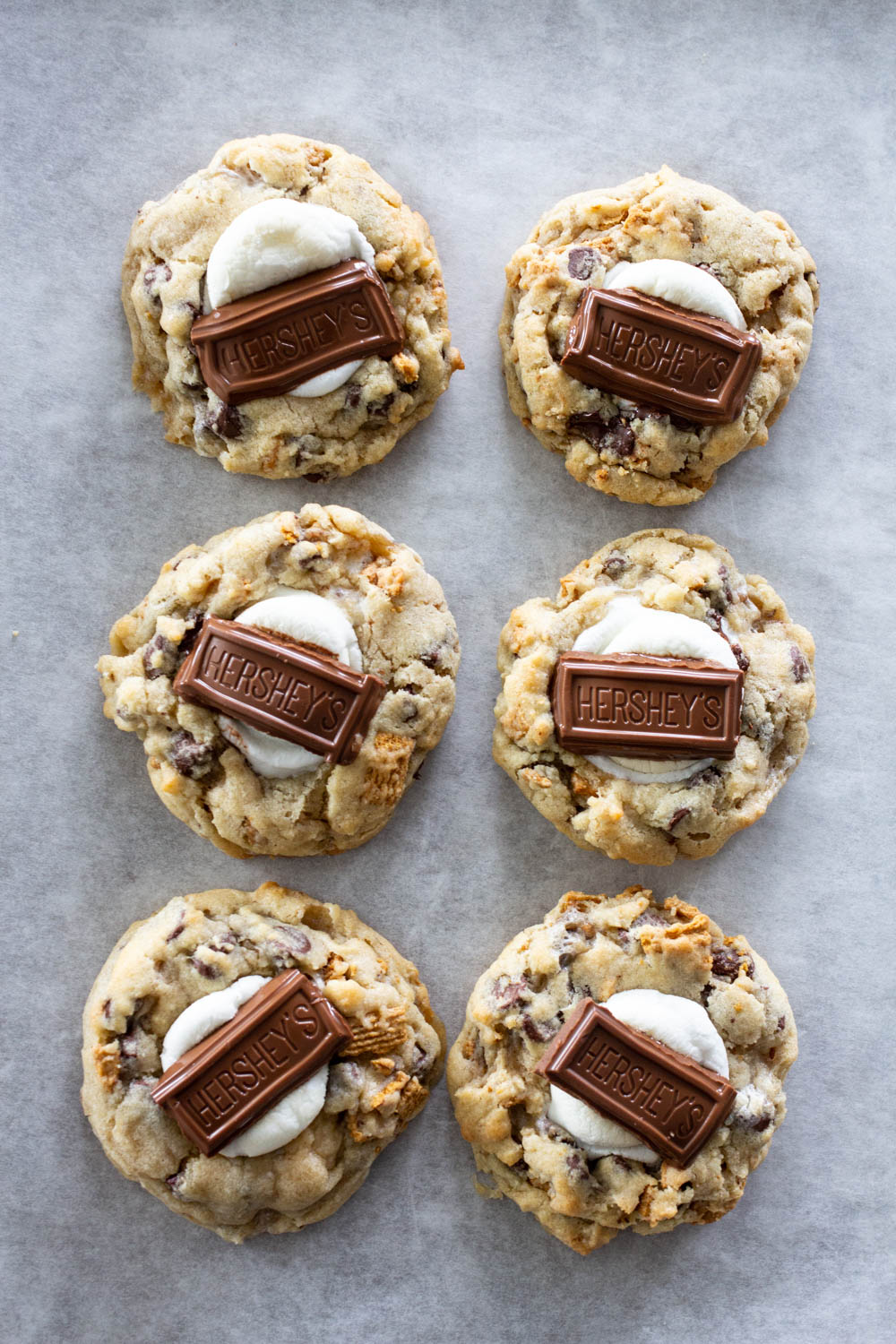 Nothing like a good S'mores cookie to celebrate National S'mores Day on August 10th! Whenever I hear the word S'mores my mind turns to sticky melty marshmallow, sandwiched between layers of graham crackers and slightly burnt chocolate, wrapped in foil! Girls Camp comes to mind, along with campfires, bug spray, outhouses and stars in the sky. Camping is not really my favorite thing in the world, but give me a S'more any day and I'm a happy camper!
Secret Recipe Club…
This S'mores cookies recipe was shared with me many years ago, and first published in August of 2011 on National S'mores Day when I belonged to a group called the Secret Recipe Club. Doesn't that sound mysterious?! A group of women who had recipe blogs each agreed to share a recipe from another blogger without her knowing. This was long before social media… Being a part of the SRC was a way to help promote blogs that were just getting started!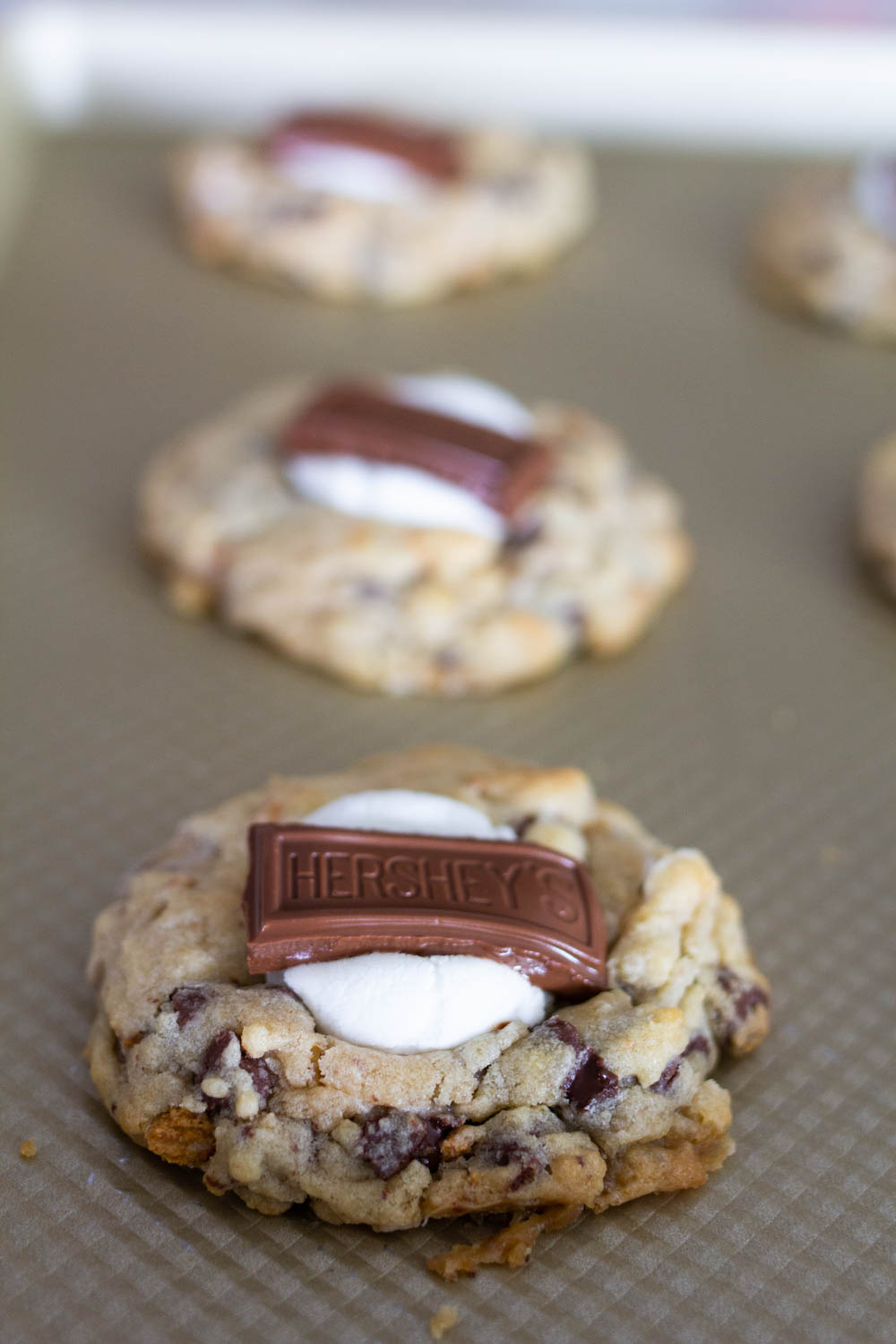 My version of the Smore's Cookies recipe was adapted from Mary of Giving Up on Perfect. The name of her blog has now changed, and she mostly posts book reviews but everyone who eats this cookie loves it. I thought it was worth updating in 2019 when I made and photographed this easy S'mores Cookie recipe again!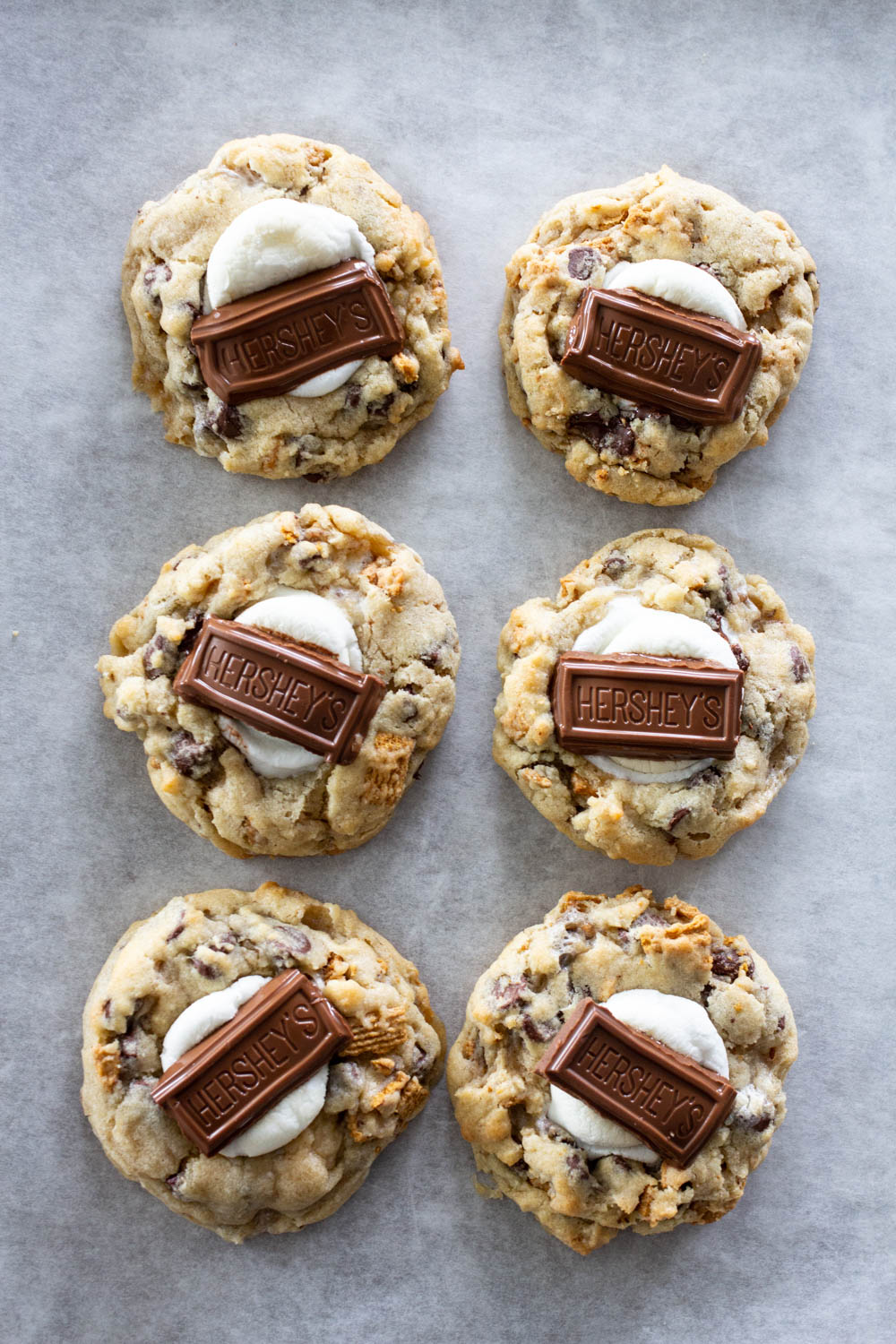 Secret to the best S'mores Cookies!
The key to making the best version of a s'mores cookie is to not over bake the dough! Remember, the cookie goes back into the oven twice after the initial bake for 2 minutes and then 1 additional minute. I like using one of my favorite cereals, Golden Grahams in this recipe instead of graham crackers. The slightly crunchy piece of Golden Graham in the dough is a fun addition to this cookie!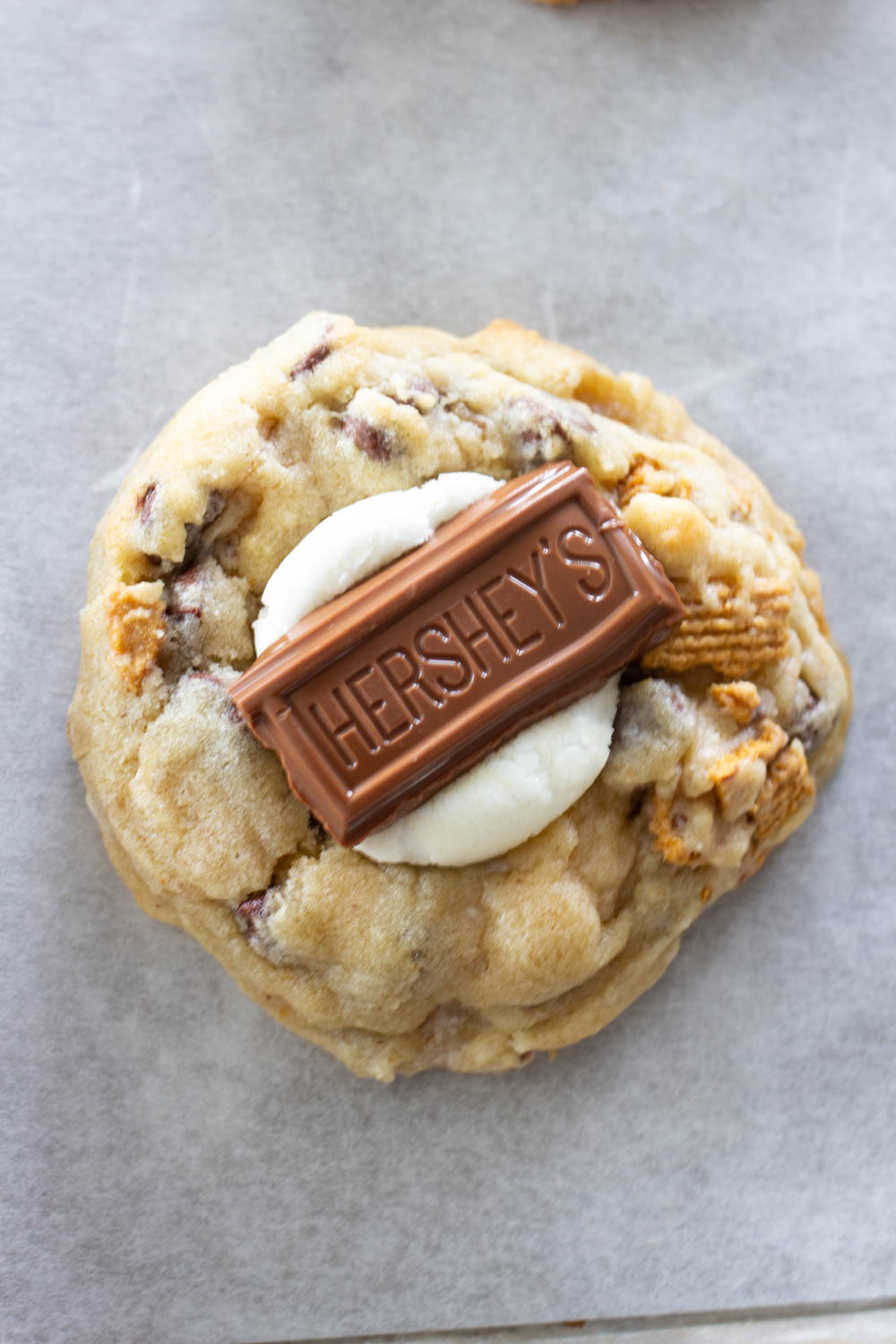 If you love a HUGE piece of graham cracker in your cookie, try Female Foodie's Mackle'smore Cookie with a whole slab of Graham cracker baked underneath the cookie dough! This cookie was made famous with home cooks when the owner of Hello Robin in Seattle shared her recipe with (my daughter!) Brooke of Female Foodie.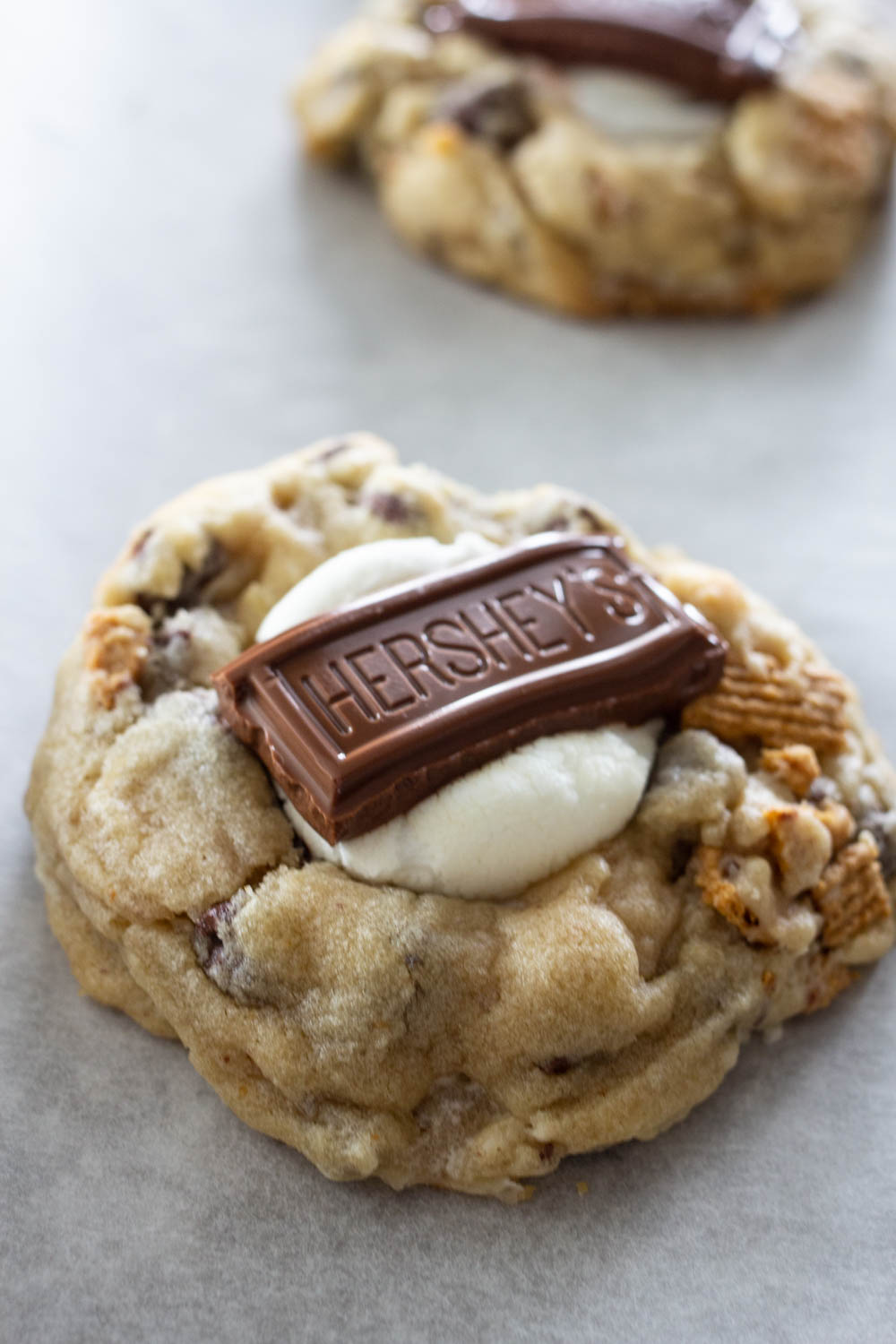 S'mores Cookies
The perfect blend of graham cracker, marshmallow, cookie dough and chocolate in one gooey cookie!
Servings
18
large cookies
Ingredients
1

cup

unsalted butter, chilled and barely soft

1/2

cup

brown sugar

1

cup

granulated sugar

2

eggs, chilled

1

teaspoon

vanilla

2 3/4

cups

flour (plus another 1/4 cup if needed)

1

teaspoon

salt

1

teaspoon

baking soda

2

cups

chocolate chips

milk or dark, I use milk chocolate or a mixture!

1

cup

Golden Grahams cereal

or 1 cup chopped graham crackers

1 1/2

cups

mini marshmallows

2-3

regular size Hershey Bars

9

large marshmallows

sliced in half widthwise (scissors work well)
Instructions
Preheat oven to 375.

Cream butter with sugars in a stand mixer or a bowl using a hand mixer. Add eggs and vanilla.

Beat on medium speed until mixed well and there are no visible lumps of butter. Turn off mixer.

Add flour, baking soda, salt and chocolate chips to mixing bowl. Pulse mixer by turning off and on quickly, just until dry ingredients are incorporated.

Fold in Golden Grahams and mini marshmallows with spatula, do not use mixer. Fold just until evenly distributed into batter.

With large cookie scoop, or spoon, shape dough into 18 balls (about the size of golf balls) place on parchment lined cookies sheets, 6 cookies per sheet.

Bake for about 7-8 minutes.

Place one half of a large marshmallow on each cookie, put back in oven and bake for an additional 2 minutes.

Remove from oven again, slightly flatten if needed, and place 1-2 rectangles from a Hershey bar on top of marshmallow.

Cook for an additional minute.

Remove from oven (for the last time), with a knife, spread the melted chocolate so it covers the marshmallow, or leave the chocolate without spreading if you like "HERSHEY'S" showing!
Recipe Notes
I purchase regular size Hershey bars. There are 12 pieces in each bar,  I use 1-2 on each cookie. 

I use Golden Grahams instead of regular Graham Crackers, as called for in the original recipe. I absolutely LOVE Golden Grahams, but after making this cookie a few times, realized if the cookie is overcooked at all, the texture of the Golden Grahams Cereal changes if over baked! Cook just until the cookie sets up on top and is no longer wet looking. 

Let cool for 10 minutes before serving. The cookie will still be warm and gooey, but not fall apart!
The dough should not be wet or sticky. If the dough is sticky, fold in additional 1/4 cup of flour, a tablespoon at a time until the dough is no longer sticky. 
If your cookies spread too much, you may push the edges of the cookie inward with a small spatula while the cookie is still warm to create a more uniform cookie.
Refrigerating the dough for an hour or more will also help if you have problems with dough spreading too much. Before refrigerating, always form the dough with a cookie scoop or just roll the dough into a ball. Place on a cookie sheet or in a pan and cover.