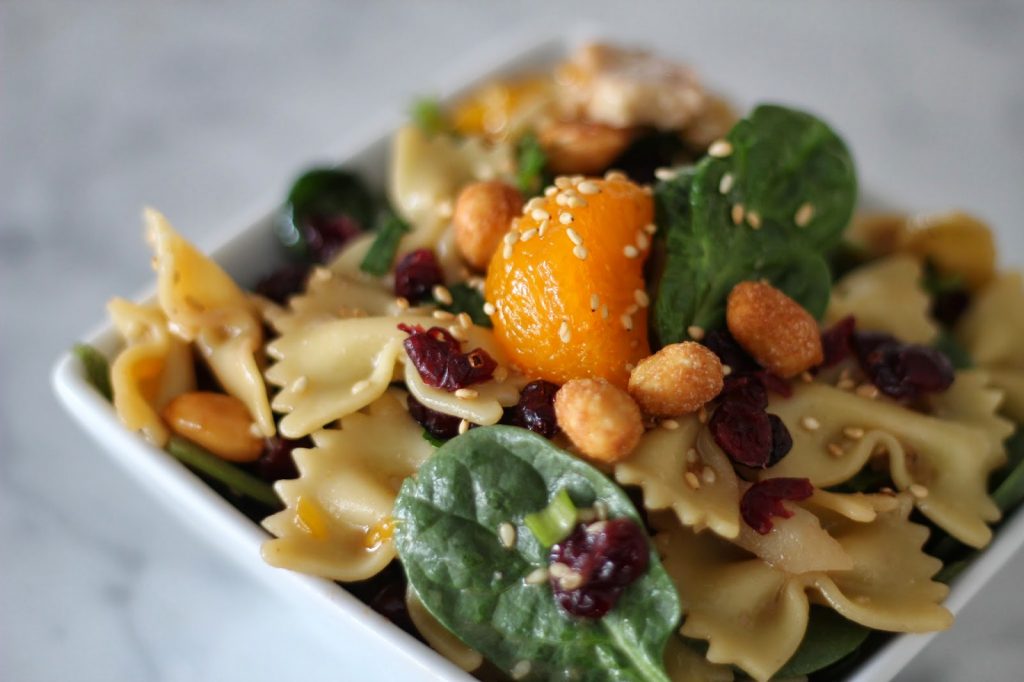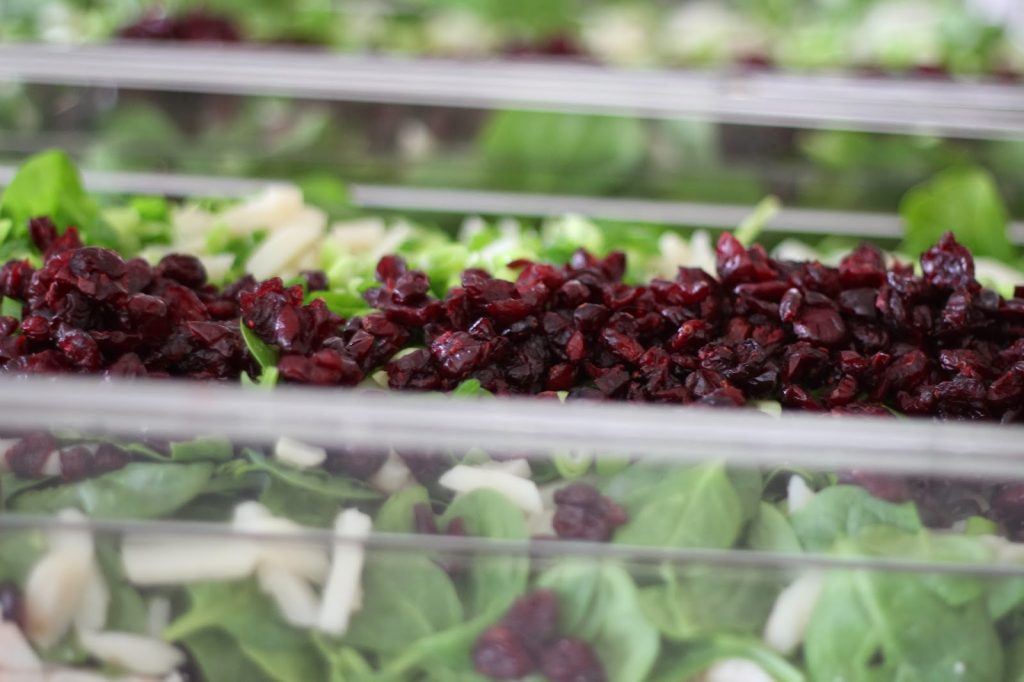 Last summer, I made Spinach, Chicken and Bowtie Pasta Salad for 100 three times, in two months, for groups of 100 or more.
Spinach, Chicken and Bowtie Pasta Salad
is one of my all-time favorite pasta salad recipes. Here's why: It sits well at a gathering (no mayo in the dressing). Perfect for weddings, funerals, missionary farewells and homecomings, Girl's Camp, family reunions, church parties and school events. It's easy to make in large quantities. Even though it looks summery it can be made year-round. AND last, but not least, everyone loves it.
I've had oodles of requests over the years for a large quantity recipe, so I decided it would be best to re-post the recipe with directions to feed 100.
Make sure to read my
tips
short story (below the recipe) for all of the info you'll ever need (or want) to make pasta salad for the masses.
Happy salad making, my friends.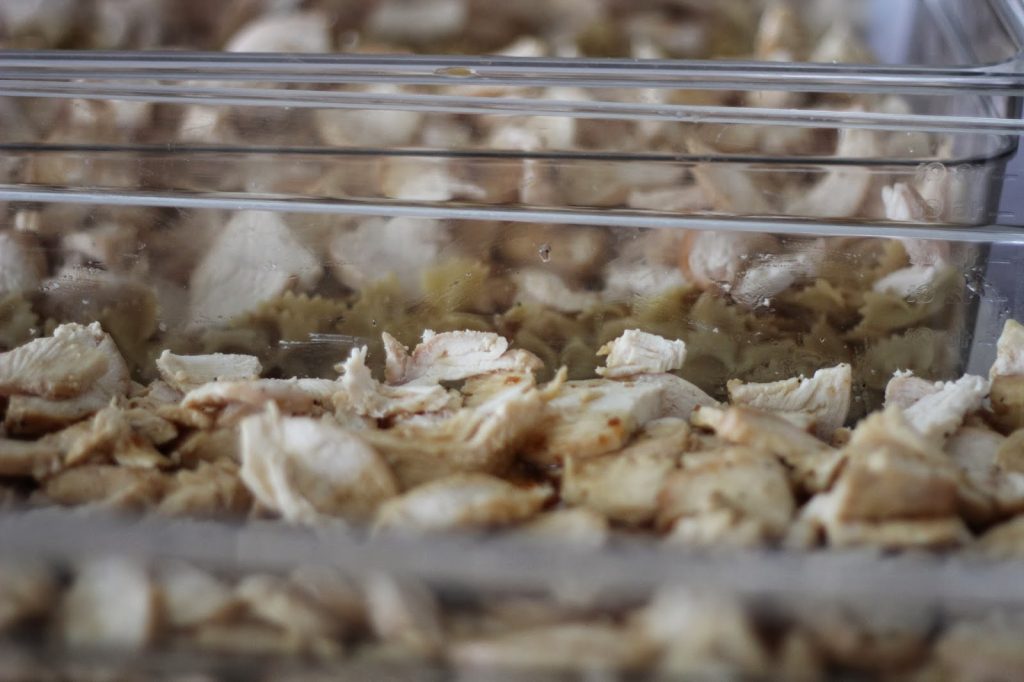 Got Chicken?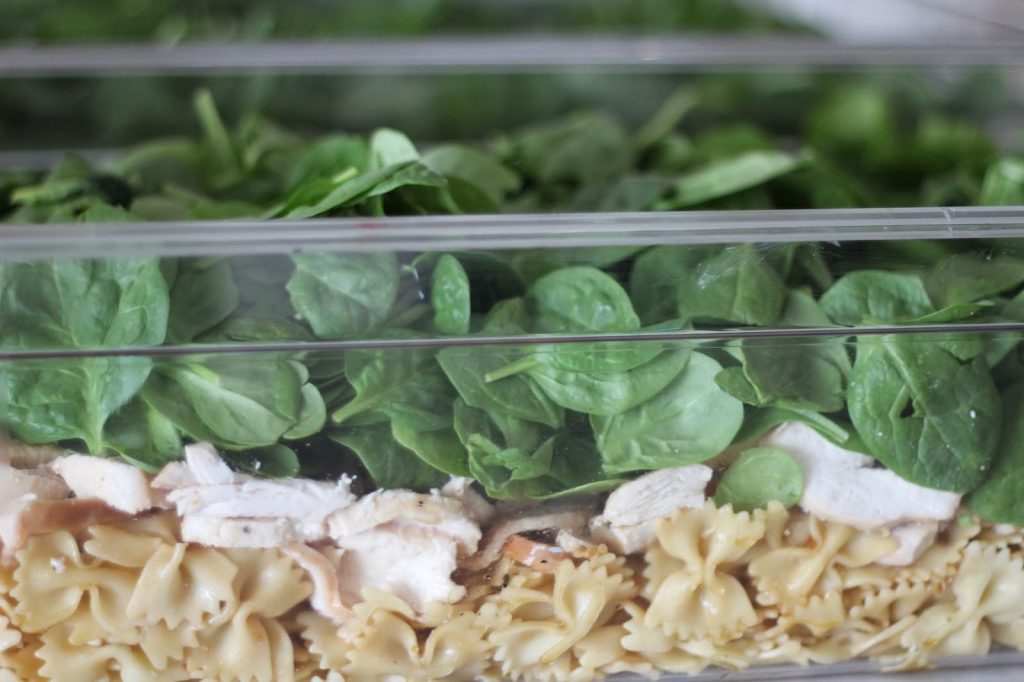 First three layers.
Starting to look like something I'm interested in eating…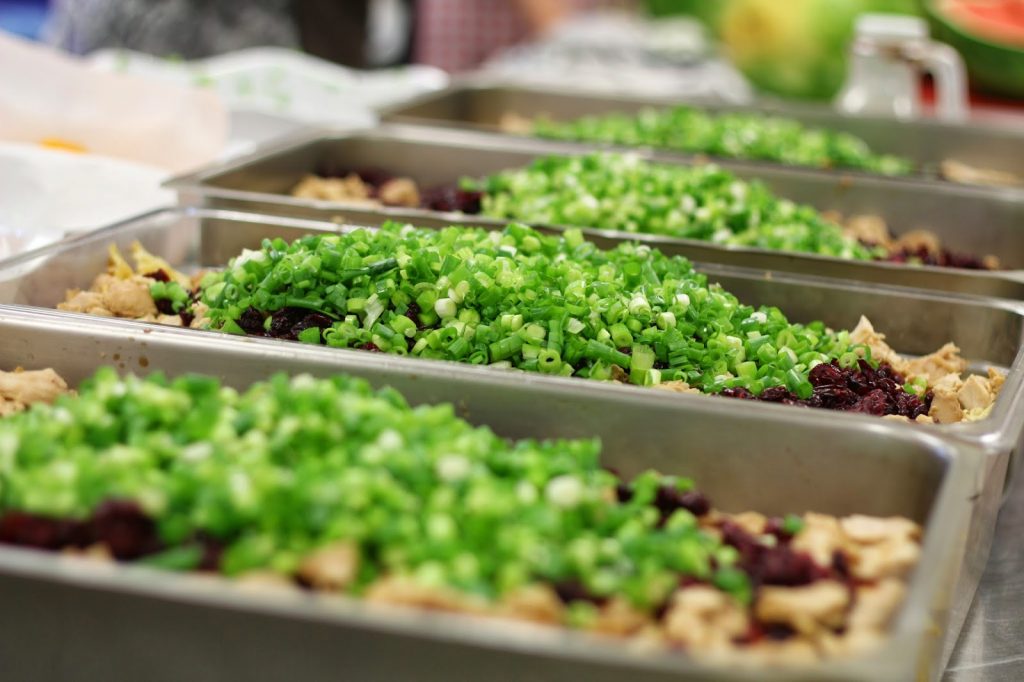 This was taken at Girl's Camp. I think we served 300 with these salads.
It was like the loaves and fishes. Kind of.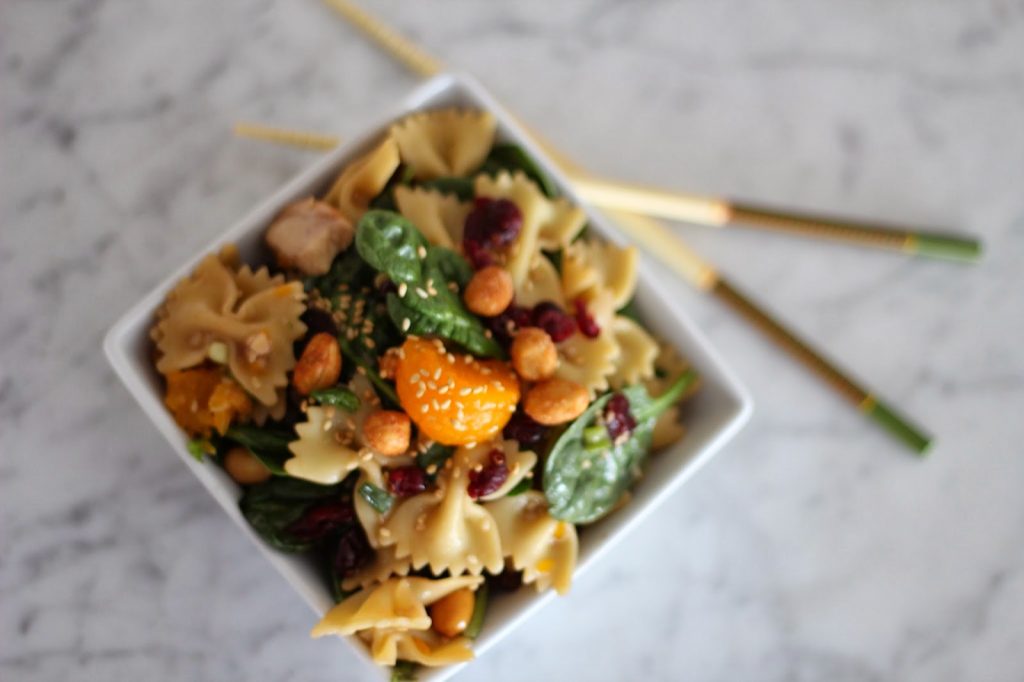 Spinach, Chicken and Bowtie Pasta Salad for 100
Ingredients
Salad dressing:
2 2/3

cups

vegetable or canola oil

1 1/3

cups

Veri VeriTeriyaki Sauce

shaken

2 2/3

cups

cider vinegar

1 1/3

cups

granulated sugar

2

teaspoons

salt

2

teaspoons

pepper
Salad ingredients (veggies and fruit):
4

Costco tubs of Spinach

1 lb each

8- 8

oz

cans water chestnuts

drained and chopped into matchstick pieces

6

bunches green onions

chopped

48

oz

– (1 large baCraisins

12

cans mandarin oranges

drained well

2

cups

sesame seeds

toasted

48

oz

honey roasted peanuts or cashews

15

lbs

chicken breasts

marinated (ingredients below), cooked, cooled and sliced

Teriyaki marinade for chicken:

6

cups

soy sauce

2

cups

sugar

1

Tablespoon

or about 4 cloves garlic

crushed or chopped

1

Tablespoon

pepper
Instructions
Mix teriyaki marinade for chicken.

Marinate chicken overnight, or at least 6 hours. Place the chicken in Ziplock bags and mix the marinade in a bowl, then pour into the bags over the chicken. The chicken may be taken directly from the freezer and set in the refrigerator in marinade for up to two days before cooking.

After the chicken is marinated, place the drained chicken on baking sheets and broil the chicken for about 7-10 minutes (about 2-3 inches from element), or bake at 350 for about 45 minutes or until chicken is no longer pink in the middle. Cool completely, trim off any fat and cut into slices. Set in refrigerator until ready to assemble salad. The chicken may be cooked up to three days before serving salad.

Discard any leftover marinade, DO NOT use the marinade in the salad dressing.

Cook the pasta al dente, according to package directions. Drain, rinse quickly with cold water and toss with a tablespoon olive or canola oil or a little of the Veri Teriyaki sauce and place in refrigerator in covered containers (I use gallon Ziplock baguntil ready to assemble salad. May be cooked up to three days before serving.

Blend the salad dressing ingredients together using large bowl or blender. Mix well. Keep refrigerated until ready to use.Assembly:

May be done early in the day, or the day before serving.

Using two large containers, layer the ingredients to the salad in the following order (see photos)

Pasta, chicken, spinach, chopped water chestnuts, chopped green onions and Craisins. Make sure the water chestnuts are drained well.

Cover and refrigerate.

When ready to serve, add the following to the top of salad:

Drained mandarin oranges, toasted sesame seeds, honey roasted peanuts.

Mix the prepared salad dressing well, pour about 2 cups onto each container of salad, tossing gently so the mandarin oranges do not break apart. Add more salad dressing, sparingly, as needed.

Serve individually onto plates, or in a salad bowl.

Sprinkle with additional sesame seeds and nuts if desired.
Recipe Notes
-This salad may be prepared in advance. When I'm making salads in large quantities, I usually start the day (or two) ahead with any of the steps that can be done early. Read this recipe carefully for instruction on make ahead.
-If you are serving this with a main dish, say at a barbecue, you may leave out the chicken. Or half the chicken (and marinade).
-This salad is a hearty serving of a main dish salad. It will yield 100 generous lunch size portions of salad. If served with a roll and dessert, it should satisfy most appetites. If you are serving the salad on a buffet, with other salads or sides, this should serve up to 150 as a side dish.
-For the chicken, I buy Costco 10 lb bags of frozen- boneless, skinless chicken breasts. Usually the Tyson or Foster Farms brands. They are generally trimmed of most fat so the prep work is minimal regarding trimming the chicken. I use the chicken right out of the freezer, no thawing needed.
If you are trying to cut costs, use less chicken. This recipe may be adjusted to serve 100 with 10 lbs of chicken (instead of 15). Cut the teriyaki marinade for the chicken in half as well.
-Teriyaki Sauce for dressing on the salad- I like Soy-Vay "Veri Veri Teriyaki" for this recipe. It is highly concentrated, so you will use less than when using another brand. It can usually be purchased at most grocery stores and Walmart or Costco. I've also seen it online at Amazon. Make sure to shake the bottle before using.
– Purchase Honey Roasted Planters Peanuts at Walmart in large size containers compared to the containers sold at the grocery, they are quite a bit less expensive. I love this recipe made with honey roasted cashews, but they cost quite a bit more than peanuts, so I usually stick with peanuts when making a large quantity.
-Less is more with regard to salad dressing. Use less dressing than you think you need initially. Let it sit for a few minutes and see how much has soaked into the pasta, and how much has settled to the bottom of the serving bowl. Add more dressing if needed. I rarely use all of the dressing.
-Purchase sesame seeds in bulk at the grocery in the health food aisle or in the Asian section of the grocery. The cost is significantly less than if purchased in the spice section.
-Toss the peanuts and the sesame seeds last onto the salad to preserve the crunch of the nuts.