If ever there was a perfect combination of sweet and savory in one salad, this Teriyaki Spinach Pasta Salad is it! Who wouldn't love this combination of ingredients? Teriyaki chicken, crunchy honey roasted nuts, sweet Craisins, crisp cucumbers, mild green onions, and tart mandarin oranges to name a few…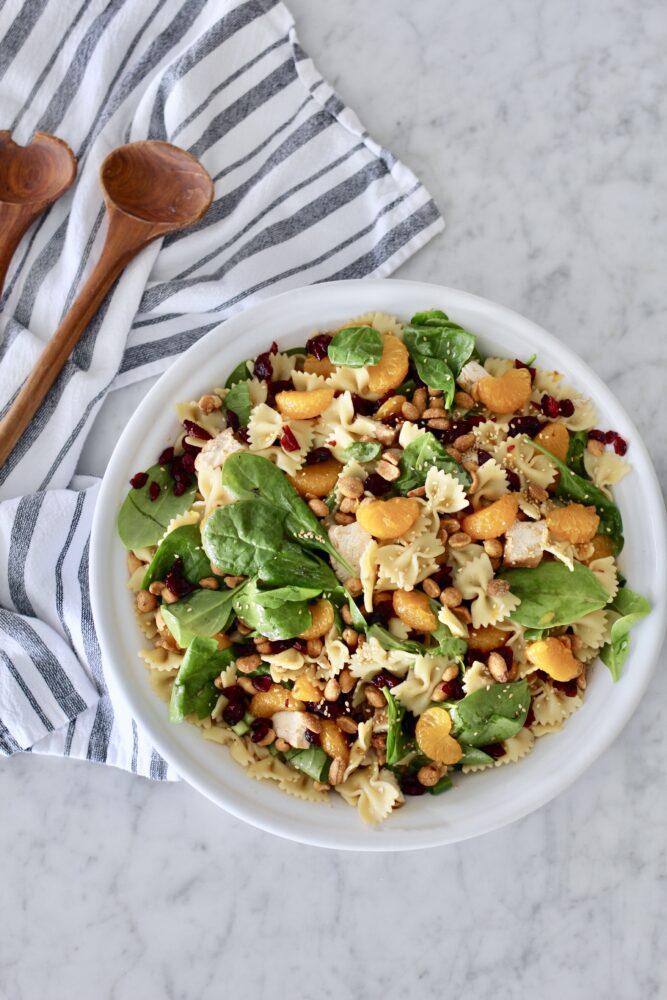 I'm so ready for spring and salads. It has been the longest winter ever in Utah, and I'm ready to move on from comfort foods and embrace salads and bbq meals!
Teriyaki Spinach Pasta Salad has been a long time favorite in our home. I first made this salad back in the early 2000's when I was given a copy of the "Favorites" cookbook written by Grace and Jane Ivory. Their family owns Ivory Homes and have been builders in the state of Utah for decades.
I don't know a single person who doesn't love this salad. It's a dish people never seem to tire of, and I get receipt requests every time I make it for the past 20-plus years. I made a few adjustments over the years including switching out the water chestnuts for fresh cucumbers (see recipe notes) and sometimes adding fresh oranges and cashews instead of canned mandarins and honey roasted peanuts! I also have a favorite bottled teriyaki sauce I like to use which I now most often find at Trader Joe's.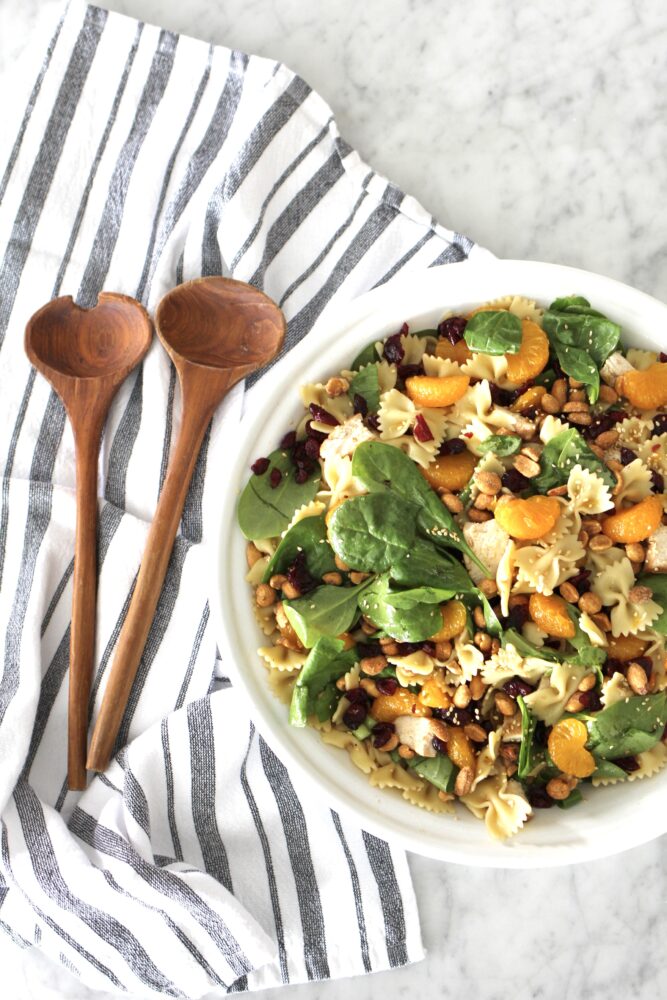 Teriyaki Spinach Pasta Salad is perfect for a buffet. It's colorful and can be served as a main dish or as a side dish and can also be made ahead. Follow recipe directions for make ahead! This recipe serves 10-12 as a main dish or about 18 as a side dish.
Teriyaki Spinach Pasta Salad is perfect for everything from spring parties to barbecues, wedding or baby showers. If you are looking for a salad that's more savory than sweet, and filled with veggies, try our Teriyaki Chicken and Vegetable Pasta Salad .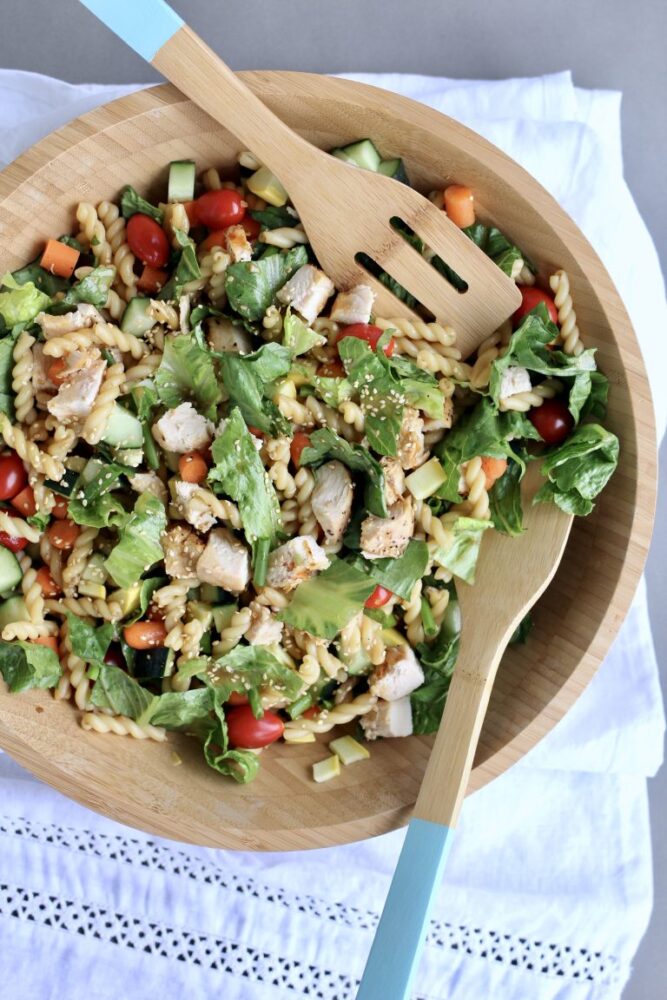 To make Spinach, Chicken and Bowtie Pasta Salad for a big crowd, try this recipe for 100. I know it will become a family favorite of yours, just as it has in our family. Thanks Ivory family for sharing this recipe!
This recipe was originally posted in March of 2010 and has been updated with new photos and recipe adjustments in 2019 and 2023.
Spinach, Chicken and Bowtie Pasta Salad
Adapted from the "Favorites" cookbook, A Collection of Ivory Family Recipes. This pasta salad is sweet and savory and just the right blend of pasta and greens. It is everyone's favorite pasta salad and so easy to make!

Ingredients
16

oz

Bowtie pasta, regular or mini size, cooked al dente and drained

2

tablespoons

sea salt
Dressing
2/3

cup

vegetable, canola oil or light olive oil

2/3

cup

teriyaki sauce*

see recipe notes

2/3

cup

cider vinegar

1/3

cup

granulated sugar or honey to taste

salt and pepper to taste
Salad
2

large chicken breast halves or about 3 cups total chicken breast

10-12

cups

baby spinach

1

6 oz

bag Craisins

3

11 oz

cans mandarin oranges, drained well or two large oranges, peeled, and chopped into one inch pieces

1

cucumber, seeded and chopped

1/2

cup

fresh parsley chopped

1

bunch

green onions, chopped

1/4

cup

toasted sesame seeds*

1

small can

honey roasted cashews or peanuts (about 2 cups)
Instructions
Preparation:
The day before serving salad, or early on the same day, marinate the chicken in a Ziplock bag or shallow dish in one cup of the teriyaki sauce. This step is optional, but the chicken will have better flavor if marinated ahead of time. 
Make Dressing:
Blend dressing ingredients together in blender or food processor. Refrigerate until ready to assemble salad.
For Salad:
Cook pasta in a pot of boiling water and 2 tablespoons salt until al dente, drain and set aside. 

Mix about 1 cup of dressing and the cooked pasta in medium bowl and marinate for two hours in refrigerator. Meanwhile, prepare remaining salad ingredients. If you prefer the pasta to have a lighter color, do not marinate, just toss with a little olive or canola oil after cooking and refrigerate until ready to use.

Cook the marinated chicken in oven or on bbq grill. Let cool and slice. 
Assemble Salad:
Gently combine remaining salad ingredients in a large bowl, reserving a few of each of the ingredients for on top of the salad.

Toss the salad ingredients with about 1/2 cup of dressing, add pasta and toss gently.

Place the pasta salad on a serving platter or in a large bowl, top the salad with the reserved ingredients, drizzle with additional dressing and sprinkle with nuts just before serving.
Recipe Notes
I like to marinate the chicken in about 1 cup of teriyaki sauce overnight  or for at least 2 hours in the refrigerator. Drain the chicken and discard the sauce. Broil the chicken for about 7-10 minutes. Remove from oven and cool completely before adding to salad.
Soy Vay Veri Veri Teriyaki is my favorite pre made teriyaki sauce.  It can be found on Amazon, or at most grocery stores. Usually in the Asian section. Trader Joe's carries their own store brand  "Soyaki" which also works well!  If using Soy Vay or Trader Joe's Soyaki, reduce the amount of teriyaki sauce to 1/3 cup.  The Soy Vay brand is very thick and concentrated so less is needed. Make sure to shake the bottle well before using, the sesame seeds tend to float to the top of the bottle. 
This salad may also be made a day or two ahead of serving. Cook the pasta and chicken and store in separate Ziplock bags in refrigerator. Make dressing and refrigerate as well. Chop all of the following: green onions, parsley, cucumbers and place in separate containers or bags. Drain the mandarin oranges and place in bag. When ready to serve, assemble as directed. 
This recipe was originally written with the use of water chestnuts. I usually add a cucumber for crunch instead of water chestnuts, which are more costly and often difficult to find. Make sure to seed the cucumber to keep extra moisture out of the salad.