My friend Nan bakes the best Coconut Cake made with a box mix! I've been making Nan's Coconut Cake for years. You won't find a better tasting coconut cake anywhere!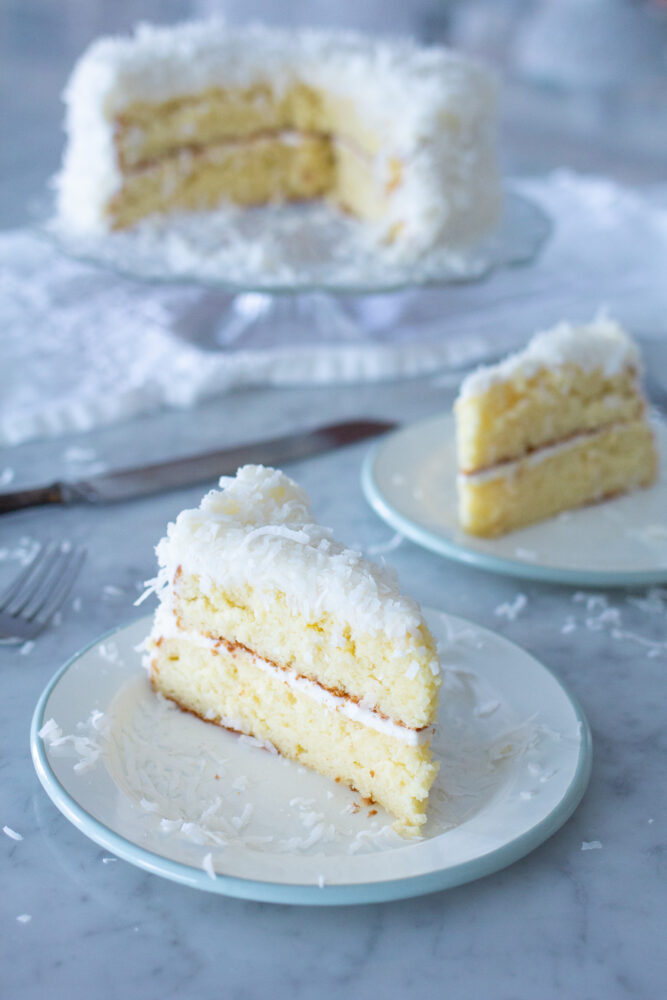 Nan's Coconut Cake 20 years and counting…
This cake is the most moist and delicious coconut cake you will ever make in minutes! My friend Nan (who is btw the kindest, most considerate and loving person you will ever meet in your lifetime) is an amazing cook. She shared this recipe with me over 20 years ago and it has been made more times in our kitchen than I can begin to count.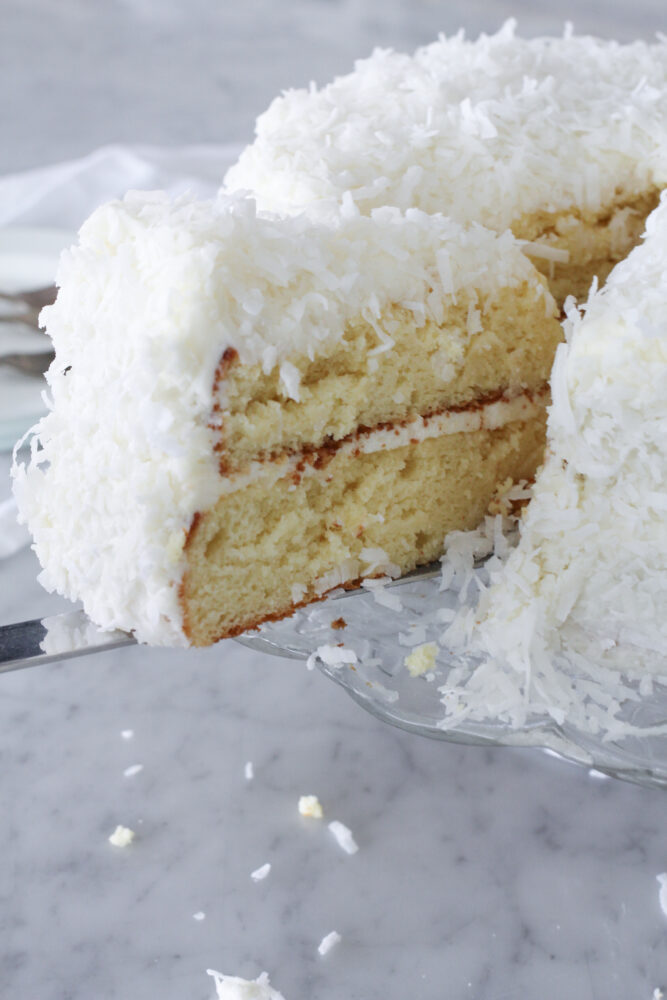 How to make a cake mix taste good!
Nothing is easier than opening a box mix and then adding eggs, water, oil, and throwing it in the oven, am I right? Add extra ingredients and you have a cake that is unforgettable. This cake is reminiscent of cakes served back in the day when no one really cared much about how a cake looked, but were very concerned about how a cake tasted!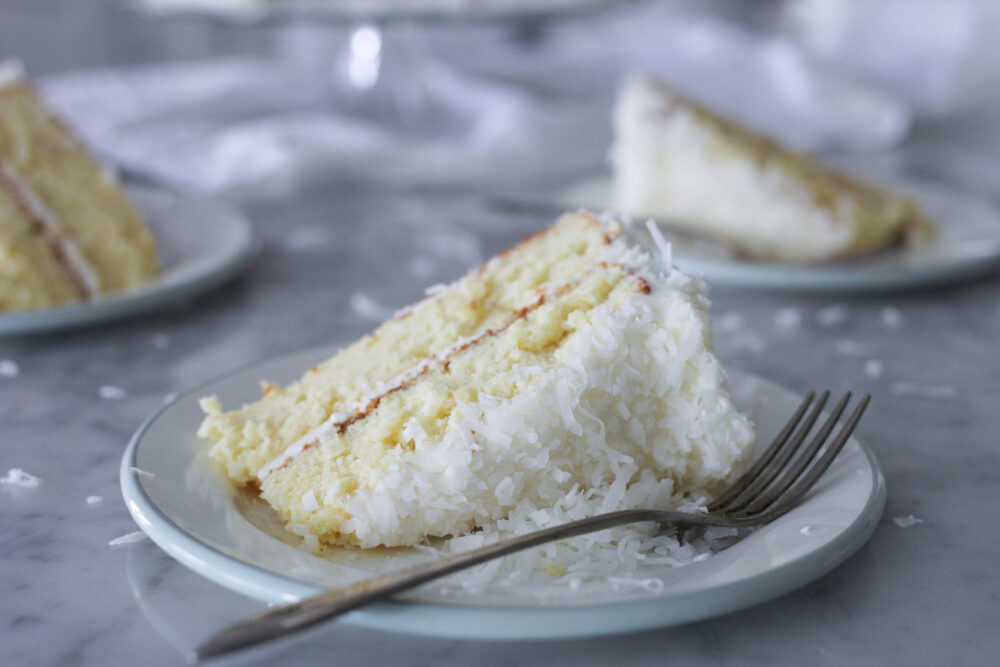 If you grew up on box mixes like me, you know they are easy to make and bake in minutes. Doctoring up cake mixes became a thing in the mid 80's and into the 90's. Adding a few additional ingredients to a box cake mix makes a huge difference. Usually those ingredients include, but are not limited to: sour cream, sugar, butter, and dry pudding or even jello. This cake has a secret ingredient as well. Coconut milk! A bit of canned coconut milk takes this cake to the next level!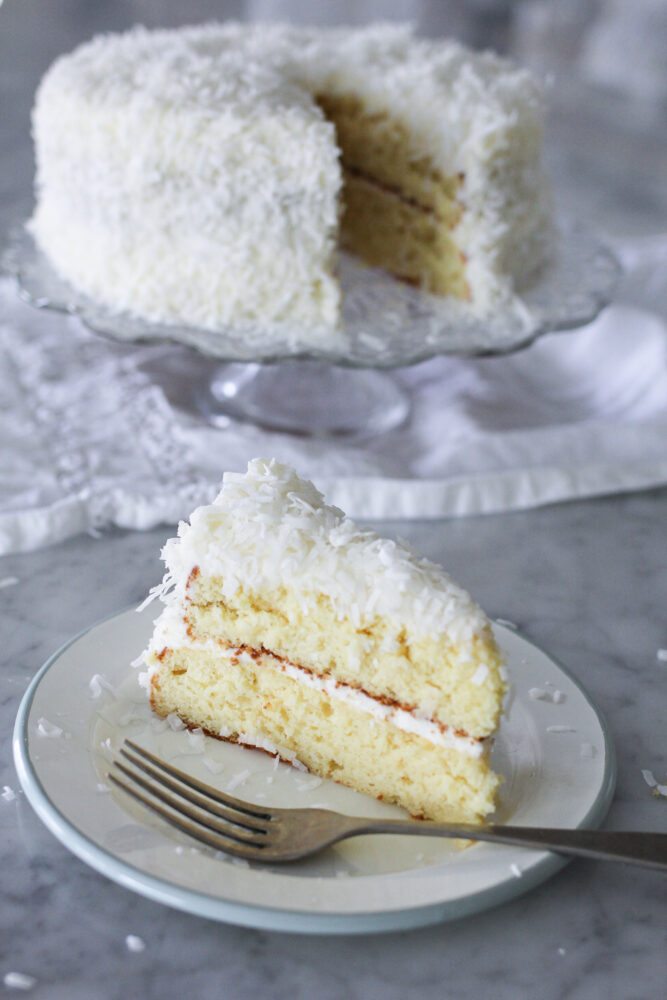 What is the difference between coconut milk and coconut cream and cream of coconut?
I usually buy coconut milk in the Asian section of the grocery store. Coconut milk is different than coconut cream. They are both made from coconut and contain coconut and water. Coconut milk is lighter and has less fat than coconut cream, as one might guess. Cream of Coconut is another product altogether. It contains sugar and is quite a bit thicker and sweeter than coconut milk or coconut cream. This recipe calls for coconut milk, which I think works best!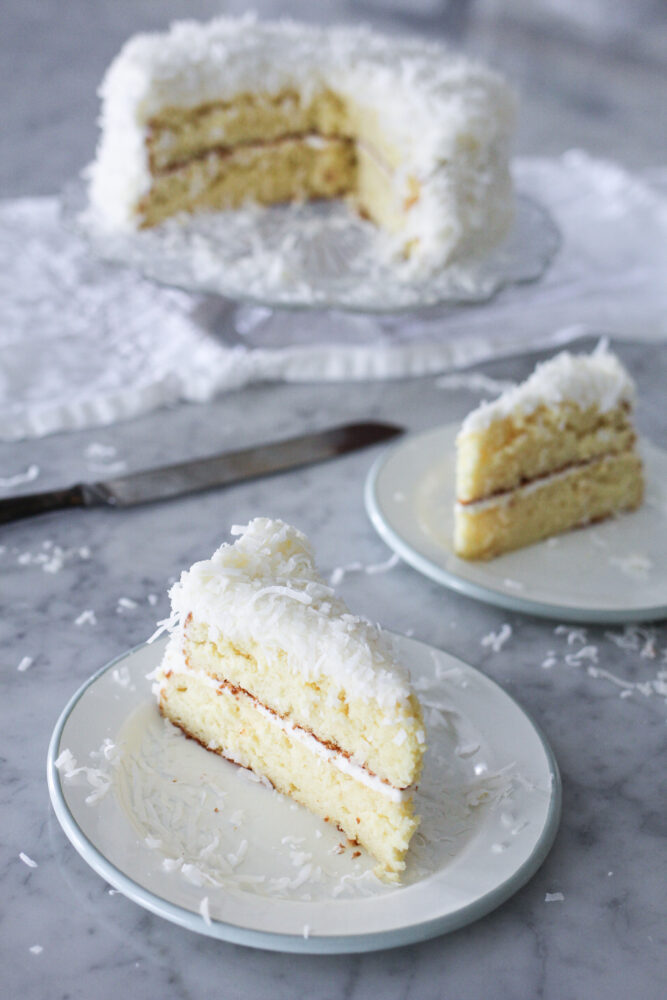 The Best Coconut Cake made with Box Mix tastes as good as it looks!
One clue that the Best Coconut Cake made with Box Mix is going to be your new favorite dessert is the fact that this cake looks moist even in photos! It is often difficult to detect a quality such as the moist crumb factor in a cake, but I can verify without reservations this cake is off the charts moist and delicious. If you have some fresh raspberries on hand, wash and dry thoroughly and pile them on top for a beautiful presentation just before serving!
Update 2023:
After receiving a few reviews stating the cake turned out gummy or had a heavy texture, I experimented and found a way to handle the problem. Simply separate the egg white and yolks and beat the egg whites until stiff. Remove from bowl and set aside. Then proceed with the recipe as originally written, adding the egg yolks to the rest of cake ingredients, and fold in the egg whites last. Bake as directed. I am not sure why this problem presented in the first place, but suspect it may come from an ingredient in either the cake mix or the coconut milk that alters the texture for some!
Here are a few reviews you might find helpful for the most simple and delicious coconut cake recipe ever:
Other quick and easy cake mix recipes you will love…
Best German Chocolate Bundt Cake, Simple Lemon Almond Poppyseed Cake, and Foolproof Chocolate Bundt Cake.
Nan's Coconut Cake originally posted in October 2010, updated with new content and photos 2021
The Best Coconut Cake made with a Box Mix
Best Coconut Cake made with a box mix, iced with cream cheese frosting and topped with coconut!
cool and frost
40
minutes
Total Time
1
hour
10
minutes
Ingredients
3

large eggs, separated

1

cup

sour cream

1

teaspoon

vanilla

1/2

cup

cold water

3/4

cup

coconut milk

see recipe notes*

1

white cake mix

I like Duncan Hines or Betty Crocker

1

small package instant vanilla pudding
Frosting and decorating cake:
1/2

cup

butter, softened

8

oz

cream cheese, room temperature

4-5

cups

powdered sugar

dash of salt

2

tablespoons

milk

or half and half

1

7-10 oz

coconut flakes, sweetened

1-2

pints

fresh raspberries

washed, drained well
Instructions
Grease and line 2-9 inch cake pans, 3 8-inch pans or 24 muffin tin with parchment paper/cupcake liners. Preheat oven to 350 degrees and set rack in center of oven.
for cake:
Beat the egg whites in a clean bowl until stiff, spoon into a small bowl, set aside.

Combine egg yolks, sour cream, vanilla, water and coconut milk into the bowl of a stand mixer or large bowl until blended well. This can be the same bowl used to beat the egg whites.

Add white cake mix and instant pudding to the egg yolk mixture. Mix till smooth. Fold in the egg whites gently. It is okay if a few white streaks are visible.

Pour batter into 2-9 inch round pans. Sprinkle a little coconut on top of cakes, if desired. bake at 350 degrees for about 25-30 minutes or until toothpick inserted in middle comes out clean. Invert onto cooling rack and let cool completely. For cupcakes, bake at 350 for about 18-20 minutes.
frosting:
Blend butter and cream cheese until smooth. Add powdered sugar, salt and milk until desired consistency. Mix well. Spread frosting on cooled cake. Sprinkle remaining coconut on top and sides of cake and gently press into frosting.

Chill until serving. Remove about 30 minutes before serving for best results. Before serving, place fresh raspberries on top of cake if desired. Reserve some raspberries for sprinkling on each piece of cake when served. Store any leftovers covered in refrigerator.
Recipe Notes
As stated in the recipe, do not over mix this cake. Once the pudding is added, mix just until ingredients are incorporated.
Coconut pudding may be used in place of vanilla pudding.
Nan's recipe calls for coconut milk, which is sold on the shelf and often found in the Asian section of grocery stores. I have also used coconut cream which is thicker than coconut milk.
I do not usually add the coconut to the frosting while mixing, but Nan does.  When adding coconut to the frosting, add about 1/2 of a 7 oz package while mixing the frosting. 
If you like toasted coconut, place coconut on a foil lined baking sheet and bake at 325-350 degrees until golden. Top cake with toasted coconut.
If  baking this cake in a high (over 50%) humidity, reduce the water to 1/4 cup and add 2 tablespoons of all purpose flour to the cake mix. 
This cake may be made in a jelly roll pan with great results! Place a sheet of parchment paper on the bottom of the pan before spreading on the batter, for best results. Baking time is usually about 18 minutes. 
The layers of this cake freeze well. After baking, let cool and wrap each individual layer in plastic wrap, making sure to cover all of the cake.