The Dodo Banana Cream Cheese Pie is a show stopping dessert. The first layer of creamy cheesecake is nestled in a Biscoff and graham cracker crust. Next, a layer of bananas , creamy vanilla custard, whipped cream, and finished with warm caramel sauce. If your love language is PIE, you're going to be over the top in love with ABK's copycat of The Dodo Banana Cream Cheese Pie.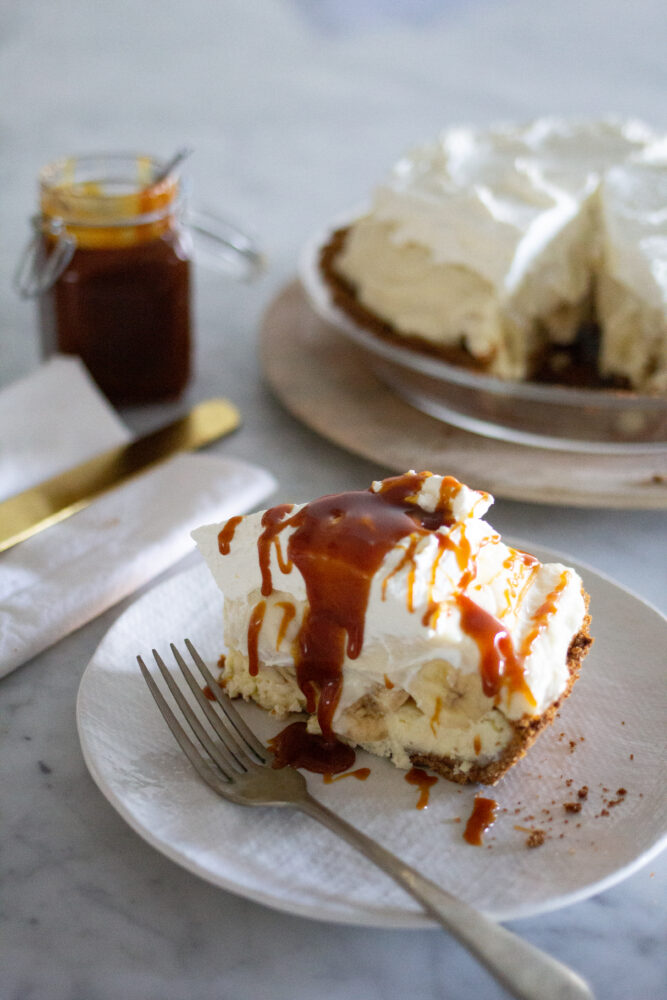 Completely homemade or shortcut version, you choose!
This pie is a completely made-from-scratch homemade dessert. Each bite and layer is filled with a special combination of ingredients to make this heavenly treat. At first glance, you may think this recipe is too complicated to tackle. But a closer look will reveal that it is really just a few simple layers that are made in stages. That said, if you want to go the semi-homemade route, I will give you options for making this dessert with prepared short-cut items.
If you choose to take the homemade option, you'll take your dessert to the next level! Don't let this pie overwhelm you. Think of each component as a layer of love!  I HIGHLY suggest making the crust, cheesecake layer and vanilla custard one day, and assembling the pie the following day.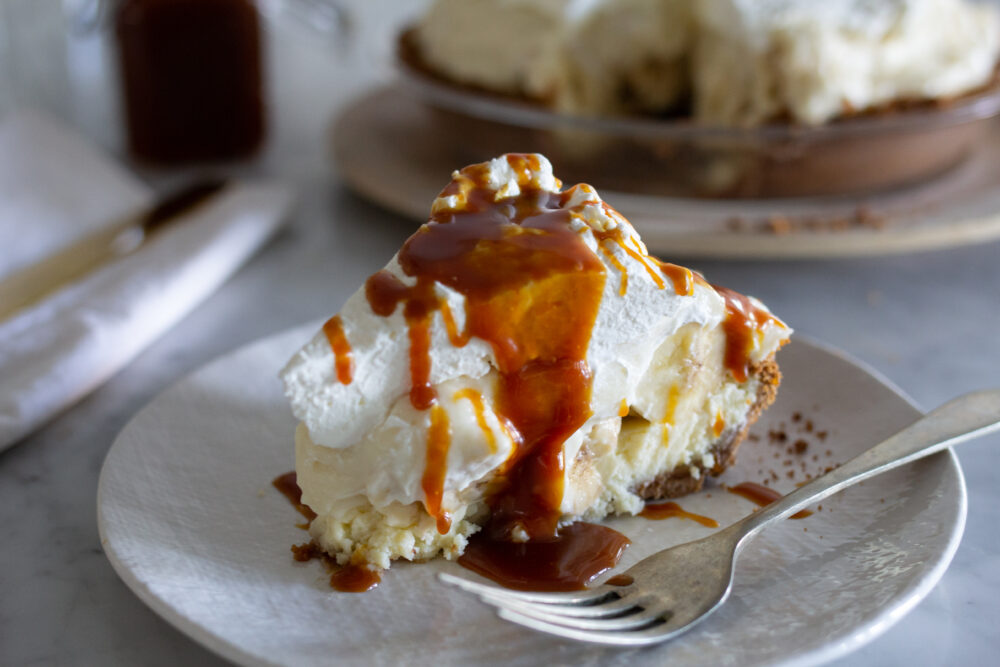 What is the Dodo?
The Dodo Restaurant is a SLC institution. Originally opened in 1981, it has moved a few times from 9th East location, to downtown and is now settled in the Sugarhouse area of Salt Lake. The Dodo was also the name of a bird, now extinct, which is included in the branding for the Dodo Restaurant! The bird is extinct, but the Dodo is alive and well in Utah!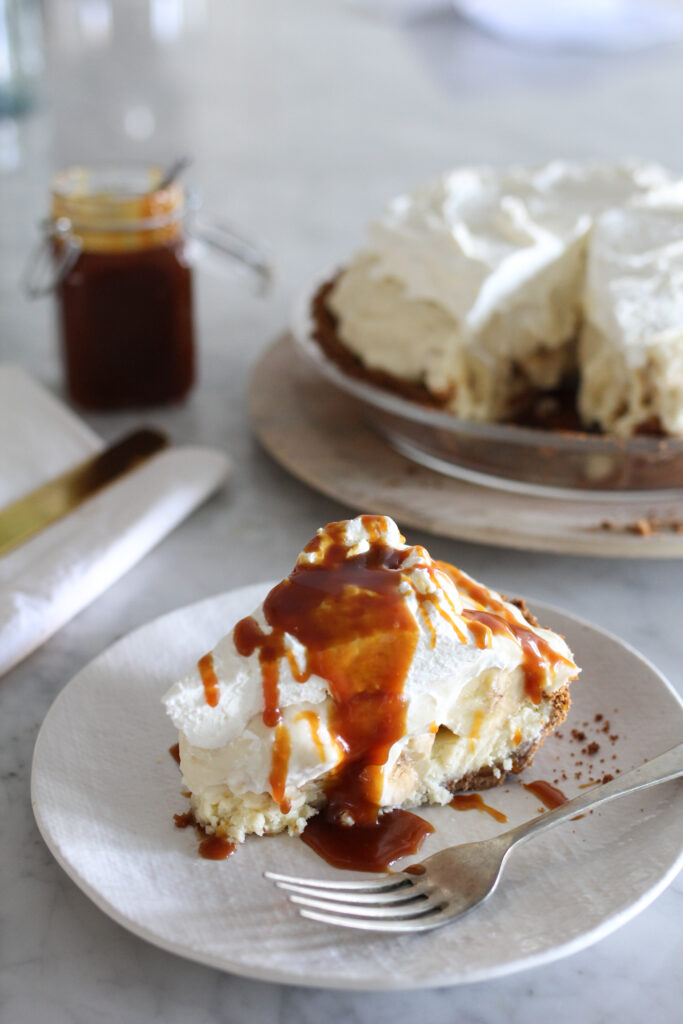 Popular desserts at the Dodo Restaurant
There's a reason DESSERTS are the first category listed on The Dodo website. This Toll House Pie from the Dodo is a crowd pleaser and one of the easiest pies you'll ever make. The Dodo Toll House Pie was the inspiration when I posted my recipe years ago!
My daughter, Female Foodie recently featured the Dodo Coconut Coffee Cake with Caramel Sauce (below) which also won accolades as a top rated dessert. Years ago Brooke told me about the Dodo banana cream cheese pie and said "you have to make a copycat!" I made a trip to the Dodo, just to taste this pie. One bite and I knew she was right. This dessert needed to have a permanent place on the ABK website! It took me a few years, but here we are.
Since this dessert has several components, I thought you might like to see the step-by-step process for making the Dodo Banana Pie. The cheesecake can be made up to 3 days before serving, longer if frozen! The custard can be made up to 3 days before serving, as well as whipping the cream and making the caramel sauce. Just store in the refrigerator, covered, until ready to assemble.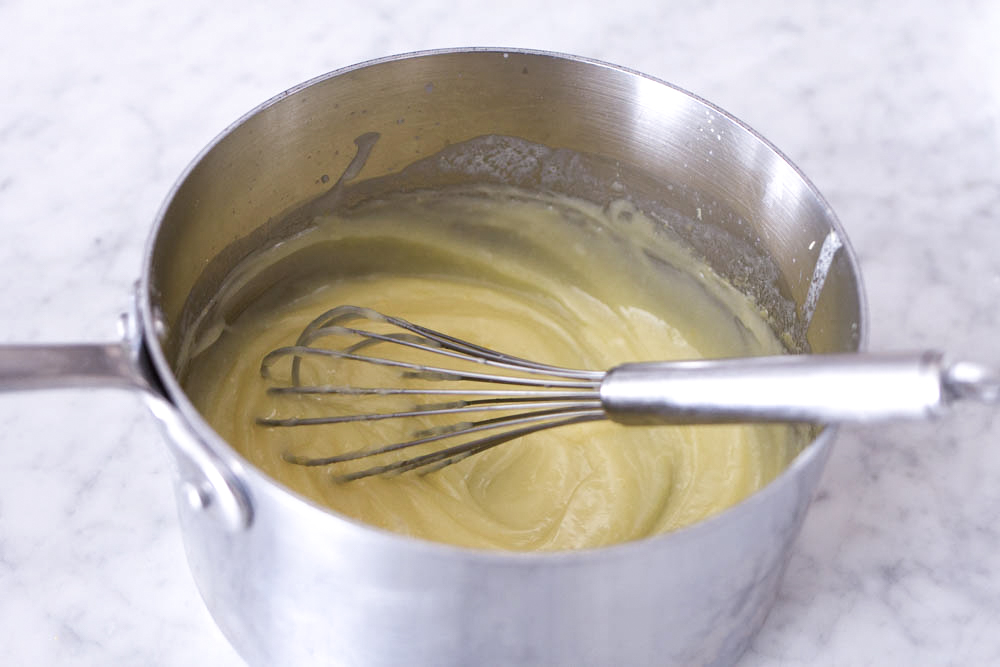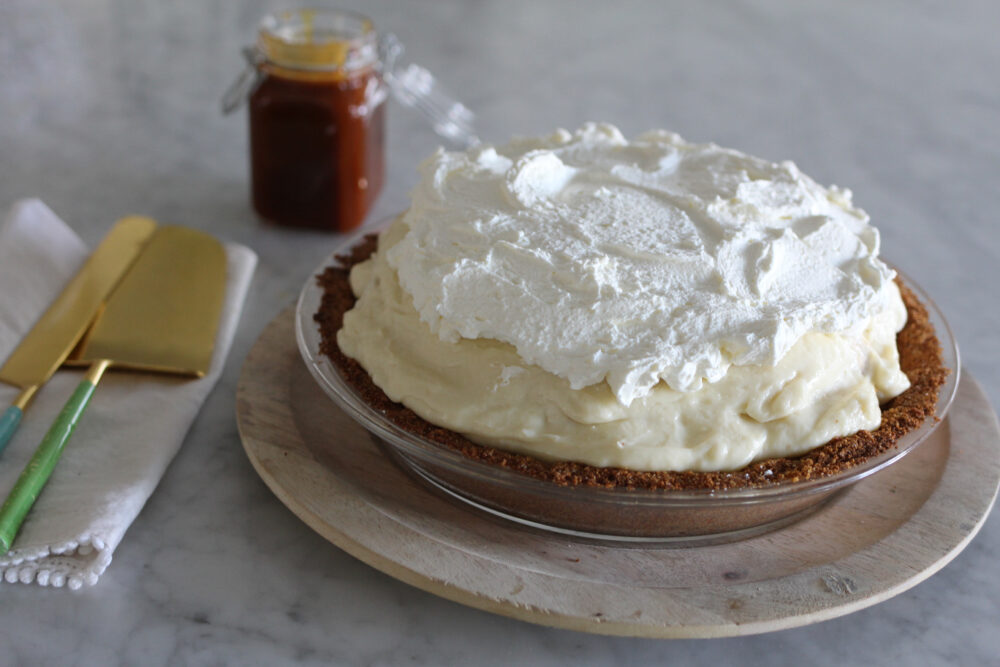 I started working on this recipe in 2019 and I am so happy to say it's finally perfected! The first time I made The Dodo Banana Cream Cheese Pie, it disappeared in minutes at our annual family pie night. This homemade version of the Dodo Banana Cream Cheese pie has earned a permanant place on our dessert table for years to come!
How to make The Dodo Banana Cream Cheese Pie:
Mix crust ingredients together and press in large pie plate and bake.
Mix cheesecake layer together, pour and bake.
While cheesecake is baking, make custard; cover and place in the fridge to cool.
Remove cheesecake from the oven and let cool on the counter. Cover and refrigerate.
Make caramel sauce, refrigerate for later.
Assemble pie by layering bananas on top of chilled cheesecake.
Spoon the custard layer over the bananas. Chill for at least 6 hours.
When ready to serve, top with whipped cream.
Warm the caramel sauce , serve with pie.
*TIPS FOR SUCCESS* when making the Dodo Banana Cream Cheese Pie:
Most important tips besides using quality ingredients when making this pie…Patience and time management. Custard can be tricky. I found that 1/4 cup plus one tablespoon is the perfect amount of thickener for this custard. I have had readers report their custard did not thicken. This is most likely due to not cooking long enough or trying to cook too quickly. If you have had issues with the custard setting up, try using 1/3 cup of cornstarch next time.
I highly recommend making the custard a day early and allowing the cheesecake layer to sit in fridge a day before assembling as well. It is best to let the layers set up after assembly for a full 6 hours before serving for best results.
The Dodo Banana Cream Cheese Pie Recipe
A copycat of the Dodo restaurant Banana Cream Cheese Pie. Layers of cheesecake, fresh bananas, homemade custard, whipping cream and topped with a warm caramel sauce. Good at the restaurant, amazing homemade!
cool time, refrigeration time
7
hours
Ingredients
Pie crust:
2

cups

crushed graham crackers or a combination of Biscoff and Graham crackers

see recipe notes

3

tablespoons

granulated sugar

4

tablespoons

unsalted butter, melted
Cream cheese filling:
2- 8

oz

packages cream cheese, room temperature

not low fat (the pie will not set up properly)

2

large eggs

1

cup

granulated (white) sugar

1

teaspoon

vanilla extract

1

tablespoon

lemon juice
Banana layer:
6-7

medium size bananas, sliced

Barely ripe to prevent browning.
Vanilla custard:
3

cups

whole milk

1 1/4

cups

granulated (white) sugar

1/4

cup + 1 tablespoon

cornstarch*

see recipe notes

1/4

teaspoon

salt

2

large eggs

1

large egg yolk

3

tablespoons

butter cut into 3 pieces

1

tablespoon

vanilla extract
Whipped cream topping:
1 1/2

cups

heavy whipping cream

2

tablespoons

powdered sugar
Easy Caramel topping:
¾

cup

brown sugar

¼

cup

water

1

teaspoon

lemon juice

⅓

cup

whipping cream

2

tablespoons

butter

½

teaspoon

vanilla

pinch of salt
Instructions
For the Crust and Cheesecake:
Preheat the oven to 350 degrees set the rack in middle of the oven.

Mix the crushed graham and Biscoff crumbs with melted butter and sugar. Press into the bottom and sides of a 10×2 inch pie plate. Bake for 10 minutes. Remove from the oven and set aside.

Combine room temperature cream cheese, eggs, sugar, vanilla and lemon juice in a bowl. Mix until smooth.

Bake at 350 degrees for 30-40 minutes or until set in middle.

Remove and let cool completely or refrigerate, covered until the next day when assembling.
For the Custard:
Whisk eggs and yolk in a small bowl, set aside.

Place milk, sugar, cornstarch and salt in a heavy saucepan. Mix together with a whisk.

Turn heat to medium high and place the saucepan on heat. Cook mixture for about 5 minutes, whisking while cooking to prevent milk and sugar from burning. Let the mixture come to a gentle boil while stirring.

After the mixture has cooked for about 5-7 minutes and has thickened, remove from heat. This cooking process may take up to 10 minutes. Do not rush it!

Using a 1/4 cup measure, remove some of the cooked milk mixture and pour a stream of the cooked milk into the beaten eggs while mixing the eggs with a fork. Repeat about 3 times so 3/4 cup of cooked milk is mixed into the eggs.

After the eggs have been tempered*, add the egg mixture to the hot milk mixture in the saucepan. Whisk until milk mixture and eggs are incorporated.

Place the saucepan with the custard back on the stove and cook over medium heat until the mixture reaches a gentle boil again. Cook for about 2 minutes while whisking.

Remove from heat. Add the butter and vanilla to the custard.

Pour the mixture into a bowl and press a piece of plastic wrap onto the custard to prevent a film from forming on the top of the custard. Place in the refrigerator and let cool completely for about 1 hour.
For the Whipping Cream:
Whip the heavy cream until peaks form, then beat in powdered sugar, refrigerate in covered bowl until ready to serve.
For the Caramel:
In a small heavy saucepan combine brown sugar, water and lemon juice. Bring to boiling over medium heat. Reduce heat. Simmer for 10 minutes stirring occasionally until slightly thickened and bubbly.

Stir in whipping cream, butter and vanilla. Cool sauce completely. The sauce will thicken as it cools.

Cover and store in the fridge for up to three days. (I pour into a small jelly jar) Bring to room temperature and warm just before serving.
Assembly:
When ready to assemble the pie, lay the bananas sideways (instead of the traditional way of laying flat) in a tight spiral on top of the cheesecake layer (as shown in the photo).

Spoon the custard over the bananas and smooth gently to edges. The custard will form a bit of a mound. Cover the custard with Saran Wrap and refrigerate for 6 hours to set. It is ok for the Saran Wrap to lay directly on the custard. This will prevent the custard from forming a "skin" on top when refrigerated.

When ready to serve, top the pie with whipped cream and caramel sauce.
Recipe Notes
Best to eat this pie within 1-2 days.
Make sure to let the cheesecake layer cool completely before layering on bananas. 
I purchase banana that are barely ripe to prevent browning. If you are concerned about the bananas becoming brown, brush 1 tablespoon of fresh lemon juice on the bananas before topping with custard. 
I use a 10 inch x 2 inch deep pie plate for the Dodo pie. The standard pie plate is 9.5 inches which is a little small for this dessert. 
1 cup of graham crackers = about 7 graham cracker rectangles. 1 cup of Biscoff = 14 cookies
I like to use slightly under ripe bananas to prevent browning. Some prefer to use sweeter ripe bananas.
Tips for making custard:

-Make sure to add the cornstarch to the pan of milk, sugar and salt while the milk is cold. If you try to add the cornstarch directly to the milk after it has been heated, the cornstarch will form lumps in the milk mixture.

 

-To temper the eggs is to add the hot liquid from the custard to the beaten eggs a little at a time in a slow stream. If you were to add the eggs directly to the hot custard, the eggs would curdle and your custard would be dotted with small pieces of scrambled egg. Slowly adding a bit of the hot custard to the egg will avoid issues with the egg cooking too quickly. When the custard has been added to the eggs slowly, it is safe to add the egg mixture back to the pan of warm custard and continue cooking.

– Some readers have reported their custard did not set up. I suspect this is because the custard was not cooked long enough, or the heat was turned up a bit too high. If you are concerned about custard not setting up, instead of the 1/4 cup plus 1 tablespoon, you may use 1/3 cup of cornstarch instead. It is slightly more than the called for 1/4 cup plus 1 tablespoon and will help thicken the filling a bit! 

Shortcut method: Purchase a pre made graham cracker crust. Purchase a cheesecake in the freezer section.. Use one large box of instant vanilla pudding substituting half whipping cream for milk. (See pudding box directions) or follow directions on box for pie filling instead of pudding. Heavy whipping cream for topping. I do not recommend Cool Whip. Mrs Richardson's or another brand of good quality caramel topping.