If I had to choose one pumpkin bread recipe to make for the rest of time, this would be the one. The Very Best Pumpkin Bread recipe is like many good recipes, one that has been in my recipe files for years, given to me by a good friend. I'm betting it's going to become an heirloom recipe for you too!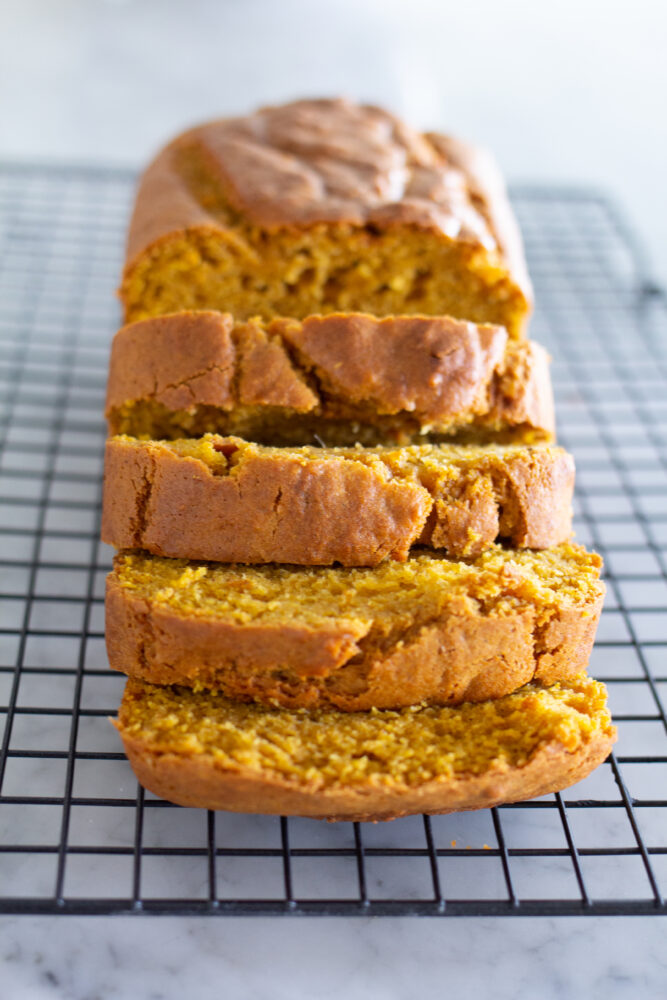 My friend Cyndee gave me this recipe years ago (back in the early 90's) after we had a discussion about pumpkin bread. I told her felt like pumpkin bread often had one of a few problems for me: it either lacked flavor, didn't bake up just right, was too spicy or too bland, or had a weird texture.
She told me her mother had the very best pumpkin bread recipe with a secret ingredient. It took one time making her mom's recipe to convince me, it is the best! I'm still making this recipe 30 years later!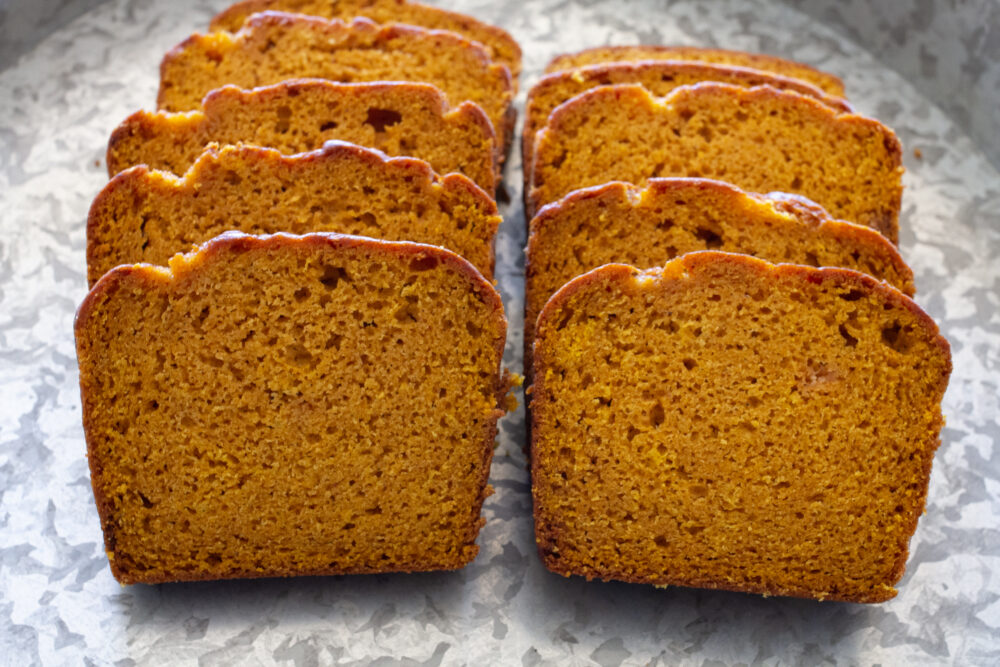 The Very Best Pumpkin Bread Secret Ingredient…
The secret ingredient in my friend's recipe was orange juice concentrate. What??! Something that simple took pumpkin bread from blah to amazing. The concentrate adds just the right amount of flavor and helps to keep the bread ultra moist! Important to point out – I'm not talking about orange juice, but the frozen concentrate sold in cans in the freezer section.
Over many years of making this recipe, I have made a few small adjustments to Cyndee's recipe. I had issues with this bread sinking in the middle at times, so I eventually removed the 1/4 cup of water from the original recipe. I also switched out some of the granulated sugar for brown sugar, which helps give the pumpkin bread just the right amount of sweet.
I occasionally substitute the o.j. concentrate for frozen pureed mangoes! I almost always have frozen mango pieces in my freezer (for smoothies) which makes it easy to blend into puree. These adjustments make for the perfect loaf of pumpkin bread.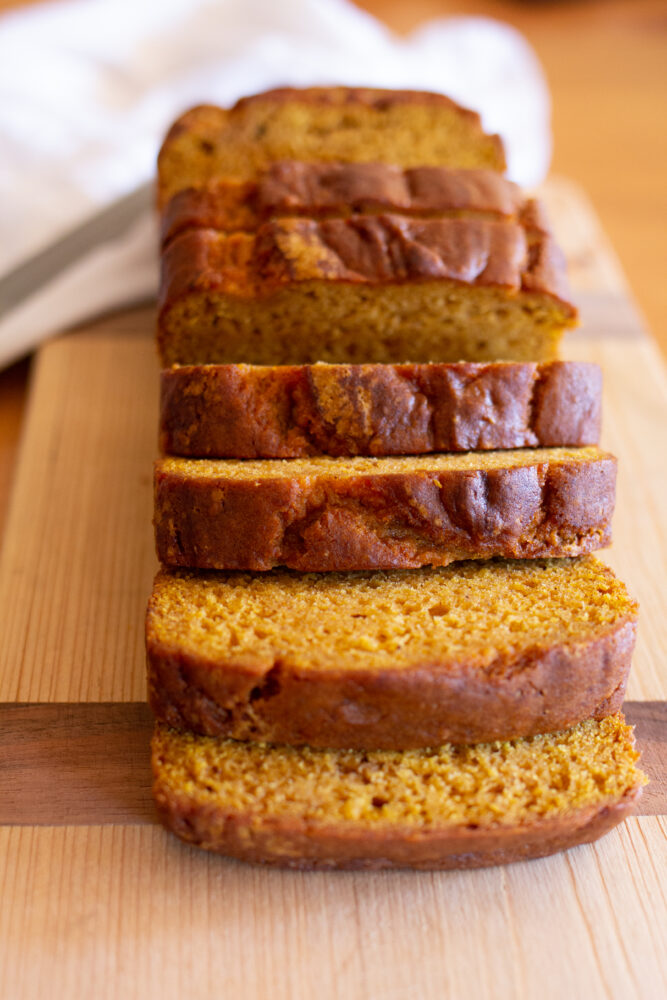 Best Add-in ingredients
I love this pumpkin bread, with or without chocolate. This loaf is really pretty with Craisins or golden raisins (in the fall). Dark or light chocolate chips are also a favorite! I think my favorite way to eat this pumpkin bread recipe is in its original form, no add-ins, just plain and thick sliced.
If you love chocolate chips, this recipe works well with added chocolate, but my favorite recipe for pumpkin chocolate chip bread is our Great Harvest Pumpkin Chocolate Chip Copycat recipe! It is hard to tell the difference from a purchased Great Harvest loaf!
What makes this the very best pumpkin bread?
Easy to make in minutes with mostly pantry-friendly ingredients.
Is family friendly, not too much spice!
Is always extra-moist with added concentrate or puree.
Never sinks in the middle!
Just the right amount of sweet.
Perfect beginner recipe, but makes you look like a pro in the kitchen!
How to make pumpkin bread
Beat eggs and sugars together.
Add oil and mix again.
Add pumpkin and concentrate or puree.
Add all of the dry ingredients, mix just until ingredients are blended.
Use a spatula and scrape all of the batter into prepared pan.
Bake and cool before cutting.
I highly recommend USA Bakewear pans. I recently changed out all of my old pans for USA's heavy duty bake wear. This 1 lb loaf pan is my favorite. It may be purchased as a single pan or (better value) in a two pack. As I have said in other posts, these pans will last a lifetime and are worth every penny!
The Very Best Pumpkin Bread Recipe
A moist and easy to make pumpkin bread for beginners! This recipe is the very best pumpkin bread recipe. It is super moist and even better the second day!
Ingredients
2

large

eggs

beaten

1/2

cup

granulated sugar

3/4

cup

brown sugar, packed

I use light, but dark works as well

1/2

cup

canola or vegetable oil

1

cup

pumpkin (see recipe notes)

3

tablespoons

frozen orange juice concentrate (softened) or pureed fruit

not orange juice, just frozen concentrate, do not mix with water!

1 3/4

cups

all-purpose flour

1

teaspoon

baking soda

1/2

teaspoon

baking powder

1/2

teaspoon

cinnamon

1/2

teaspoon

nutmeg

3/4

teaspoon

salt
optional ingredients:
1

cup

chocolate chips, tossed with 1 tablespoon flour

½

cup

nuts, chopped

½

cup

golden raisins, Craisins or dried cherries
Instructions
Generously grease and line a 1 lb loaf pan (8.5×4.5 inches) and place rack in middle of oven. If your oven cooks on the hot side, lower the rack one level. Preheat oven to 350 degrees at least 15 minutes before baking.

Beat eggs and sugars together in a large mixing bowl. Add oil to the egg and sugar mixture. Mix well.

Add pumpkin, orange juice concentrate or fruit puree and mix again until smooth. 

Add all dry ingredients to the bowl. Mix together just until the flour dissapears. Do not over mix! 

Fold in any optional ingredients such as chocolate chips, nuts or raisins. 

Pour batter into greased and lined loaf pan. Bake at 350 for about 50 minutes or until toothpick inserted in center comes out clean.
Recipe Notes
I often puree frozen mangoes and add three tablespoons to the batter if I don't have frozen oj on hand in my freezer. Let the fruit thaw, then blend until smooth. 
I highly recommend Libby's brand pumpkin.  I have tried several different brands in the past and have found Libby's to be the most consistent with texture, taste and color. Make sure to purchase pure pumpkin, NOT pumpkin pie filling (which is a mixture of ingredients for ready to make pie). Also this recipe calls for one cup, not one can! 
If you do not have brown sugar, you may use white or granulated sugar. 
If you live in a humid environment (tropical, usually above 60-70 percent humidity)  reduce the egg by one tablespoon, and add 3 tablespoons all purpose flour to the batter. You may also need to increase bake time. 
I use a mixer for the wet ingredients, and mix the dry ingredients in by hand using a large spatula. 
To line the loaf pan, place the pan on a sheet of parchment paper, use a pen to outline the bottom of the pan, Cut the parchment and place in bottom of pan. You may also line the entire inside of the pan with parchment and spray before filling with batter (see last photo). 
If the loaf starts to get too dark, loosely cover with foil until done.