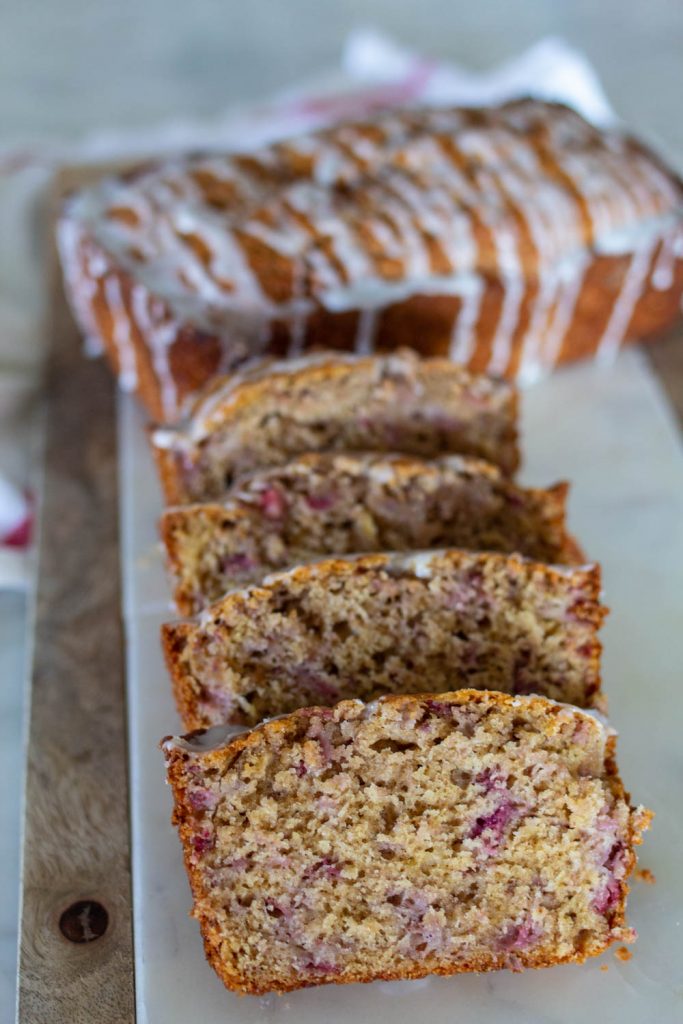 It's Strawberry season, and this Fresh Strawberry Bread is a long time favorite in our home. Fresh strawberries, lemon and cinnamon make the best combination in this quick bread!
I'm a big fan of almost any type of quick bread (bread that is usually sweet and made without yeast). I love banana bread, pumpkin bread, zucchini bread…you name it, I love it. This Fresh Strawberry bread is no exception.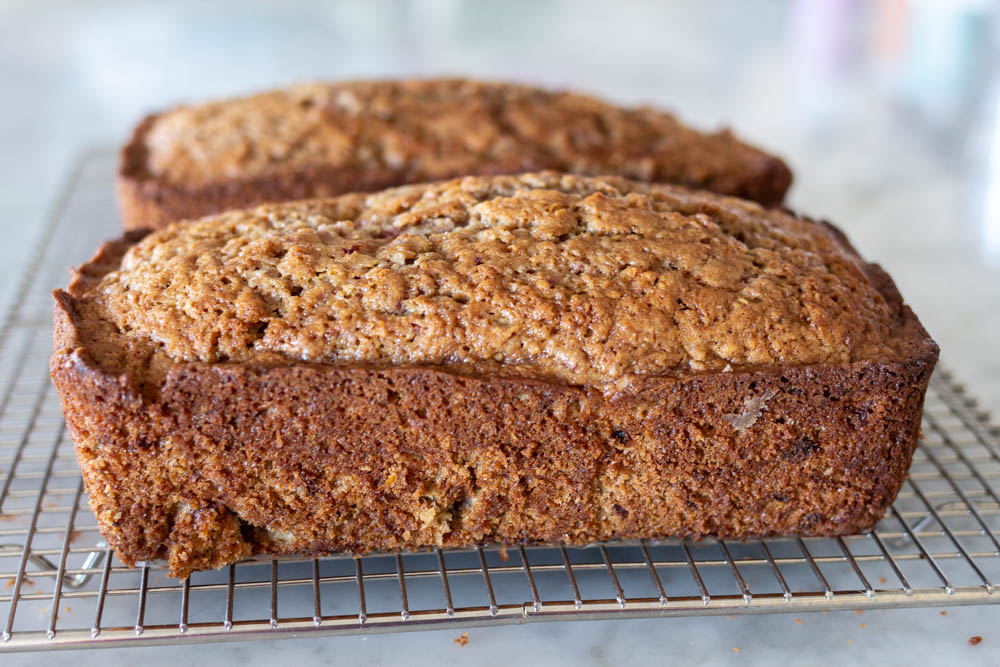 It's a treat that goes perfectly with a Sunday brunch or a ladies lunch. It mixes and bakes up in a little over an hour, with most of the time baking in the oven. Fresh Strawberry Bread is served at room temperature, chilled or even warm out of the oven! I love it plain, but some in my family love to spread it with a layer of butter and honey or jam!
This recipe comes from my friend Tinker. She is a long time family friend of Tessa and Emily. The four of us started a Recipe Club way back in January of 1995, and held quarterly dinners with a group of 10 for 14 years! Tinker is a mom of two beautiful children, world traveler, art collector, eclectic decorator, has a serious china fetish, is a successful professional, and an amazing cook.
Over the years the members of our Recipe Club have been the recipients of dozens of her dishes. Some of her grandmother's tried and true, some of her own creations, along with magazine and cookbook adventures.
I love Tinker's Fresh Strawberry Bread. If you're looking for a fresh change from the same old quick bread recipes, you'll love this. Nothing says spring like strawberries and lemon!
Fresh Strawberry Bread
This Fresh Strawberry Bread celebrates strawberry and lemon in one delicious and easy quick-bread loaf!
Ingredients
3

cups

all purpose flour

1

teaspoon

baking soda

1/2

teaspoon

salt

1

teaspoon

cinnamon

1 3/4

cups

sugar

( I use 3/4 brown and 1 white) you may use any combination

3

eggs

beaten

2

teaspoon

vanilla

optional

1

cup

vegetable, canola or coconut oil

grated rind of 1 lemon

3

cups

chopped strawberries

3/4

cup

chopped pecans*

optional, but add 1/4 cup of flour if not using nuts
Glaze:
2

tablespoons

fresh lemon juice

1

cup

powdered sugar

pinch

salt
Instructions
Place rack in center of the oven. Preheat oven to 350 degrees.

Line two 8x5x2 1/4×2 1/2 inch loaf pans with parchment paper and generously grease.

In a large bowl, combine the flour, baking soda, salt, cinnamon and sugar(s). Stir.

In a separate bowl, beat the eggs, vanilla, oil and lemon rind together. Add the strawberries and pour into the dry ingredients.

Fold (with spatula by hand) until all ingredients are blended.

Pour the batter into the prepared pans and bake 50-55 minutes or until toothpick inserted in center comes out clean.

Allow loaves to cool for 5 minutes, then turn out onto rack to cool.

After the bread has completely cooled, whisk together lemon juice, powdered sugar and salt and drizzle over Fresh Strawberry Bread.
Recipe Notes
I usually omit the nuts, and baked the loaves for about 55 minutes. If you omit the nuts, add 1/4 cup of additional flour to the recipe. 
If the loaves are browning too much in the oven, lay a sheet of foil over the loaves until done.
White or brown sugar or a combination of both can be used.
Use a food processor to chop the strawberries. I throw all of the fruit in the processor and then pulse until they are in small chunks. Do not puree!
You may also bake these as muffins. Depending on the size of the muffin tin, this will yield 24-30 muffins. Bake for about 20 minutes at 375 or until done for muffins. The top will spring back when lightly touched.