Traeger Grills Apple Pie is best kind of pie! Think fresh, sweet apples, enclosed in a flaky and tender pastry, with a beautiful golden crust. Baking a pie in the Traeger takes your pie game to a whole new level!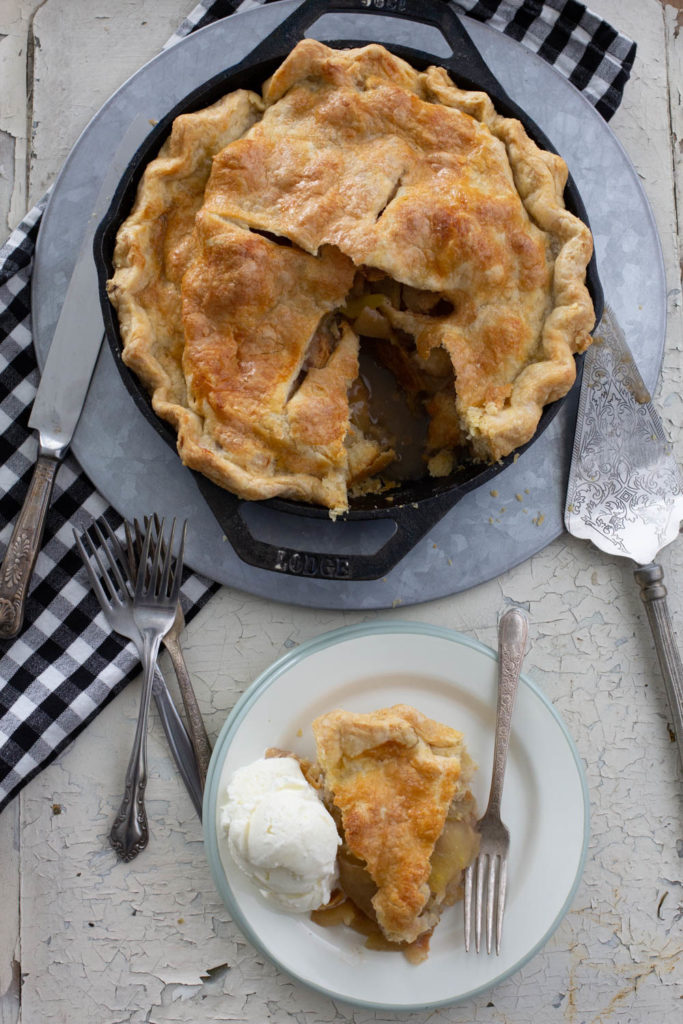 Does it make the pie taste or smell smokey?
The first and most often asked question I receive about baking pie on the Traeger is "does it taste smokey? The answer is no! When using a Traeger for baking anything such as cookies, bread or pie, I simply skip the smoke setting and just use the grill to cook the pie. No smokey flavor whatsoever in my baked goods! If you DO want your pie to have a smokey flavor, you can place the pie on the smoke setting for 10 minutes before cooking it on the grill setting.
Your Traeger is a convection oven!
Many people have no idea when they purchase a Traeger, they are basically purchasing a convection oven as well! This comes in handy when oven space is at a premium during the holidays, or when it's too hot for baking in the summer. I love the Traeger for grilling meats and veggies, but it is also such a great piece of outdoor kitchen equipment as well! The air is continually circulated in side of the grill, which acts the same as a convection oven. I love the even bake inside of the Traeger, especially with this Traeger Grills Apple Pie recipe!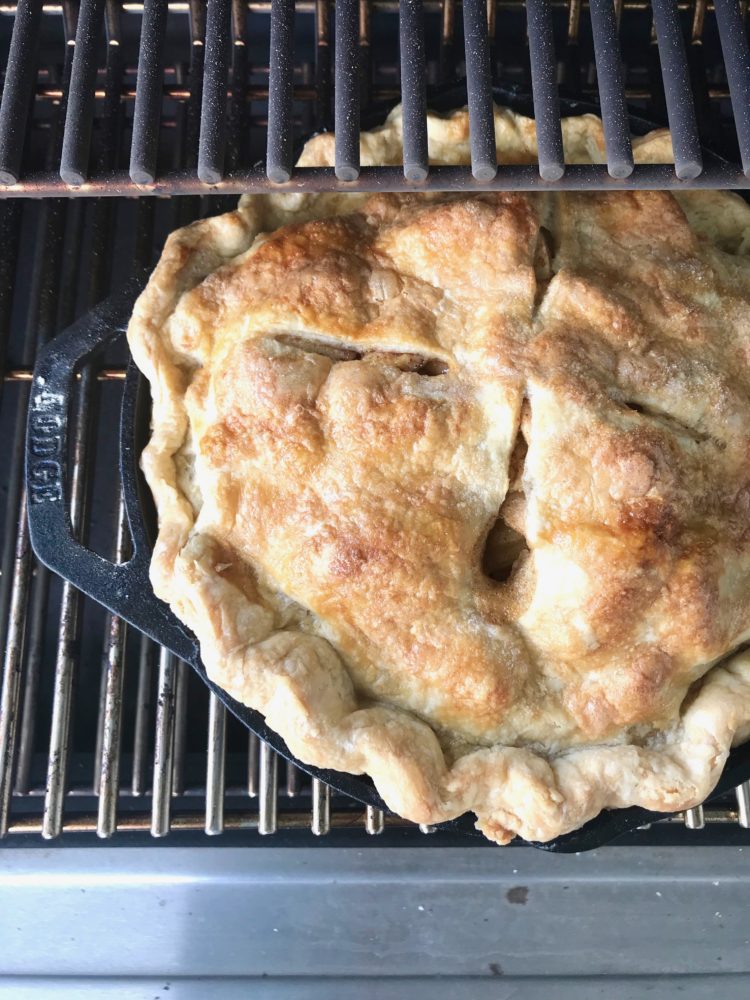 If you know how to use a convection oven, you know how to use a Traeger to bake. I love the way the Traeger cooks this apple pie to perfection. I use my mom's apple pie recipe every year, without fail. It has been a family favorite for decades! I've adjusted the recipe just a bit for baking in the Traeger, and using a cast iron skillet. If you don't have a Traeger and want to make a truly amazing apple pie, here are my instructions for traditional oven baked apple pie.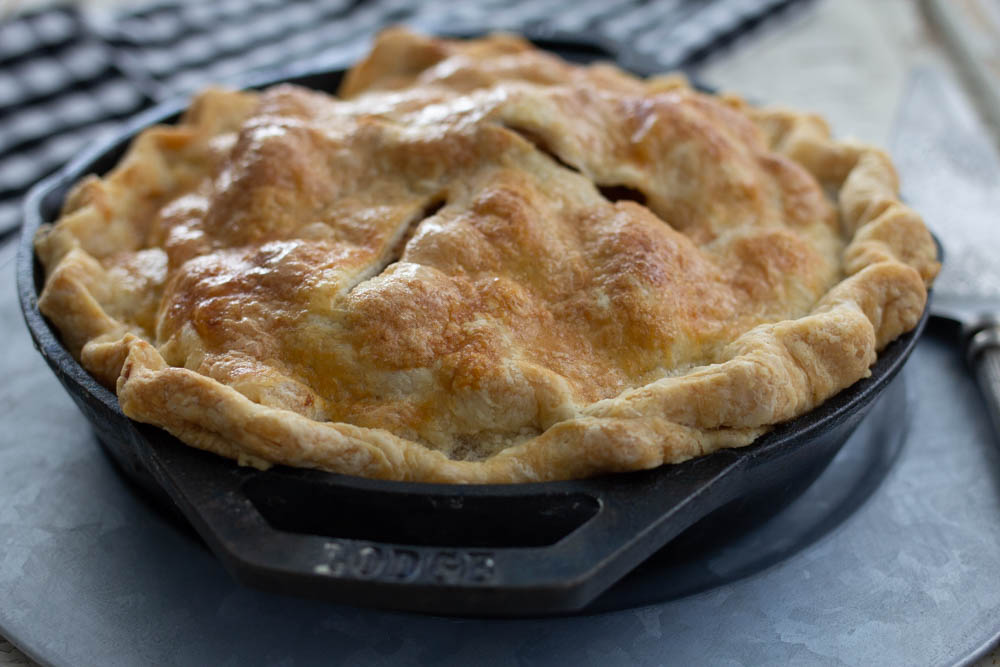 What type of pellets should I use to cook an apple pie on the Traeger?
I HIGHLY recommend using Traeger apple or pecan pellets. Both are fairly mild and will cook pie without overpowering the ingredients. Apple pellets are my favorite for baking, but honestly, I don't detect a big difference when using pecan pellets. I always recommend using Traeger pellets in the Traeger.
Should I precook the apples in my pie?
I prefer not to precook my apples when making apple pie. I think the flavor and texture overall turn out better when using fresh apples and allowing them to cook in side of the pie. Precooking apples prevent shrinkage of the fruit, and also reduce the amount of space between the pie crust and the fruit, but in my opinion, it is better to deal with a little bit of shrinkage for better tasting filling!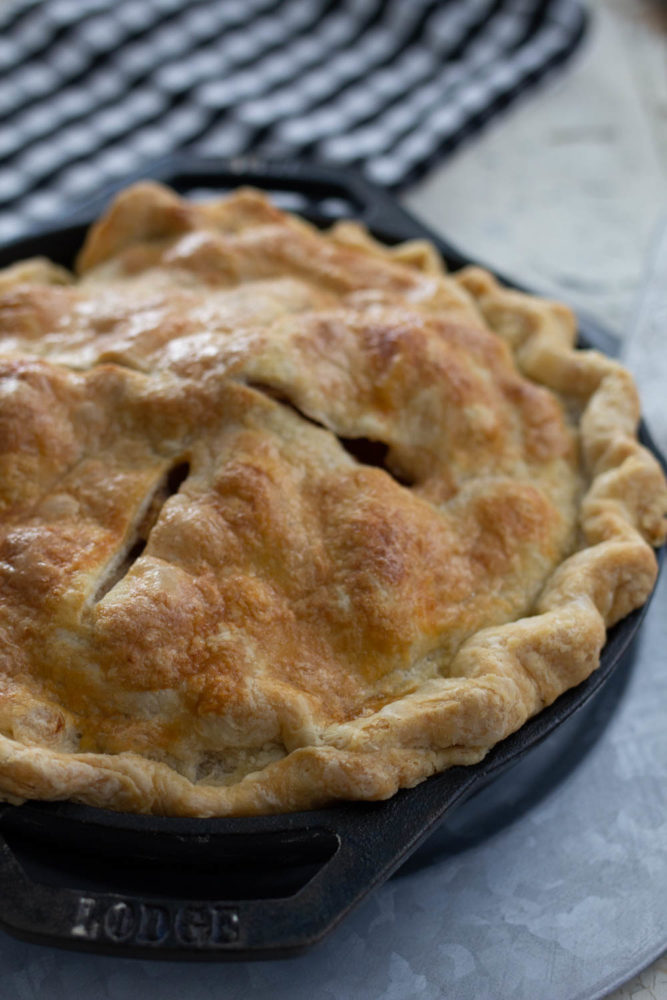 Tip for fruit pie that is not runny?
My number one tip for pie that is not runny is to make sure to allow plenty of time for the pie to cool! If you don't allow time for the pie filing to set up and cool for at least 2 hours, (better if you give it 3-4 hours) the filling is likely to be runny and soupy. If you give the filling time to cool and set up, your filling will hold together better! I often make my apple pies the day before and just let them sit on the counter to cool and then serve the next day. If you live in a dry climate, just leave the pie out and don't cover! Covering the pie crust will make it soggy.
Cast Iron Skillet is best for Traeger Apple pie!
I like to bake my Traeger Grills Apple Pie in this cast iron skillet. Using a cast iron skillet the easiest way to keep the crust crisp on the bottom and keep all of your juices from bubbling over the top. The pie heats up evenly in the cast iron as well. I've found the 12 inch Lodge Pan to work well and can be used for many other recipes such as biscuits, pot pie and fried chicken to name a few.
Traeger Grills Apple Pie
Baking a pie has never been easier! My Traeger Grill Apple Pie is fresh, sweet, tart and has the most wonderful flaky crust eer!
resting or cooling time
2
hours
Total Time
3
hours
30
minutes
Ingredients
crust
2

cups

flour

1

teaspoon

salt

1

cup

solid shortening

half butter flavor/half regular flavor shortening

1/2

cup

very cold water + additional tablespoon or two if needed
filling
8-9

large Granny Smith apples

or a variety of apples

1

cup

sugar

2

teaspoon

ground cinnamon

1

teaspoon

nutmeg

1/2

teaspoon

salt

4

tablespoons

flour

1

tablespoon

lemon juice

1

tablespoon

vanilla extract

1-2

tablespoons

butter

beaten egg, sugar or cream for top of pie
Instructions
Preheat the Traeger on smoke with the lid open, until the fire is established (4-5 minutes). Then, set the temperature to 375 degrees and preheat 30 minutes with the lid closed.

Make the pie crust. Mix flour and salt. Cut in shortening with pastry blender or knives. Add cold water.

Fold with spatula or fork until flour is absorbed and dough comes together. Gather dough together into a ball. Split in half if making a two crust pie.

Flour surface and rolling pin well. Flatten dough gently with hand to make a round shape. Roll out from center to make 1/8" thickness. Fold in half, lift onto pie plate.

Open and shape to pan. Make sure to fit dough into edges of pan. Set aside.

Prepare apple filling. Peel, core, and slice apples. Set in a large bowl. Mix in sugar, spices, flour, and lemon juice. Don't forget the flour!

Pour apples in to prepared pie crust. Sprinkle with vanilla and dot with butter.

Top with crust. Crimp edges. Cut steam vents. Brush with either beaten egg or cream and sprinkle with sugar.

Bake at 375 degrees for 50-60 minutes, or until the apples are tender and the crust is golden brown. I usually turn the pie halfway to insure even baking about 30 minutes into baking time!

Also, you may need to cover the pie with foil for half of baking time. Remove from Traeger and cool 2-3 hours prior to serving.
Recipe Notes
Tips  and detailed instructions for making pie crust can be found on this post.
Make sure to let the baked pie COOL for at least 2 hours, 3-4 is best before cutting! It takes time for all of the filling to set up and solidify. You can speed up the cooling process by placing the pie in the fridge on a cool cookie sheet for an hour or in a large or other cool protected place (not accessible to animals!) .
I highly recommend using a cast iron skillet on the Traeger. Do not use a ceramic or any other type of pie plate that you do not want to have stained from smoke. Although we are not using the smoke setting on the grill, there will still be an effect on a pan left in the Traeger for an hour on the grill setting. The pan will become slightly discolored.