Enchiladas on a weeknight may seem like too much of a time commitment for busy cooks. Weeknight Turkey Enchiladas combines ground turkey and ready made enchilada sauce for a quick and delicious dinner everyone will love!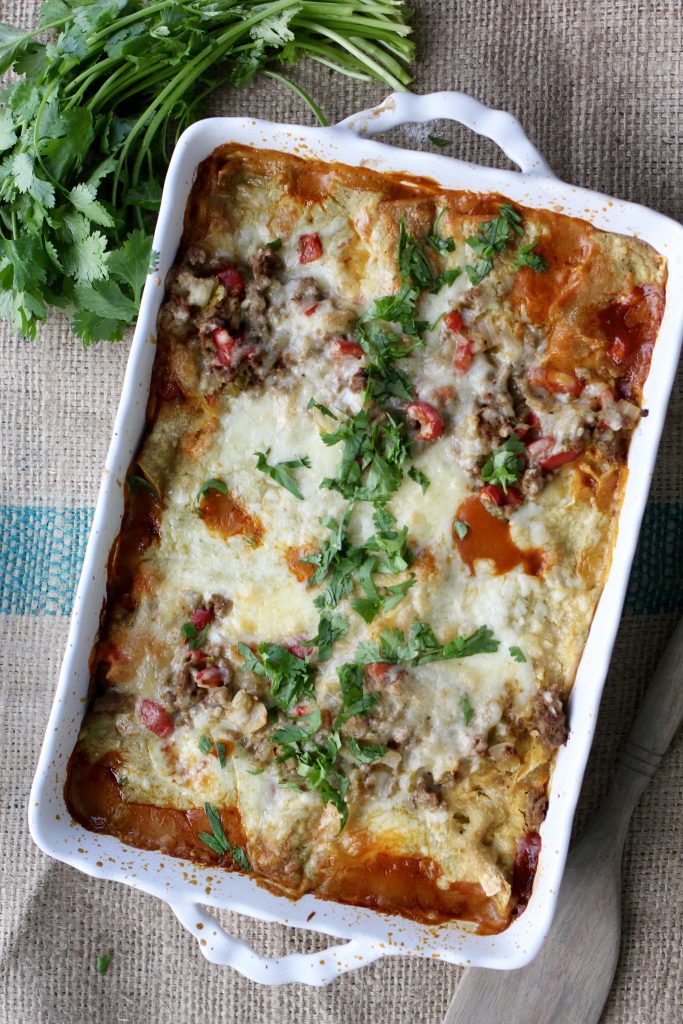 Ground turkey enchiladas are officially a thing in our home!  We love this quick and easy dinner that tastes just as good (if not better) than enchiladas that require an hour of prep and then cooking time. Dinner  is about 45 minutes away from being on your table with this recipe!  Make a trip to the store early in the day to pick up the ingredients and while you're at it, buy a bag of tortilla chips and salsa, or the ingredients to make Sheri's Simple Salsa (which you can blend up while the enchiladas are cooking).  Throw a green salad together and you've got a hearty dinner that will become your family favorite!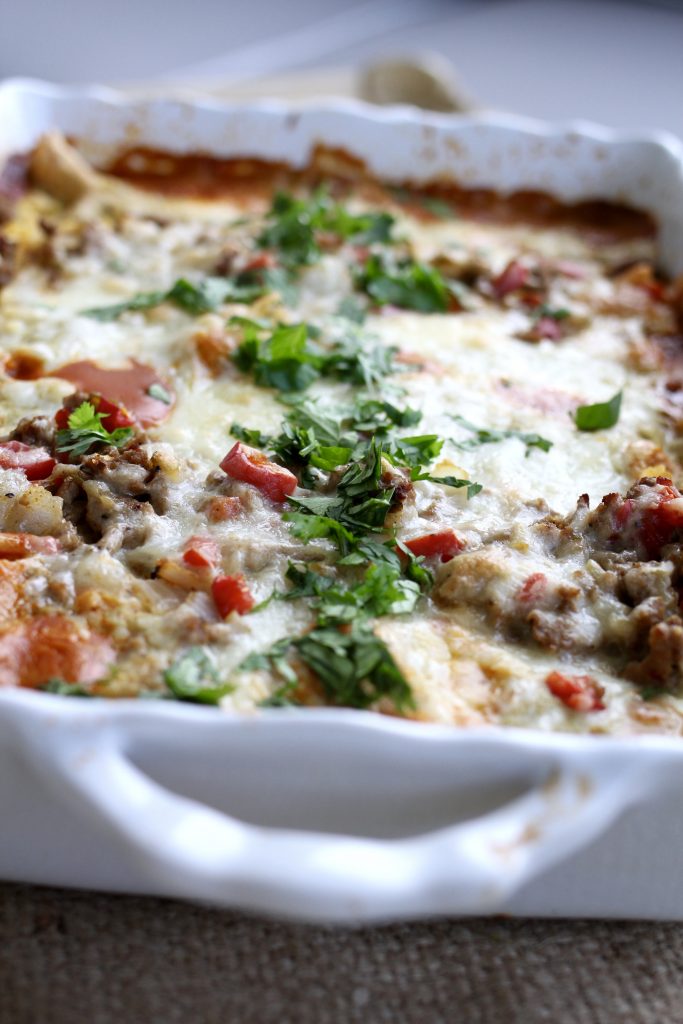 Ground turkey is the perfect filling for enchiladas when you're in a hurry. It cooks up in just a few minutes and is lower in fat than ground beef. I've found ground turkey tastes best when cooked with spices and onions. This recipe involves cooking turkey with onions, green chiles, red pepper and a few seasonings. After the  ground turkey is cooked, it's just a matter of putting the enchiladas together and baking for a few minutes.  I love the filling for this dish and also love to scoop up the excess filling and sauce and pile it onto tortilla chips with my dinner.
I know you're going to love this dish for nights when you only have a little bit of time to pull dinner together.  There are also casserole style instructions on the recipe if you don't want to roll up the enchiladas! Oh, and as promised, more quick and easy recipes coming soon.  Next up…slow cooker meals.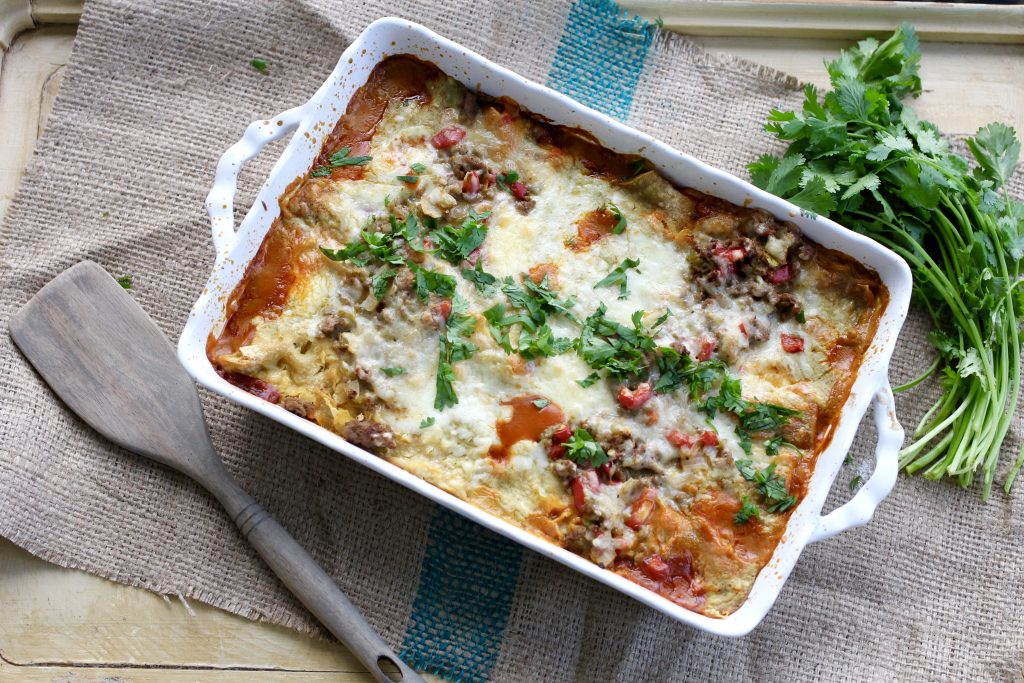 Weeknight Turkey Enchiladas
Ingredients
1 to 1 1/2

lb

ground turkey

1

small onion

about 1 1/2 cups chopped

1

teaspoon

coriander

1

teaspoon

chili powder

optional

1

teaspoon

cumin

1

teaspoon

garlic salt

1

teaspoon

pepper

7

oz

can green chiles

1

red pepper

chopped

1

bunch cilantro

divided

1-28 to 30

oz

can red or green chili enchilada sauce

1

cup

low fat sour cream

optional

8

flour tortillas

or 10 corn tortillas (yellow or white)

1 1/2

lb

cheese

grated, Monterey Jack or Cheddar, reserve about 2 cups for topping the enchiladas
Instructions
Spray a 9x13 pan with cooking oil and set aside. Pre heat the oven to 350 with the rack in the center of the oven.

In a skillet over medium heat, cook turkey and chopped onion. Season the ground turkey and onion with coriander, chili powder, cumin , garlic salt and pepper. Cook for about 5 minutes or until onion is softened and turkey is no longer pink. Break up meat a bit while cooking.

Add the green chiles and chopped red pepper. Continue to cook for an additional 1-2 minutes.

Remove from heat.

Add about 1 cup chopped cilantro, reserve the remaining cilantro for garnish after enchiladas are cooked or use in another recipe.

Pour about 1 cup of the sauce into the bottom of the prepared pan.

Mix 1 cup of low fat sour cream into the remaining enchilada sauce. You may also use the sauce without adding sour cream.

Fill the enchiladas with the ground turkey mixture, top with cheese and roll up. Place in the pan, seam side down.

Continue filing the tortillas until all of the filling is used. You may spread any leftover filing over the top of the enchiladas.

Pour the remaining sauce over the enchiladas in pan and top with cheese.

Bake uncovered for 30-35 minutes. Cheese should be melted and sauce bubbly.

Let sit for 5-10 minutes before serving.
Recipe Notes
-You may use either corn or flour tortillas. When using flour tortillas, I use standard size tortillas (not burrito size) and I look for tortillas that are not the thick variety. I like the look of yellow instead of white corn tortillas, and most of the time prefer corn tortillas in this recipe. The cron tortillas will tear a bit if not softened first. I have found heating the tortillas in a damp paper towel in the microwave for a minute softens the tortillas a bit, but is not worth the extra step and time since the tortillas are eventually covered in cheese and sauce. -If using corn tortillas, lay the rolled and filled tortillas in two rows of 5. For flour tortillas, lay the tortillas in one long row of 8. -This recipe works well with either red or green enchilada sauce. I look for a brand that does not include MSG. Look for the word "enchilada" sauce and not just red chile sauce or green sauce. -The addition of sour cream will make the sauce not quite as vibrant, but will also add a creamier texture to the sauce. It will also cut some of the spiciness of the red enchilada sauce. I am not a big fan of spicy foods. the recipe as written with 1 teaspoon of chili powder and the Red Chile Enchilada Sauce has just a bit of spice. If you are serving this to young children, leave the chili powder our of the filling.-If you are in a hurry and want to make this casserole style, cut the tortillas into 1-2 inch strips, place a layer of sauce on bottom of pan as directed. Layer tortillas, filling and cheese. Then add one additional layer on top of the first layer and end with pouring the sauce evenly over the entire casserole. Bake as directed.