30 Minute Corn Chowder means 30 minutes to dinner time! This easy-to-make pantry and fridge friendly meal is sure to be a family favorite in the cool winter months. I love to make this soup when I'm in a hurry to feed our family or guests!
I love a good pantry friendly meal! This soup is pantry friendly, filling and tastes like comfort in a bowl. Creamy soup, loaded with potatoes, bacon and corn flavored with onion and thickened a bit with roux.
The corn is slightly sweet and tastes a little like home made creamed corn to me. The base of this soup is so versatile, you can use almost any vegetable in place of the potatoes and corn. Broccoli, cauliflower, asparagus, all work in this recipe if you'd like to change up the ingredients a bit.
This soup base consists of water and chicken flavoring. Many use canned or boxed stock or boullion cubes, but I prefer the "Better than Bouillon" brand to flavor soups and gravies. It has the best flavor and eliminates the need to buy chicken or beef stock which are heavy to transport and take up valuable pantry space!
To make our 30 Minute Corn Chowder gluten free, skip the roux and simply add half and half instead of the milk. When the chowder is ready to serve, use an immersion blender and pulse a few times to create a thicker soup.
The process of making this soup is simple. You will need two pans, one to make the soup, and one to make the roux (thickener) for the soup. The ingredients are basic, and my guess is you probably have every item (or almost every item) in your kitchen right now: potatoes, onion, corn, bacon, red pepper (optional), broth or water and chicken flavoring, flour, milk, salt and pepper. That's it!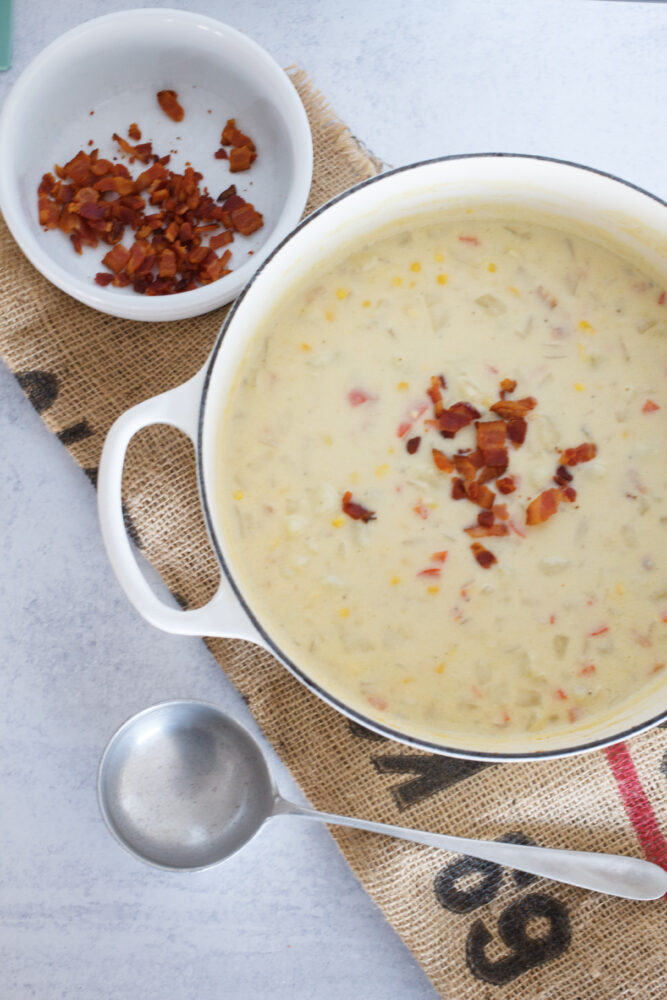 This is also a great recipe to make with your kids. If they are old enough to chop, they can prepare the potatoes and onion. Teach them how to make the roux. It's a simple process. Melt the butter, add flour and whisk. Watch the flour bubble and explain to them this is the process of the flour cooking with the butter. Slowly add the milk and whisk as you go. I learned how to make a roux in the 7th grade from Ruth Schold my Home Ec teacher, and have used that recipe and technique for years as a base for so many recipes.
Hope you love this easy recipe for 30 minute Corn Chowder! Leave a comment below and let us know if you make it 🙂
30 Minute Corn Chowder
Corn chowder in minutes with this easy recipe! Easy weeknight dinner served with bread and salad.
Ingredients
½

lb

bacon

chopped

1

diced red pepper

optional

4-5

cups

diced potatoes about 2.5 lbs before peeled

1

medium onion about 1 ½ cup chopped (white, yellow or sweet)

2

teaspoon

salt

1

teaspoon

ground pepper

4

cups

cold water

1

tablespoon

plus 1 teaspoon Better than Bouillon chicken flavor

3

tablespoons

butter

3

tablespoons

all purpose flour

2 ½

cups

milk (whole or skim)

Additional salt, pepper and chicken flavoring if needed

2 ½

cups

frozen yellow or white corn or one small package OR 6-8 ears fresh corn, cut off cob

1

tablespoon

lemon juice
Instructions
Cook bacon until crisp in a 6-8 quart dutch oven or similar size pan. Remove bacon to a plate lined with a paper towel. Drain grease from the pan, but do not clean the pan, leaving any small bits of bacon.

Add diced red pepper to the pan and cook on medium heat just until soft, about 2-3 minutes. Remove and place on a plate with bacon. Set aside.

Add the potatoes, onion, salt, pepper and cold water to the pan. Heat until boiling, then reduce to simmer for about 5-8 minutes or until the potatoes are barely tender but not falling apart.

Add chicken flavoring to the pan and stir into water until dissolved. Turn off heat while making the roux (below).

In a separate saucepan, melt 3 tablespoons of butter over medium heat. Add 3 tablespoons of flour to the butter. Cook for about 1-2 minutes, whisking until smooth. The mixture should start to puff up a bit when the flour is cooked properly. Slowly add milk to the roux, whisk until smooth. The mixture will thicken as it is heated. At this point, you may add salt and pepper. Be careful to not add too much salt since you will be adding chicken flavoring which also contains sodium. Cook for about 2-3 minutes or until heated through. Pour into the pan with the potatoes and broth.

Add the frozen corn, simmer for 2-3 minutes. Taste the soup and add salt, pepper and chicken flavoring as needed. Add bacon and red pepper to the soup, along with 1 tablespoon of lemon juice. Stir and serve immediately.
Recipe Notes
I chop the bacon before pan frying and use thick cut bacon.
"Better than Bouillon" is found in most grocery stores and also at Costco.
The red pepper may be substituted with a cup of other chopped veggies or left out all together.
Save a bit of the bacon for garnish before serving.
This soup does not freeze well, but can be made up to 3 days before serving.