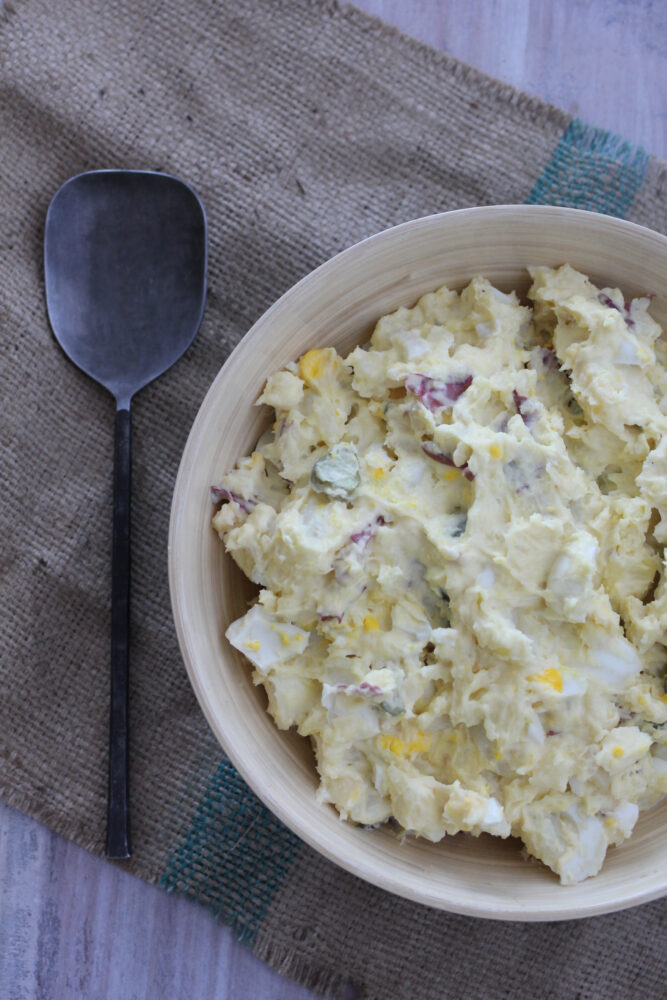 Aunt Di's Almost German Potato Salad is the best potato salad you'll ever eat. Bold statement, right? But true. I've never eaten another potato salad that compares to this one!
This recipe came from my Aunt Di's mother, Alma Dorothea Franz. Grandma Franz was born in Hamburg Germany and immigrated to America where she was later married. My Aunt Di told me this salad was similar to German potato salad, because it was served warm, but her mother added mayonnaise, which made it more similar to American potato salads. I think the combination is positively heavenly!
I lived with my aunt and uncle and their family in Murray, Utah, off and on for a period of time when I was a sophomore in college. I have vivid memories of Grandma Franz's cooking. The two dishes that stand out in my mind (45 years after I first tasted them) are her stuffed green peppers and her potato salad. My Aunt Di taught me how to make her mother's potato salad when I was 18 years old. I've never found another potato salad recipe I love as much as this one!
I also have sweet memories of the time my Uncle Mike, Aunt Di, their kids and the Grandparents Franz came to visit my family in Washington. I was about 14 years old. The Franz's were astounded at the amount of blackberries that grew right at the bottom of our driveway. And- that they were FREE! Hi there. In Washington state, we think of blackberries as weeds.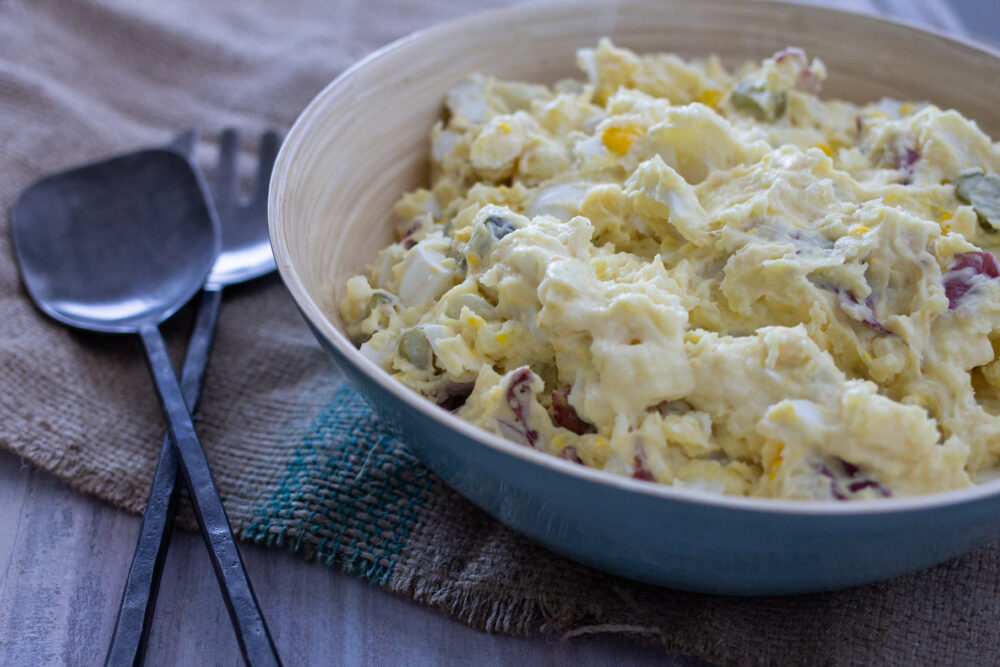 Grandma and Grandpa Franz got up early every morning to pick. And pick. And pick. They picked so many berries, that my Uncle Mike complained he couldn't use the bathroom on the motorhome all the way back to Utah, because it was filled with coolers and buckets full of berries! We still laugh about the berries and the bathroom story to this day!
What makes this potato salad different from all the rest?
This potato salad is one of my most often requested recipes. You may ask yourself, what makes this potato salad different from all the rest?? The differences are: the potatoes are cooked until very soft; the potatoes are not peeled, the potatoes are hot when the dressing is added, and the finished salad is served warm. It may also be served at room temperature, or cold as well, but we think it's best when served warm!
Potato Salad Secret Ingredient and Method
Our Almost German Potato Salad has a secret ingredient and method. It's a simple ingredient most of us have in the fridge…pickle juice. Lots of potato salads are made with a bit of vinegar or mustard, but this salad gets its tart or acid component from ordinary dill pickle juice. I look for whole dill pickles that do not have garlic included in the brine or juice. I think garlic flavored dill pickles are a little overpowering in this recipe. The pickle juice MUST be poured on while the potatoes are hot, which allows the juice to soak into the potatoes and makes the best flavored potato salad in the world.
This recipe for my Aunt Di's Almost German Potato Salad is sooo simple. And so delicious. It is the last potato salad recipe you'll ever need! We love to eat this salad with our favorite bbq meat, Apple Cabbage Slaw, Dutch Oven Molasses Baked Beans, No Fail French Bread and this Frozen Strawberry Dessert!
Oh, I almost forgot, if you have an Instant Pot, I have an IP version of this recipe here.
Aunt Di's Almost German Potato Salad was first published in 2008. Updated with new photos and content July 2022.
Almost German Potato Salad
Ingredients
4-5

lbs

small white or red potatoes, scrubbed clean

8-12

large eggs

Dill pickles

about 3 large or 6 small cut into chunks

3/4 to 1

cup

Dill pickle juice

1 1/2

cups

Best Foods Mayo – NO LIGHT

more if needed

Sea or Kosher salt

White Pepper (optional)
Instructions
Wash the potatoes, no need to peel or cut. Cook the potatoes in boiling water until soft, and the peels start to crack and pull away, about 45-50 minutes.

Hard boil the eggs, peel and cut in to quarters.

Drain the water from the potatoes, cut the potatoes into half or quarter if they are the bigger size. Place the potatoes in a large bowl.

While potatoes are still hot, pour pickle juice evenly over the potatoes and salt generously. I use about ½ to ¾ cup of juice. Start with ½, and see how much is absorbed. If you add too much, the salad turns out soupy- instead of creamy.

Add the eggs and pickles. While still warm add the mayo, about a cup at a time, mix gently, add more mayo until desired consistency.

Salt and pepper to taste. This salad is best served warm or at room temperature.
Recipe Notes
I like small potatoes,  about half the size of your fist. Not the tiny ones in the small mesh bags, but the next size. If not the larger size work!

I cook the potatoes until they are quite soft. When the potatoes and other ingredients are folded together, the soft potatoes mixed with the mayo will create almost a mashed potato consistency. There should still be chunks of potatoes, but they will be extra soft when combined with pickle juice and mayo. 
This salad may be made ahead and served chilled as well. If made ahead, check to see if the salad needs extra mayo folded in before serving, as the potatoes will absorb the mayo.