Is there anything better than banana bread right out of the oven? This recipe is the best basic banana bread recipe with a special ingredient to make it extra moist!
Years ago, My friend Ann gave me her best basic banana bread recipe. It quickly became my go-to recipe because it was easy to make, and I always had the ingredients on hand. I'm a huge fan of banana bread and this recipe is one I've made for over 25 years.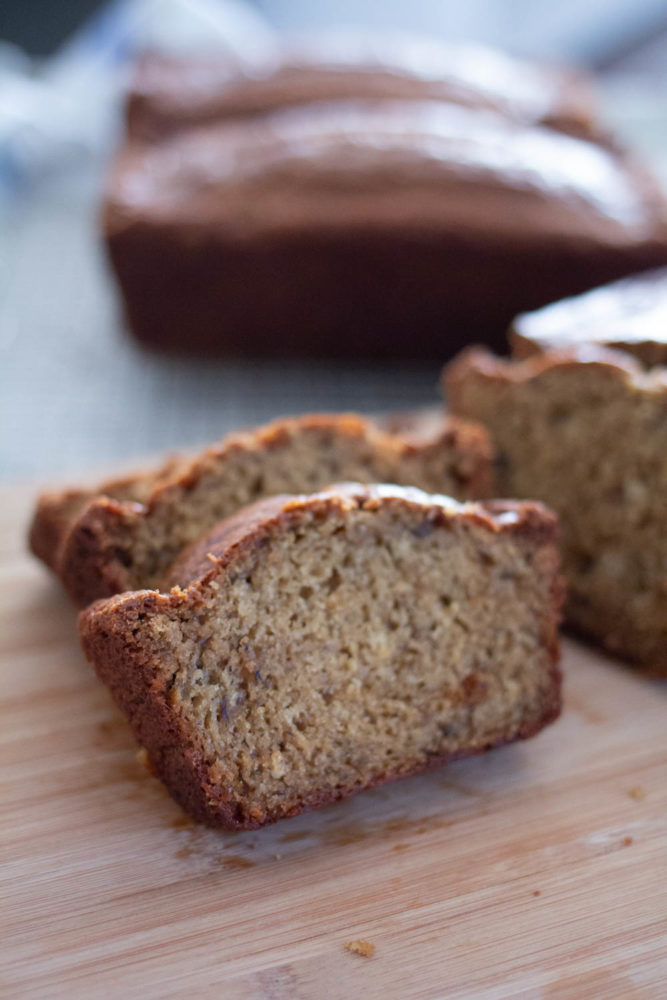 Ann is my friend from Spokane, and Grant's friend growing up. Her Dad was Grant's Bishop at church when he was young. We were surprised when we moved to Spokane to find Ann and her husband Chris living close by, in our new neighborhood. We had some fun times in Spokane, and loved sharing recipes. Ann would tell me about her mother, Marva and what a great cook she was. I remember when Ann confessed to me that she didn't think she had eaten a canned vegetable her whole life…until she got married!
The buttermilk in this recipe makes it SO moist. You'll need about 1/2 cup of buttermilk. No buttermilk on hand? No problem. All you need is milk and a little white vinegar or lemon juice! For every one cup of buttermilk, pour 1 tablespoon of lemon juice in a one cup measure, then fill the measuring cup to the one cup mark. It's important to let it sit for 5-10 minutes before using to allow the lemon juice or vinegar create a curdling action in the milk. Using part milk, part half and half or cream also works.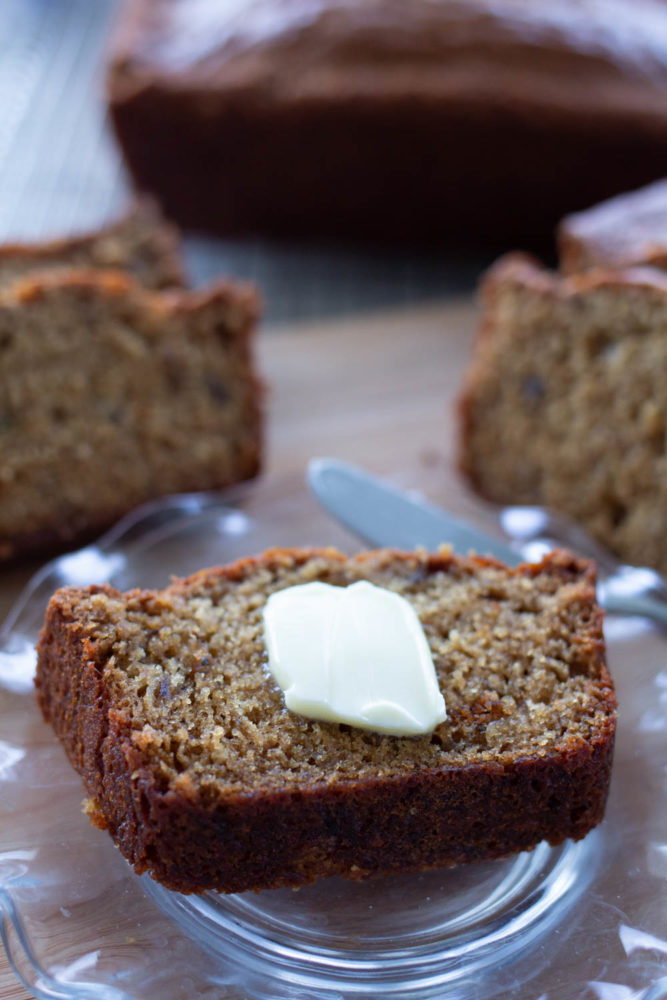 We have a few other banana bread recipes on ABK our family loves! This Sour Cream Banana Bread is also one of my favorites, and Greek yogurt is a great substitute for the sour cream. If you love pancakes and banana bread, you have to try our Banana Bread Buttermilk Pancakes– a breakfast dream!
After summer when the weather changes, I make this Pumpkin Banana Bread with Orange Glaze which is perfect for fall! And if you like to bake with coconut oil, our Coconut Oil Banana Bread is the recipe for you! It has three variations, regular, Pineapple Banana Bread and Chocolate Banana Bread.
Notice how moist and flavorful our best basic banana bread LOOKS? The taste matches the photos. I know this will quickly become your family favorite banana bread too! It's seriously impossible to make dry banana bread using this recipe.
Best Basic Banana Bread
Our best basic banana bread is made with buttermilk! So easy to make 2 loaves with one recipe.
Total Time
1
hour
10
minutes
Ingredients
½

cup

unsalted butter, room temperature, OR 1/4 cup butter + 1/4 cup canola or coconut oil

1 ½

cups

granulated sugar OR 1 1/4 cups brown sugar

3

ripe bananas

mashed

1

teaspoon

vanilla

2

eggs

beaten

½

cup

buttermilk

2 1/4

cups

All purpose flour

1

teaspoon

baking soda

¾

teaspoon

salt

if using salted butter, 1/2 teaspoon
Instructions
Preheat oven to 350 degrees. Grease and flour 2 medium size loaf pans. 

Cream the butter and sugar together. Add eggs, and beat mixture until smooth.

Mash banana, add to the butter/sugar egg mixture. If the bananas are very soft, just add to the bowl, the paddle or beaters will mash the banana.

Mix in buttermilk and vanilla until blended well. Turn off mixer.

Combine all of the dry ingredients into a bowl, and pour all at once into the wet mixture.

Fold together, just until wet and dry ingredients are incorporated. Don't over mix. I use a large spoon or spatula for this step. No need to use the mixer. See notes.

Bake for 50 minutes to 1 hour, or until a toothpick inserted in the center of the loaf comes out clean.
Recipe Notes
If you like "Hawaiian" Banana Bread, substitute 1/2 cup drained, crushed pineapple and use 2 bananas.
I don't use a mixer after the wet ingredients are mixed. The best quick breads are made without using  a mixer. Over mixing this batter will result in a spongy texture instead of a quick bread with a tender crumb.
I like using 1/4 butter and 1/4 oil in this recipe instead of all butter. I think the texture of the banana bread is a little more moist and it doesn't seem quite as heavy. 
In Spain, I have made this banana bread recipe many times. Through much trial and error, I have found the following alterations to work the best at sea level in a very humid environment:
1/4 cup butter + 1/4 cup sunflower oil
3 small ripe bananas
2 cups plus 2 tablespoons flour
325 degrees, baked on bottom rack, 50-60 minutes. 
This recipe has been updated with photos and recipe alterations since first posted in August, 2008.