Blueberry and Roasted Beet Pasta Salad with Blueberry Balsamic Dressing is the salad you've been waiting for. Fresh blueberries, perfectly roasted beets and a blend of cheeses make for the most amazing pasta salad ever!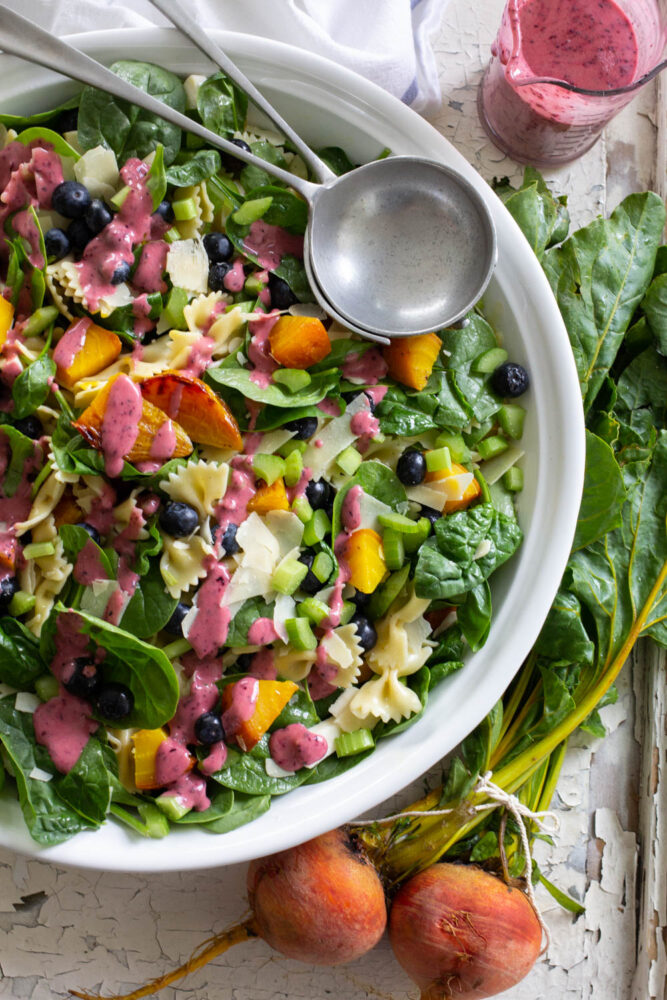 I love this time of year. The produce is plentiful and fresh. This Blueberry and Roasted Beet Pasta Salad is a unique twist on a classic pasta salad. It's the perfect summer produce recipe to add to your menu for any occasion!
Blueberries and beets nestled in pasta and greens with little bits of fresh mozzarella. This heavenly salad will help you to enjoy and celebrate every last minute of summer. And let's talk about the dressing. Blueberries, balsamic, olive oil and touch of honey.
Why beets??
Beets are one of the most versatile veggies, and are full of amazing health benefits, like fighting inflammation, improving digestive health and helping regulate blood pressure. Who doesn't love food with benefits? Beets are also so easy to prepare and roast. With a little prep work, you can have perfectly soft golden beets for your Blueberry and Roasted Beet Pasta Salad.
How to Roast Beets in the oven
If you have an oven (or a barbecue grill) you can roast beets! Preheat your oven or grill to 400-425 degrees and place the rack in the upper third of the oven. Prepare the beet by washing and scrubbing it until it is clean. Trim off any pits or dirt that won't scrub away with a paring knife. Cut the beet into half (or fourths if it's really huge) and place the beet cut side down on a baking sheet. Line the baking sheet with parchment or a silicone liner for easier clean up! Drizzle with olive oil and salt, and follow directions in recipe for cooking. That's it!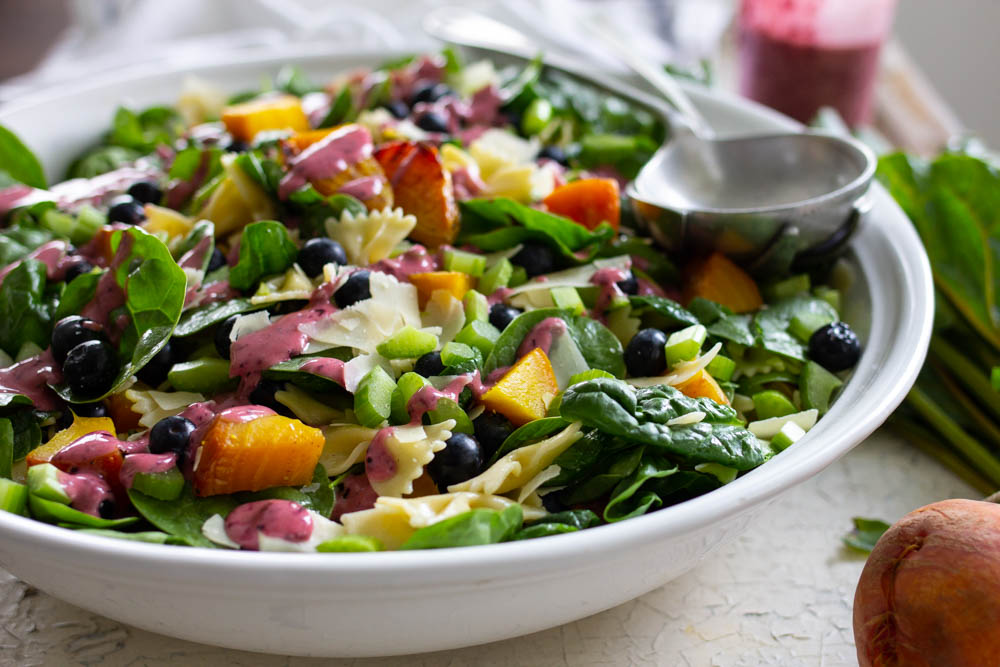 Pasta salad is a favorite side for summer barbecues, family dinners and baby/bridal showers. Roasting the beets in this salad takes an ordinary salad over the top! I've always believed that it takes just one or two "special" ingredients in a pasta or green salad to take it to the next level. In this salad, it is definitely the roasted beets.
This recipe for Blueberry and Roasted Beet Pasta Salad combines so many incredible flavors into one simple summer salad. If you're looking for a unique spin on the traditional pasta salad, you will love this salad that truly celebrates fresh summer produce!
Try our other family favorite pasta salads… Teriyaki Spinach Pasta Salad, Caprese Pasta Salad, and Mango Chicken Pasta Salad with Tarragon Lime Dressing.
Blueberry and Roasted Beet Pasta Salad
This salad is a celebration of summer! Pasta, blueberries, roasted beets and greens with a fresh blueberry dressing.
Ingredients
For the Salad:
1-1 1/2

pounds

golden beets

greens removed

olive oil, salt and pepper freshly ground

for the beets while roasting

3/4

pound

bowtie pasta

1

tablespoon

olive oil

2

tablespoons

white balsamic vinegar or white wine vinegar

1/2

lb

spinach

or spring mix or mixed greens (approximately 12-16 cups of greens)

1

cup

chopped celery or jicama

2

pints

blueberries washed

drained well and divided for dressing and salad

1/2

lb

fresh mozzerella cut into cubes

1

cup

grated or shaved parmesan
For the Dressing:
1

cup

fresh blueberries

1/3

cup

olive oil, avocado oil or canola oil

2

tablespoons

white balsamic or white wine vinegar

3

tablespoons

honey to taste

salt and pepper to taste
Instructions
Wash golden beets thoroughly and slice in half lengthwise. Place flat side down on cookie sheet. Drizzle with a little olive oil and sprinkle with ground pepper and sea salt.

Roast 20-25 minutes at 400 in convection oven (or 425 regular bake oven for 20-25 minutes) until a knife can be inserted in the beet easily. When cooled, peel outer skin with a knife and discard. Cut beets into bite sized chunks.

Blend dressing ingredients using an immersion blender or stand blender while beets and pasta are cooking. Refirgerate until ready to serve.

While beets are roasting, bring a large pot of water to a boil and cook bowtie pasta according to package directions until cooked al dente. Drain and place in a bowl.

Toss pasta with 1 tablespoon olive oil and 2 tablespoons white balsamic vinegar and a good dose of ground pepper and salt. Let cool completely.

Toss cooled pasta with greens.

Toss pasta and greens with celery (or jicama), remaining blueberries, and beets. Gently fold in cheeses. I always save some of the ingredients for topping the salad for best presentation. Chill until ready to serve.

Just before serving, drizzle salad with a little dressing, and serve the rest on the side. See recipe notes.
Recipe Notes
Do not toss the salad with the dressing.  The blueberry dressing is very dark in color and will discolor the pasta and cheese. I drizzle a portion of the dressing on top of the prepared salad, and serve the rest on the side.