If you're looking for a simple and quick pasta salad, look no further. This Caprese Pasta Salad is bursting with sweet tomatoes, fresh basil, creamy mozzarella, and drizzled with a light balsamic vinaigrette dressing. Easy to make ahead, or last minute, and a delicious way to please any crowd!
A Classic Favorite
I love a good pasta salad, especially during this time of year. Pasta is so versatile and can accompany almost any main dish. There's nothing more classic than the combination of tomato, basil, and mozzarella. On pizza, pasta, bruschetta, or even by itself! It's such a simple, yet perfect blend of flavors. That's why I love Caprese Pasta Salad. It's refreshing and seriously easy to make. Just cook the pasta, chop up a few ingredients, and assemble salad. Need to make it ahead? No problem! Just assemble the salad, cover, and store in the fridge. It will taste even better after all of the flavors have infused together. And if you have meat-lovers in your family, add some grilled chicken for a heartier dish. It's the perfect pasta salad to make any time of year, but since tomatoes are in-season right now, you need to make this RIGHT NOW.
As Simple as it Gets, no stirring, just layer and drizzle!
This is by far the easiest pasta salad you will every make, and most likely, the most delicious! Tomatoes, basil, and mozzarella. The Italian's really nailed it with this one. There's just something about those three ingredients that say SUMMER to me. It's a combination that will never go out of style. Put it together with tender pasta and a light balsamic and olive oil dressing. Remember when making this salad the key to a beautiful platter or bowl of salad is to arrange the pasta, then add the fresh tomatoes. mozzarella a basil and drizzle dressing over top. No stirring, just layer and drizzle. Yum! It doesn't get much better than this. Caprese Pasta Salad is one of those recipes every cook should have on their salad menu rotation.
Caprese Pasta Salad is the Ultimate Side Kick
Caprese Pasta Salad is a dish you're going to want to make again and again. It's wonderful as a side dish to barbecues, potlucks, parties, or any event that involves food. And it's just as delicious for a light lunch or family dinner. The burst of sweet tomato, fresh basil, and soft mozzarella, and the tang of the balsamic dressing will have everyone coming back for more. SO easy to make, easy to transport, and even easier to please a crowd with. Here's to long, hot, sunny days, iced drinks, fresh garden fruits and vegetables.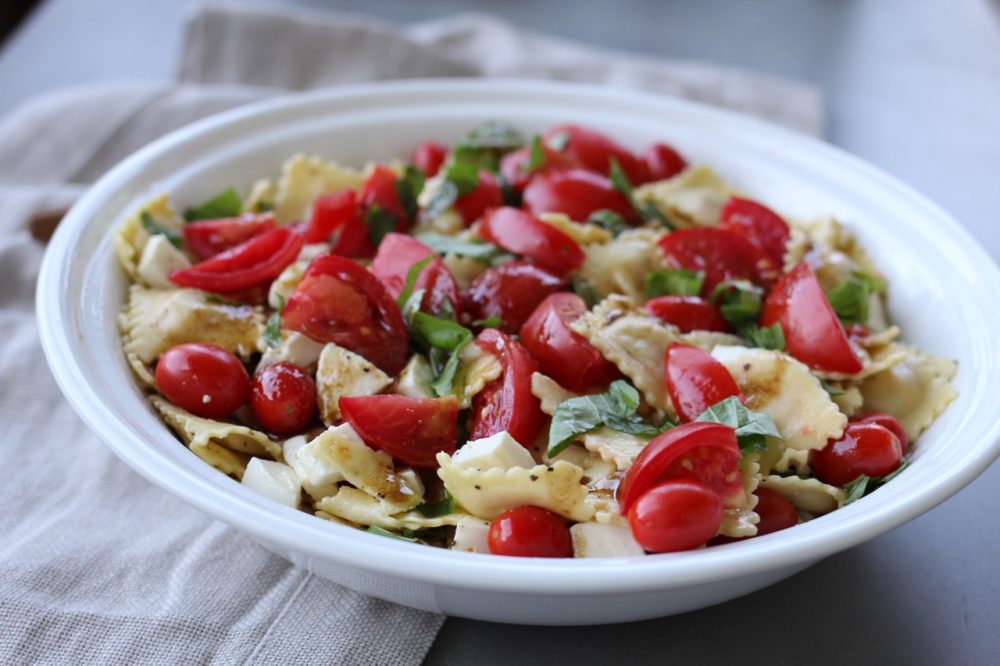 Caprese Pasta Salad
Ingredients
salad:

1

lb

fresh pasta

preferably Ravioli or Tortellini*, cooked al dente

1

⁄4 cup olive oil + more for serving

2

tablespoons

dry italian Seasoning*

1-2

teaspoons

sea salt

1

teaspoon

fresh ground pepper

1

lb

fresh mozzarella

cut into chunks

1

lb

grape or cherry tomatoes

or chunked tomatoes of any type whole or halved

1

cup

fresh basil leaves

sliced

Sliced red onion

optional

Balsamic dressing:

3

tablespoons

balsamic

red or white

1/2

teaspoon

dijon mustard

optional

1

clove

garlic

minced or crushed

1

⁄2 cup olive oil

Salt and pepper
Instructions
Whisk all dressing ingredients together in a jar or blender. Dressing may be stored in refrigerator. Remove at least an hour before using.

Cook pasta al dente, according to package directions. Pour off water and toss pasta in a large bowl with 1⁄4 cup olive oil and dry Italian herbs, salt and pepper. Set aside and let cool completely. This may be done up to three days before serving salad.

When ready to serve, Place pasta on serving platter or on individual plates.

Add cut mozzarella, tomatoes, and fresh basil leaves and lay on top of pasta on plates or platter.

Drizzle with Balsamic dressing and additional olive oil.

Sprinkle with fresh ground pepper and sea salt.

Do not stir!

Serve immediately, or refrigerate on platter until ready to serve*
Recipe Notes
-This salad is best when made with a fresh cheese filled pasta found in the refrigerator section of grocery, such as ravioli or tortellini. You may also use bowtie or another shaped pasta that is not filled. When using a pasta that is not filled with cheese, I purchase dry pasta. If making for a large crowd, I always use dry pasta to keep cost down!
-Good Seasons dry dressing mix is sold in the salad dressing area of grocery store. It is in small packets. Measure out two tablespoons and sprinkle over pasta after cooked.
-If you are making this salad ahead-
-Arrange pasta on platter or in bowl after tossing with dry dressing mix and olive oil. -Or you may place the pasta mixture in a Ziplock bag and store in fridge until ready to assemble.
-Add tomatoes, mozzarella cheese and cut basil just before serving.
-Drizzle with dressing, make sure to shake the dressing jar before pouring on salad!
-Top with additional salt and pepper and another drizzle of olive oil!