The first time I ate this cookie I was IN LOVE. Our Chewy Pumpkin Snickerdoodles are similar to traditional snickerdoodles, but with our favorite fall addition, P U M P K I N!!!
Can one get tired of pumpkin treats? For me, the answer is a definite NO. I love pumpkin desserts. Among my favorites are pumpkin bread and pumpkin cookies. This Chewy Pumpkin Snickerdoodle cookie will make you fall in love with pumpkin all over again!
I've eaten a lot of pumpkin snickerdoodles over the past few months. This cookie is the best blend of fall spices with pumpkin, rolled in cinnamon sugar and baked. I love the not too sweet flavor of this cookie! The sugar-topped cookie gives this treat a slightly crisp outer crust, with a soft and chewy irresistable middle.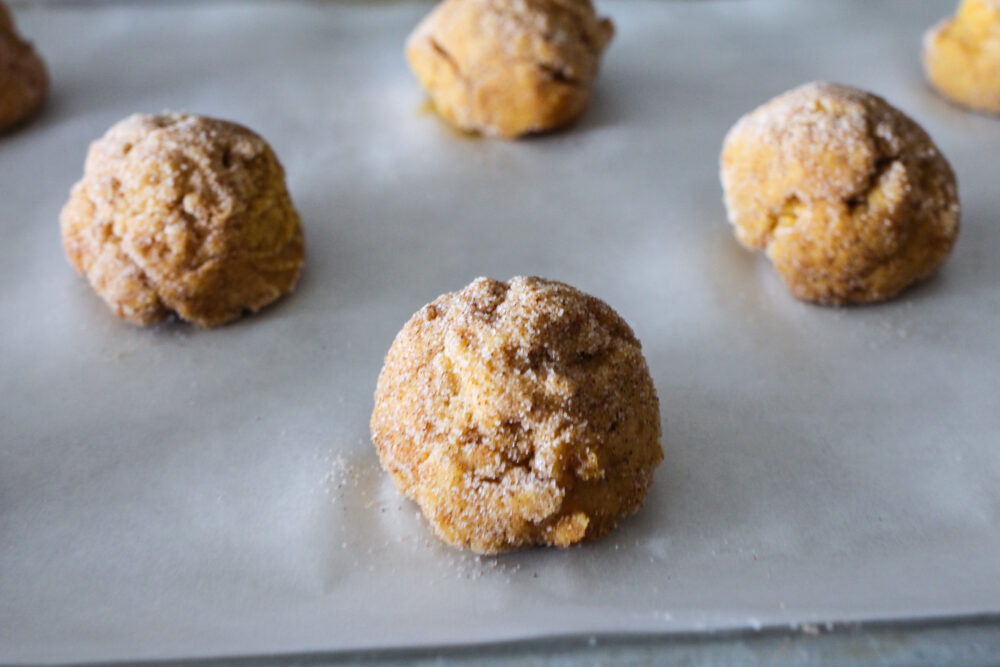 I found the perfect combo of butter, sugars, pumpkin and spices after many, many test batches! You can choose either pumpkin pie spice (here's a recipe to make your own and save $) or a combination of ingredients that make up pumpkin pie spice! Either way, you will LOVE this cookie.
Here's my #1 reason for being a super fan of this cookie… it tastes as good (maybe better) on the 3rd day after baking, as the first! Just cover and seal tightly in a container. This cookie won't last for long because it's just that good! I love this fun change from typical pumpkin cookies. Our Chewy Pumpkin Snickerdoodle cookie is also the perfect holiday treat, so keep this on your radar for upcoming holiday baking!
How to make Chewy Pumpkin Snickerdoodles:
Combine cinnamon and sugar in bowl (for rolling)
Cream butter and sugars together
Add egg, plus a yolk, pumpkin and vanilla
Add all dry ingredients; mix
Scoop cookie dough and roll in cinnamon sugar
Bake 350 for 10-12 minutes
Chewy Pumpkin Snickerdoodles
Servings
18
3 inch cookies
Ingredients
1

cup

unsalted butter, softened

1

cup

dark brown sugar, packed (light works as well)

1/2

cup

granulated sugar

3/4

cup

pumpkin*

I like Libby's brand best

1

large

egg plus 1 egg yolk

1

teaspoon

vanilla

3

cups

all-purpose flour

2

teaspoons

cream of tartar

see recipe notes

1

teaspoon

baking soda

1/2

teaspoon

salt

1

tablespoon

pumpkin pie spice

OR: 2 teaspoons ground cinnamon, 1/2 teaspoon ground ginger, 1/2 teaspoon ground nutmeg, 1/4 teaspoon ground allspice
for topping:
1/4

cup

granulated sugar

2

teaspoons

ground cinnamon
Instructions
Preheat oven to 350 degrees, place rack in center of the oven.

For topping, mix 1/4 cup sugar and 2 teaspoons cinnamon together in a small bowl. Set aside.

In the bowl of a stand mixer or large bowl, place the butter, dark brown and granulated sugar. Beat until smooth.

Add the pumpkin, egg, one egg yolk, and vanilla, beat on medium speed, scraping down the sides and bottom of the bowl one time during mixing.

Add all of the dry ingredients to the bowl at one time, mix on low until the wet and dry ingredients are incorporated. Or fold together using a spatula.

Using a cookie scoop or a spoon, form 2 inch balls of dough and roll in cinnamon sugar mixture. Place on a lightly greased cookie sheet or on a parchment lined cookie sheet. Barely flatten the cookie dough ball with the palm of your hand.

Bake at 350 degrees for 10-12 minutes or until the top is set and the cookie does not have any wet appearance on top. Remove from oven and let cool.
Recipe Notes
I HIGHLY recommend Libby's Pumpkin. Other brands will alter the final result of this recipe. Pumpkin varies from brand to brand, including color of pumpkin and the moisture content in the pumpkin. 
If the cookie spreads too much while baking, use a small spatula and push the sides of the cookie back into a circular shape immediately after removing from oven. 
If you do not have cream of tartar, you may use 1 1/2 teaspoons baking powder as a substitute. I used this substitution while living (and baking) in Spain, where cream of tartar is not available, and it works in a pinch!
The dough sets up well in the fridge or freezer. If freezing, I re-roll the cookie in the sugar mixture before baking. 
If you would like to cut some of the butter in the recipe, I have had success with reducing the butter by 4 tablespoons. The cookie will need to bake for about 12-14 minutes. 
I usually bang the cookie sheet on the oven rack or on the counter top at the end of baking time to remove any extra air in the dough, which also produces a more chewy texture in the cookie. 
Chewy Snickerdoodles freeze well after baking. Let cool completely, place in an air tight container for 4-6 weeks.