If you're looking for a show stopping salad any time of the year, this salad is for you! Chicken, Pear and Smoked Gouda Salad is the ultimate blend of everything a salad should be. Fresh pears, smoky Gouda cheese, crunchy cashews, moist chicken and a fresh dressing made with ingredients (most likely) already in your pantry and fridge!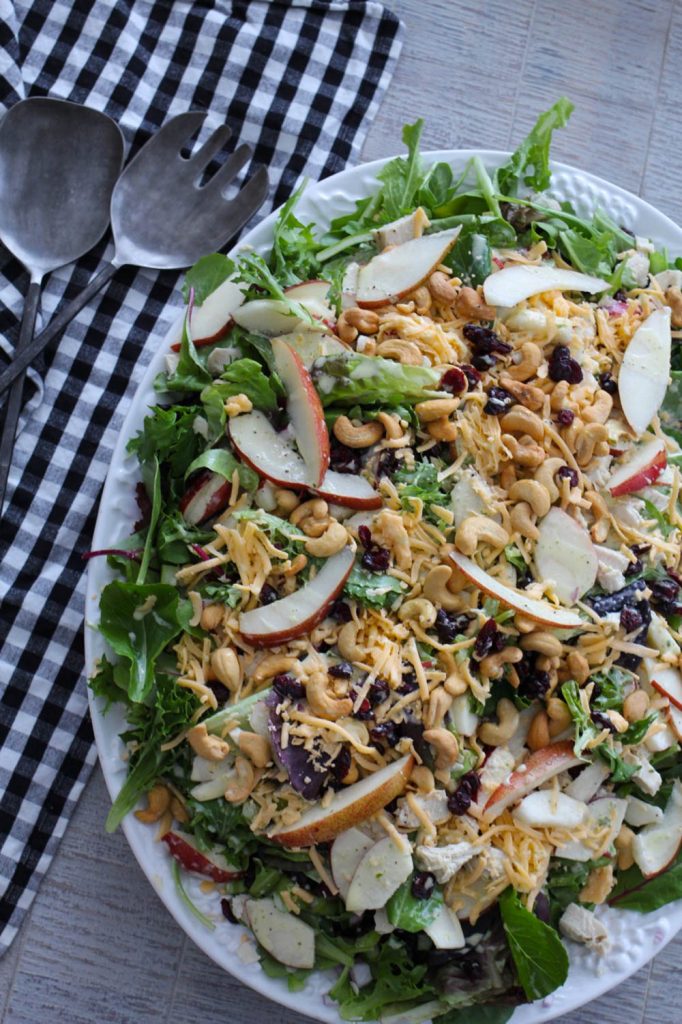 Get out of the rut
Sometimes I get in a salad rut. I make the same salads over and over and I need to make something different I know everyone is going to enjoy. If you're in a salad rut, you NEED to try this Chicken, Pear and Smoked Gouda Salad. The dressing for this salad is a little creamy, sweet & spicy and SO GOOD.   I'm a firm believer that all amazing salads start with a homemade dressing.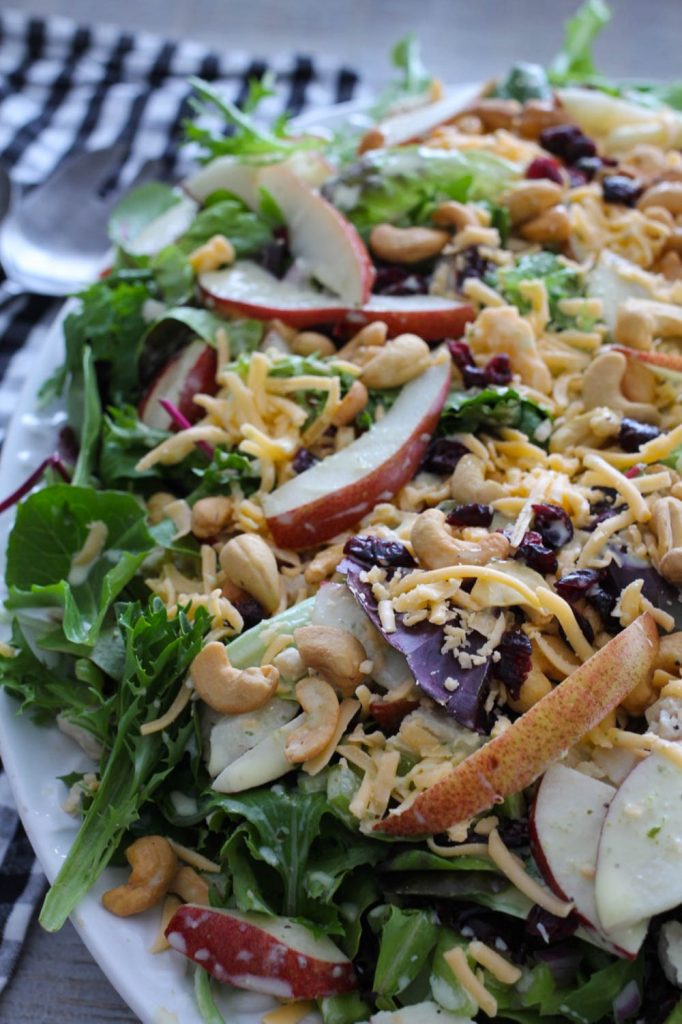 Comparing apples to oranges. I mean, pears!
Chicken, Pear and Smoked Gouda Salad is delicious with sliced red pears but you can also use apples if you prefer. This salad is adaptable to almost any season of the year, since pears and apples can be found year-round. Just make sure the apple or pear you choose is ripe, but still firm.  You can also switch up the nuts to your preference. The recipe calls for cashews or pecans but you can also use walnuts, pistachios, or almonds. Pistachios would be perfectly festive for Christmastime!
Make ahead tips and trick
Make-ahead dishes are my favorite and this salad can totally be made ahead of time. Assemble the salad ingredients and place each one in a small ziplock bag, seal and sit on top of the bowl of lettuce in the serving bowl. I like to chill the bowl before a party if possible to help keep salad as cool as possible as the event unwinds. Dressing should be stored in a small jar or container as well in the fridge.  When ready to toss together, save some of the filling ingredients to place on top of the salad for a beautiful presentation.  You may slice up the pears (or apples) ahead of time. My tip is to toss the fruit in lemon juice and a few tablespoons of dressing to keep from turning brown!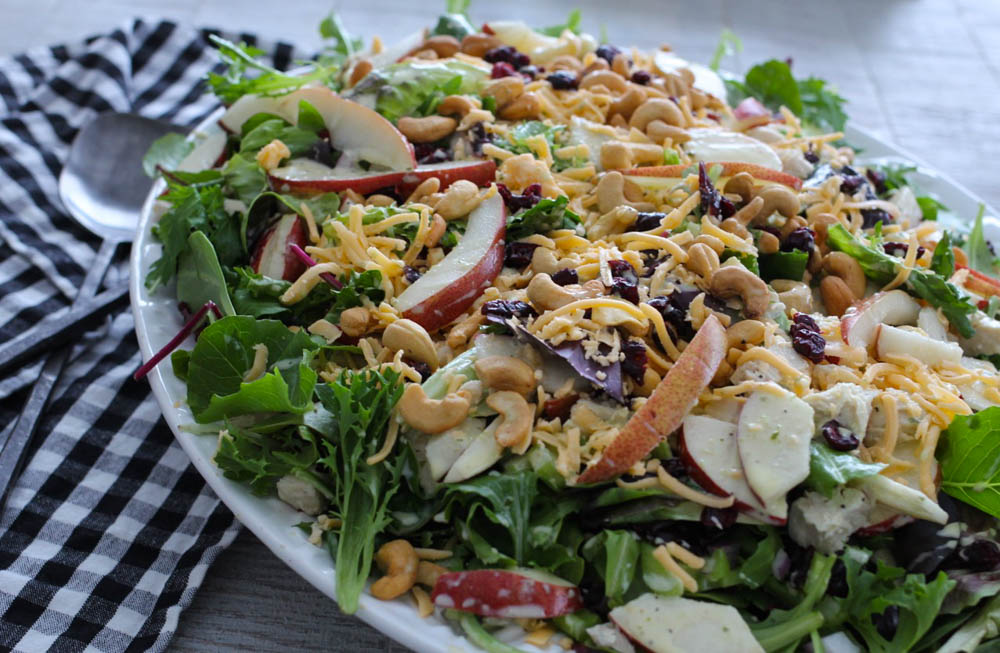 the main event
Chicken, Pear Smoked Gouda Salad works as a main dish as well.  If you're using this recipe as a side salad,  just leave out the chicken! My sister in law Sheri shared this recipe with me years ago and we still make it today. We lightened the dressing significantly and switched out the fresh basil  for green onions, because I know sometimes it's difficult to get your hands on fresh basil leaves. Sheri always has the best recipes and many are published here on ABK. Here are a few of our favorites… Pomegranate Avocado Salsa ,  Creamy Southern Mac and Cheese and this Peanut Butter Pie with Homemade Fudge Topping.
I hope this salad becomes one of your favorites- it's definitely one of mine! 
Chicken and Pear Smoked Gouda Salad
Chicken, Pear and Smoked Gouda Salad is the ultimate salad lover's recipe! Greens, chicken, fresh pears, smoky cheese and crunchy cashews in one salad, topped with a fresh and simple salad dressing. Perfect for wedding or baby showers, family reunions or holidays.
Ingredients
2

red pears (or apples), washed, cored and thinly sliced or cut into chunks

I like to leave on the skins for color

2

tablespoons

fresh lemon juice

1

8-10 oz. package baby spinach and spring greens mix

3

cups

chopped

cooked chicken breast

1 1/2

cups

thin sliced celery

1/4-1/2

cup

red onion

sliced thin

1 1/2

cups

sweetened dried cranberries

2

cups

6-8 oz shredded smoked Gouda cheese

1 1/2

cups

salted cashews or pecans
Honey-Mustard Dressing:
1/4

cup

mayonnaise

regular or light

1/4

cup

olive oil

1/3

cup

cider vinegar

1/4

cup

chopped green onions or scallions

1

teaspoon

Dijon mustard

3-4

tablespoons

honey

1/2

teaspoon

ground red pepper

optional

1

teaspoon

coarse ground pepper

1/2

teaspoon

coarse sea salt
Instructions
For Dressing:
Whisk together all dressing ingredients, or use immersion blender, and blend until combined. Store in fridge until ready to serve.
For Salad:
Toss pear slices with lemon juice and a couple tablespoons of salad dressing, set aside in fridge in a ziplock bag or a small bowl.

Place lettuce in a bowl or on a serving platter. Layer all other salad ingredients on top of lettuce (except cheese and nuts). Refrigerate until ready to serve. This may be refrigerated for 2-3 hours before serving, if storing longer than this amount of time, follow directions on recipe notes for make ahead. Always place cheese and nut on top layer.
Recipe Notes
-One small Rotisserie chicken may be subbed for the 3 cups cooked chicken.
-Toss salad with a portion of the dressing just before serving and then serve extra dressing on the side. You may also layer salads on individual plates or on a large platter (my preference) and drizzle with dressing.
-This salad may be made to your liking by substituting apples for pears, or switching the cashews for almonds, pecans, or pistachios. 
-Dressing may be made with green onions (scallions) or fresh basil. 
-Light mayo may be used in place of the regular mayo. white balsamic may be used in the place of cider vinegar.