Nothing says Christmas and kids like Christmas M&M Cookies! We love this recipe that takes the best of our favorite chocolate chip cookie recipe and combines it with red and green M&M's for extra festive fun!
Festive and Fun!
It's that time of year where the smell of baked cookies is a constant in our home. There's just something about baking cookies that really makes the holidays feel official! These Christmas M&M Cookies are a fun holiday twist to the usual cookie lineup. They're so easy to make and a perfect recipe to whip up with the kids or grandkids. Oh, and word has it these are Santa's favorite treat!!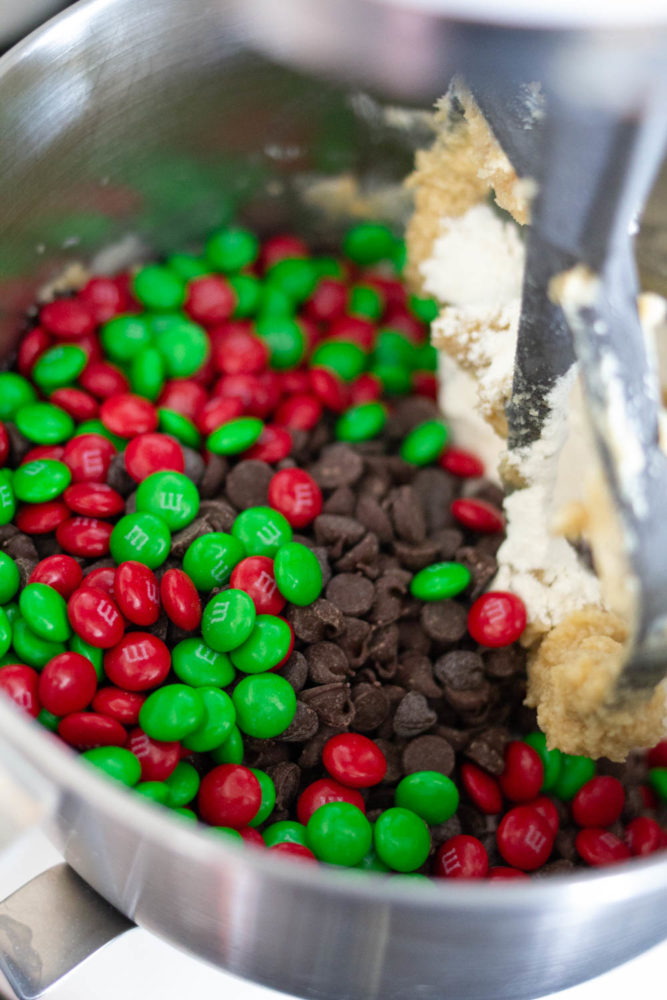 Cookie + Candy = Love
Who doesn't love a good chocolate chip cookie? And what about M&M's? Put the two together and you have the best kid friendly Christmas treat! Christmas M&M Cookies are the best Christmas Eve cookie to bake and leave out for Santa!
If you are looking for a fun and easy to make treat for neighbors, place the cooled cookies on a red disposable plate with white parchment underneath! Christmas M&M Cookies have a soft and chewy center, with a lovely crispy edge, just like our favorite chocolate chip cookie.
M&M's on top before or after baking?
Are you wondering if it is best to add M&M's to the cookies on top before or after baking?? Or what is the right combination of candy and chocolate chips? Or if you should make this cookie with candy only, and no chocolate chips? After experimenting several different ways, I like to use both M&M's and chocolate chips in the cookies. I then place a few reserved M&M's on top for color.
I found if I baked the M&M's into the cookies and place the candies on top of cookies before baking, the candy cracked in the oven from heat and also the outer shell of the M&M melts a bit and the color is not as bright! Gently pressing a few M&M's on top of the cookie after baking, and while still warm, made for the best looking cookie!
Note: the first photo in post has candy pressed in after baking, the last photo in post shows candy pressed into top of cookie before baking. Notice cracks in candy on last photo!
The Perfect Gift
What says Merry Christmas or Happy Holidays more than a platter of homemade cookies? Christmas M&M Cookies are such a festive treat to gift for neighbors, friends or family. It's a yummy way to spread love this time of year!
If you want to make a large cookie, triple the size of the cookie to about 3/4 cup of dough, flatten slightly before baking, and cook for a minute or two longer, just until top is set. When cooled, place in a clear cello bag and tie with a bit of red and white twine.
Here are a few other cookie recipes we LOVE to make: Giant Ginger Cookies, Chocolate Peppermint Cookies, Peanut Butter Blossoms, Pecan Shortbread Cookies, and Gluten Free Sugar Cookies!
This Christmas M&M Cookie will make everything more merry and bright this holiday season! Happy baking!
Christmas M&M Cookies
Ingredients
1

cup

unsalted butter

softened for 30 minutes on counter before using

3/4

cup

white sugar

3/4

cup

brown sugar

1

teaspoon

vanilla

2

eggs

2 3/4

cups

All purpose flour (plus 2 tablespoons if needed)

1/2

teaspoon

salt

1

teaspoon

soda

1 1/2

cups

dark chocolate chips

may also use milk or white chips

1 -10

ounce

bag Christmas (red and green) M&M's*, divided reserve about 3/4 cup for top of cookies after baking
Instructions
Preheat oven to 375° F. If using convection, preheat to 375 as well.

For regular oven, place rack in middle of oven. When using a convection oven, you should be able to bake on all racks at one time.

Cut butter into pieces (about 2 tablespoons each) and place in mixing bowl. I use a Kitchen Aid and power it on 2 (low).

After a few seconds, add granulated sugar, brown sugar and vanilla extract. Mix on low speed until creamy (this takes just a few seconds). The butter and the sugars should be mixed enough so no chunks of butter are visible.

Add eggs, beating just until incorporated and smooth. Never turn the beaters on high.

Using a spatula, scrape down the sides and bottom of the bowl to ensure all ingredients are incorporated.

Add 2 3/4 cups of the flour, soda, salt, chocolate chips and all M&M's (reserving 3/4 cup for top!) into bowl with butter mixture. Mix on low for a few seconds. I like to use a pulsing action (turn mixer off and on quickly for a few seconds).

Turn the dough with a rubber spatula so the bottom of the dough is mixed into the top of the dough. This will ensure the flour is mixed in properly and the candy and chips are distributed evenly.

If the dough is sticky or wet looking, sprinkle in an additional 2 tablespoons of flour to the dough. Fold into dough by hand using a spatula.

Using a cookie scoop, drop onto un-greased baking sheets, or baking sheets lined with parchment paper. Place 6-8 scoops of dough on each baking sheet.

If using convection, bake for 7-10 minutes until golden brown.

If using regular (non convection) oven, bake at 375 for 10-12 minutes.

Cookies should be slightly golden and the cookie should not be wet or shiny on top. While cookies are still warm, press a few M&M 's into the top of the cookies after baking for best results.
Recipe Notes
I use a cookie scoop that measures 2 1/4 inches across which generally yields between 18-22 cookies. 
I often recommend freezing cookie dough, but for this cookie, the M&M's sometimes lose their bright color after being frozen.
Only use M&M brand. You may use dark, milk, or white chocolate chips.
If the cookies spread out too much while baking, push the edges of the cookie in with a small spatula to form a round shaped cookie. This should be done right after cookies are removed from oven.