Easy Coconut Shrimp Curry is a flavor packed dinner you can have on the table in minutes!
Put the lime in the coconut
Who doesn't love lime and coconut together? This flavor combination is perfect with coconut milk, fresh lime and some simple spices…if you are trying to expand your cooking horizons, this is a great recipe to try. A little out of the ordinary, without being off the charts!
One skillet
Easy Coconut Shrimp Curry is a one skillet wonder (if you don't count the rice), making dinner easy, simple and fuss-free. This recipe is perfect for busy nights and requires little effort, but is full of delicious flavor. I'm always looking for ways to make dinner easy, without compromising on quality. This dish is truly one of the best one-skillet meals I have made.
Shrimp, chicken or tofu
This recipe is versatile and easy to make using whatever you have available. Shrimp, chicken or tofu all work in this dish! The key is to not overcook. The method in this recipe calls for cooking the shrimp (or other protein) first, then removing from pan, sautéing a few spices and veggies, adding the coconut milk and simmering, and finally putting the cooked shrimp back into the sauce. We love it served over rice, with lime and cilantro for garnishing.  Also, you may change up the veggies I use in the recipe. My mom made curry regularly when I was young and always used potatoes, onions and carrots!
Cooked vs raw shrimp
If you don't have raw shrimp available, or you already have cooked shrimp that works as well. Just add the shrimp at the very end of the recipe and heat up in the sauce for the last 5 minutes while the sauce is thickening and coming to a gently boil. Frozen shrimp is often less expensive and more convenient. Raw shrimp is fresher and tends to hold flavor better than frozen shrimp. Either will work great in this Coconut Shrimp Curry recipe!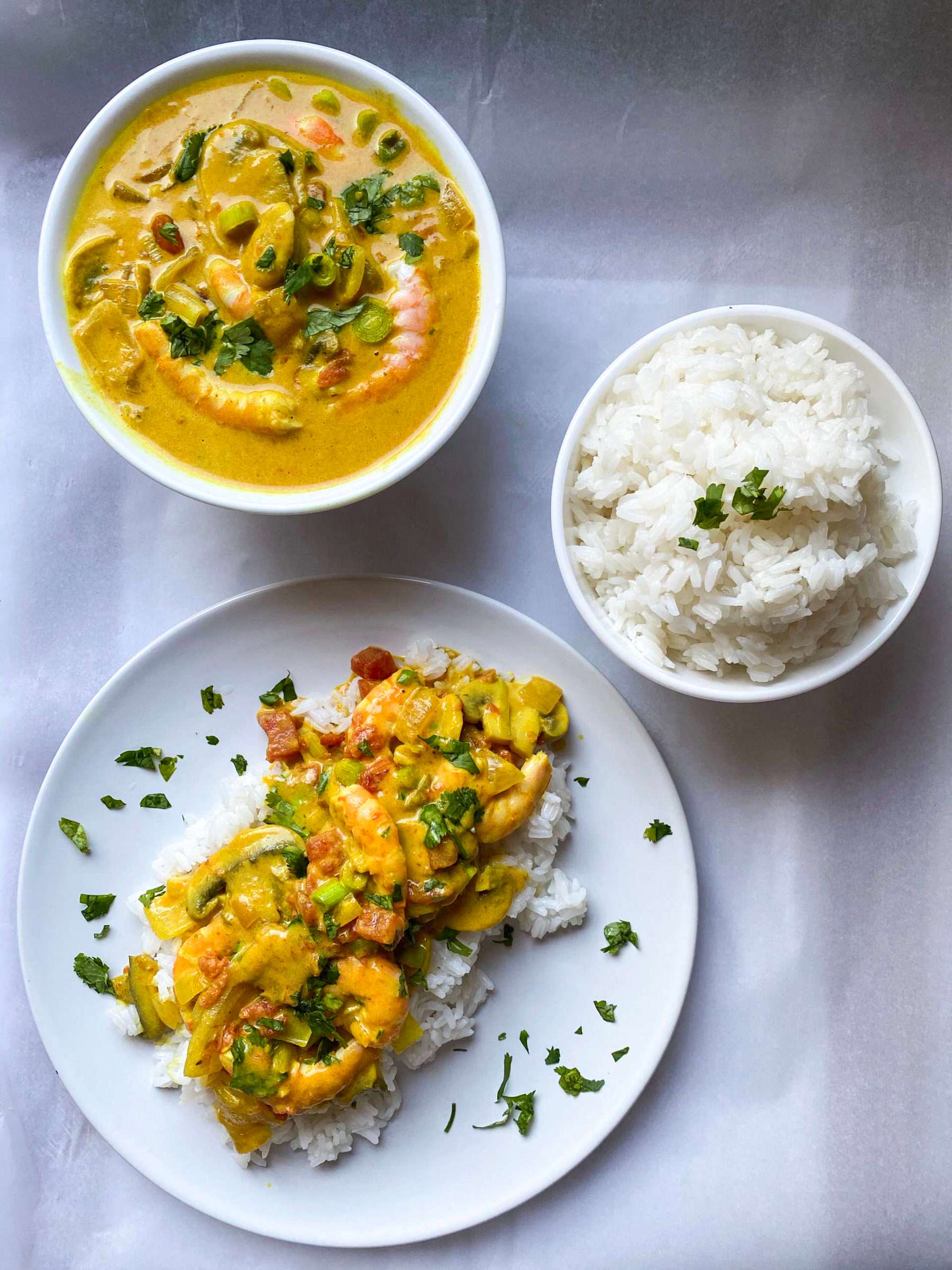 Better than takeout
There is nothing wrong with take out, but when it comes to saving a little money and using up the food I already have, recipes like this Coconut Curry are a life saver. It might not be as easy as tapping your screen a few times to order food, but it definitely takes less time and tastes just as good, if not BETTER. The trick is to have all of your ingredients ready beforehand, then you can just toss them into the skillet accordingly and have a meal ready in 30 minutes or less!
A meal for everyone
This curry recipe is so full of flavor, it's the perfect meal to adapt to your diet or preferences. Gluten-free, vegetarian, keto or low-carb? No problem! There are so many ways to make this meal fit for you and your family. We enjoy this Shrimp Curry over rice, but it's delicious served over rice noodles, veggie noodles, potatoes or with naan. P.S. if you haven't made naan, try this recipe for Homemade Naan for an easy way to get started. 
Easy Coconut Shrimp Curry is such a simple family meal that anyone can make. It's ideal for busy weeknights, easy to adapt, and is sure to become a new favorite in your home!