What is better than a French Dip Sandwich? How about French Dip with an Easy Homemade Au Jus?? This recipe is so simple you won't believe it, and once you try homemade Au Jus, you'll never go back to a mix!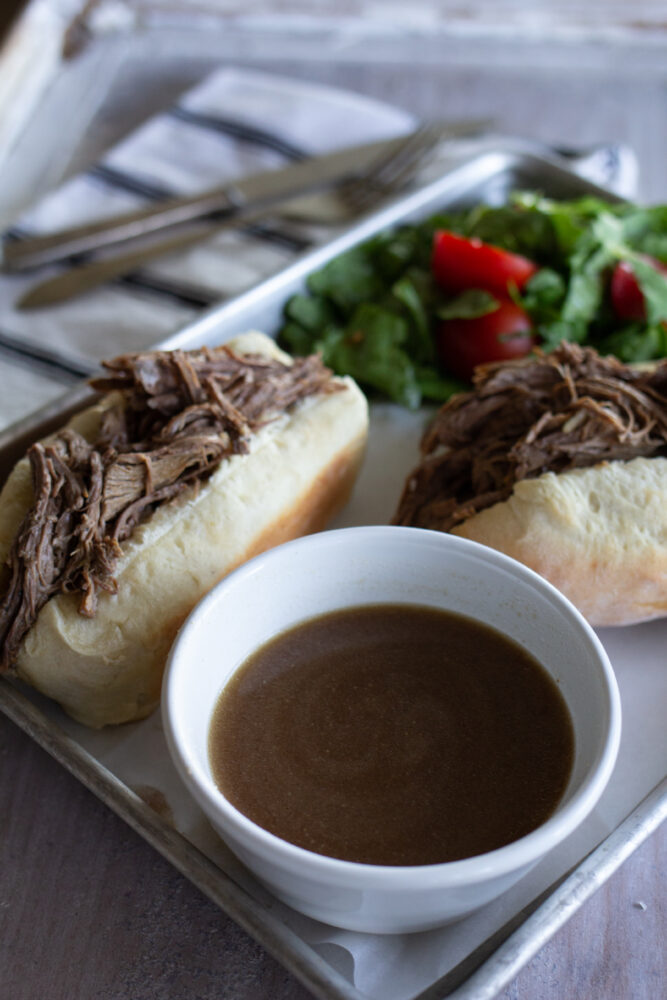 "Au Jus" is a French term that means "with juice". It sounds fancy, but in reality, is very basic. When I was a kid, my Dad made French dip sandwiches for us after my mom cooked pot roast in her pressure cooker.
I absolutely LOVED French dip sandwiches and savored every bite. I've carried this tradition on in our family and make French Dip Sandwiches with Au Jus whenever we have leftover pot roast. French Dip's were a regular on our meal rotation when our kids were growing up. It was always quick and easy, and (BONUS!!) everyone loved it.
There are a few different ways to make a French Dip sandwich with beef Au Jus. Deli meat works if you don't have leftover roast. As a rule of thumb, I usually purchase about 1/3 lb of deli meat (roast beef sliced very thin) per person. I like a crusty French roll, (toasted on a grill to keep the bread from getting soggy), and of course, the Au Jus! Any type of roll works, and in a pinch, a package of Au Jus mix works, but once you make this sauce, I don't think you will ever go back.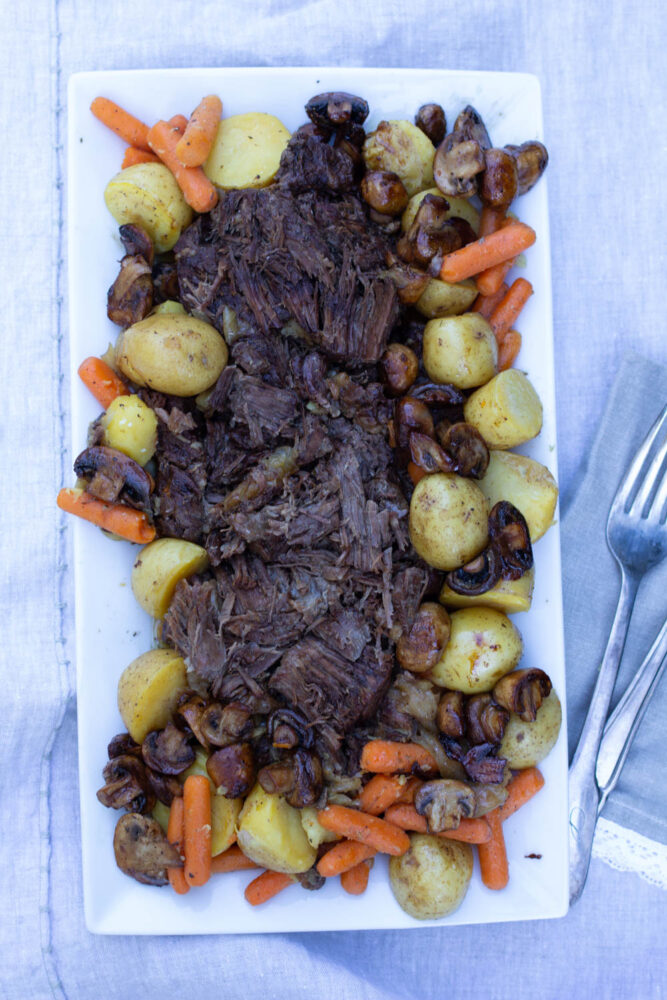 When our kids grew up and were able to drive home for lunch, I often made French dip sandwiches for their friends. It was quick and easy, and all kids love this meal. One of the kids named it "Foster Friday" and it stuck. I always served French Dips, Tater Tots (because all teenage boys LOVE Tater Tots) homemade fry sauce, fruit or salad and always always always, Tried and True Chocolate Chip Cookies.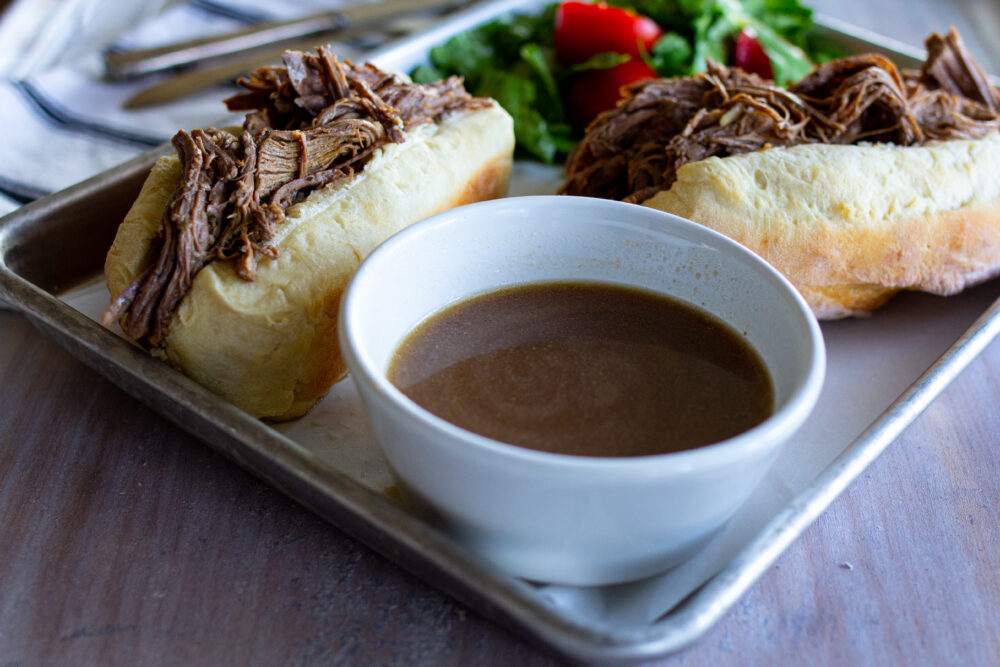 How to make The Best French Dip Sandwiches
Taking your French Dip game to the next level is very easy. First, cook a roast. I use the Instant Pot to cut down on time, but the oven method works too. I don't cook the carrots and potatoes when I make a pot roast for French Dip sandwiches.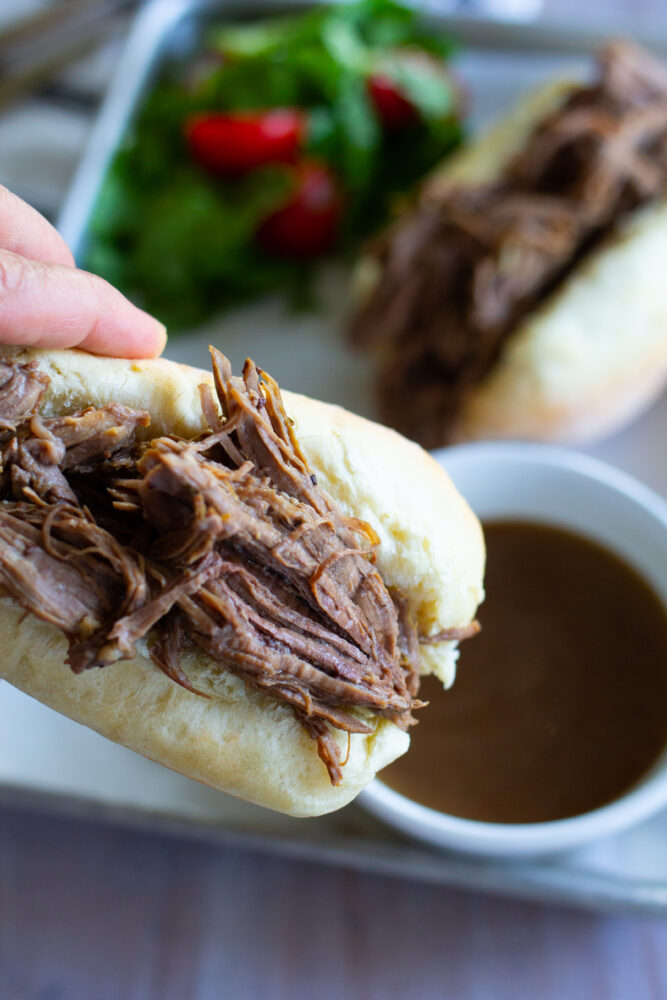 The Roast and Au Jus:
Follow the directions on the pot roast recipe, shred the meat, removing any visible signs of fat from the meat and discard. There should be juice remaining in the pot or pan. Drain the juice, removing any fat as well. You can quickly remove any residual grease from the juice by placing the juice into the fridge or freezer for a few minutes or use a fat separator (which also comes in handy when making gravies). The fat will rise to the top of the bowl or jar of juice and can easily be removed with a spoon and discarded.
If you don't want to use the juice from the roast, or you purchased deli meat, follow the directions on the Au Jus recipe attached. This recipe calls for water and beef flavoring, instead of the traditional method of making Au Jus with beef drippings. No beef drippings required to make this easy Au Jus recipe!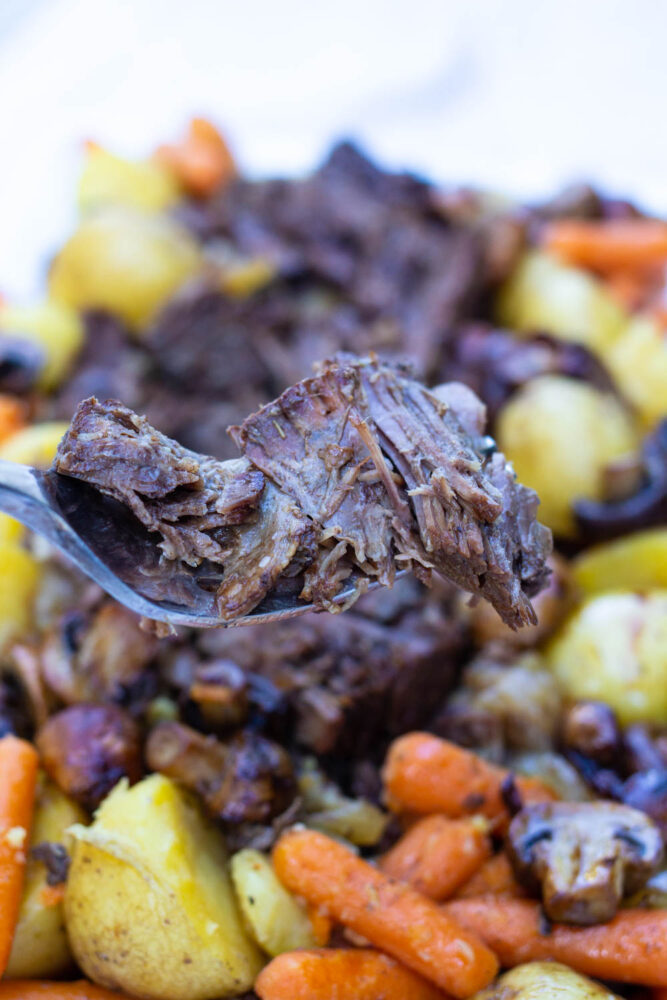 The Rolls:
I usually purchase crusty French rolls from a local bakery. If you want to make your own rolls for French Dip sandwiches, ABK's No Fail French Bread (photo below) can easily be made into French rolls. Just separate the dough into small pieces, and follow the recipe's directions for baking. I can usually get about 12+ generous size French rolls out of one recipe.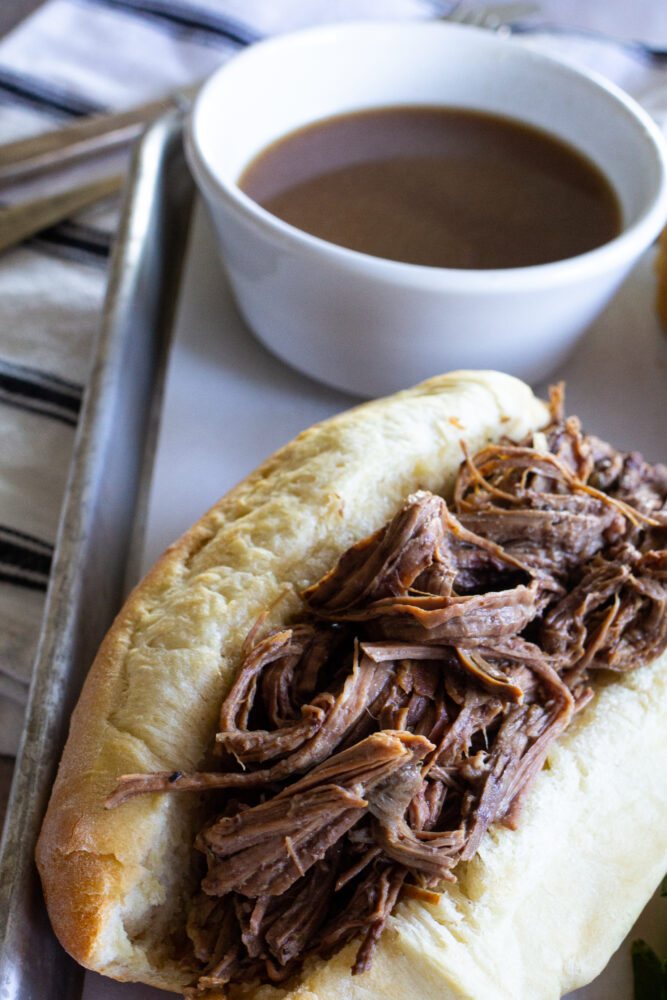 Secret Method:
The secret to taking a French Dip sandwich from ho-hum to This is THE BEST French Dip Sandwich EVER is first, make homemade Au Jus. Then, using tongs, dip the meat into the warm Au Jus, let excess juice drip back into pan of sauce and place the meat inside of the toasted bun. Your family will think they have died and gone to heaven. Juicy meat, on a slightly softened toasted bun. Serve with a hot cup of Au Jus for more dipping!
If you love melted cheese and grilled onions you can add those as well, but I think a French Dip is best enjoyed with meat, bun and lots of piping hot Au Jus on the side!
Easy Homemade Au Jus Recipe
This Easy Homemade Au Jus Reicpe is the best way to enjoy a made with love French Dip Sandwich. It takes minutes to make and will take your French Dip to the next level!
Ingredients
3

cups

cold water or leftover juice from roast, drained of fat

3

tablespoons

beef base (Better Than Bouillon)*

½

teaspoon

garlic powder

½

teaspoon

onion powder

1

teaspoon

Worcestershire sauce

2

teaspoons

dark balsamic vinegar

½

teaspoon

pepper

1

teaspoon

cornstarch

1

tablespoon

butter
Instructions
In a medium saucepan bring water to a boil.

Reduce heat to medium-low and whisk in the beef base, garlic powder, onion powder, Worcestershire sauce, balsamic and pepper.

Pour 1/4 cup of cold water into a measuring cup. Add 1 teaspoon cornstarch and whisk until smooth. Add to simmering broth mixture in pan. Whisk, turn up heat to medium high.

Add 1 tablespoon butter to hot au jus, whisk until melted. Serve while hot.
Recipe Notes
Better than Bouillon beef base is sold at grocery stores and Costco and stored in refrigerator after opening. If this brand is not available, I recommend using Beef Consomme in cans (sold near canned soup) to equal 24 oz. Beef granules or beef bouillon cubes may also be used. 
Use dark balsamic, not white balsamic for this recipe.
The Au Jus may be made up to 5 days in advance.