Couscous, Craisin and Pumpkin Seed Salad with Fresh Basil Dressing, aka Erin and Misty's Basil Couscous Salad is an all-occasion, any time of year salad. It is always a crowd pleaser and a recipe you will make again and again!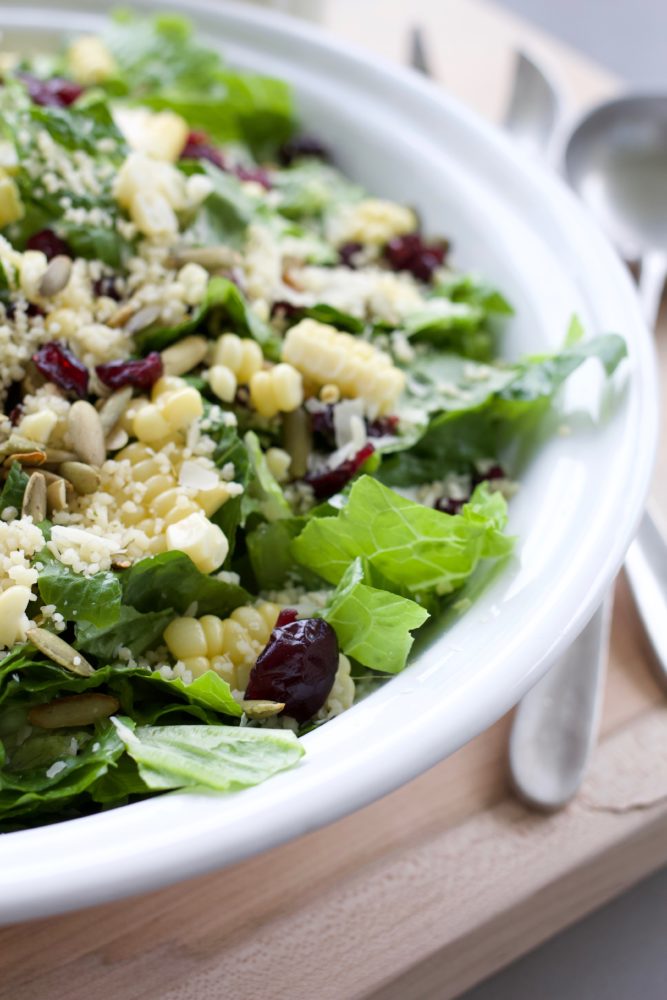 Fresh ingredients make amazing salads. This salad is loaded with fresh greens, corn (in season), and basil. I love this salad in the summer, but also love it made with frozen corn in the winter months.
My favorite salads are usually made up of a combination of textures, colors and flavors. This salad has it all! Creamy basil dressing, chewy sweet Craisins, crunchy greens and pumpkin seeds. And the couscous adds its own unique texture to the salad!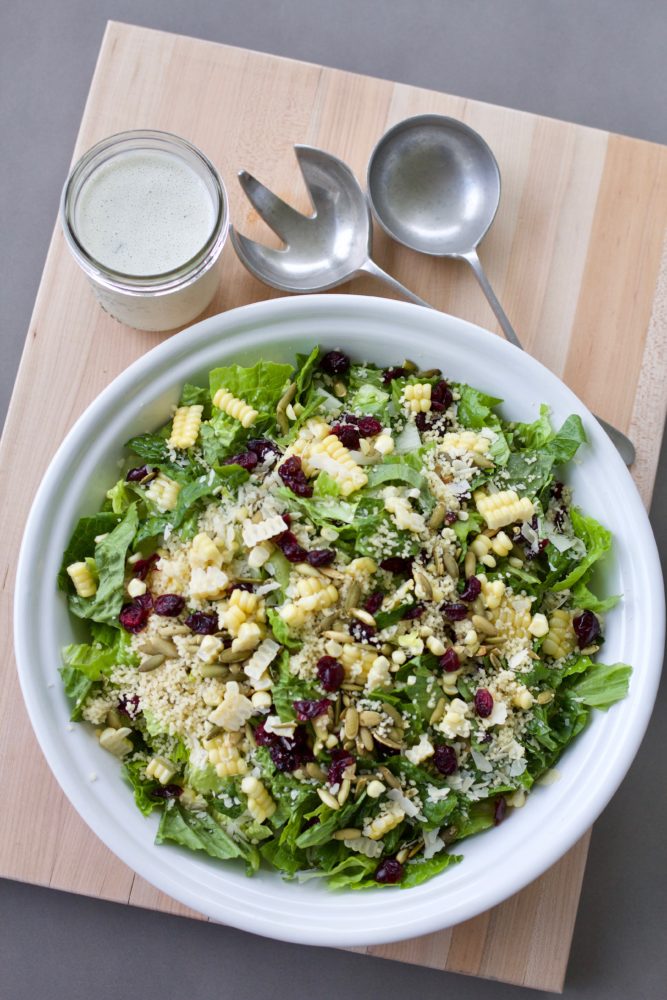 A stellar salad recipe usually starts or ends with a homemade dressing. This dressing is so good you will want to drink it. I'm serious. It is that good! Tell me I'm wrong in the comments if you don't LOVE it.
My friend Erin and her sister Misty gave me this recipe years ago. I'm not sure of the origin of the salad, but when they shared the recipe they said "This recipe is one we get recipe requests for every time we make it!" I've found the same to be true.
Update on the original recipe
When I first shared this recipe, it called for packaged "Olive Oil and Garlic Couscous." It was often difficult to find, (and expensive especially when making a large batch). For a while, I could not find a package of this particular flavored couscous anywhere. Which led me to buying plain couscous and making an adjustment!
I now use plain couscous and cook the couscous in chicken broth. It is so easy to prepare and less expensive than buying pre-packaged!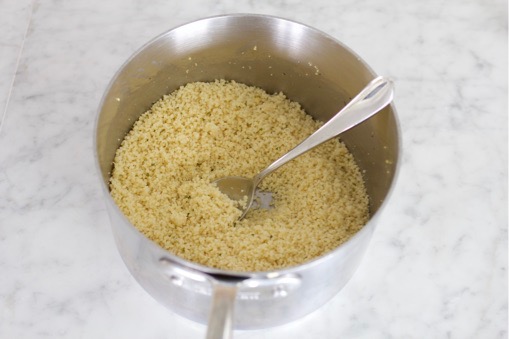 If you are wondering how to cook couscous? All you need are a few simple ingredients and a pan for boiling the liquid. Here are easy directions…
How to cook Couscous:
1 cup chicken broth or water
2 teaspoons olive oil
1/2 teaspoon salt
1 cup couscous
In a medium saucepan, bring the broth or water, olive oil and salt to a boil.
Stir in the couscous, cover with a lid, and remove from heat source.
Let sit for 5 minutes. Afterward, use a fork to fluff the couscous and break up any clumps.
Seriously, there is nothing easier and quicker than cooking couscous! It makes an easy side dish for any meat, poultry or fish. You will find lots of uses for your couscous!
I've served this salad for YEARS to hundreds of people. Everyone loves this salad. Women, men, old people, young people. I know you are going to love it too!
Erin and Misty's Basil Couscous Salad was originally posted in July of 2010 and has been updated with new photos and recipe content.
Basil Couscous Salad
cooling time for couscous
30
minutes
Ingredients
1

cup

chicken broth or water

2

teaspoons

olive oil

1/2

teaspoon

sea salt

1

cup

cous cous, regular, not pearl

12-15

cups

Romaine lettuce, chopped

about 1 large or two medium heads*

1

cup

Craisins

1

cup

grated Parmesan or Asiago cheese

2

cups

or 3-4 medium ears fresh white or yellow corn, or frozen

cooked, cooled and cut off cob*

1/2

cup

toasted pumpkin seeds

salted or unsalted
Dressing: (enough for a double batch of salad)
1

cup

fresh basil leaves*

1

cup

mayonnaise, I like regular but you may use light

1/2

shallot

chopped

1

cup

buttermilk, shaken

or substitute in notes

2

tablespoons

red wine vinegar

sold near vinegar and salad dressings

salt and pepper to taste
Instructions
For best results- a day before, or at least a few hours before:
Bring chicken broth (or water), olive oil and salt to boil in a saucepan.

Cover with lid and remove from heat. Let sit for 5 minutes. After 5 minutes, remove lid and break up couscous so no clumps remain.

Wash, dry and chop lettuce, set aside in refrigerator.

Cook corn, rinse with cool water. Cut corn off cob and place in refrigerator to cool completely. If using frozen corn, do not thaw, when ready to assemble salad take bag of corn from freezer and use in salad.

Make dressing by mixing all ingredients in blender or by using a hand immersion blender. Refrigerate.
When ready to serve:
Chop lettuce into bite size pieces. Add lettuce and rest of salad ingredients into bowl. Just before serving, drizzle dressing (I only use about 1/2 ) and toss. You may serve additional remaining dressing on
Recipe Notes
When I say "large" head of Romaine, I'm not talking about a Costco head of Romaine. Those are Romaine hearts. If you are using Costco Romaine, probably about 4-5 heads will do. I like to use Romain from the grocery with dark green leaves for best color. 
It is best to cook both the corn (if using fresh) and the couscous several hours (or the day before serving)  and refrigerate. Also best to use cold lettuce and dressing. 
If fresh is not available, frozen corn works well! Do not cook the corn. Do not thaw corn before using. Just toss into salad frozen. The corn will thaw quickly and help keep the salad cool. 
This salad works well for make ahead! If using fresh corn, cook and cut off the cob. Wash and chop the greens. Cook the couscous, let cool, break up so no clumps remain. Grate cheese. Store all of the parts of the salad in individual containers in refrigerator. Make the dressing and store in fridge.When ready to serve, toss together all but the dressing.  I like to drizzle the salad with a portion of the dressing, or toss the salad with a small amount of dressing and serve the rest on the side. Always save some of the couscous, raisins, corn and Parmesan to decorate top of salad for best presentation!
To make a buttermilk substitute: pour 1 tablespoon lemon juice into a one cup measure. Fill with milk and let sit for at least 5 minutes before using. Alternately, place 1/2 cup of plain unsweetened Greek yogurt into a one cup measure. Fill with milk to equal one cup. Stir and use in place of one cup buttermilk.