Our favorite chicken salad recipe is made up of moist chicken, creamy mayo, a hint of dill, crunchy celery and just the right amount of sweet fresh fruit. Chicken salad is the original classic "chick food" originating back in the mid-1800's in Rhode Island and is still popular today!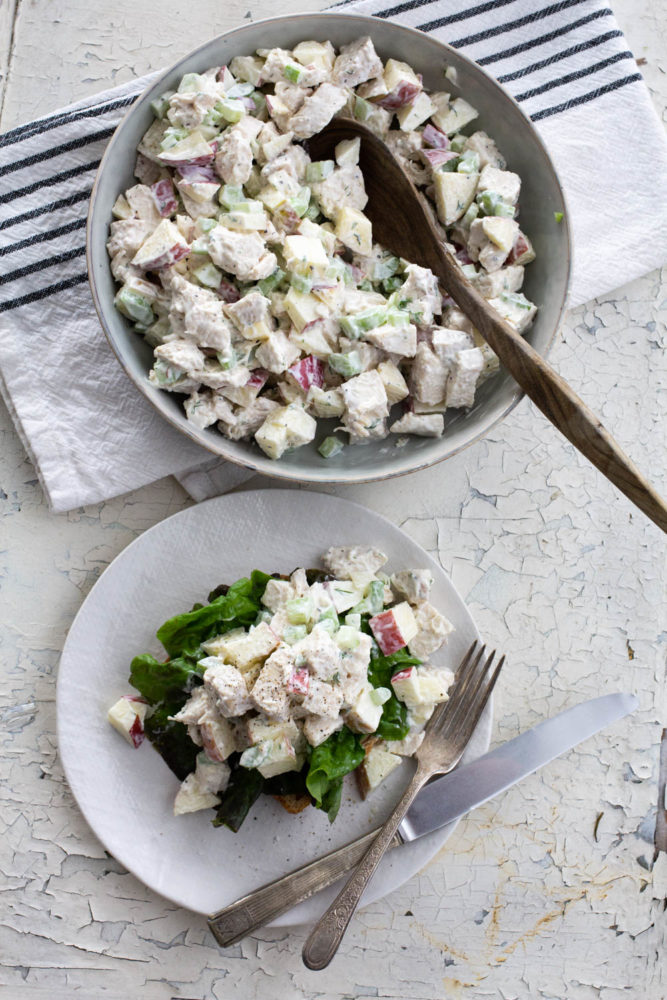 Easy FavoriteChicken Salad Recipe
Often, when we think of chicken salad, it is something OTHER PEOPLE make. Or something we buy. Not something we make ourselves. Why is that? Seriously, there are not many recipes that are more straightforward and simple than chicken salad. There are many variations of chicken salad: chunky, smooth, with fruit, without fruit, with and without nuts to name a few. This recipe is basic and delicious. There's a reason I've been making it for years!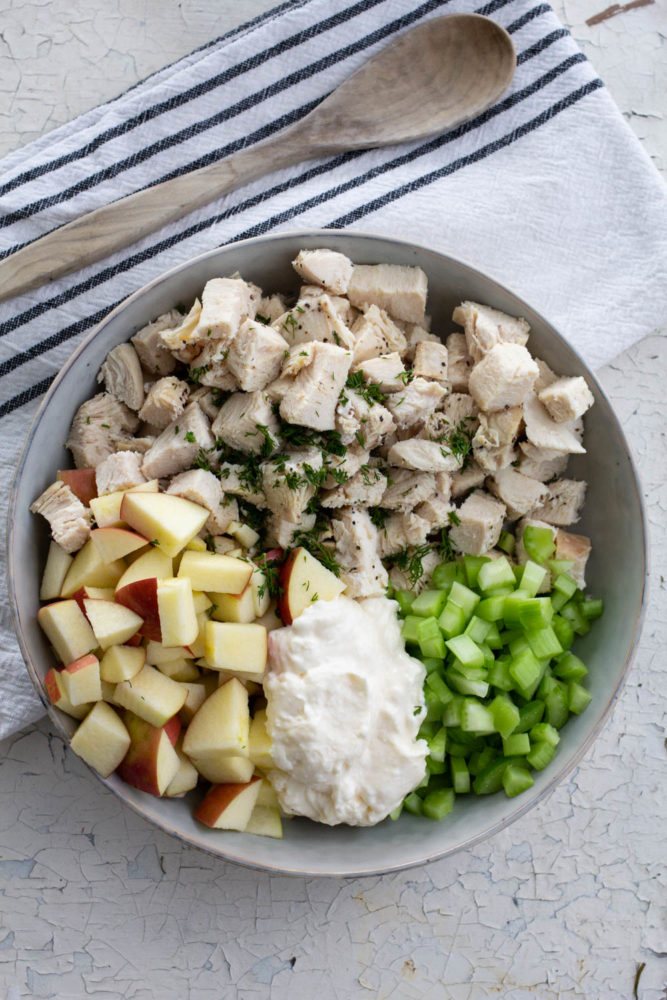 Chicken Salad and Fruit
Some love fruit in their chicken salad, and others do not. I am 100% all-in with fruit in my chicken salad. Chopped apples are my favorite, but I also love grapes and Craisins. Red grapes add a nice color to otherwise bland chicken salad! Craisins are easy and sweet, but I love the texture pieces of fresh fruit give to the salad. If you choose to use grapes in your chicken salad, make sure to purchase seedless grapes!
Chicken Salad the Ultimate Chick Menu item
Nothing says wedding or baby shower like chicken salad. I mean, how many times have you been to a wedding or baby shower and been served chicken salad? If there's a main dish, there is usually chicken salad on the menu.
The reason chicken salad is such an iconic shower menu item is it's a little out of the ordinary, but still easy enough to pull together for a special occasion! It's also easy to make chicken salad look like something fit for royalty if it is served in the middle of a croissant.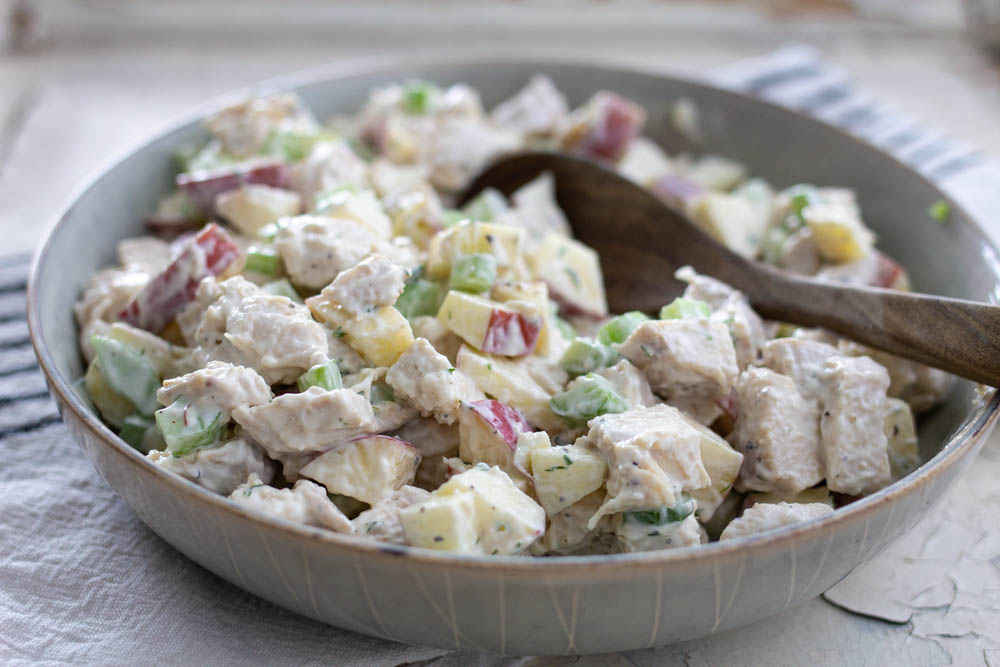 How to serve Chicken Salad?
There are so many ways to serve chicken salad: on a bed of lettuce or spinach, on a croissant, toasted wheat bread, baguette, in a wrap…the possibilities are endless. I most often serve this quick and easy chicken salad recipe on a croissant or really good quality bread, sliced if it's just for me at home. If you are serving a large group of people, a package of croissants at Costco works well. Costco's croissants are inexpensive and quite good for a big box store product! I usually cut them with a bread knife, fill them, then carefully cut in half, then serve cut side up on a tray (below).
Our Favorite Chicken Salad
This chicken salad recipe has been a favorite for over 30 years in our home! It's one I've used for many occasions, including weddings, showers, funerals, and countless other gatherings. I think chicken salad says "I love you, and I think you're special enough to celebrate with this recipe that's a little piece of my heart." How's that for a sentimental food thought? Nostalgic without being overly fussy or too plain. Hope you love this recipe. Oh, one last thing! The recipe notes are WAY longer than the recipe itself! Read all of the recipe notes for best results.
Favorite Chicken Salad
Our favorite chicken salad recipe is easy to make and perfect for your next gathering! It can be made with grapes, apples or craisins. This chicken salad is delicious served on croissants, chopped greens or even a humble slice of bread.
cooling time for chicken
30
minutes
Ingredients
1

Gala or other sweet apple such as a Cameo, equal to about 1 to 1 1/2 cups

see recipe notes

1

tablespoon

lemon juice

1/4

cup

cold water

2

cups

cooked chopped white chicken meat*

see recipe notes

1/2 to 1

cup

chopped celery I use about 2 stalks

1/2 to 3/4

cup

mayonnaise

see recipe notes

1/2

cup

golden raisins or Craisins optional

1

teaspoon

dried dill weed (not dill seed)*

see recipe notes

sea salt and pepper, to taste
Instructions
To cook chicken, or buy chicken breast that is cooked and chopped:
Preheat oven to 375 degrees and place rack in center of oven.

If the chicken is more than 1 1/2 inches thick, slice the chicken lengthwise, to create two pieces out of one piece.

Place chicken breast halves on a baking sheet or a 9×13 pan. Brush or drizzle chicken with olive oil (about 1/2 tablespoon on each breast). Generously salt and pepper the chicken on one side, and then turn over. Repeat the process with oil, salt and pepper on the opposite side.

Bake in the oven at 375 degrees for 25 minutes or until a thermomter inserted in the thickest part of the chicken registers 165 degrees.

Let chicken sit for 10 minutes before cutting. I often cook the chicken a day or two before serving and let cool, then chop and place in a bowl or Ziplock bag in fridge, covered until ready to assemble.
To prepare chicken salad:
Core the apple and chop into cubes, leaving the skin on. Place chopped apple in small bowl with cold water and lemon juice, set aside.

Place cooled, chopped chicken and celery in a bowl. Season with salt and pepper. Add the mayo and dill. Toss or fold lightly. Do not stir.

Drain apples and add to chicken mixture. Make sure to drain well before adding to chicken mixture! Toss again.

Serve chicken salad on top of greens, or on bread of choice.

Chicken salad keeps for about 3 days in fridge.
Recipe Notes
I highly recommend making this recipe early the day of serving the chicken salad. It is best served chilled. The fruit can be added just before serving. Remember, if you make this the day before or early in the day, the chicken will absorb the mayo and more mayo may need to be added! 
Use good mayonnaise. Do not skimp for cost or fat. Do not use low fat or no fat.  I use Best Foods or Hellman's brands. 
If you make the chicken salad and it seems a little dry, add a tablespoon of mayo at a time until the consistency is right. 
Do not overcook chicken! Follow the instructions on the recipe for perfectly cooked chicken. 
A chicken breast can equal anywhere from 3-8 oz on average. Some weigh more. This recipe calls for 2 cups cooked white breast meat, which is about 1.5 chicken breast halves. I usually cook 2 breast halves and add little more mayo if needed.  
If you are using an apple (instead of grapes), make sure the apple is cold, or room temperature before slicing. If the apple is warm, it will brown much faster.
You may substitute seedless grapes (I like red for color) cut the in half if they are really big grapes, a chopped (skinned) mango, a half can of pineapple tidbits, (drained very well -for at least 30 minutes), the possibilities are endless. Try to choose fruit without a lot of water content, and fruit that is firm.
Fruits such as raspberries and strawberries are not great choices, since raspberries break up easily in salad. Sliced strawberries work, as long as they are not too juicy, if so they will turn the mayo pink. When using fruit in this salad, after washing,and draining place the fruit on a paper towel on the counter before adding to the salad to make sure the excess water is drained off.  You don't need to do this with apples. Simply chop, soak in lemon juice and drain for a couple of minutes.
In the summer when dill is plentiful, use fresh dill, and increase the amount to about 2-3 tablespoons chopped fresh dill. If you aren't a fan of dill, you may use chopped parsley instead. 
If you  like a bit of curry in chicken salad, in place of the dill, use about 1/2 teaspoon of curry, add another 1/2 teaspoon after tasting, if you like more curry flavor. I always advise adding a little at a time. You can add more easily, but it's difficult to remove a spice if too much is added!
If you are making this for a quaint women's lunch, and don't want black pepper flakes to get stuck in your teeth, or you just aren't pleased with the look of pepper on your chicken salad, use white pepper, sold in the spice section of your grocery.