These two have been best friends for a long time. We are neighbors, belong to the same church andthey went to the same schools- elementary through high school.Now the one on the left is getting married. We love Lauren. She and Brookie have spent hours sitting at my kitchen counter laughing, talking and eating.Lauren's parents Mario and Karen have been our friends for years as well. Mario is a high adventure kind of guy. Wired. Intense. Up at the crack of dawn, flies helicopters, loves extreme skiing in the winter and water skiing in the summer. His closet looks like he's in the military, every shirt in place, all the hangers facing the same way (just like my closet 🙂 Karen is a mom, wife and has her PhD in psychology. Karen is calm, pensive, patient, loving, an amazing teacher and always willing to listen. Lauren is the perfect blend of both. She's kind, thoughtful, organized, smart, bright, cheerful, funny, hard working, sincere, charitable, honorable, down-to-earth, naturally beautiful and filled with light! Lucky Brayden.
So, what do you do when one of your favorite kids gets married? Have a shower, of course.We served mostly sweets, since it was from 7-8:30 PM. Laurie (click here to read about her chocolate cake and carrot cake) called and offered to make lemon bars. No skimpy thin layer of lemon here. One full cup of fresh lemon juice. I've tried a lot of lemon bars in my day. These have to be one of the best. If you love thick, chewy, tangy-sweet bars, they're calling your name.
Congratulations Lar and Brayden! We love you.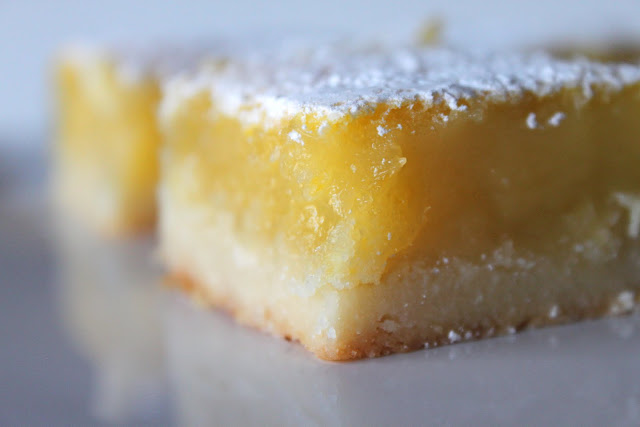 Laurie's Lemon Bars
Ingredients
For the crust:

cream together:

2

sticks (1/2 lb) butter

at room temperature

1/2

cup

sugar

Add:

2

cups

flour

1/4

teaspoon

salt

For the filling:

whisk together:

6

extra large eggs

at room, temperature

3

cups

sugar

2

Tablespoons

grated lemon zest

1

cup

freshly squeezed lemon juice

1

cup

flour
Instructions
For the crust:

Mix until just blended and then press into bottom and 1/2 inch up the sides of a 9x13 pan. Chill for about 30 minutes. Bake for 15-20 minutes, or until lightly browned.

Pour filling over hot crust and bake 30-35 minutes or until set (not liquid in the middle when jiggled). Let cool and dust with powdered sugar.