Laurie's Lemon Bars are the perfect blend of buttery, shortbread crust and a layer of lemon curd baked on top! I tried one lemon bar recipe after another for years. Many were good, but this recipe ended my search for the perfect lemon bar!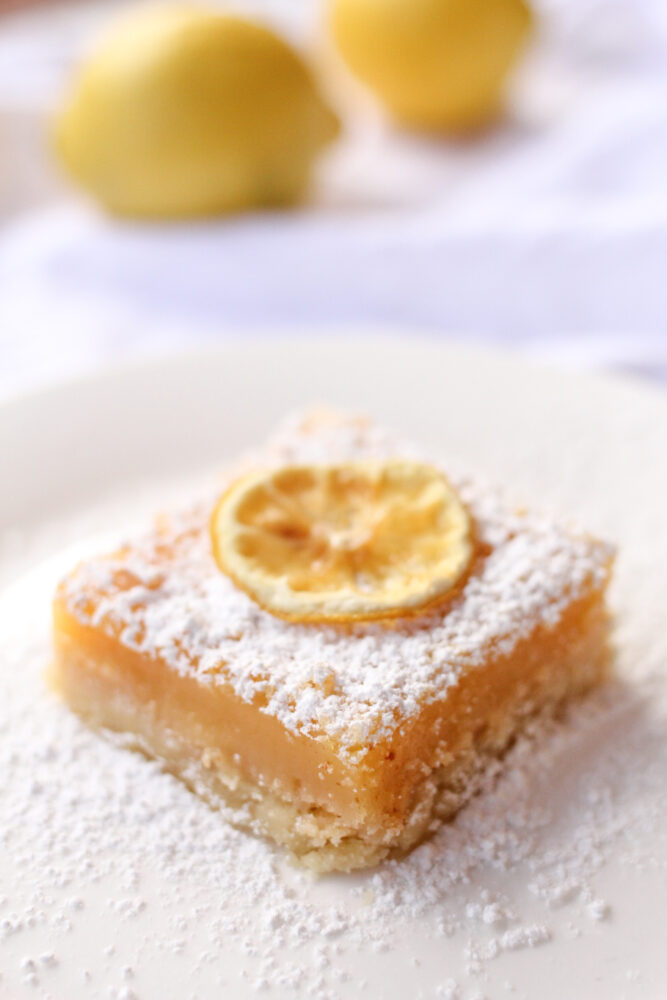 If you love lemon bars with a substantial layer of lemon on top, you will love this recipe! There is so much lemon, you need a fork to eat this lemon bar. It's almost impossible to eat off of a napkin.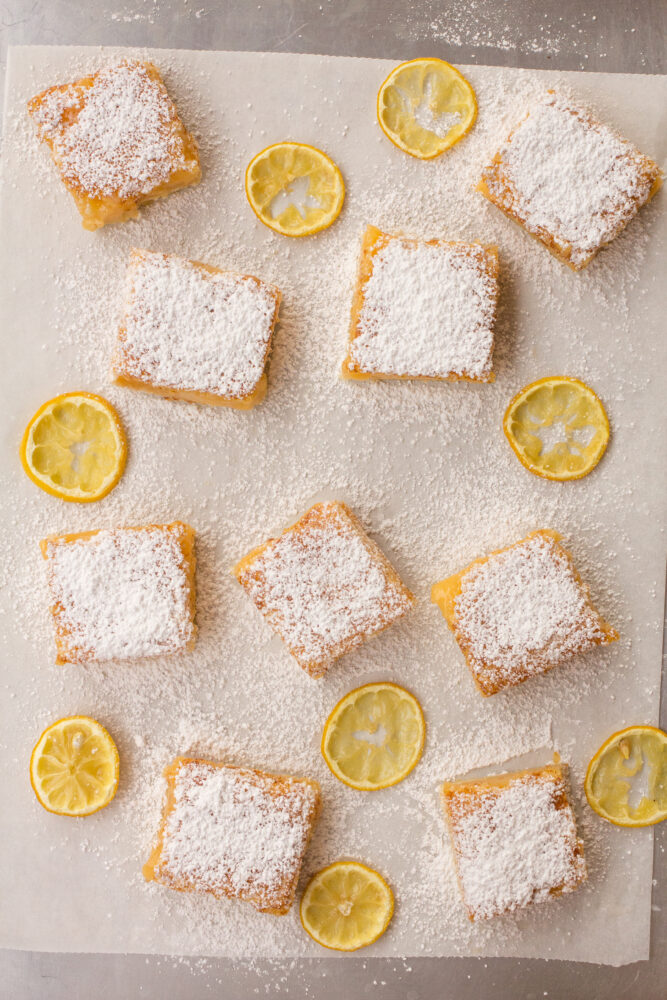 Think lemon curd, baked and set up in a perfect thick layer on top of the most amazing buttery crust. I love this lemon bar recipe Because it satisfies the lemon and pastry lover in me! Laurie's Lemon Bars are not your run-of-the mill lemon bar. This lemon bar is the cream of the crop, just the right amount of tangy and sweet in one dessert.
I think the key to an excellent lemon bar includes: 1. substantial shortbread crust. 2. enough lemon flavor. 3. thick layer of lemon. This recipe has all three essential elements!
I used to make lemon bars with bottled lemon juice, but after trying this recipe which calls for fresh squeezed juice, I realized fresh lemon juice in lemon bars is EVERYTHING. Think about it. If a recipe is named lemon bars, it makes sense that skimping on the juice is not a good idea. Do yourself a big favor and use fresh squeezed juice for this lemon bar recipe. You will taste the difference.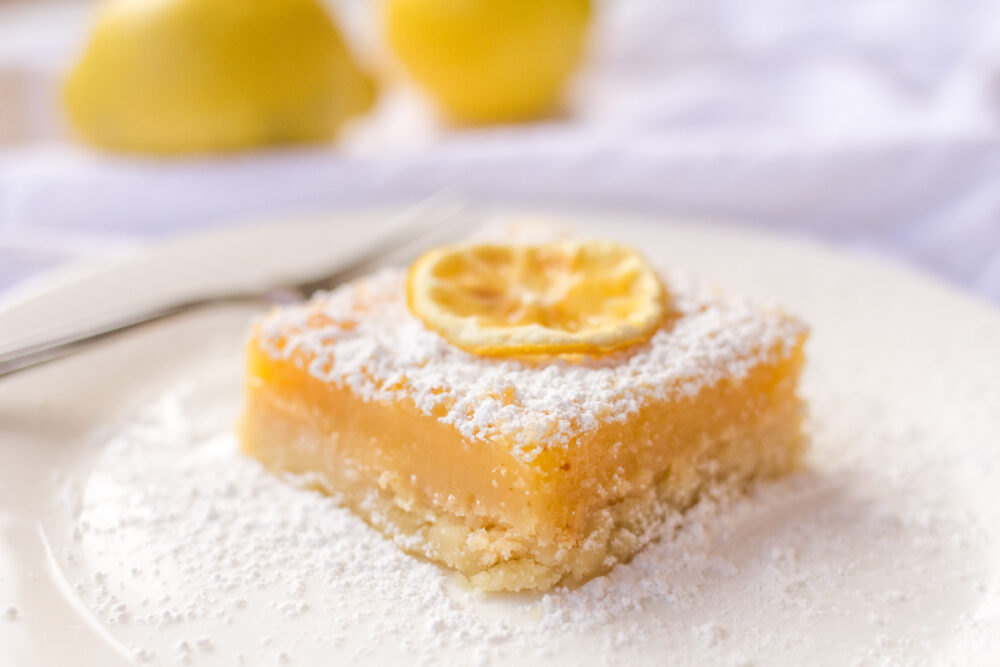 Perfect for any wedding or baby shower, Laurie's Lemon Bars can be cut into tiny squares or triangles and served with a raspberry on top or a little slice of lemon for your special event. We served these at a wedding shower for one of my favorite people in the world, Lauren, who is the best friend of our daughter Brookie.
To make the lemon garnish, slice a small lemon and place on a sheet of parchment paper. Bake at 325 until dried and starts to shrivel (about 30 mins). Remove from oven, sprinkle with sugar and let cool. When ready to serve, top each lemon bar or every other lemon bar with a prepared lemon slice.
Make sure to keep this lemon bar refrigerated until ready to serve. The lemon layer is thick and a bit soft. It stays firm, but I think is best if served chilled!
Laurie is also the author of many other recipes of ABK! We have loved used her recipes for years. These are a few of our favorites: Amazing Chocolate Cake, Coconut Lime Bars, and Laurie's Amazing Carrot Cake.
Laurie's Lemon Bars originally posted in 2011, updated with new content and photos 2021
Laurie's Lemon Bars
Total Time
1
hour
55
minutes
Ingredients
Pastry
2

cups

all purpose flour

1/2

cup

sugar

1/4

teaspoon

salt

1

cup

unsalted butter, room temperature
Lemon filling
6

large eggs

room temperature

2 1/2

cups

granulated sugar

2

tablespoons

grated lemon zest

1

cup

freshly squeezed lemon juice

1

cup

all purpose flour*
Instructions
Preheat oven to 350 degrees and set rack in middle of oven.

Place 2 cups flour, 1/2 cup sugar and salt into a large bowl. Mix with a fork.

Add the butter, and mix just until blended. Do not use a mixer.

Press the dough evenly into bottom of an ungreased 9×13 pan. Chill the dough in the pan for about 30 minutes.

Bake pastry crust for 15-20 minutes, or until lightly browned on top.*

While the crust is baking, beat the eggs and sugar together in a large bowl.

Add the lemon juice, zest and flour to the egg mixture and mix with a whisk or hand mixer until all ingredients are incorporated. If this sits for a while, waiting for the crust to bake, make sure to mix the ingredients again to ensure the sugar doesn't settle to the bottom of the bowl before pouring over the crust!

Pour filling over hot crust and bake 35-40 minutes or until set. The center should not jiggle! Let cool completely.

Dust with powdered sugar, cut into squares or triangles.
Recipe Notes
It is important to brown the crust until golden on top. This will help the pastry to be able to support the thick layer of lemon filling!
If using salted butter, omit the salt in the pastry. 
Laurie's original recipe calls for 3 cups of sugar in the filling. I cut back a little because I thought the filling was a little too sweet. 
I check the center of the lemon bars with a knife. If when the knife is inserted in the center of bars it comes out clean it is done. This takes between 35-40 minutes in my oven. 
If your flour is lumpy at all, sift the flour before adding to the filling.