Several requests from the Bountiful Kitchen community pushed this copycat recipe to the top of my recipe development list! I'm in love with the Levain Bakery Caramel Coconut Chocolate Chip Cookie, and I know you will love it too!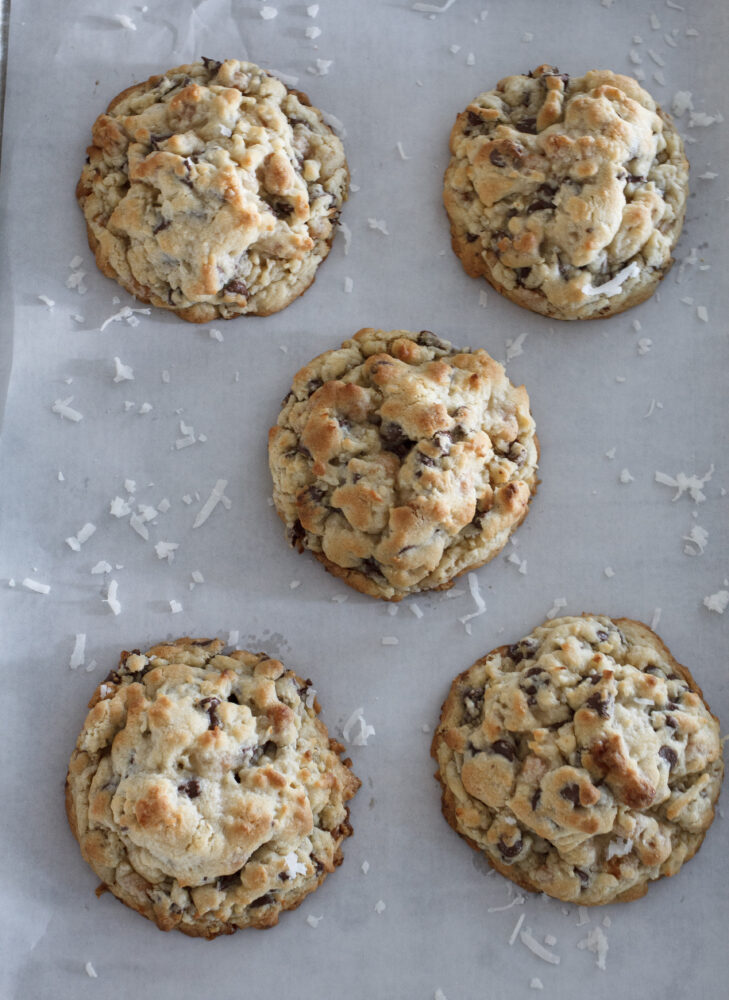 I started receiving requests for this cookie in early spring of this year. "Can you reproduce this cookie?" "Can you make a copycat of this cookie?" "PLEASE. Find a way to share this recipe!" I've become a bit of a copycat recipe developer, and knew this was a recipe that had to be tackled!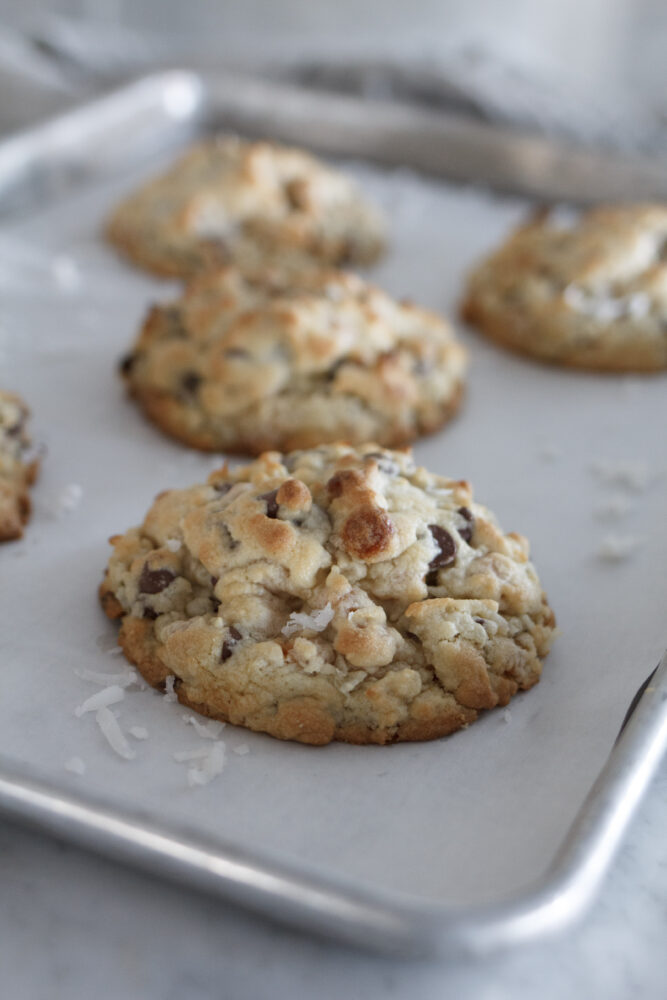 Research started by ordering 4 cookies from Levain Bakery, since I knew a trip to New York was probably not happening the near future. The cookies arrived second day mail. I received notices of when my order was received, when my batch of cookies were being baked, and when they left the bakery on their way to Utah. I'm happy to say that my money was well spent, as the cookies arrived in fresh condition and not a crumb detached!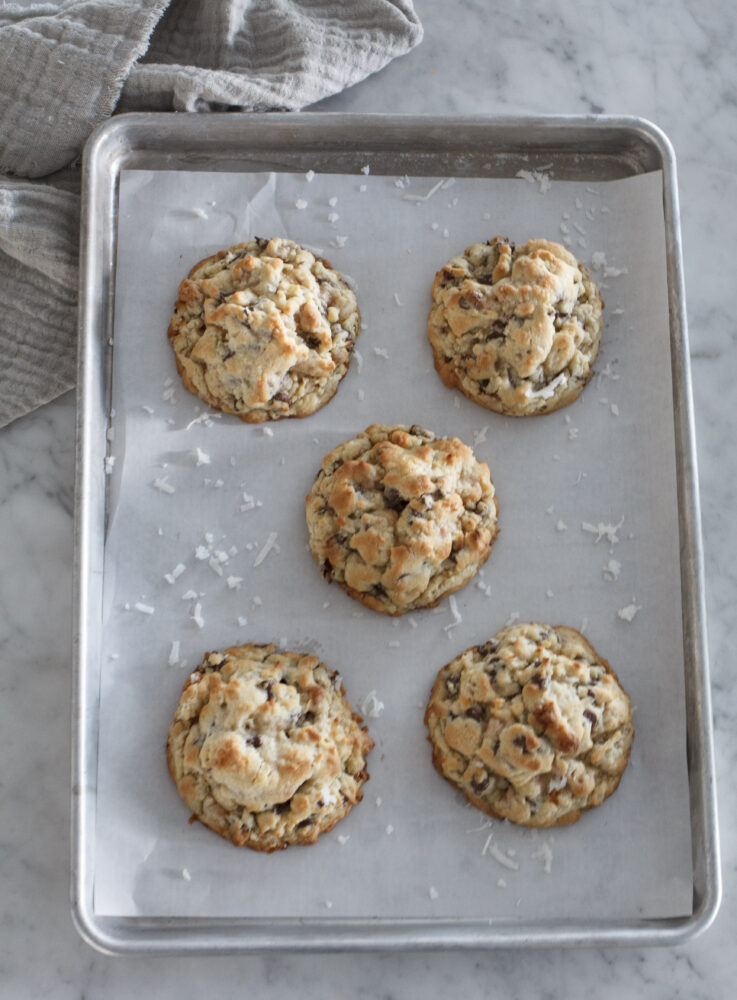 One bite and I knew this cookie would make its way onto the Bountiful Kitchen cookie archives along with the other Levain Bakery copycat recipes.
I posted my first Levain Bakery copycat cookie recipe back in 2017. I wanted to make a cookie that duplicated, as close as possible, the chocolate chip walnut cookie at Levain Bakery in New York City. That was the beginning of what now will be my 5th Levain-style copycat recipe!
Levain-style cookies are a huge mass of cookie in one 6 oz treat. Each batch makes 8-10 giant cookies, which can also be made into a "mini" or a 3-oz size which is more manageable for some people! I actually think part of the charm or novelty of this cookie is the massive size.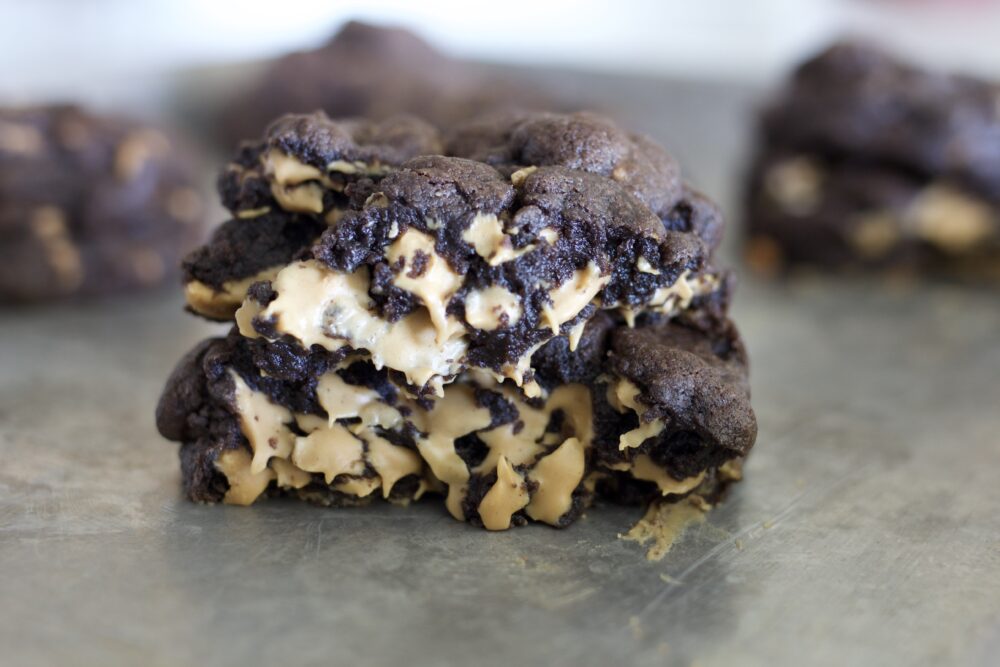 The Levain Bakery Caramel Coconut Chocolate Chip Cookie is THE ultimate cookie recipe, and my favorite Levain cookie to date… Melted caramel. Chewy Coconut. Puddles of dark chocolate. Combined and perfectly underbaked in one enormous irresistible cookie!
Without further delay, here's the why behind each key ingredient…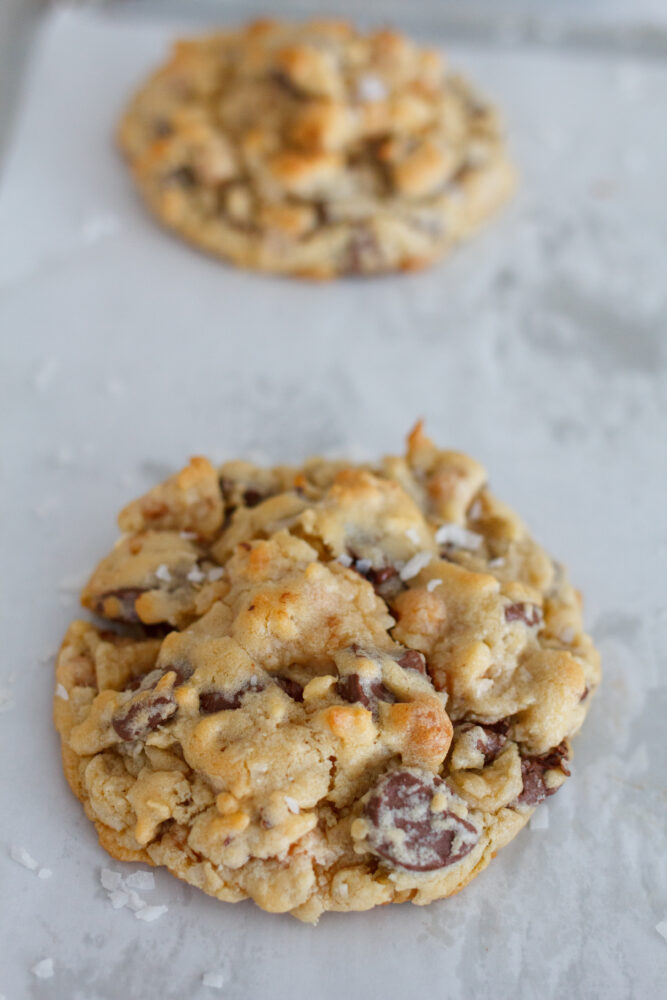 What you need to make Levain Bakery Caramel Coconut Chocolate Chip Cookies:
Unsalted Butter, extract and eggs:
I use unsalted butter in all of my baking. If using salted butter, reduce the salt in dough to 1/2 teaspoon. Coconut extract is found near other flavorings, such as vanilla in grocery store. I use large eggs in all recipes unless otherwise stated. Use the eggs straight from the refrigerator, cold.
Coconut:
I love the chewy texture coconut gives this cookie, but also found the base of the Levain cookie to have extra coconut flavor, which lead me to add coconut extract to this cookie base. I use a sweetened coconut such as Baker's for this cookie. Make sure the coconut is fresh and not dried out. Do not use large flake, finely grated or unsweeteend coconut. Sweet and moist is what you are looking for!
Caramel:
I think the caramel in the cookie is most likely made with Kraft Caramel bits, which may be difficult to find. I went to two large chain groceries in SLC and could not find Kraft Caramel Bits initially. I wanted to avoid unwrapping a caramel and the need to chop candy for the recipe. From past experience, I knew a small caramel piece would be more likely to evenly distribute in the cookie while baking. My caramel of choice for this recipe is the Kraft Caramel Bit. I have the best luck finding this product at Target or Walmart. It's also found online at Amazon. It's usually sold near the chocolate chips.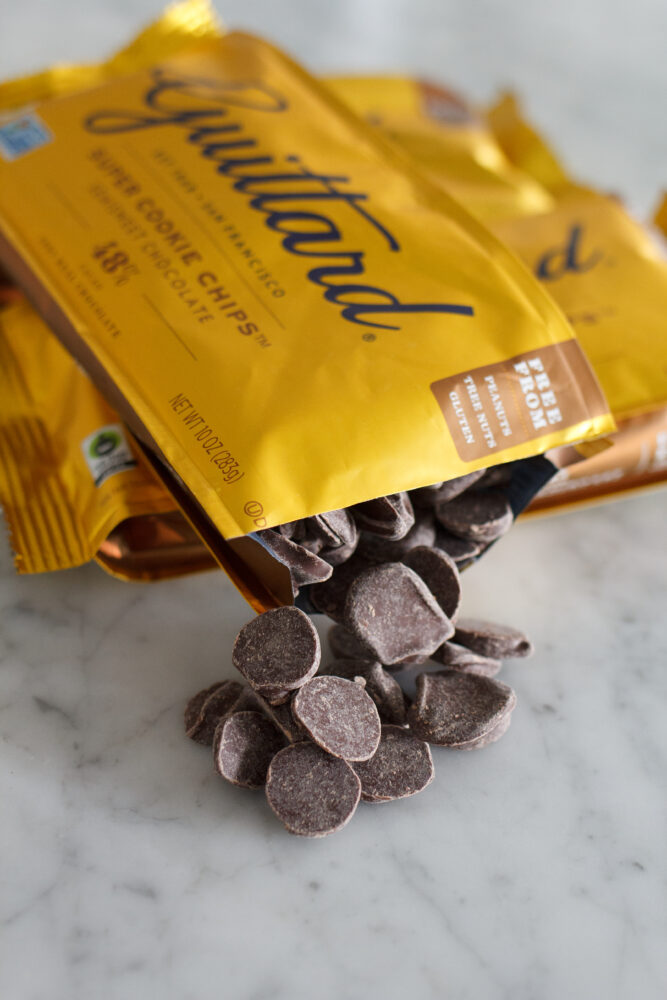 Chocolate:
Semi Sweet is the best choice for this cookie. Milk chocolate is too sweet combined with coconut and caramel. Trust me on this! I love the Guittard "Super Cookie Chip". Usually between $4.50-5 per bag in grocery stores. It's big and flat and provides the most wonderful pieces of chocolate in this cookie. That said, I think Levain uses a smaller, more standard size chocolate chip. My brands of choice are first, Guittard, second Ghirardelli, third, Trader Joe's large Dark Chocolate Bars (chopped). Good old Nestle's Chocolate chips will work too!
Flour, baking soda, baking powder and salt:
As with my other Levain Cookie recipes, I use a mixture of cake and all-purpose flour. If you only have all-purpose flour, that will work. I like the mixture of cake and AP flour because the cake flour tends to lighten up a seriously dense cookie!
When using gluten-free flour, add 2 tablespoons of milk or water to the dough with the eggs. Mix the cookies as directed. Shape the dough, cover and refrigerate for 2-24 hours before baking for best results.
Baking soda and baking powder are both used for leavening in this recipe. I use salt, usually a medium grain sea salt.
Have you eaten this cookie at Levain? I'm so excited for you to try this recipe! I'd love to hear your feedback after making this cookie, please leave comments below.
Levain Bakery Caramel Coconut Chocolate Chip Cookie
Another Levain Bakery Copycat recipe! This Caramel Coconut Chocolate Cookie is the ultimate cookie with all of the best ingredients in one gigantic cookie!
Ingredients
1

cup

unsalted butter, slightly softened

cut into tablespoons

3/4

cup

dark or light brown sugar

packed

1/2

cup

sugar

2

eggs

1

teaspoon

coconut extract

1

cup

cake flour

2

cups

all purpose flour* see notes

1

teaspoon

baking powder

1

teaspoon

baking soda

1

teaspoon

sea salt

2

cups

coconut, heaping

sweetened

2

cups

semi sweet chocolate chips* see notes

1

11-oz

bag Kraft Caramel Bits

or 1 1/2 cups caramels, chopped
Instructions
Pre heat oven to 400 degrees and set rack in middle of oven.

Place butter into bowl and turn mixer on low. If using a stand mixer, use the paddle attachment.

Add sugars and beat butter until smooth on medium speed. This should take about 1 minute (or less). Mix until the butter is completely blended with the sugar and is no longer visible in pieces.

Add the eggs and coconut extract and beat on medium just until incorporated with butter and sugars, scraping down sides of the bowl 1-2 times during mixing.

Turn the mixer off. Add the cake flour, all purpose flour, baking powder, baking soda, salt, coconut, chocolate and caramel bits. Pulse the dry ingredients on low until the wet and dry ingredients are mixed together.

Fold the dough together by hand a few times (using hands or spatula) until all of the chocolate chips, coconut and caramel bits are distributed in the dough evenly.

Divide the dough into 10 equal pieces about 5-6 oz each. use your hands to pick pieces of dough from bowl. Do not use a cookie or ice cream scoop. The cookies are meant to be roughly shaped. Do not flatten the dough, each dough piece should stand about 3 inches high before baking.

Bake 4-5 cookies per pan, for 9-10 minutes on regular bake OR 400 convection bake for 7-8 minutes. Do not over bake!

The cookies are done when the top crust is formed and is lightly golden and the bottom is also golden. There should not be wet or shiny spots on the top of the cookie.

Let cool for at least 15 minutes before serving.
Recipe Notes
It is important to preheat the oven for at least 15-20 minutes before baking.
If you do not have cake flour, use 3 cups all purpose flour plus 2 tablespoons cornstarch.
to make cake flour at home, use this simple method: Measure out 1 cup of all purpose flour into a medium size mixing bowl. Remove 2 tablespoons of the flour and place back in the flour container. Add 2 tablespoons of cornstarch to the flour in mixing bowl. Sift the flour and cornstarch mixture. Sift again about 3-4 more times. You now have cake flour! Place in a bag or container and use as needed.
I buy chocolate chips in bulk at Orson Gygi and scoop my semi sweet chips out of a jar. This recipe calls for 2 cups of chocolate chips. Most bags of chocolate chips are 11-12 oz or closer to 1 1/2 cups of chips, for this recipe, add enough chocolate chips to equal 2 cups total. 
Refrigerating dough for 30-45 minutes after shaping and before baking is recommended if the cookies flatten out more than desired and especially if baking in a regular bake and not a convection bake oven.