No-Churn Fresh Lemon Ice Cream has to be the best summer dessert ever invented! Packed with fresh lemon and cream, this dessert will satisfy your craving for something creamy and cold in the hot summer months.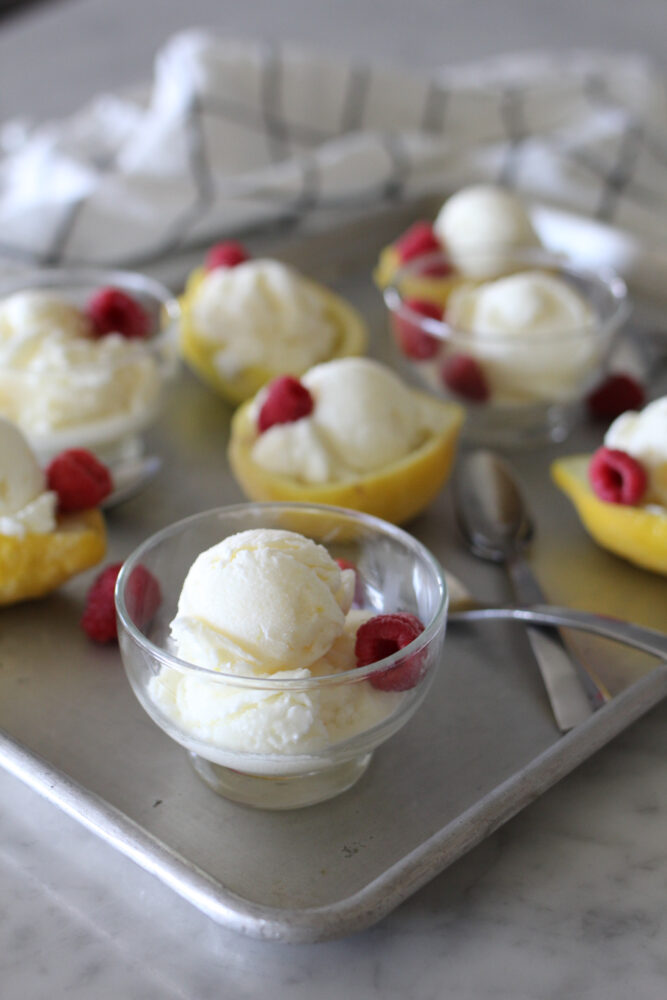 I love lemon desserts. Especially lemon desserts filled with fresh lemon flavor! This dessert is made with fresh lemon juice, lemon zest, milk, cream and sugar. It's basic and easy and so refreshing. You won't believe how easy it is to make this tart and sweet treat in minutes! Our fresh lemon ice cream is adapted from a Jr. League classic found in many cookbooks from the southern United States to the Rocky Mountains.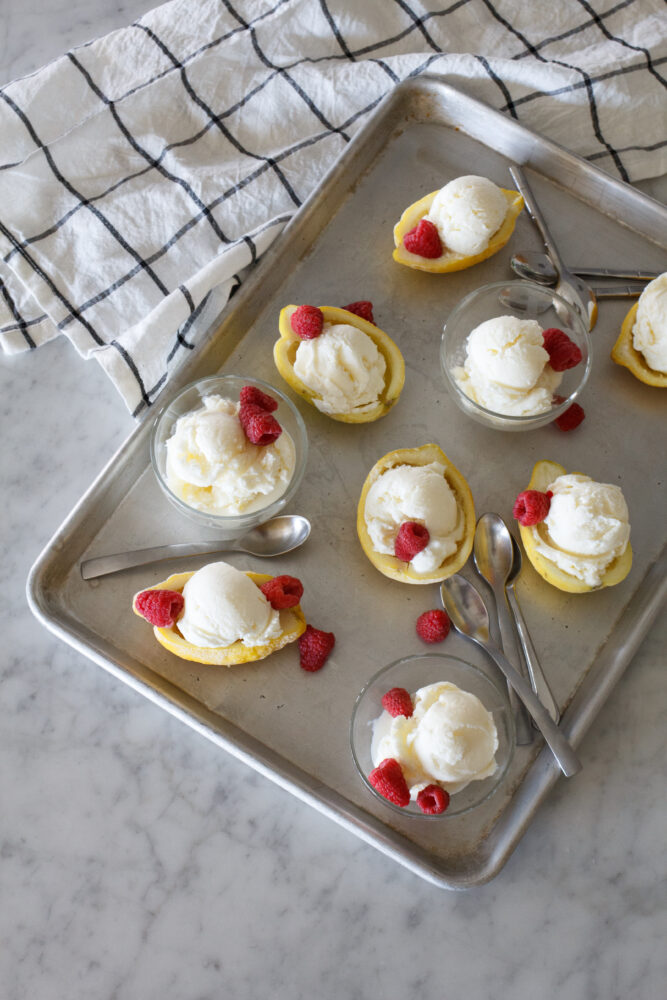 No-churn? This no-churn ice cream can be made in a bowl or an ice cream maker. I have a small Cuisinart Ice Cream Maker and this recipe fits perfectly into this model. Just follow the directions for freezing the base as you would any other ice cream recipe. If you don't want to use the ice cream maker, just follow the recipe directions. All you need is a bowl, a freezer and about 8 hours to let the ice cream set up!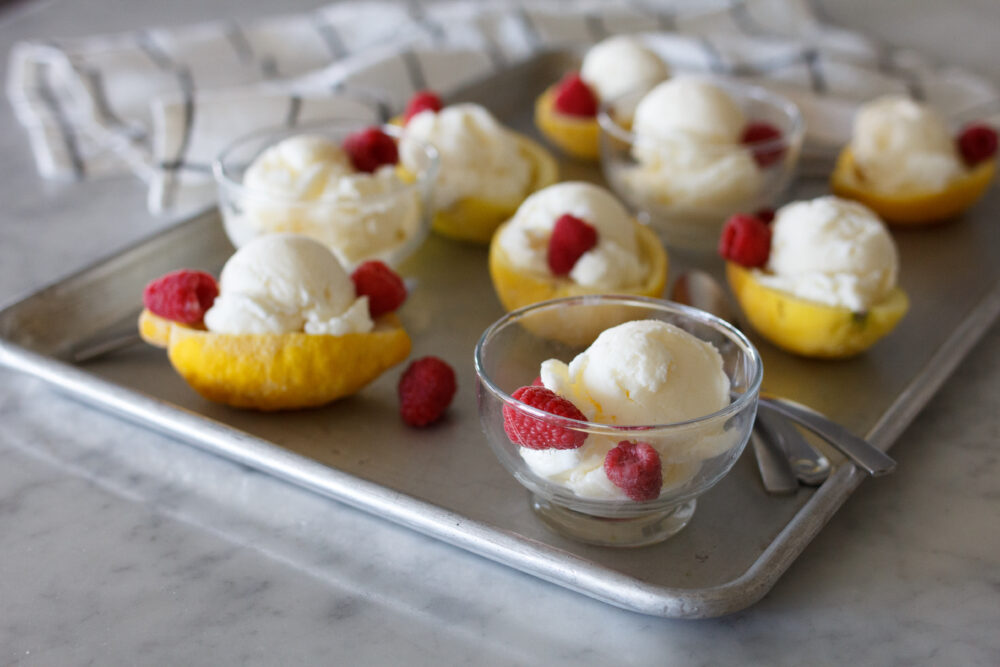 If you don't have the time or desire to squeeze fresh lemons, use the Real Lemon brand fresh lemon juice sold in the freezer section of the grocery. It is the next best thing to squeezing lemons on your own! Make sure to zest lemons for best flavor.
This dessert is reminiscent of desserts we ate in the 70's, the type of dessert my aunt or your grandmother used to make! If the scooped out lemon seems a little too extra for you, just scoop into a little cup or glass (as shown). The lemon halves are fun, but not necessary. I hope you love this cool and refreshing lemon dessert!
What you need to make our no churn lemon ice cream
5-6 large lemons
grated lemon zest
3/4 cup fresh lemon juice
1 cup milk or half and half
1 cup whipping cream
1 cup granulated sugar
garnish, optional
If you love lemon desserts, here are a few of our favorites: Lemon Cream Pie, Lemon Cream Cheese Tart with Coconut Cookie Crust, Lemon Almond Poppyseed Cake, and Lemon Lime Swig Cookies!
No-Churn Fresh Lemon Ice Cream
Easy to make in minutes, freeze 8 hours or overnight for the best simple refreshing dessert!
Total Time
8
hours
15
minutes
Ingredients
5-6

large

lemons, washed

2

teaspoons

grated lemon zest

3/4

cup

fresh lemon juice

1

cup

milk or half and half

1

cup

whipping cream

1

cup

granulated sugar

garnish with: fresh fruit, toasted coconut, or assorted cookies (shortbread, chocolate, coconut)
Instructions
Cut the lemons in half, lengthwise. Scoop out the pulp over a bowl and set aside the hollowed out lemon. Cover the lemon halves with plastic wrap or Ziplock bag and place in freezer.

Use a juicer and extract the lemon juice from the pulp. Remove and discard any seeds. Measure out 3/4 cup of lemon juice for ice cream base.

In a large freezer safe bowl, combine the lemon zest, fresh lemon juice, milk or half and half, cream and sugar. Whisk or stir until the sugar is dissolved. Cover tightly and freeze for at least 8 hours or overnight.

Remove the bowl from the freezer. Using a scoop or spoon, place ice cream into lemon shells or small bowl or dish. Keep frozen until ready to serve. Garnish with fresh berries. Best if eaten within one week.
Recipe Notes
I like to make this dessert ahead, freeze and then scoop into the lemon halves. The dessert can be frozen for up to a week before serving. Garnish just before serving with fresh fruit or small coconut or chocolate cookies. 
If you like a creamier desert, use electric beaters and beat the ice cream after freezing to softened a bit. The ice cream should still have firm peaks after beating.