Pomegranate Salad with Bananas, Apples and Sweet Whipped Cream is an extra special, easy to make fruit treat. It's fun and so festive. Especially at Christmas time!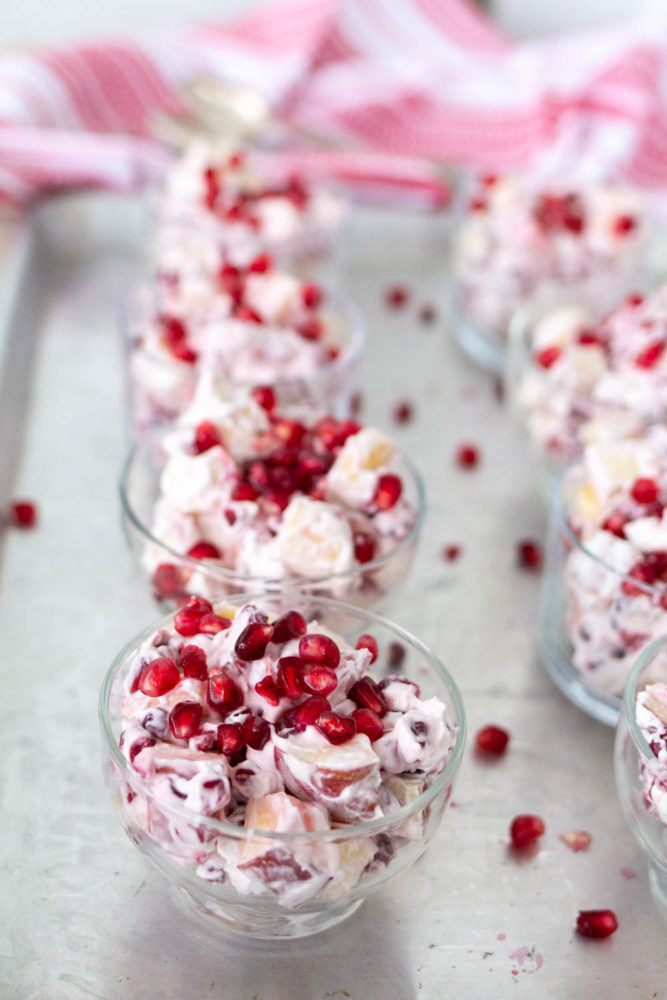 My Sister in Law, Diane, is from St. George, Utah where pomegranates grow plentifully and are usually ready to harvest around Thanksgiving. So, every year during the holidays, Diane makes "Dixie Salad" aka Pomegranate Fruit Salad and serves it in special glasses, handed down from her mother, Erma.
Dixie Pomegranate Fruit Salad is one of the easiest recipes you can make for your holiday table! There's no cooking involved. Just peel, chop, whip and fold together. It's also easy to adapt to your own preferences. We like to use pomegranates, apples and bananas in our Dixie salad. But you can also add in chopped nuts, coconut or even mandarin oranges!
If you are thinking I love pomegranates, but hate the mess, I understand! This tutorial from Simply Recipes is the best I have seen on how to de-seed a pomegranate. The post explains how easy it is to peel a pomegranate with the least amount of damage to the ripe seeds in a short amount of time!
Here are some pro-tips for making "Dixie" aka Pomegranate Salad with Bananas, Apples and Sweet Whipped Cream:
Peel the pomegranates ahead and leave them in bags in the fridge (add a folded up paper towel to absorb any juice).
Save time by purchasing pomegranates peeled in cups in the refrigerated produce section. Nothing is easier than placing those cups right into your cart!
When assembling the salad, make sure the juice from the pomegranates does not get mixed into the whipped cream or it will discolor.
Adjust the whip cream amount and sweetness to taste.
Choose bananas that are slightly green so they won't turn brown easily!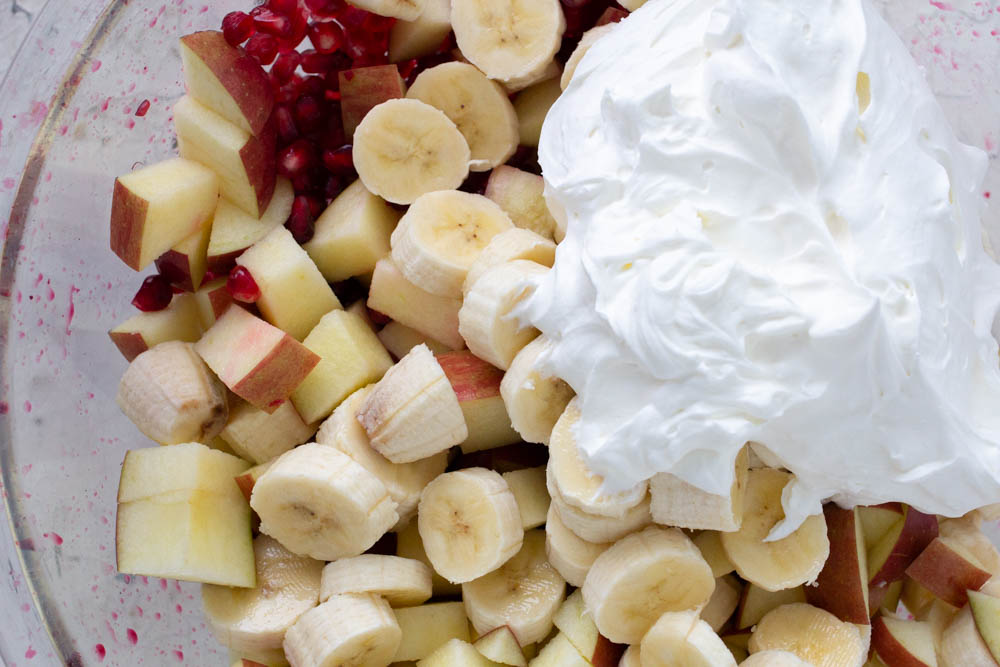 We absolutely love this festive pomegranate salad. It has just the right amount of creamy sweetness and crunch from the fresh fruit. It's refreshing and pairs perfectly with almost any holiday meal. Serve it individually or in a bowl.
A mint leaf on top adds a touch of green to the red and white fruit salad for a little extra Christmas charm! And if you're looking for other recipes loaded with pomegranates, Sheri's Pomegranate Salsa, Harvest Salad with Buttermilk Dressing or our Pomegranate Cheese Ball are other family favorites. Happy Holidays!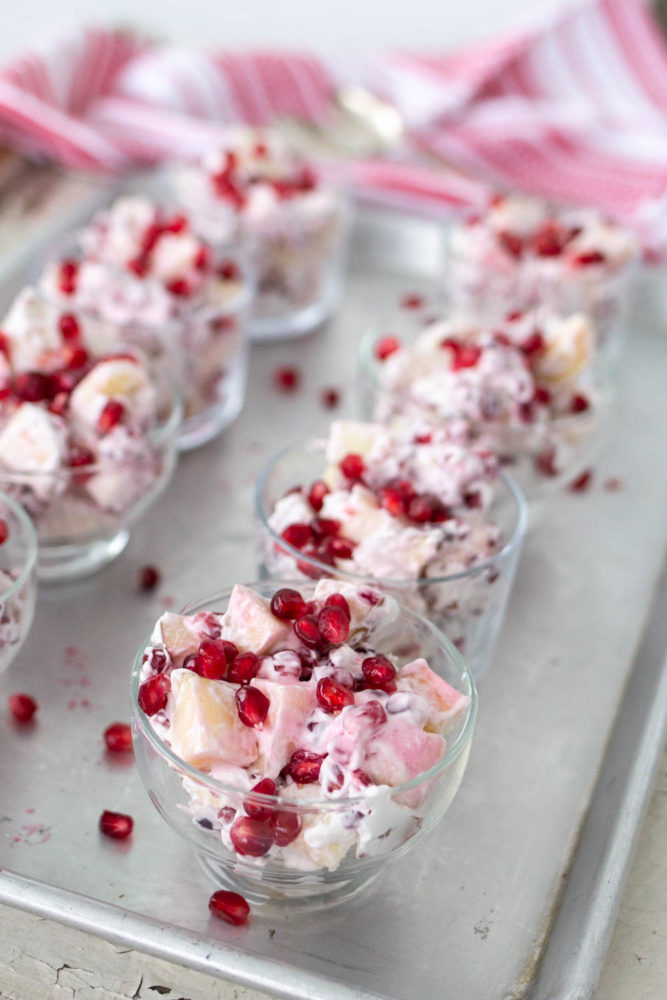 Pomegranate Salad with Bananas, Apples and Sweet Whipped Cream
Pomegranate Salad with Bananas, Apples and Sweet Whipped Cream is an extra special salad. Made with cream and fresh fruit, it's so festive, especially at Christmas!
Ingredients
1 1/2

cups

heavy cream

1/3

cup

powdered sugar

4-6

apples, peeled optional, cored and chopped

any sweet apple works, I like a crunchy sweet apple like Honey Crisp, Pink Lady or Fuji

2-3

pomegranates

2-3

bananas

mint leaf on top, optional
Instructions
Whip cream until stiff. Mix in powdered sugar until blended well.  

Place chopped apples in a large bowl. Add whipped cream. 

Fold in bananas and pomegranate seeds.

Refrigerate until serving. 

Top each serving with a few reserved seeds and fresh mint leaf if desired
Recipe Notes
I like to use bananas that are slightly green  (barely ripe) to avoid brown bananas in the salad.