When our kids were little, I made chili at least once a month in the fall and winter season. It's quick and easy and takes 15 minutes (or less) to make!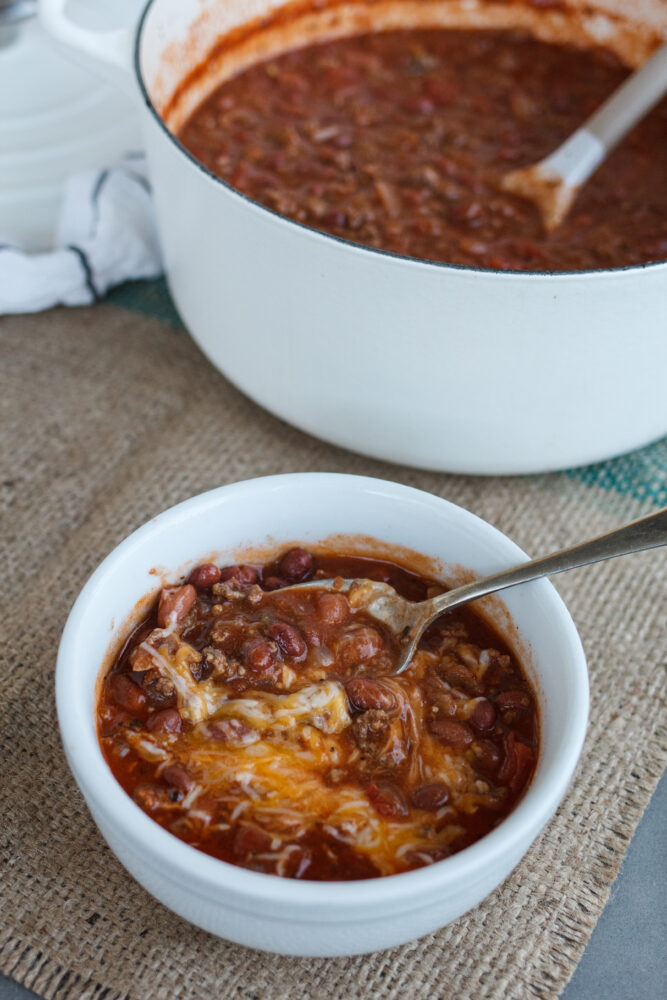 I've made this basic chili recipe for years. Never with an official recipe. But always with the same basic ingredients. It's one of those recipes I make- without a recipe. Always made with a pound or two of ground beef. Beans, tomatoes, onion, garlic, cumin, chili powder as a base. Over the years I've added a few other ingredients that I think add extra flavor and make it seem a bit more special.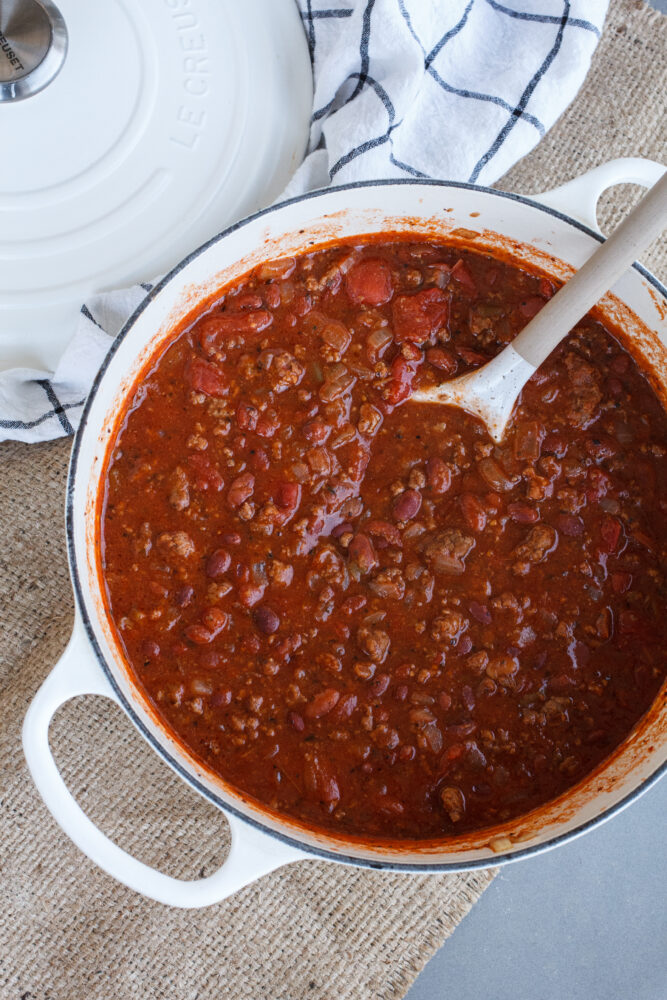 Our best classic chili recipe can be adapted to almost any kitchen set up! It can be made in a slow cooker and left to cook on low all day, or for a few hours on high. It can be made on the stovetop and served immediately, or left on the stove all day on low. It also bakes well in the oven, covered on 275 all day.
If you want good chili, make this and serve immediately. If you have time to make it the day before or early in the day, and can let it simmer all day, your chili will go from good to AMAZING. Simmering all day allows the meat, beans, and onions to soften and the flavors to meld together. There's just no substitution for chili that is cooked low and slow all day!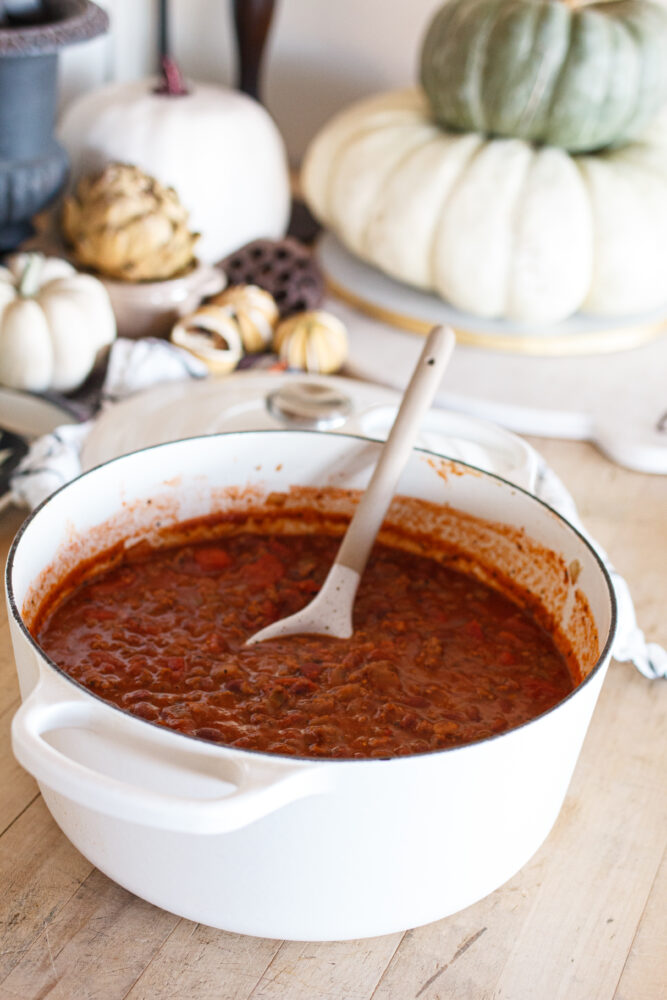 If you're looking for chili that's a bit more "dressed up" try our Chili and Brats recipe. If using dry beans is your thing, you'll love our Instant Pot no-soak chili beans recipe. My mom made chili with a packet of Schilling Chili Seasoning, onions, chopped tomatoes, ground beef and kidney beans when we were kids. I never loved the kidney beans, so when I started making chili on my own, I used small red beans. That's still my go-to and most people who try this recipe love it as well!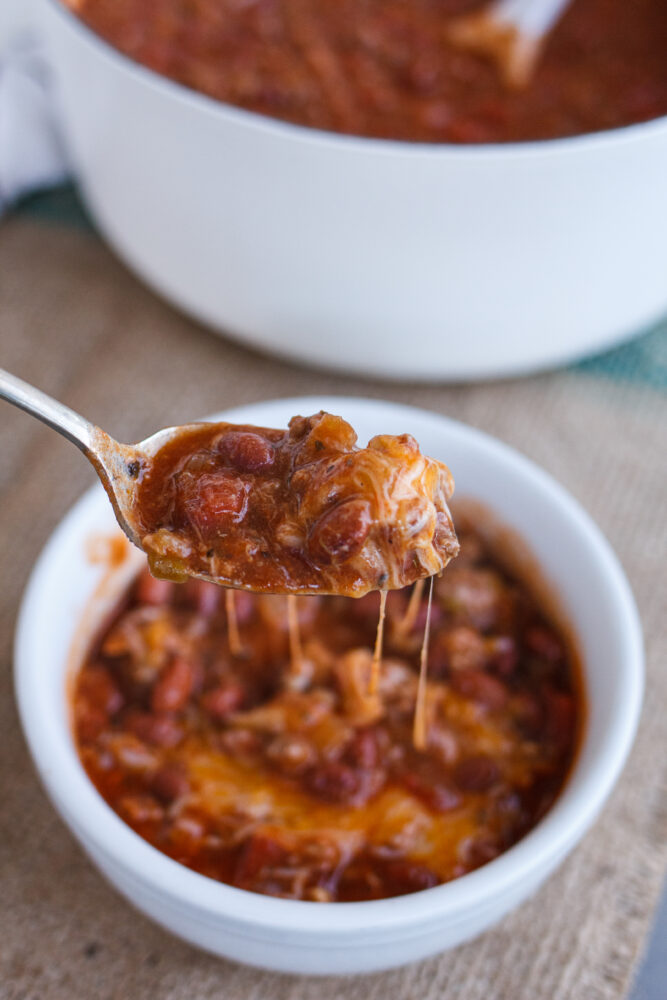 How to make quick and easy 15 minute chili:
Brown ground beef and onion
Add garlic and spices
Add all canned products
Add Worcestershire and beef base or bouillon
Stir and serve immediately or let simmer for several hours
Ingredients needed for quick and easy 15 minute chili:
Ground beef or other meat
Onion, white, sweet or yellow
Clove garlic
Canned tomatoes or Rotel or both
salsa
Can of tomato paste or tomato sauce
3-4 (15 oz) cans beans: small red, pinto, kidney, black (all same or combination)
Beef flavoring, Worcestershire Sauce
Liquid to thin if needed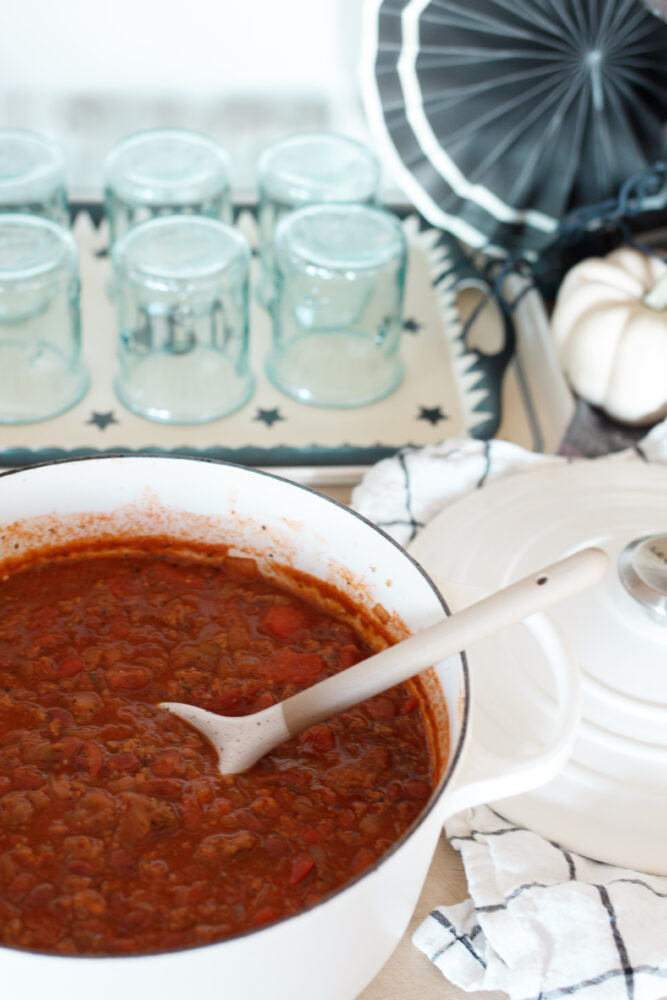 Easy, adaptable to pantry and fridge chili
This recipe is easily adaptable. If you don't have 3 cans of red beans, use what you have! No garlic? Use garlic powder instead, or leave it out altogether. If you only have chopped tomatoes but no tomato sauce or paste no problem. Look through the fridge and see what you DO have, chop and add to the chili.
What type of beans are best to use in chili?
Chili aficionados will tell you to use dry beans that have been soaked overnight, and then cooked, for use in chili. It is true, soaking beans usually make the best chili. But, most of us do not have time to soak beans and then boil or pressure cook before making chili. With that in mind, here are my top picks for beans in chili: First and favorite are small red beans. I like small red beans because they are not too hard or soft and tend to retain their color in chili. I also like pinto beans but they are usually a bit more light in color and tend to get a bit too soft if cooked for over 6 hours. I like to add a can of black bean for color as well!
Should I buy "chili beans" to make chili?
I tend to stay away from using cans labeled "Chili Beans". The reason why? Most of the cans labeled "Chili Beans" are beans in sauce that consist of tomato sauce, sugar, spices. I like to control the amount of spice and sugar and tomato flavor in my chili, so I choose to use beans without seasonings. Occasionally, I mistakenly purchase chili beans, in that case I throw in a can with unseasoned beans and adjust seasonings to our taste!
To rinse or not to rinse beans before adding to chili?
You have probably heard or read about the pros and cons of adding beans to chili with or without rinsing. Personally, I throw everything in the can into my quick and easy chili recipe. No rinsing, even for black beans. They usually do have salt added, so make sure to go light on the salt until all of the ingredients are in the pot and mixed. Taste and adjust salt accordingly!
What seasonings are best to use in chili?
Seasoning is your best friend when making chili, and we love the following in our chili: garlic, cumin, chili powder, oregano, salt and pepper. That's it! I also use a bit of salsa and or Rotel as well. If using wild game, such as elk meat or bison, up the seasonings just a bit.
How to make chili my kids will eat?
Know your crowd. I've said it before , but I'll say it again, if you want your kids to eat what you make, let them help in the kitchen. Ask them to help you prepare this easy meal, maybe even go through the fridge veggie drawer together and add a new ingredient to make this your special family chili!
I hope you love this recipe for Quick and Easy 15 minute Chili. Make sure to leave us a comment below to tell how you made this recipe your own!
Quick and Easy 15 Minute Chili
This is my go-to easy to make kid-friendly chili recipe I've been making and perfecting for over 40 years!
Ingredients
1-1.5

lbs

ground beef or other meat

1

large onion

sweet, white or yellow chopped, about 2 cups

1

teaspoon

salt

1

teaspoon

pepper

1-2

cloves

or about 2 teaspoons garlic (or 1 teaspoon garlic powder)

minced or frozen cubes

1

tablespoon

dry oregano leaves

1

tablespoon

cumin

1-2

tablespoons

chili powder, to taste

3

(15 oz)

small red, pinto or kidney beans with juice

1

(15 oz)

tomatoes, diced, with juice

1

can Rotel

optional, see recipe notes

1

(15 oz)

tomato sauce or 1 (6 oz) can tomato paste

see recipe notes

(8 oz)

green chili sauce or salsa

1

tablespoon

beef base "Better than Bouillon" or 2-3 cubes beef bouillon

1

tablespoon

Worcestershire sauce

optional

1

tablespoon

brown or granulated sugar, if needed

see recipe notes

water, if needed
Instructions
Brown the beef and the onions over medium high heat and season with salt and pepper. Drain any excess grease from the pan and discard.

Reduce heat to medium and add the garlic, oregano leaves, cumin and chili powder. Sauce for 1-2 minutes until fragrant.

Add all of the canned ingredients and salsa as well, stir to combine.

Add the beef base, Worcestershire sauce and stir. Add sugar if needed.

Serve immediately or simmer, covered for 2-6 hours. Add water if needed to thicken.
Recipe Notes
Any type of meat may be used: ground beef, slow cooked beef or pork, pork sausage, wild game. 
If using a meat such as wild game with very little to no fat, add 2-3 tablespoons olive oil to pan when browning. 
If you have extra peppers such as green, red or yellow in the fridge, chop and add to the mixture. 
When I use Rotel, I check the heat level of the ingredients. Rotel heat level varies quite a bit and may be too hot for most young ones! 
I usually choose either Rotel or canned tomatoes in this recipe. One or the other works! 
Tomato sauce or tomato paste works, but I think tomato paste has a richer flavor and also helps thicken. If I use tomato paste, I usually add 1/2 cup of water after cooking all day. If I serve it immediately, no extra liquid needed. 
If you have leftover sausage or pot roast, etc, chop and add to the chili. 
I add sugar only if the recipe seems a bit too acidic or too spicy! 
This recipe freezes well. Fill Zipock bags with cooked, cooled, chili and lay flat in freezer. It thaws much quicker when frozen flat instead of in a bowl.