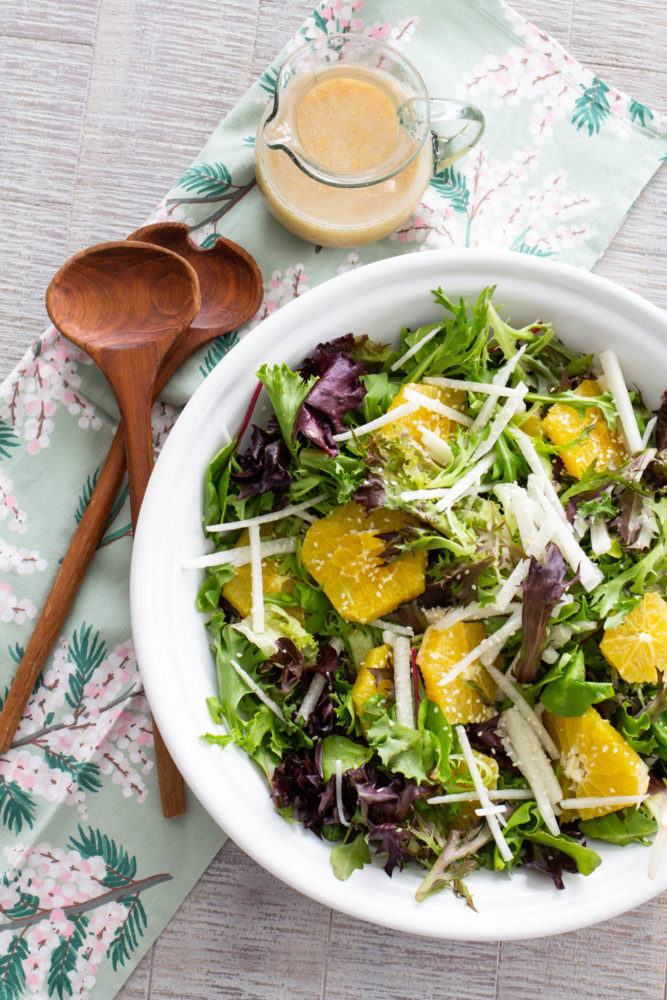 Gather 'round all of my salad loving friends! The winters can seem long during the early part of the year in Utah. A fresh salad is often a bright spot during the days of inversions!
Nothing is easier to throw together than this Mixed Green Salad with Jicama and Sliced Orange. The salad has three ingredients. Yes, THREE ingredients. So simple. The dressing has a whole 7 ingredients, all you have to do is cut, chop and mix the dressing together.
This recipe for jicama and sliced orange salad is the perfect salad to make in the winter. Oranges are sweet and plentiful in the winter and jicama is easily found from the fall months to the early spring in most grocery stores. If you're wondering how to prepare jicama for eating, it is often found already sliced and prepared in the vegetable section of grocery, but is easy to peel and slice or cut into pieces. More than the flavor, I like jicama for its texture, which is very crunchy! I also like the white contrast in salads.
If you aren't familiar to jicama, you may be wondering what exactly IS jicama? Jicama, sometimes referred to as a Mexican potato is native to Mexico. It looks like a cross between a turnip and a radish to me, only light in color. The outside of the jicama is a light brown or tan color, and the inside of the jicama is white. The root is the only edible part of the jicama. Jicama is usually eaten raw, but I have seen some recipes which include stir frying in a savory dish!
I love this salad as an accompaniment to dinners from
Thanksgiving
to Easter. It's the perfect make ahead salad, cutting the oranges and jicama and placing in separate bags in the fridge until ready to assemble.
The dressing is light and refreshing and can be made ahead or right before serving. If you have leftover dressing, store in the refrigerator for up to two weeks!
This post has been updated with new content, current photos and recipe adjustments February, 2020. Originally posted 2010.
Mixed Greens with Jicama and Sliced Orange
adapted from Sharing the Table at Garland's Lodge
Ingredients
Salad:
4

quarts

mixed salad greens

1

large jicama

peeled and julienned

3

medium oranges

peeled and thinly sliced
Sesame Seed Vinaigrette:
1/4

cup

rice vinegar

3

tablespoons

sugar

1

teaspoon

dry mustard

1/2

teaspoon

kosher salt

1

teaspoon

Worcestershire Sauce

1

tablespoon

sesame seeds

toasted

2/3

cup

canola oil, or light olive oil
*OR buy bottled dressing see tips below
Instructions
Prepare dressing:
Combine all ingredients in a 2 cup measuring glass. Blend well with whisk or hand held immersion blender. Set aside, can be made up to two days ahead.
Prepare salad:
Divide the greens onto 8 salad plates.

Drizzle each plate of greens with about 1-2 tablespoons of dressing. Lay a crisscross bed of the jicama on top of the greens. Arrange 3-4 orange slices on top of the jicama.

Sprinkle with a few sesame seeds.

Serve immediately, or place in refrigerator (not more than 30 minutes before serving) until ready to serve. Alternately, you may lay the greens in a large salad bowl, top with jicama and ornage slices and drizzle or toss some of the dressing on the salad before serving.
Recipe Notes
Dressing: If you don't want to make the dressing, bottled dressing works. Use either an Asian Sesame dressing or a Raspberry Vinaigrette.
Jicama is found in the produce section. Easily peeled with a vegetable peeler (just like peeling a potato) or a sharp paring knife. I think about 3/4 of a medium sized jicama is plenty for 8 salads.
If tossing the salad in a bowl before serving, this dressing is more than enough for two full salads. Only use 1/3 if tossing ahead of time and serve the rest in a small bowl or container with spout to pass with salad.