The humble Seven Layer Salad Recipe just got a refresh! For years I've thought about posting this recipe, but wanted to give it an upgrade first, and it finally happened. This is my 2023 version of this beloved salad, just in time for summer!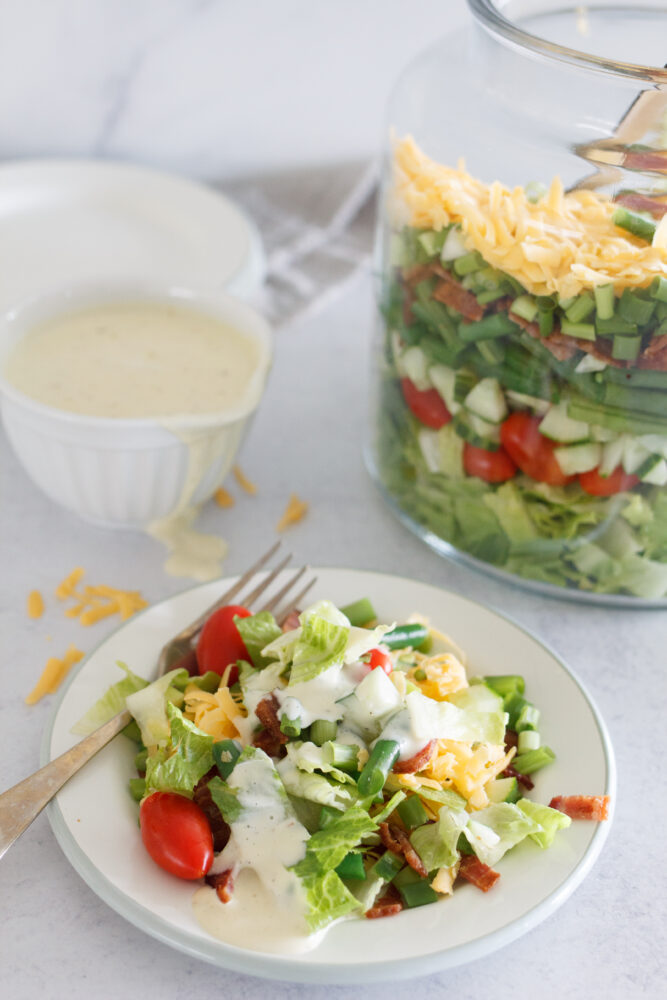 Seven layer salad, often served in a trifle dish, originated in the southern part of the US back in the 50's. I wasn't around in the 50's, but I do remember this salad at many potlucks and church dinners in the 70's and early 80's.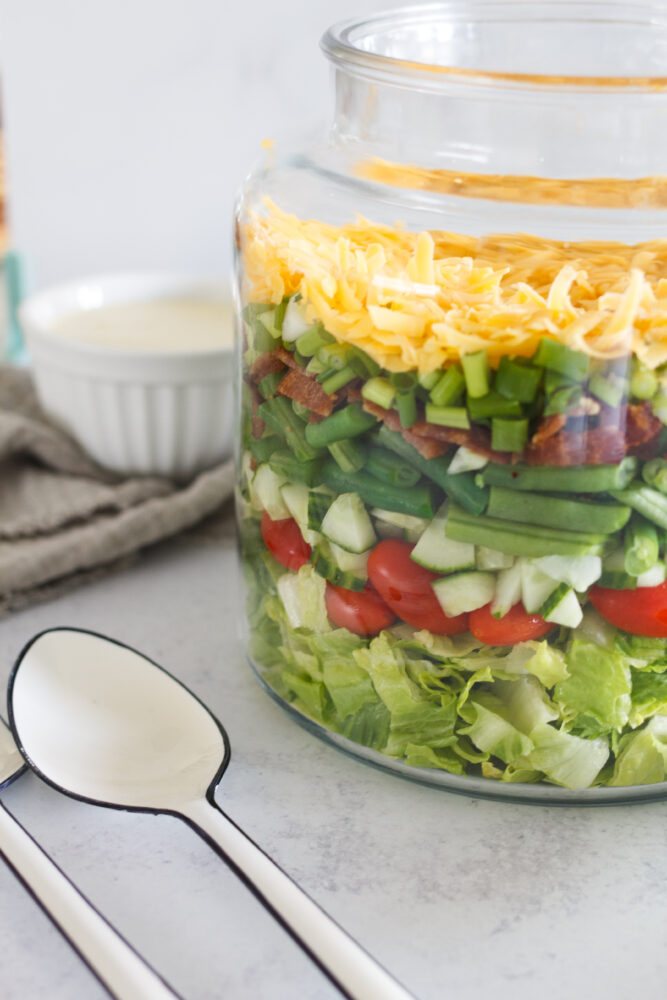 The original contents of (most) seven layer salad were: iceberg lettuce, frozen peas, red onions, tomatoes, hardboiled eggs, bacon, and finally, grated cheese. All topped with a thick, sweetened mayonnaise. Seriously. Just mayo and sugar. Where is my wide eye emoji??
The mayo topping and frozen peas were deal breakers for me, but I know this salad was (and still is) a favorite for many. I'm happy to say this updated version is now one of my favorite salads for summertime entertaining!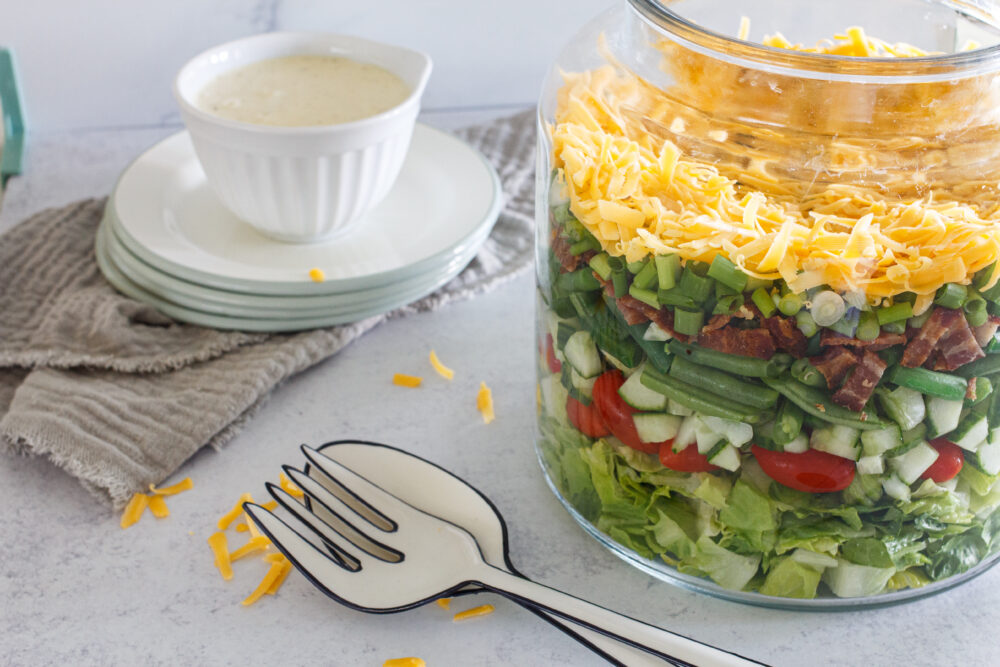 Updating the Seven Layer Salad
I felt like the classic seven layer salad was in desperate need of a refresh, so I went to work recreating a salad that could be made ahead, had visual appeal, tasted as good as it looks, and serves a crowd. I loved the idea of stacking the salad in a covered jar and also lightening up the dressing. I kept some of the old ingredient list, and added a couple of new ingredients (along with suggestions for other substitutions).
The dressing was also in need of a modern day twist, so I lightened it up a bit with olive oil, light mayo, fresh lemon juice and lots of ground pepper. I love the way the dressing turned out! Just sweet enough and not too heavy.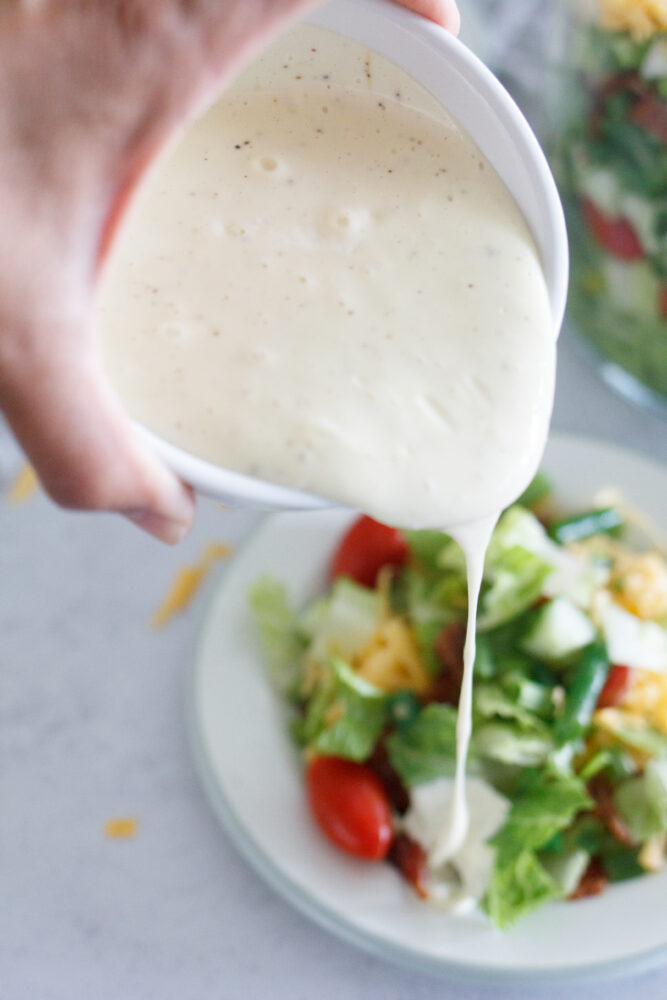 This salad works with so many different combinations of vegetables and proteins. If you are looking for visual appeal, stack the ingredients so there will be a bit of contrast, but also try to keep ingredients with more moisture (onions, cucumbers, chopped tomatoes) away from ingredients that will get soggy easily (cheese, bacon and lettuce).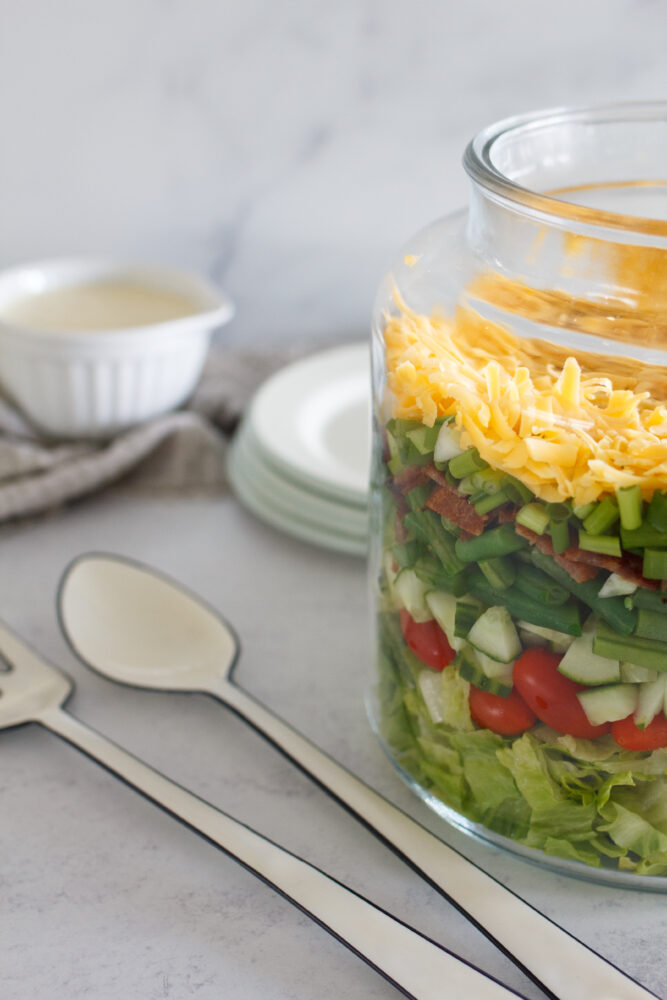 Ideas for salad layers are endless! Here are a few:
Cauliflower, broccoli or carrots
Hard boiled eggs
Kale, spinach
Chicken, cubed or shredded
Chick peas
Red onion
Various cheeses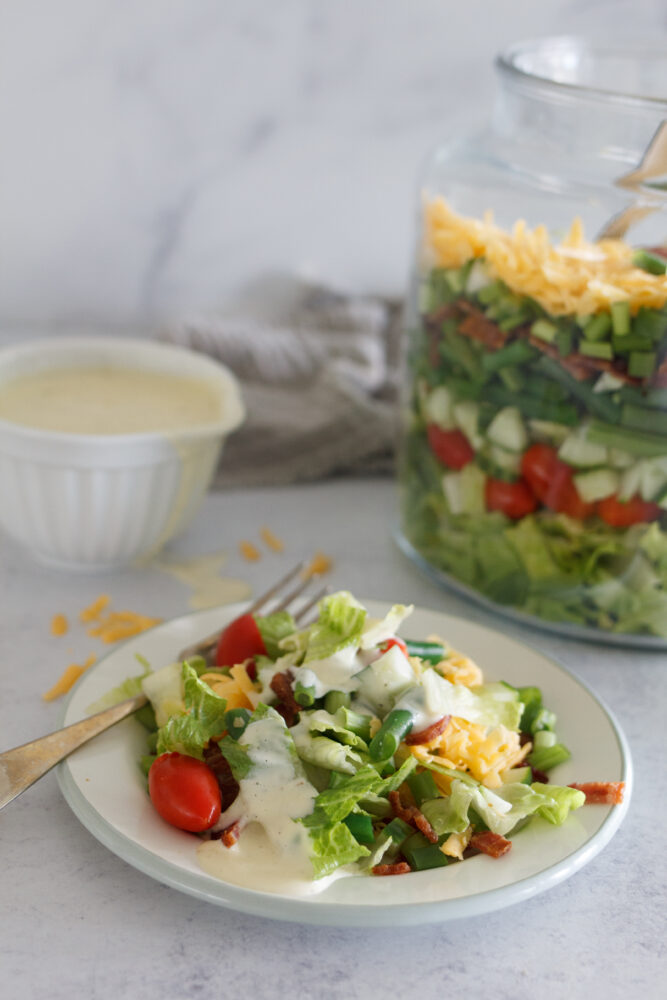 Secret to success with seven layer salad
One of the very most important steps in making this salad is to wash and thoroughly dry the lettuce. Skipping this step will seriously compromise the quality of the salad. For this reason, I use Romaine lettuce. Wash, spin, spin again. Wrap in paper towels, let sit in fridge.
The order of layering matters.
It is best to use grape or cherry tomatoes, uncut. This cuts down on moisture in the salad significantly!
Pregrated cheese is a good choice, the drying agent to prevent clumping helps to keep cheese from getting soggy. Grating cheese yourself also works! For pregrated cheese, I love Tillamook "Farmstyle Thick Cut" cheese.
If using cucumbers, I recommend English cucumbers. They have a lower water content and seem to hold their crunch better than traditional garden cucumbers.
I like to use green onions, also less moisture than chopped red onion.
I think you will love this updated version of the classic Seven Layer Salad. I can't wait for you to try it!
Seven Layer Salad Recipe
This classic salad just got an update! Layers of veggies, cheese and bacon all made ahead and presented in a glass container to showcase the ingredients. Topped with a homemade, lightly sweetened dressing.
Ingredients
for salad:
1-2

heads or about 16 cups of chopped Romaine Lettuce*

1

lb

bacon

cooked until crisp and chopped (I like thick slice)

1

lb

grape or cherry tomatoes

washed

2-3

cups

cucumber

skin left on, seeded and diced, about 1 large English Cucumber

1

lb

fresh green beans

blanched and chopped in 1 inch pieces

2

bunches green onions

washed and chopped (green and white parts)

3

cups

grated cheese (Cheddar, Colby, Swiss)
for dressing:
¾

cup

light mayo

Best Foods

⅓

cup

light olive oil

1

tablespoon

plus one teaspoon honey or sugar

3

tablespoons

fresh lemon or lime juice

Pinch

of salt

1/2

teaspoon

fresh ground pepper
Instructions
For salad:
1st layer: wash lettuce, thoroughly dry or spin. Chop and set in the bottom of the bowl or container.

2nd layer: grape tomatoes, layer on top of well drained lettuce. Do not chop the tomatoes.

3rd layer: seeded and chopped cucumbers, layer on top of grape tomatoes.

4th layer: green beans, layer on top of cucumbers.

5th layer: green onions ( not necessary, but I split these into two layers), layer on top of green beans.

6th layer: bacon, layer on top of green onions.

Cover and refrigerate until ready to serve. Can be made one day ahead. If making more than 6 hours ahead, top with bacon and cheese just before serving.
For dressing:
Place mayo, olive oil, honey or sugar, lime or lemon juice, salt and pepper into a blender. Whisk until blended well. Refrigerate if making ahead, blend again just before serving.
Recipe Notes
As stated in the recipe post, it is extremely important to dry the lettuce thoroughly! Do not use Spring Mix, this salad requires a firm green to hold up under the layers of vegetables, cheese and meat. 
I have seen this salad made into 1-2 9×13 or slightly larger pan as well. 
The original dressing consisted of mayo and sugar, some recipe also included grated Parmesan cheese, which would be a great addition! Simply grate 1/2 cup parmesan cheese into dressing ingredients and blend. 
It is tempting to slice the grape tomatoes in half, but this will add more moisture to your salad. Instead stack them whole in the container. Look for grape tomatoes that are smaller in size!
This salad holds its shape for 2 days after assembly, but I recommend making it no more than 24 hours in advance. If possible add the bacon and cheese layer last. 
The dressing may also be tossed into the salad, or poured over the top as an additional layer. 
This salad serves 12- 15 as a side or about 8 as a main dish. For a main dish, add 2 chicken breast halves, grilled, cooled and chopped.