Salads and summer go hand-in-hand! Our 20 best easy summer salads are the perfect recipes for any barbecue, picnic or gathering this season.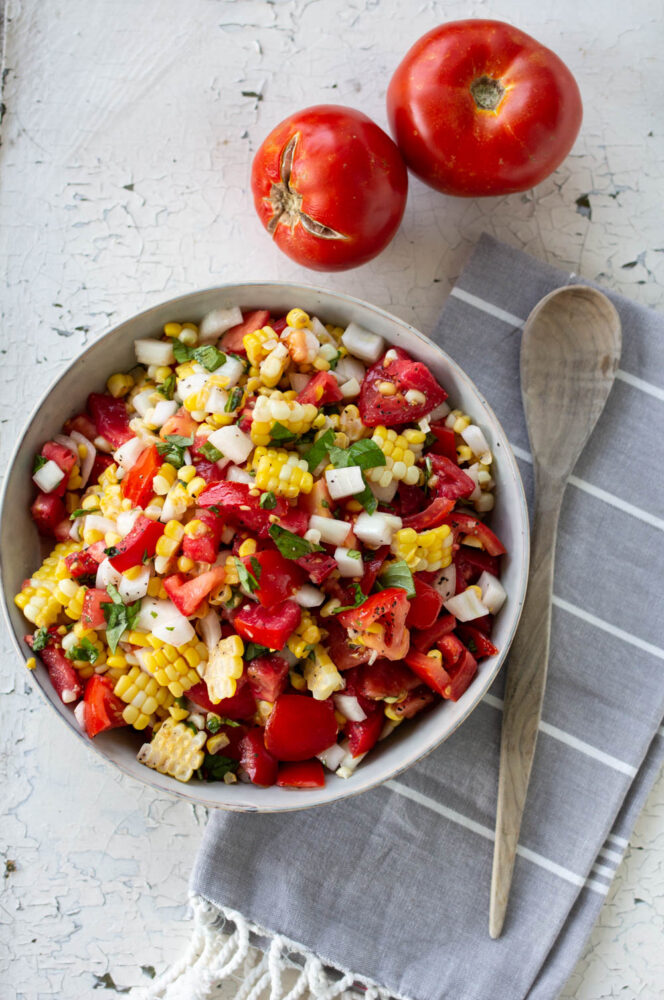 I love summer dinners! We start with grilled meat, chicken, or fish; make a side or two and serve with some good crusty bread for dinner. Easy to make sides and salads are my choice when I'm planning a meal on a warm summer night. I've rounded up all of our very favorite salad recipes in this post…
Our Fresh Corn and Tomato Salad (photo above) is my all-time favorite summer salad. It captures all of the goodness of the end of summer in one simple delicious side. I have been known to eat a very large plate of this for dinner. It's that good!
2. Greek Pasta Salad? Yes please! This salad features everything we love in a classic Greek salad, paired with pasta, feta and a homemade dressing made with Greek yogurt. You will love this fresh twist on Greek pasta salad!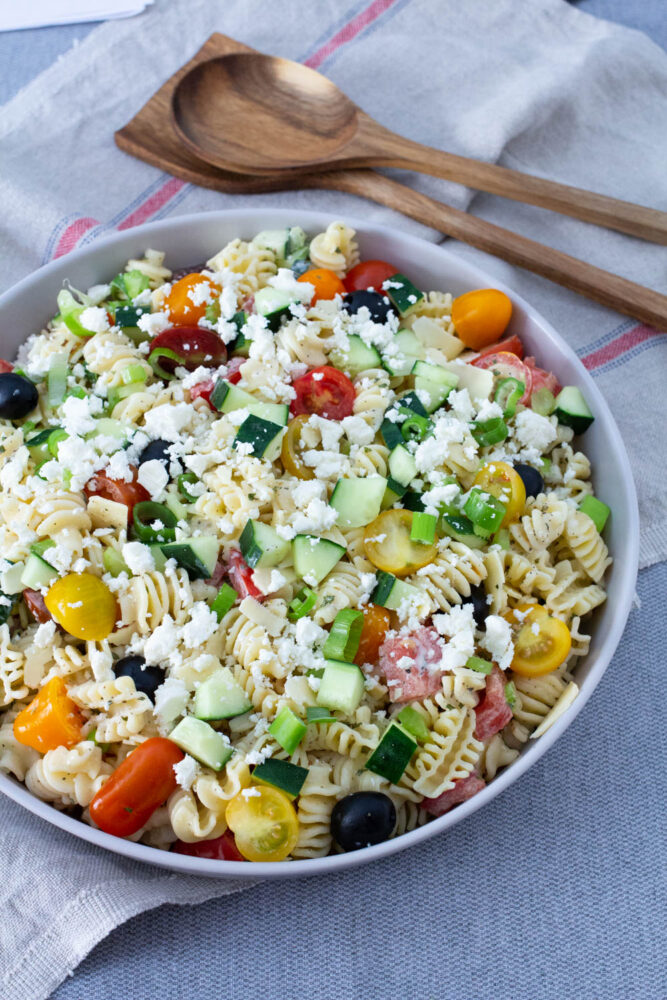 3. One of the first recipes I shared back in 2008 was this Grilled Peach and Mozzarella Salad. Nothing beats fresh grilled peaches paired with creamy mozzarella! Share this show stopping dish at your end of summer dinner party!
4. If you love grilled peaches, try our Grilled Chicken and Peach Salad with Caramelized BBQ Sauce inspired by the restaurant Eat Chow in Southern California!
5. What is a barbecue without coleslaw? In all of my years of testing coleslaw recipes, I've never eaten one quite like our Apple and Cabbage Slaw. It's filled with fresh apples, cabbage and golden raisins and mixed with a light sweet dressing that's homemade. You'll never call this slaw ordinary!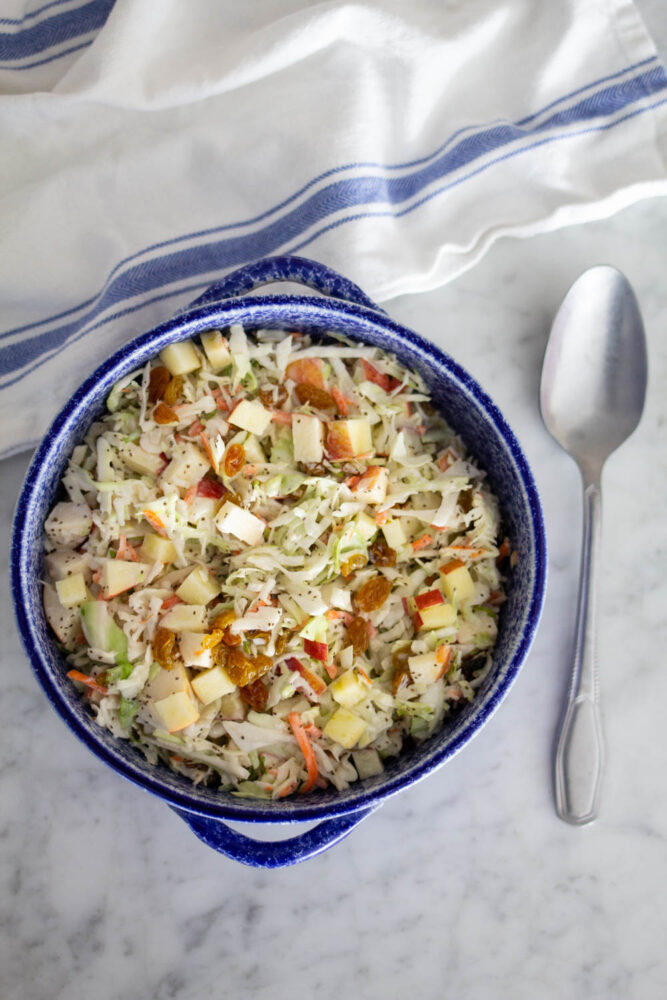 6. Everyone needs a go-to Italian Pasta Salad, this is mine. This recipe has a secret ingredient that makes the pasta so flavorful! I use homemade dry Italian seasoning sprinkled over the pasta as well as salad dressing in the salad itself. Say goodbye to bland Italian pasta salads!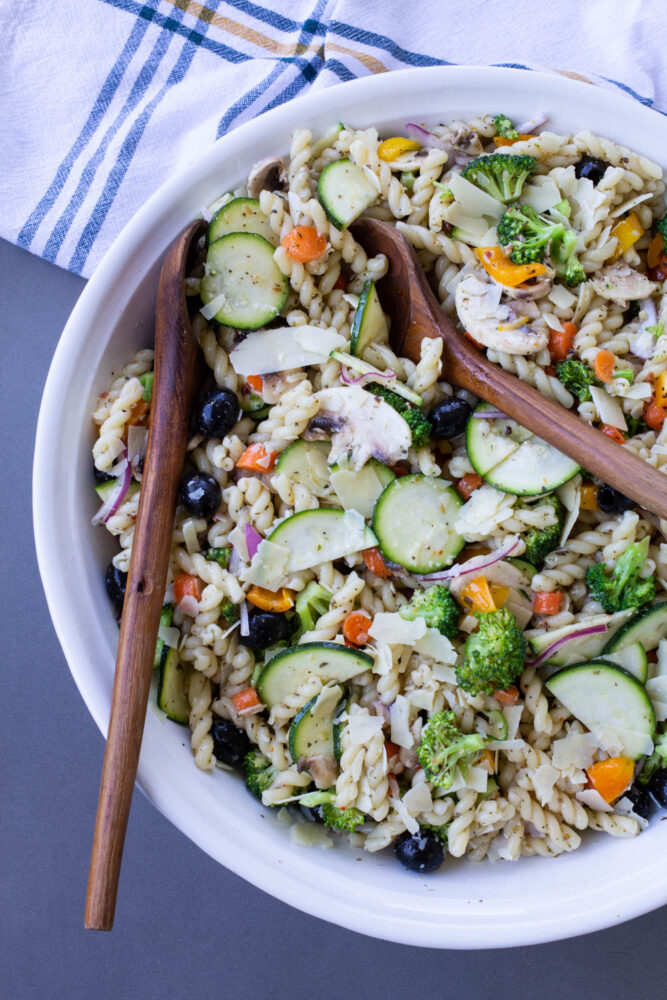 7. Let's switch from traditional pasta salad to a combination of kale, chicken and fresh fruit with our Grilled Chicken and Kale Salad with Apricot Vinaigrette! This salad is one of my best main dish meals for hot days.
8. What's a summer salad list without potato salad? This is no ordinary potato salad. Get ready to be blow away. Aunt Di's Almost German Potato Salad is made up of potatoes, eggs, dill pickles (and juice), mayo and salt. That is IT. Read the story to find out where I learned to make this dish. I've been making it since I was 19 and it is still my all-time favorite potato salad!
9. If you love teriyaki chicken, you will flip over this salad! Teriyaki chicken, mandarin oranges, fresh spinach, water chestnuts, sweet Craisins, and honey roasted peanuts are the key ingredients. Topped with a light homemade teriyaki dressing. This Teriyaki Spinach Pasta Salad has been a fan favorite for over 10 years!
10. For teriyaki salad that is more savory, than sweet, try our Marinated Teriyaki Chicken and Vegetable Pasta Salad. This salad is loaded with fresh veggies, teriyaki chicken and greens!
11. Nothing is easier or tastier than a Caprese Pasta Salad. Think Caprese, in a salad! Creamy fresh mozzarella, chopped basil, juicy tomatoes and filled pasta topped with a light homemade Balsamic dressing. This salad works well for make ahead!
12. Ramen Salad with Asian Dressing and fresh Veggies is a fun change from the pasta salads we make so often! This salad can be made with ramen noodles or in a pinch, angel hair pasta or even spaghetti will work!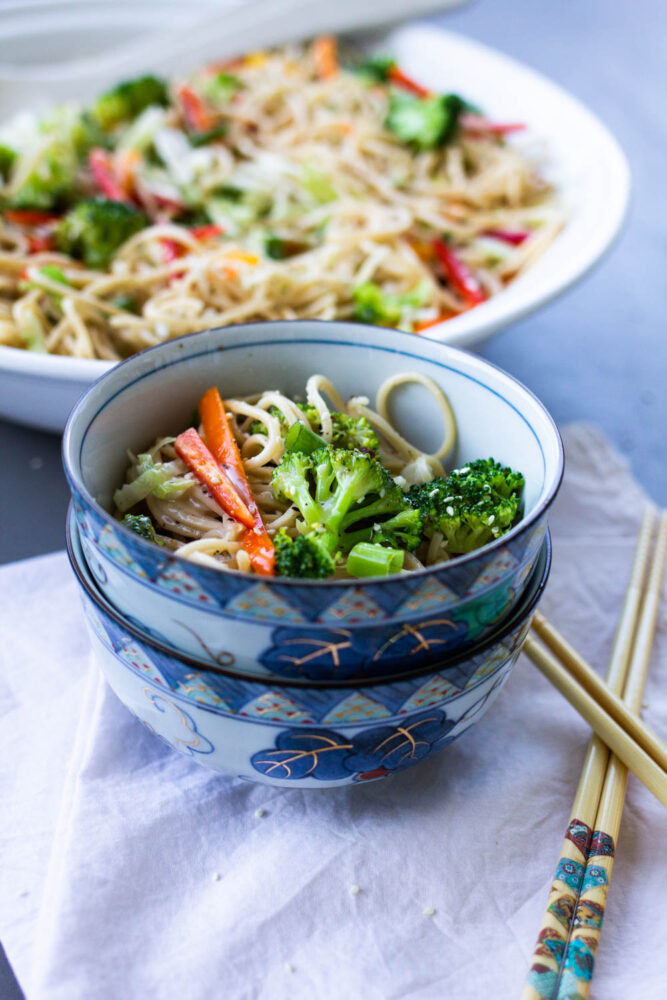 13. If Mexican Street Corn is a favorite of yours, our Mexican Street Corn Salad will be at the top of your favorite summer salad list! It takes minutes to put together and the leftovers are SO good in quesadillas.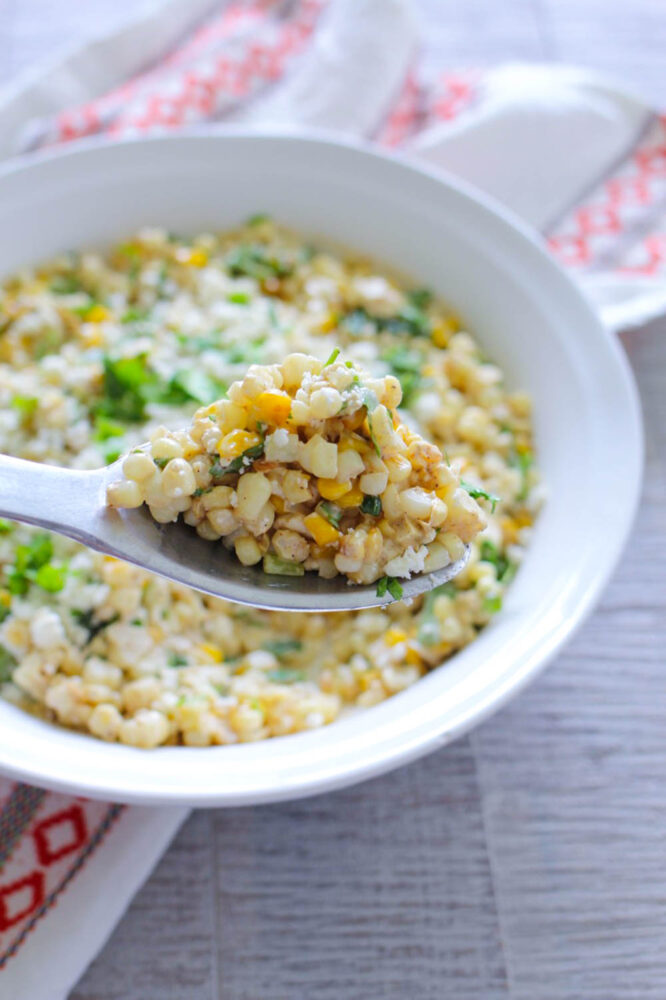 14. I bet you've never tried a salad quite like our Basil Couscous Salad with fresh buttermilk basil dressing! Greens, couscous, corn, Parmesan, pumpkin seeds and sweet dried cranberries fill this recipe with an out of the ordinary, amazing combination of flavors and textures. Request for this salad recipe are received more than any other salad recipe on ABK.
15. Caesar Pasta Salad has been my go-to salad for years when I need to make a salad for a crowd in a hurry. Everyone loves this salad. It's filling and the ingredients are available year 'round, and it stands up well on a buffet table without getting wilted quickly!
16. Our favorite local lunch spot is Plates and Palates in Bountiful. This salad is my creation of two favorite salads at Plates. Do you love slightly sweet and savory pasta salads? You have to make this one. Mango Chicken Pasta Salad with Tarragon Lime Dressing is about to become your new obsession!
17. What is a list of favorite summer salads without a good taco salad? This salad goes from side dish to main dish in minutes. Our Quick and Easy Chicken and Black Bean Taco Salad is perfect for a lunch or dinner gathering- it's filled with veggies, protein and so refreshing on a hot summer day!
18. For a salad a bit out of the ordinary with southwest flavors you're craving, try the seriously addictive Southwest Salad with Cilantro Honey Lime Dressing. The homemade honey lime dressing makes this salad unforgettable and irresistible!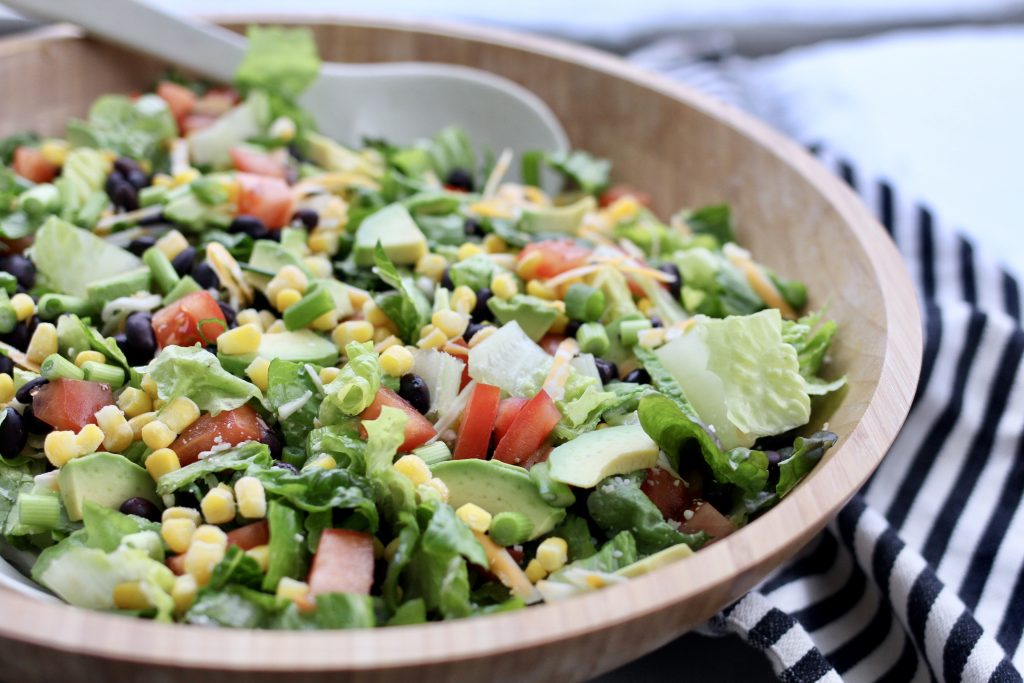 19. If you are looking for a salad no one else will bring to your next summer party, try our Blueberry and Roasted Beet Pasta Salad ! Packed with fresh flavor and absolutely gorgeous colors. This salad highlights roasted beets, fresh blueberries and a fresh blueberry dressing!
20. Panera's once famous Strawberry Poppyseed Chicken Salad rounds out our list of favorite summer salads! I love the thinly sliced chicken breast, strawberries, mandarins and fresh pineapple in this salad.
I hope you try at least one new salad before the summer is over! Make sure to tag us on Instagram or Facebook if you make an ABK recipe 🙂 Instagram @Abountifulkitchen Facebook @abountifulkitchen I would love to see what you are making/baking/eating this summer!